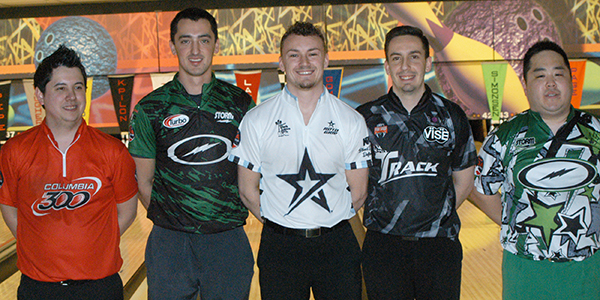 Jakob Butturff Leads Field of 20-Somethings into Sunday's Go Bowling! PBA 60th Anniversary Classic ESPN Finals
Three title holders, two non-champions in finals including Japanese star Shota Kawazoe
INDIANAPOLIS (Feb. 16, 2018) – Jakob Butturff of Tempe, Ariz., won seven of his final eight matches Friday night to lead the field of five 20-something finalists into Sunday's championship round of the Go Bowling! PBA 60th Anniversary Classic at Woodland Bowl. The stepladder finals will air live on Sunday at 1 p.m. EST.
Butturff, a 23-year-old left-hander who has hovered in or near the lead throughout the tournament, will be joined in the stepladder finals by four-time PBA Tour winner Marshall Kent of Yakima, Wash., 25; two-handed lefty Keven Williams of Springfield, Mo., 25; Indiana native Matt Sanders, 24, and Japan PBA star Shota Kawazoe, the oldest player in the field at 29.
Butturff, who won both of his PBA Tour titles in 2016 when he also won a PBA-record nine regional titles, averaged 236.29 for his 48 games, posting a 11,852 pinfall total to run away from Kent by 313 pins. Butturff's only fault in the final round was a 192 game in the only match he lost. Otherwise he didn't have a game lower than 234.
Kent, PBA's 2014 Rookie of the Year, won his most recent title in the 2017 Oklahoma Open. He finished with a 11,539 total.
Keven Williams, a third-year PBA member, has a high finish of 34th place in limited PBA Tour competition. He held off Sanders, the 2017 PBA Rookie of the Year, by two pins for fourth place.
The chase for the final berth in Sunday's finals boiled down to the final game where Kawazoe struck out in the 10th frame to win the spot by a single pin over Bill O'Neill of Langhorne, Pa. Kawazoe, a 15-time Japan PBA champion, has moved to the United States to bowl full-time in PBA competition in pursuit of his life-long dream, a PBA Tour title.
The Go Bowling! PBA 60th Anniversary Classic is the second PBA Tour event of the 2018 Go Bowling! PBA Tour season and is part of a series of celebratory events including the PBA 60th Anniversary Celebration dinner and hall of fame induction ceremonies Saturday.
All preliminary rounds, plus the annual PBA League Draft on Saturday at 10:30 a.m. and the PBA 60th Anniversary Celebration Dinner Saturday at 6:30 p.m., will be live streamed on PBA's online bowling channel, Xtra Frame. To sign up, visit xtraframe.tv.
GO BOWLING! PBA 60TH ANNIVERSARY CLASSIC
Woodland Bowl, Indianapolis, Feb. 16
FINAL MATCH PLAY STANDINGS (after 48 games including match play bonus pins; top five advance to ESPN stepladder finals Sunday at 1 p.m. EST)
1, Jakob Butturff, Tempe, Ariz., 17-7, 11,852.
2, Marshall Kent, Yakima, Wash., 12-12, 11,539.
3, Keven Williams, Springfield, Mo., 12-11-1, 11,452.
4, Matt Sanders, Indianapolis, 13-11, 11,450.
5, Shota Kawazoe, Japan, 13-11, 11,235.
Failed to advance
6, Bill O'Neill, Langhorne, Pa., 16-8, 11,234, $7,000.
7, Andrew Anderson, Holly, Mich., 11-13, 11,223, $6,000.
8, Kristopher Prather, Plainfield, Ill., 15-9, 11,170, $5,500.
9, Ronnie Russell, Marion, Ind., 12-12, 11,160, $5,500.
10, Dom Barrett, England, 15-8-1, 11,153, $5,000.
11, Tom Smallwood, Saginaw, Mich., 12-11-1, 11,102, $4,500.
12, Brandon Novak, Chillicothe, Ohio, 13-11, 11,065, $4,000.
13, AJ Chapman, Manchester, Iowa, 10-14, 11,039, $3,600.
14, Anthony Simonsen, Austin, Texas, 13-11, 11,035, $3,400.
15, Anthony Pepe, Elmhurst, N.Y., 11-13, 11,027, $3,300.
16, Richie Teece, England, 11-11-2, 10,975, $3,200.
17, Graham Fach, Canada, 12-12, 10,922, $3,100.
18, Osku Palermaa, Finland, 9-14-1, 10,880, $3,000.
19, Arturo Quintero, Mexico, 12-12, 10,820, $2,900.
20, Sean Rash, Montgomery, Ill., 11-13, 10,810, $2,800.
21, Andrew Cain, Phoenix, 10-14, 10,764, $2,700.
22, Charlie Brown Jr, Grandville, Mich., 11-13, 10,744, $2,600.
23, DJ Archer, Friendswood, Texas, 6-18, 10,430, $2,500.
24, Richard McCormick, Cincinnati, Ohio, 8-16, 10,338, $2,400.
300 Games: Brandon Novak.
About the PBA
In 2018 the Professional Bowlers Association (PBA) celebrates its 60th anniversary. The PBA is an organization of more than 3,000 of the best bowlers from 27 countries who compete in Go Bowling! PBA Tour, PBA International Tour, PBA Regional Tour, PBA Women's Regional and PBA50 Tour events. The 2018 season also marks the 59th consecutive year of nationally-televised competition, reaching bowling fans around the world who follow PBA activities through the PBA Network which includes Xtra Frame, the PBA's exclusive online bowling channel, ESPN and CBS Sports Network, and the PBA on Facebook, Twitter and YouTube. PBA sponsors include Barbasol, Brunswick, Ebonite International, GEICO, GoBowling.com, HotelPlanner.com, MOTIV, 900 Global, PBA Bowling Challenge Mobile Game, Storm Products and the United States Bowling Congress, among others. For more information, log on to www.pba.com.
# # #