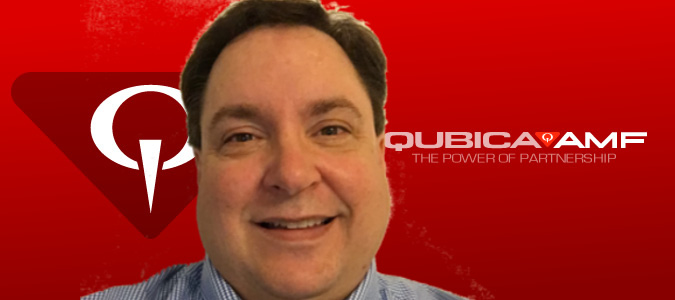 With the growth of the Family Entertainment Center segment, QubicaAMF adds Jack Siefert to support the increasing demand for bowling in the amusement industry.
October 17, 2017 (Mechanicsville, VA) – QubicaAMF Worldwide (QubicaAMF), the world's leader and largest manufacturer of bowling and mini bowling products, is proud to announce Jack Siefert as its new FEC Amusement Sales Executive. Jack's primary role will be to grow the FEC segment. He will support the amusement division by selling the company's full bowling product mix into this market and managing the relationships with amusement distributors in the U.S. Bowling is already the number one participatory sport in the world, and we are seeing its expansion into new operations every day including FECs, Resorts, Water Parks, Trampoline Parks and Go Kart Facilities.
Jack joins the team with over 30 years of experience in the amusement industry beginning as President of his own consulting firm 1985. He has consulted and managed operations for a myriad of attractions including Walt Disney World, ESPN and Sega GameWorks.
Jack joins Business Development Manager, Tony Tallarico, supporting QubicaAMF's growth and serving as a representative for all operators looking to expand their business and add bowling as an attraction. "Bringing in an industry veteran like Jack, who has experience with both bowling and operational management of Fun Centers, provides an immense resource to our team," adds Tony.
"More Family Entertainment Centers are looking to bowling as a potential anchor or supporting attraction for their business models," states Jay Buhl, Senior VP and General Manager, QubicaAMF Worldwide. "As the leader in bowling and mini bowling products, we couldn't be more excited to support entertainment businesses looking to improve their customer experience."
"Bowling is a stable, predictable, cash-based enterprise that offers compelling ROI," says Wendy Smith, Director of Business Development. "Our product portfolio including the BES X Bowler Entertainment System, Highway66 Mini Bowling, The Suite Spot and full size bowling puts us in a unique position to help our clients integrate the optimal bowling solution for their specific business model. This is an exciting time for bowling!"
For more information on how QubicaAMF can help to deliver the ultimate entertainment experience, visit www.qubicaamf.com.
About QubicaAMF Worldwide
QubicaAMF Worldwide is the world's largest and leading manufacturer of bowling and mini bowling products. With U.S. headquarters near Richmond, Virginia and European headquarters in Bologna, Italy, the company offers a complete line of high-quality, innovative solutions for new and existing bowling and entertainment centers.
QubicaAMF has over 75 years of experience, an installed base of more than 10,000 centers worldwide and can provide the perfect combination of bowling equipment, products and services to build a bowling entertainment center, an FEC or entertainment facility to suit any budget. The company has sales offices in 10 countries, a distributor network with worldwide reach and maintains the largest R&D team for electro-mechanical products, software, electronics and entertainment systems in the industry.
QubicaAMF is the organizer of the QubicaAMF Bowling World Cup, the largest annual sporting event in terms of the number of participating countries, which promotes bowling on a global level. The company celebrated the historical 50th anniversary of the tournament in 2014.
Additional information about QubicaAMF is available at www.qubicaamf.com.