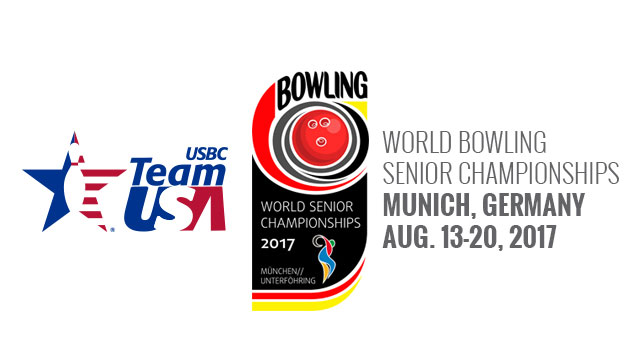 ARLINGTON, Texas – The eight bowlers who will represent the United States at the 2017 World Bowling Senior Championships this summer have been selected by the Team USA coaching staff.
The World Senior Championships will take place in Munich from Aug. 13-20.
The United States swept the men's and women's team gold medals at the 2015 World Senior Championships in Las Vegas. Three of the four Team USA men will return to defend their title, while only one member of the women's team will return.
United States Bowling Congress Hall of Famers Parker Bohn III of Jackson, New Jersey, and Lennie Boresch Jr. of Kenosha, Wisconsin, will be joined on the men's team by fellow Professional Bowlers Association 50 Tour standouts Bob Learn Jr. of Erie, Pennsylvania, and Ron Mohr of North Las Vegas, Nevada.
Though Bohn was a member of Team USA in 2008, this will be his first opportunity to represent the United States on the lanes.
"It really caught me by surprise, and I'm actually almost at a loss for words, but I'm incredibly honored and grateful to be one of the ones selected to be part of the team this year," said Bohn, a 35-time PBA Tour champion. "The other guys have all been there and know the feeling of being victorious, and I look forward to being a part of it and hopefully contributing to another win this year."
The women's team will consist of a quartet of USBC Hall of Famers – Lynda Barnes of Double Oak, Texas, Carolyn Dorin-Ballard of Keller, Texas, Leanne Hulsenberg of Pleasant View, Utah, and Tish Johnson of Colorado Springs, Colorado.
Johnson is the only remaining player from the 2015 squad, and she's looking forward to sharing the experience with her new teammates.
"I think this team is going to be outstanding, and if we communicate well and keep everybody loose, everything will work out well," said Johnson, who also was a member of Team USA in 2008. "I know there were a lot of talented bowlers who sent in applications, so it is an honor to be selected again. I love being able to represent my country on the lanes."
The inaugural World Senior Championships was contested in 2013, also in Las Vegas, and the event is held every two years.
The Team USA program performed well at the last edition in 2015, leading the medal count with 14 of the 38 medals. That included sweeping the team titles and adding gold medals in women's doubles (Lucy Sandelin and Paula Vidad) and women's all-events (Sandelin).
The 2017 World Senior Championships will include medal opportunities in team, doubles, singles, all-events and Masters competition. Bowling officially will get underway Aug. 15.
For more information on the World Bowling Senior Championships, visit WorldBowling.org.
United States Bowling Congress
The United States Bowling Congress serves as the national governing body of bowling as recognized by the United States Olympic Committee (USOC). USBC conducts championship events nationwide including the largest participation sporting events in the world – the USBC Open and Women's Championships – and professional events such as the USBC Masters and USBC Queens.
Founded in 1895, today USBC and its 2,500 state and local associations proudly serve more than a million members. USBC is headquartered in Arlington, Texas, working toward a future for the sport. The online home for USBC is BOWL.com.