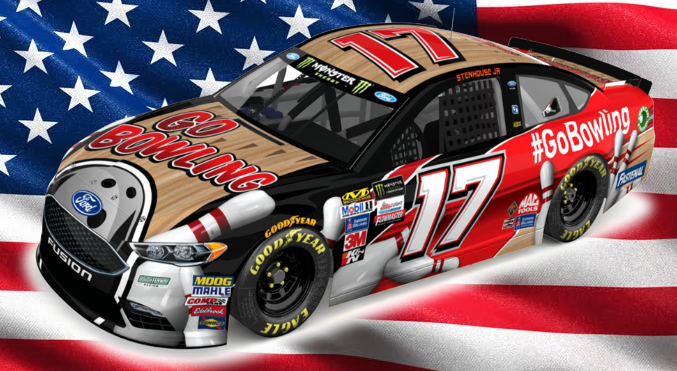 No. 17 Ford Fusion to Sport Go Bowling Logo at Mother's Day Race
CONCORD, N.C. (April 5, 2017) – Roush Fenway Racing driver Ricky Stenhouse Jr. will pair up with Go Bowling when the NASCAR Monster Energy Cup Series rolls into Kansas Speedway on Saturday, May 13, for the Go Bowling 400. Go Bowling will serve as the 'anchor' on Stenhouse Jr.'s No. 17 Ford Fusion at Kansas.
"This is a really exciting partnership," said Stenhouse Jr., who rolled to victory at the 2012 NASCAR XFINITY Series race in Kansas. "I have always loved to go bowling. These guys are dedicated to spreading their passion for the sport and we are going to have a lot of fun in Kansas spreading the word about bowling and hopefully getting to knock down a few pins ourselves."
The bowling industry – Go Bowling, Bowling Proprietors' Association of America (BPAA) and Strike Ten Entertainment (STE) – is sponsoring the Go Bowling 400 at Kansas Speedway for the second consecutive year.
"Through this race, we are able to drive tremendous top of mind awareness for bowling by reaching a huge audience with similar demographics," said Nancy Schenk, president of BPAA. "With the exposure we receive and all of the giveaways and promotions that we activate, the Go Bowling 400 is a great traffic driver for our centers."
Throughout race weekend, fans will be able to go to the Go Bowling Fan Experience in the Midway, where they will be able to bowl for free and meet professional bowlers. In addition, fans will be able to register to win a dream trip to Racing's Big Championship Weekend at the Homestead-Miami Speedway in November, a free year of bowling and have the opportunity to view part of the Go Bowling 400 from the Ricky Stenhouse Jr. Pit Box.
"It's great to have a proven winner like Ricky sporting the Go Bowling logo at our race," said John Harbuck, president of STE, the marketing arm of the bowling industry. "We have a great weekend of fan interaction planned and we hope to cap it off with Ricky in Victory Lane."
Roush Fenway Racing boasts nine NASCAR wins at Kansas Speedway, including wins in all three of NASCAR's premiere series and four in the Cup series.


About GoBowling.com
GoBowling.com is the destination for bowling fans and enthusiasts seeking news and information about one of America's favorite pastimes and the nation's number one participatory sport.  With more than 67 million people taking to the lanes every year, GoBowling.com is a one-stop location where people of all ages can go to satisfy their love of bowling. Consumers turn to GoBowling.com every day to find bowling fun – discovering new bowling centers, tips and tricks to use on the lanes, event news and great deals at more than 1,800+ family-friendly bowling centers across the country.

About BPAA
Founded in 1932, the mission of Bowling Proprietors' Association of America (BPAA) is to enhance the profitability of its members.  Headquartered in Arlington, Texas at the International Bowling Campus, the BPAA provides it's over 3,500 member centers with group purchasing programs, business and educational seminars, legislative representation and proactively promotes the association and bowling industry.  For additional information please visit www.bpaa.com or call 1-800-343-1329.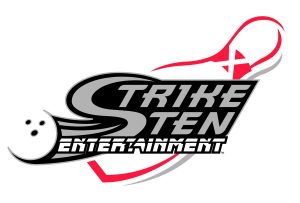 About Strike Ten Entertainment
Headquartered in Arlington, Texas, Strike Ten Entertainment is the centralized sponsor-activation arm of the bowling industry. Strike Ten Entertainment serves all organizations of bowling by coordinating the industry's sales and marketing efforts. Strike Ten Entertainment's mission is to increase national awareness of bowling and to assist the bowling industry in developing new bowlers and increasing the frequency of existing bowlers each year through promotions, publicity and industry-wide marketing initiatives. For additional information, please visit www.stemarketing.com.

About Roush Fenway Racing
Roush Fenway Racing is the winningest team in NASCAR history, fielding multiple teams in Monster Energy NASCAR Cup Series and NASCAR XFINITY Series competition. Moving into its 30th season, Roush Fenway is a leader in driver development, having launched the careers for many of the top drivers in the sport. Off-track, Roush Fenway is a leader in NASCAR marketing solutions, pioneering motorsport's first team-focused TV show and producing multiple award-winning Social Media, digital content and experiential marketing campaigns. Roush Fenway is co-owned by Jack Roush, the winningest team owner in NASCAR history and Fenway Sports Group, parent company of Major League Baseball's Boston Red Sox and English Premier League's Liverpool F.C. Visit RoushFenway.com, circle on Google+, become a fan on Facebook and Instagram and follow on Twitter at @roushfenway.