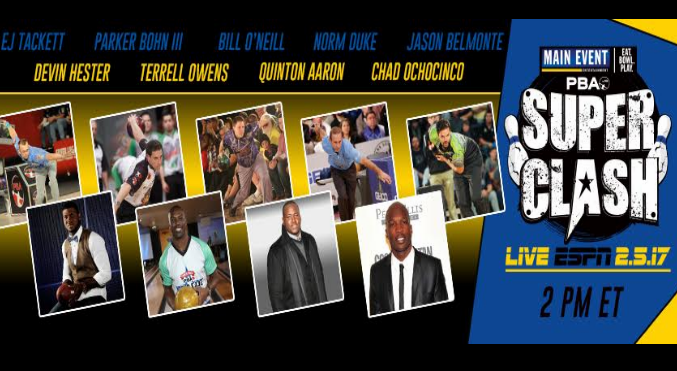 HOUSTON (Jan. 27, 2017)
– The Professional Bowlers Association kicks off its Big February series with the Main Event Terrell Owens PBA Super Clash on Super Bowl Sunday, Feb. 5, at 2 p.m. ET (1 p.m. CT) from the Main Event Entertainment Center in the Houston suburb of Katy, Texas.
In addition to Owens, NFL stars Chad "Ochocinco" Johnson and Devin Hester along with actor Quinton Aaron, who portrayed NFL star Michael Oher in the hit movie "Blind Side," will headline an all-star lineup that also will include three-time PBA Player of the Year Jason Belmonte, Hall of Famers Norm Duke and Parker Bohn III, along with eight-time PBA Tour winner Bill O'Neil and 2016 PBA World Championship winner EJ Tackett.
Owens is an accomplished bowler who has competed in the GEICO PBA World Series of Bowling and teamed with PBA Hall of Famer Pete Weber to win the 2016 CP3 PBA Celebrity Invitational. It could be a big weekend for Owens, who as a Pro Football Hall of Fame finalist, hopes to be among the hall's class of 2017 that will be announced during Super Bowl weekend.
The Super Clash will offer PBA fans an entertaining lead-in to the Super Bowl where the New England Patriots will battle the Atlanta Falcons at Houston's NRG Stadium.
"We are excited that sports fans will have this great entertainment alternative as a warm-up to the Super Bowl," said PBA CEO & Commissioner Tom Clark. "Being live on ESPN from one of the most cutting-edge entertainment centers in the country with an exciting bowling show will be fun for the whole family. Like watching the Super Bowl, bowling is one of America's favorite pastimes. When the best bowlers in the world mix it up on the lanes with NFL greats on Feb. 5 from the Main Event in Katy, Texas, it is sure to be a memorable show."
The show will also feature the announcement of the 2016 GEICO Chris Schenkel PBA Player of the Year, Harry Golden Rookie of the Year, Steve Nagy Sportsmanship Award winner and the winner of the Tony Reyes Memorial Service Award. The event also will include a pre-telecast trick shot exhibition by the pros, starting at 11 a.m. local time, and other surprises.
General admission into the facility is free
,
but seating located on the TV set is $49.95. Tickets are available by contacting the Main Event Katy sales office at (281) 394
–
4800. Main Event Katy is located at 24401 Katy Freeway.
"We're thrilled to host the Main Event Terrell Owens PBA Super Clash at our Katy center, and to showcase our 'Eat. Bowl. Play.' experience to ESPN viewers around the country," said Amy Phillips, Director of Promotions & Programming at Main Event Entertainment. "The PBA has been an awesome partner on this event and we're excited to have so many big names from sports and entertainment joining us on Super Sunday. It's going to be a lot of fun and a great show!"
In addition, other NFL players will be hosting "Super Bowling" events at the Shenandoah, Webster and Stafford Main Events, during the same time period on Super Sunday. Details will be announced soon.
PBA's Big February on ESPN continues with live telecasts of three majors on consecutive Sundays at 1 p.m. ET. The Barbasol PBA Players Championship will air Sunday, Feb. 12; the FireLake PBA Tournament of Champions on Feb. 19, and back-to-back telecasts of the USBC Masters finals and World Bowling Tour Men's and Women's Finals presented by the PBA on Feb. 26. 
In addition to the lineup of live telecasts, the State Farm CP3 PBA Celebrity Invitational which was taped on Jan. 17 at Lucky Strike L.A. Live in Los Angeles will air on Friday, Feb. 17, at 9 p.m. ET as part of the NBA All-Star weekend.
In addition to ESPN's coverage, all telecasts will be simulcast on ESPN3 and the WatchESPN mobile app for those who would like to watch on-line or on mobile devices, and all preliminary rounds of the upcoming PBA major championships will be live-streamed on PBA's online bowling channel, Xtra Frame (for subscription details and enrollment, visit xtraframe.tv.
About Main Event Entertainment
Founded in 1998, Dallas-based Main Event Entertainment is rapidly growing, with 31 restaurant and entertainment centers across the United States. Main Event features a unique "Eat. Bowl. Play." experience for groups to let their fun out together. Serving over 20 million guests annually, Main Event offers state-of-the-art bowling, over 100 virtual and interactive games, multi-level laser tag, chef-inspired dining and a high-energy, full-service bar, making it the perfect place for families, young adults and groups of all ages to Head for Fun. Learn more and see our photo gallery at
mainevent.com
.
About the PBA
The Professional Bowlers Association (PBA) is an organization of more than 3,200 of the best bowlers from 27 countries who compete in PBA Tour, PBA International Tour, QubicaAMF PBA Regional Tour, PBA Women's Regional and PBA50 Tour events. The PBA is in its 58th consecutive year of nationally-televised competition, reaching bowling fans around the world who follow PBA activities through the PBA Network which includes Xtra Frame, the PBA's exclusive online bowling channel, ESPN and CBS Sports Network, and the PBA on Facebook, Twitter and YouTube. PBA sponsors include Barbasol, Brunswick, Ebonite International, GEICO, Grand Casino Hotel and Resort, HotelPlanner.com, MOTIV, 900 Global, PBA Bowling Challenge Mobile Game, QubicaAMF, South Point Hotel Casino and Spa, Storm Products and the United States Bowling Congress, among others. For more information, log on to
www.pba.com
.