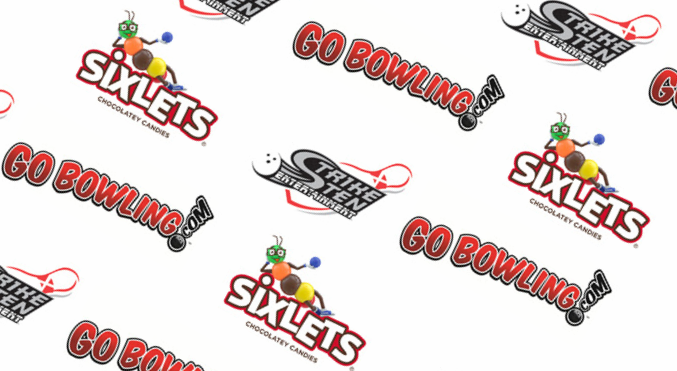 ARLINGTON, Texas – Sixlets® Brand Chocolatey Candies is renewing its multi-year partnership with the bowling industry in 2017 through Strike Ten Entertainment, the marketing arm for bowling.
Sixlets® Brand has been a proud sponsor of bowling since 2015 and have extended their partnership to continue to build awareness with consumers. Its partnership with bowling extends to in-store and in-center promotions, which include free bowling offers and prize promotions throughout the year.
"With 67 million people on the lanes each year, bowling has provided great connection for Sixlets® to drive awareness through national promotions," said John Harbuck, president of Strike Ten Entertainment. "We are able to provide the brand with significant exposure through our participating bowling centers, our sponsorship of the Go Bowling 400 NASCAR race and national consumer sweepstakes. It's been a great partnership and we are pleased to extend it into new areas."
As part of its activation in 2017, the Sixlets® Brand will be placing printed coupons on select packages that feature an offer for a free game of bowling. Also, Sixlets® will implement two consumer prize promotions during the year. Consumers will be able to enter the sweepstakes by visiting www.gobowling.com. These promotions include:
    Go Bowling 400 at Kansas Speedway VIP Sweepstakes – The Grand Prize is a VIP Race Trip to the Go Bowling 400 at Kansas Speedway.
    Family Caribbean Cruise Sweepstakes – The Grand Prize is a Family Caribbean Cruise aboard Disney Cruise Lines.
In addition, as a new element for 2017, the Sixlets® Brand will be the presenting sponsor of the 2017 USA Bowling National Championships operated by International Bowling Campus Youth Development. The event will be nationally televised on CBS Sports Network.
"The Sixlets® Brand is excited to continue to build our relationship with STE and expand that by becoming a presenting sponsor for the USA Bowling National Championships.  Bowling is a great all American family sport and Sixlets® is an all American brand," said Joe Annunziato, Sixlets® Senior Brand Manager.
About Strike Ten Entertainment
Headquartered in Arlington, Texas, STE is the centralized sponsor-activation arm of the bowling industry. STE serves all of the organizations of bowling by coordinating the industry's sales and marketing efforts. Its mission is to increase national awareness of bowling and to assist the bowling industry in developing new bowlers and increasing the frequency of existing bowlers each year through promotions, publicity and industry-wide marketing initiatives. For more information, visit www.stemarketing.com.
About GoBowling.com
GoBowling.com is the destination for bowling fans and enthusiasts seeking news and information about one of America's favorite pastimes and the nation's number one participatory sport. With more than 67 million people taking to the lanes every year, GoBowling.com is a one-stop location where people of all ages can go to satisfy their love of bowling. Consumers turn to GoBowling.com every day to find bowling fun – discovering new bowling centers, tips and tricks to use on the lanes, event news and great deals at more than 2,100+ family-friendly bowling centers across the country.
About Sixlets® Chocolatey Candies
Sixlets® Chocolatey Candies, which was introduced in the 1960s, is a brand of SweetWorks Confections, LLC., a manufacturer of premium gourmet confections. Sixlets® is the fun, colorful, gluten free, nut free, chocolatey candy available at retailers across the U.S. Sixlets® are produced in a facility that is certified Gluten Free by the Gluten Free Certification Program of Canada. Sixlets® is also endorsed by the Canadian Celiac Association & National Foundation for Celiac Awareness. Sixlets® is a registered trademark of the Hutamaki Group and is used under license.