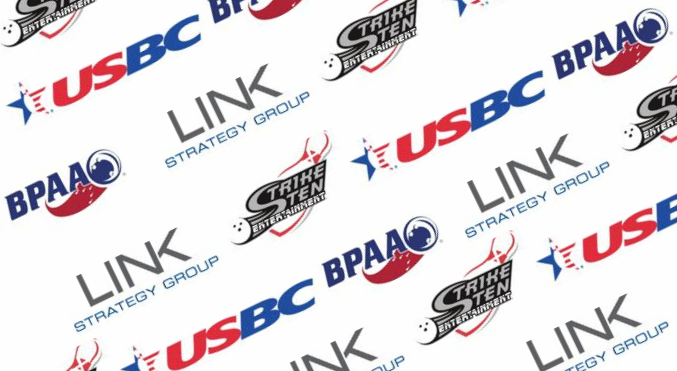 ARLINGTON, Texas – Bowling's major entities – the United States Bowling Congress (USBC), Bowling Proprietors' Association of America (BPAA) and Strike Ten Entertainment (STE) – have contracted with Link Strategy Group to develop sponsorship partners for the industry.
Combined, the USBC, BPAA and STE provide access to the more than 67 million consumers who bowl each year and more than 5,000 bowling centers across the U.S. Link Strategy Group will serve as the strategic partnership agency to introduce the bowling platform to potential non-endemic corporations interested in access to the sport of bowling.
"After an in-depth search for a partner in this area, the consensus was that Link Strategy Group was a great fit for bowling," said John Harbuck, President of Strike Ten Entertainment, the marketing arm of the bowling industry. "They immediately grasped the significant power that our organizations collectively offer and have the contacts to get bowling front-and-center with potential sponsors.
"Bowling is the number one participatory sport in the U.S. and, to date, is really untapped when it comes to non-endemic partnerships," he added.
In addition to providing companies with access to consumers through bowling centers, Link Strategy Group will be able to offer exclusive naming rights for the recently relaunched Professional Women's Bowling Association (PWBA) Tour and tour events. Current PWBA sponsors include Pepsi, Nationwide, Smithfield and Go Bowling.
Link Strategy Group will also be able to provide partners with unparalleled access to the USBC membership, which is larger than the combined memberships of similar organizations in golf and tennis. Opportunities also exist around the USBC's national events, which draw participation from thousands of bowlers around the country. These include the Open Championships, Women's Championships, USBC Masters, USBC Queens, U.S. Open, U.S. Women's Open, Junior Gold Championships, Team USA and others.
"Bowling is the original social network. It's a game that's been enjoyed by people of all ages and skill levels for literally centuries," said Jeff Benton, CEO of Link Strategy Group. "We are excited that for the first time a company can own the sport of bowling through the collective assets of the major bowling organizations.  We can deliver this platform, truly unique in the world of sports, to companies who want to reach a very loyal, expansive audience. And, with the PWBA, we have a new platform and women's sports property that is perfectly suited for companies wanting to connect with the female consumer."
For more information on how to partner with the bowling industry, contact Stephen Grecsek at sgrescek@linkstrategygroup.com.
About Link Strategy Group
Link Strategy Group (LSG) is comprised of industry veterans that focus on securing naming rights and high profile sponsorships for stadiums, arenas, franchises and other major sports & entertainment properties. LSG also represents innovative companies that are changing the music and entertainment landscape. The LSG team has worked on the forefront of industry-changing sponsorship deals and strategies for some of the world's premier sports organizations including the PGA TOUR, USTA, AEG, Octagon, Major League Soccer and NHL.
About United States Bowling Congress (USBC)
The United States Bowling Congress serves as the national governing body of bowling as recognized by the United States Olympic Committee (USOC). USBC conducts championship events nationwide including the largest participation sporting events in the world – the USBC Open and Women's Championships – and professional events such as the USBC Masters and USBC Queens.
Founded in 1895, today USBC and its 2,500 state and local associations proudly serve more than a million members. USBC is headquartered in Arlington, Texas, working toward a future for the sport. The online home for USBC is BOWL.com.
About Bowling Proprietors' Association of America (BPAA)
Founded in 1932, the mission of Bowling Proprietors' Association of America (BPAA) is to enhance the profitability of all of its members.  Headquartered in Arlington, Texas at the International Bowling Campus, the BPAA provides it's over 3,500 member centers with group purchasing programs, business and educational seminars, legislative representation and proactively promotes the association and bowling industry. For additional information please visit www.bpaa.com or call 1-800-343-1329.
About Strike Ten Entertainment
Headquartered in Arlington, Texas, STE is the centralized sponsor-activation arm of the bowling industry. STE serves all of the organizations of bowling by coordinating the industry's sales and marketing efforts. Its mission is to increase national awareness of bowling and to assist the bowling industry in developing new bowlers and increasing the frequency of existing bowlers each year through promotions, publicity and industry-wide marketing initiatives. For more information, visit www.stemarketing.com.