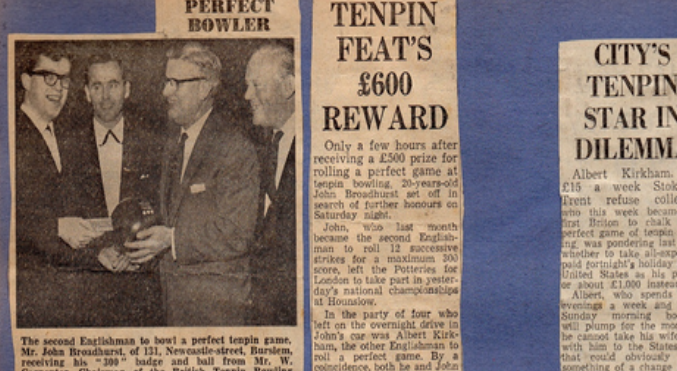 On Valentines day 2016 we celebrated 50 years since the second perfect game rolled by an English bowler.
John Broadbhurst was the second man in the UK to roll a 300 game. Who remembers second?
Well, John for one and all those players that finish runner up in tournaments or with Silver medals.
Albert Kirkham was the first at the Top Rank Bowl in Chester on the 5th of December 1965. A regular league bowler at the ABC Cine Bowl in Hanley. Albert's local centre at Hanley, Stoke on Trent, was later the site of the first 300 to be bowled in a ABC bowl. This was rolled by John Broadhurst in February 1967 some 14 months after Albert's.
Hanley holds the unique distinction of being the first center to have a 'Perfect Pair' bowling in their leagues.
Albert sadly passed on the 11th April 1987 aged just 55 so we were unable to interview him but John is very much alive and still bowling. To celebrate 50 years since the second perfect game by an English bowler we had the pleasure of speaking with John Broadhurst.
Read the full interview on the BTBA website here
*Press cuttings thanks to John Broadhurst
---
UK Tenpin Hall of Fame
 A UK Tenpin Hall of Fame has been long overdue for many years. We have had many amazing bowlers who have won just about everything from World Cups and World Championships to PBA and European titles. But there was never a place to honour these exceptional bowlers until now. At long last some of the most influential people in UK bowling have been brought together to form the UK Tenpin Hall of Fame.
---
UK Tenpin Timeline
A timeline has been built that charts the rise of Tenpin Bowling in the United Kingdom. This timeline is being built by the UK Tenpin Hall of Fame to give the wider media, researchers and bowlers an accurate UK Tenpin bowling historical reference source. It includes the first UK centre built, formations of associations and results from all major championships to to the present day. We invite you to share and promote the timeline as we try to raise awareness of our sport in the United Kingdom.
If you have information, photos, video, news clippings, magazines or anything that should be on the timeline please send to editor@talktenpin.net,  Click below to view the timeline.