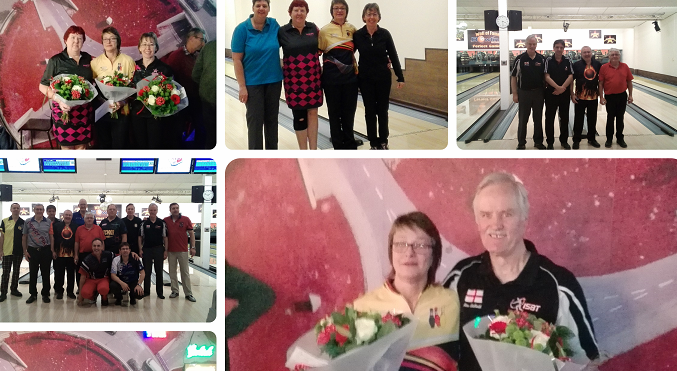 Zeeland Senior Open 2016
ISBT Tour 2016 Stop 10
Bowling Goes, Goes, Netherlands
29th November to 4th December 2016
Champions: Ron Oldfield and Karin Lischka
The final stop on the 2016 ISBT tour was a new venue, Bowling Goes in the Netherlands. This 12 lane centre is run by established international bowler Erwin Groen, and is well setup for competitive bowling, including a high quality restaurant which was put to good use for the traditional Saturday night players meal. The entry list of 54 men and 14 women was perhaps slightly disappointing, possibly due to the lower than normal prize fund for and ISBT event, but hopefully the entries will increase next year.
The format for the tournament was a single 6 game qualifying block, with unlimited re-entries. For those not able to qualify through the main leaderboard, there were additional opportunities through Scratch scores, Turbo games, and a Desperado squad. Age bonus started at age 51 (1 pin per game), then increased a pin for every additional year of age with no limit. As with all ISBT events, there was a separate division for ladies.
The tournament started on Tuesday, with Netherlands bowlers John de Vries and Ben Penninkhof leading the way with 1393 and 1307. Local favourite Farida Pascoal-Blom had a fine block of 1270 to show she was still in fine form.
Bowling resumed with a single small squad on Thursday evening, won by Roger Pieters (Belgium) with 1406, ahead of bowl owner Erwin Grown (Netherlands). Friday saw two more squads, with Ron Oldfield (England), and Valentin Fatu (Romania) leading the way. Liliane Vintens (Belgium) was top lady over the two Friday squads.
The first two squads on Saturday were led by English bowlers, Steven Jeeves and Lol Ellis. The third was won by Harald Punessen (Germany) with 1508, the highest qualifying block of the tournament. Martina Beckel (Germany) bowled 1288 to ensure her position in the ladies' qualification standings.
At the end of qualification, the men's leaderboard was led by Harald Punesson with 1508, ahead of Ron Oldfield and Valentin Fatu. The top 18 would automatically progress to the finals, 18th place was Keith Hodge (England) with 1340. These 18 would be joined by two Turbo, two Scratch, and two Desperado bowlers, making a total of 24 qualifiers. Martina Beckel led the women's section with 1288, ahead of Farida Pascoal-Blom, and Liliane Vintens. Only five women would qualify from the overall rankings, with Karin Lischka (Germany) being the fifth placed bowler on 1176. These five were joined by three more bowlers, one each from the Scratch, Turbo and Desperado lists.
The remaining men bowled a four game block from scratch, the top 16 progressing to the next round. Roger Pieters again scored well to lead with 997 from Ron Oldfield. Carlo Greulich (Germany) was the cut with 868. The 16 qualifiers then bowled a further four games, with pinfall carrying through. Roger Pieters slipped to third place, overtaken by Ron Oldfield and Harald Punessen, with Steven Jeeves just squeezing through in 12th place. The remaining 12 then bowled a further four games to determine the top four who would reach the stepladder finals. There was no change in the top four places, with Frank Lindsay (England) making the cut by a single pin to join Ron Oldfield, Harald Punessen and Roger Pieters.
The final was a straightforward single game stepladder. In the first match, Roger Pieters easily dispatched Frank Lindsay 261 to 219. In the second match, he had a narrow victory over Harald Punessen 203 to 181. However, the final did not go his way, and Ron Oldfield found the strikes for a 272 (247 scratch) game to easily become champion for the second time in 2016.
The ladies final was much simpler, with the remaining eight bowlers playing four games to determine the top four. Top qualifier was Karin Lischka who bowled steadily throughout for her total of 855. Also making the finals were Martina Beckel, Jan Hodge (England), and Inge Hazeleger (Netherlands).
In the first stepladder match, Jan Hodge saw off Inge Hazeleger 211-196, but then lost in a low scoring match to Martina Beckel 187 to 157. The scoring pace picked up in the final, with Karin Lischka emerging as the winner over Martina Beckel 231 to 216.
The ISBT tour will resume in 2017 for Arthur's Senior Open in Osnabruck, Germany, which takes place from the 5th to 12th March at Vegas Bowling. This will be immediately followed by the ISBT Masters for 2016, where the top bowlers from the 2016 are invited to compete for the Masters title. Full details are available at the ISBT web site, http://www.isbtbowlingtour.eu/
Men
Stepladder Final
Stepladder 1st Step
 
 
 
 
 
Pos
Name
 
Age
Bonus
Scratch
Total
1
Roger Pieters
BE
17
244
261
2
Frank Lindsay
ENG
16
203
219
Stepladder 2nd Step
Pos
Name
 
Age
Bonus
Scratch
Total
1
Roger Pieters
BE
17
186
203
2
Harald Punessen
DE
3
178
181
Stepladder Final Step
Pos
Name
 
Age
Bonus
Scratch
Total
1
Ron Oldfield
UK
25
247
272
2
Roger Pieters
BE
17
179
196
Final Round 3
Pos
Name
 
Age Bonus
Carried
Forward
Game 1
Game 2
Game 3
Game 4
Scratch
Total
Total
Average
1
Ron Oldfield
ENG
25
1973
235
193
225
162
815
2888
203.8
2
Harald Punessen
DE
3
1968
233
203
225
245
906
2886
226.5
3
Roger Pieters
BE
17
1956
205
197
199
239
840
2864
210.0
4
Frank Lindsay
ENG
16
1921
186
189
211
224
810
2795
202.5
5
Lol Ellis
ENG
16
1876
238
196
204
216
854
2794
213.5
6
Carlo Greulich
DE
8
1858
177
244
208
227
856
2746
214.0
7
Ron Van Den Bogaard
NL
4
1834
229
203
228
226
886
2736
221.5
8
Uwe Tscharke
DE
4
1794
215
211
258
236
920
2730
230.0
9
Mike Halliwell
ENG
9
1850
184
225
195
180
784
2670
196.0
10
John De Vries
NL
15
1829
211
169
192
193
765
2654
191.3
11
Steven Jeeves
ENG
3
1740
213
257
215
206
891
2643
222.8
12
Marc Franceus
BE
1
1756
197
206
214
194
811
2571
202.8
Final Round 2
Pos
Name
 
Age Bonus
Carried
Forward
Game 1
Game 2
Game 3
Game 4
Scratch
Total
Total
Average
1
Ron Oldfield
ENG
25
988
214
201
278
192
885
1973
221.3
2
Harald Punessen
DE
3
962
212
256
248
278
994
1968
248.5
3
Roger Pieters
BE
17
997
226
227
233
205
891
1956
222.8
4
Frank Lindsay
ENG
16
941
236
228
237
215
916
1921
229.0
5
Lol Ellis
ENG
16
970
216
233
221
172
842
1876
210.5
6
Carlo Greulich
DE
8
868
207
256
286
209
958
1858
239.5
7
Mike Halliwell
ENG
9
940
244
237
224
169
874
1850
218.5
8
Ron Van Den Bogaard
NL
4
952
215
224
224
203
866
1834
216.5
9
John De Vries
NL
15
927
177
247
205
213
842
1829
210.5
10
Uwe Tscharke
DE
4
883
197
205
256
237
895
1794
223.8
11
Marc Franceus
BE
1
872
214
217
228
221
880
1756
220.0
12
Steven Jeeves
ENG
3
922
203
202
206
195
806
1740
201.5
13
Giorgio Desimio
BE
16
890
179
227
201
179
786
1740
196.5
14
Keith Hodge
ENG
18
893
194
213
180
159
746
1711
186.5
15
Erwin Groen
NL
5
895
211
200
193
190
794
1709
198.5
16
Ger Van Loon
NL
13
936
193
182
154
166
695
1683
173.8
Final Round 1
Pos
Name
 
Age Bonus
Game 1
Game 2
Game 3
Game 4
Scratch
Total
Total
Average
1
Roger Pieters
BE
17
236
239
207
247
929
997
232.3
2
Ron Oldfield
ENG
25
268
192
203
225
888
988
222.0
3
Lol Ellis
ENG
16
227
238
204
237
906
970
226.5
4
Harald Punessen
DE
3
267
184
236
263
950
962
237.5
5
Ron Van Den Bogaard
NL
4
225
257
226
228
936
952
234.0
6
Frank Lindsay
ENG
16
201
228
235
213
877
941
219.3
7
Mike Halliwell
ENG
9
222
232
225
225
904
940
226.0
8
Ger Van Loon
NL
13
221
259
237
167
884
936
221.0
9
John De Vries
NL
15
197
198
215
257
867
927
216.8
10
Steven Jeeves
ENG
3
246
203
213
248
910
922
227.5
11
Erwin Groen
NL
5
248
202
235
190
875
895
218.8
12
Keith Hodge
ENG
18
180
208
214
219
821
893
205.3
13
Giorgio Desimio
BE
16
216
227
224
159
826
890
206.5
14
Uwe Tscharke
DE
4
180
246
216
225
867
883
216.8
15
Marc Franceus
BE
1
186
236
223
223
868
872
217.0
16
Carlo Greulich
DE
8
168
158
278
232
836
868
209.0
17
Dominique De Nolf
BE
10
226
207
151
234
818
858
204.5
18
Klaus Uwe Lischka
DE
7
194
168
207
254
823
851
205.8
19
Alan Jenkins
ENG
25
177
172
204
193
746
846
186.5
20
Walter Kindschuh
DE
1
208
203
216
213
840
844
210.0
21
Les Grant
ENG
22
172
183
188
185
728
816
182.0
22
Valentin Fatu
BE
4
141
200
214
190
745
761
186.3
23
Yves Delafonteyne
BE
2
181
138
217
197
733
741
183.3
24
Jordi Roca Martinez
BE
9
170
173
194
168
705
741
176.3
Qualifying
| | | | | | | |
| --- | --- | --- | --- | --- | --- | --- |
| Pos | Name |   | Age Bonus | Scratch | Total | Average |
| 1 | Harald Punessen | DE | 3 | 1490 | 1508 | 248.3 |
| 2 | Ron Oldfield | ENG | 25 | 1293 | 1443 | 215.5 |
| 3 | Valentin Fatu | BE | 4 | 1386 | 1410 | 231.0 |
| 4 | Roger Pieters | BE | 17 | 1304 | 1406 | 217.3 |
| 5 | Carlo Greulich | DE | 8 | 1352 | 1400 | 225.3 |
| 6 | Ger Van Loon | NL | 13 | 1322 | 1400 | 220.3 |
| 7 | Lol Ellis | ENG | 16 | 1303 | 1399 | 217.2 |
| 8 | Dominique De Nolf | BE | 10 | 1335 | 1395 | 222.5 |
| 9 | John De Vries | NL | 15 | 1303 | 1393 | 217.2 |
| 10 | Ron Van Den Bogaard | NL | 4 | 1365 | 1389 | 227.5 |
| 11 | Giorgio Desimio | BE | 16 | 1288 | 1384 | 214.7 |
| 12 | Frank Lindsay | ENG | 16 | 1282 | 1378 | 213.7 |
| 13 | Steven Jeeves | ENG | 3 | 1348 | 1366 | 224.7 |
| 14 | Klaus Uwe Lischka | DE | 7 | 1322 | 1364 | 220.3 |
| 15 | Erwin Groen | NL | 5 | 1321 | 1351 | 220.2 |
| 16 | Walter Kindschuh | DE | 1 | 1338 | 1344 | 223.0 |
| 17 | Mike Halliwell | ENG | 9 | 1287 | 1341 | 214.5 |
| 18 | Keith Hodge | ENG | 18 | 1232 | 1340 | 205.3 |
| 19 | Uwe Tscharke | DE | 4 | 1315 | 1339 | 219.2 |
| 20 | Alan Jenkins | ENG | 25 | 1175 | 1325 | 195.8 |
| 21 | André Geelen | BE | 20 | 1204 | 1324 | 200.7 |
| 22 | Ben Penninkhof | NL | 19 | 1193 | 1307 | 198.8 |
| 23 | Henry Van Steenis | NL | 9 | 1247 | 1301 | 207.8 |
| 24 | Ian Buckland | ENG | 11 | 1234 | 1300 | 205.7 |
| 25 | Mo Singleton | ENG | 22 | 1162 | 1294 | 193.7 |
| 26 | Robert Vallons | BE | 10 | 1228 | 1288 | 204.7 |
| 27 | Frank Sander | ENG | 36 | 1068 | 1284 | 178.0 |
| 28 | Leen Van Haaften | NL | 12 | 1205 | 1277 | 200.8 |
| 29 | Marc Franceus | BE | 1 | 1265 | 1271 | 210.8 |
| 30 | Leen Schaap | NL | 19 | 1157 | 1271 | 192.8 |
| 31 | Yves Van Damme | BE | 9 | 1209 | 1263 | 201.5 |
| 32 | Yves Delafonteyne | BE | 2 | 1247 | 1259 | 207.8 |
| 33 | Werner Knoebl | DE | 9 | 1198 | 1252 | 199.7 |
| 34 | Norbert Rondelez | BE | 8 | 1203 | 1251 | 200.5 |
| 35 | Jack Smith | ENG | 13 | 1173 | 1251 | 195.5 |
| 36 | Ben Van Denzel | NL | 8 | 1196 | 1244 | 199.3 |
| 37 | Jordi Roca Martinez | BE | 9 | 1189 | 1243 | 198.2 |
| 38 | Harry Meier | NL | 11 | 1169 | 1235 | 194.8 |
| 39 | René Gooyers | NL | 12 | 1159 | 1231 | 193.2 |
| 40 | Peter Broekmans | NL | 1 | 1224 | 1230 | 204.0 |
| 41 | Les Grant | ENG | 22 | 1096 | 1228 | 182.7 |
| 42 | Jan Moonen | BE | 0 | 1217 | 1217 | 202.8 |
| 43 | Jurgen Laermans | BE | 1 | 1211 | 1217 | 201.8 |
| 44 | Wilbert Anthonisse | NL | 0 | 1208 | 1208 | 201.3 |
| 45 | Auke Broekhuizen | NL | 5 | 1175 | 1205 | 195.8 |
| 46 | Nico Thienpondt | NL | 2 | 1178 | 1190 | 196.3 |
| 47 | Nick Wright | ENG | 1 | 1160 | 1166 | 193.3 |
| 48 | Hans Bakker | NL | 17 | 1060 | 1162 | 176.7 |
| 49 | Jean Michel Leonard | BE | 1 | 1137 | 1143 | 189.5 |
| 50 | Peter Van Den Oever | NL | 5 | 1109 | 1139 | 184.8 |
| 51 | Jack Perignon | BE | 12 | 1053 | 1125 | 175.5 |
| 52 | Luciano Casagrande | BE | 1 | 1107 | 1113 | 184.5 |
| 53 | Paul Lamon | BE | 12 | 998 | 1070 | 166.3 |
| 54 | Arie Van Zuilen | NL | 2 | 1025 | 1037 | 170.8 |
Ladies
Final
Stepladder 1st Step
 
 
 
 
 
Pos
Name
 
Age
Bonus
Scratch
Total
1
Jan Hodge
ENG
11
200
211
2
Inge Hazeleger
NL
2
194
196
Stepladder 2nd Step
 
 
 
 
 
Pos
Name
 
Age
Bonus
Scratch
Total
1
Martina Beckel
DE
7
180
187
2
Jan Hodge
ENG
11
146
157
Stepladder Final Step
 
 
 
 
 
Pos
Name
 
Age
Bonus
Scratch
Total
1
Karin Lischka
DE
6
225
231
2
Martina Beckel
DE
7
209
216
Final Round 1
Pos
Name
 
Age Bonus
Game 1
Game 2
Game 3
Game 4
Scratch
Total
Total
Average
1
Karin Lischka
DE
6
218
235
198
180
831
855
207.8
2
Martina Beckel
DE
7
190
191
243
151
775
803
193.8
3
Jan Hodge
ENG
11
189
195
149
211
744
788
186.0
4
Inge Hazeleger
NL
2
212
158
192
210
772
780
193.0
5
Maria Luisa Carola
BE
5
202
157
215
181
755
775
188.8
6
Liliane Vintens
BE
9
139
184
172
224
719
755
179.8
7
Farida Pascoal-Blom
NL
21
189
167
151
162
669
753
167.3
8
Angie Brown
ENG
8
164
169
174
191
698
730
174.5
Qualifying
| | | | | | | |
| --- | --- | --- | --- | --- | --- | --- |
| Pos | Name |   | Age Bonus | Scratch | Total | Average |
| 1 | Martina Beckel | DE | 7 | 1246 | 1288 | 207.7 |
| 2 | Farida Pascoal-Blom | NL | 21 | 1144 | 1270 | 190.7 |
| 3 | Liliane Vintens | BE | 9 | 1205 | 1259 | 200.8 |
| 4 | Angie Brown | ENG | 8 | 1201 | 1249 | 200.2 |
| 5 | Karin Lischka | DE | 6 | 1140 | 1176 | 190.0 |
| 6 | Inge Hazeleger | NL | 2 | 1161 | 1173 | 193.5 |
| 7 | Jan Hodge | ENG | 11 | 1092 | 1158 | 182.0 |
| 8 | Maria Luisa Carola | BE | 5 | 1116 | 1146 | 186.0 |
| 9 | Marian Verhoef | NL | 11 | 1061 | 1127 | 176.8 |
| 10 | Linda Van Kerckhove | BE | 0 | 1082 | 1082 | 180.3 |
| 11 | Henny Van Der Jagt | NL | 21 | 939 | 1065 | 156.5 |
| 12 | Ruth Stander | ENG | 32 | 873 | 1065 | 145.5 |
| 13 | Paula Visser | NL | 0 | 1052 | 1052 | 175.3 |
| 14 | Franziska Knoebl | DE | 7 | 945 | 987 | 157.5 |