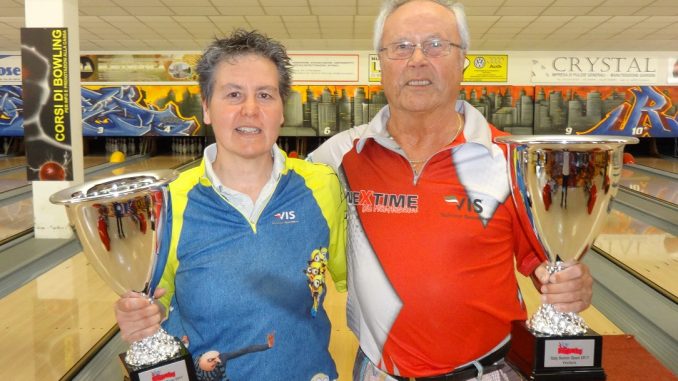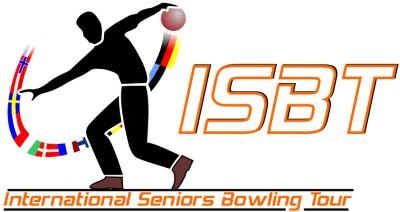 Reno Bowling, Bologna, Italy
2nd to 11th June 2017
Champions: Hermann Wimmer and Daniella Buzzelli

The fourth stop on the 2017 ISBT tour was in Italy, at Reno Bowling in Bologna. This attracted an entry list of 116 competitors, with the majority coming from Italy, only 31 participants were from other countries. The format for the tournament was two six game qualifying blocks, with re-entries allowing the lowest blocks to be replaced. For those not able to qualify through the main leaderboard, there were additional opportunities through Turbo games and Early Bird qualification. Age bonus started at age 51 (1 pin per game), then increased a pin for every additional year of age with no limit. As with all ISBT events, there was a separate division for ladies.
Qualifying started a week before finals day, and in total there were 24 qualifying squads. The early squads showed a good scoring pace, the first weekend being dominated by Italians, Marco Borbeggiani with 1409, Graziano Pachera with 1407 and in the ladies division Alessandra Morra with a huge 1369 block.
Monday saw further good blocks from the Italians, with Loris Masetti setting a new high of 1449, and Alessandra Morra posting a second good block of 1271 to have a commanding position at the top of the leaderboard. Loris Masetti had a further good block on Tuesday to take an early lead in the overall rankings.
The Wednesday squads saw a steady flow of good blocks over 1300, with Loris Masetti extending his overall lead with a 1352 block. On Thursday, the overseas bowlers started to make their mark, with Belgians Georgio Desimio and Roger Pieters both having blocks just over 1400. Thursday also saw the cutoff for Early Bird section, only bowlers who had completed two blocks by Thursday could qualify through the Early Bird route.
Friday saw more big scores from the overseas players. Defending champion Hermann Wimmer (Germany) had a starting block of 1524, while Claude Escarguel (France) found two good blocks to stand top in the overall standings.
There were four final squads on Saturday, Hermann Wimmer found another big block of 1504 to now lead the rankings, while a 1522 block from Christer Danielsson (Sweden) eased him into second place overall, ahead of Claude Escarguel. The cut for the final was 24th place, this going to Stefano Beltrami (Italy) with 2671. An additional eight places in the finals would be filled by Early Bird and Turbo qualifiers.
In the ladies division, two good blocks from Maria Grazia Matrullo (Italy) moved her into second place in the overall rankings, but well behind Alessandra Morra. Daniela Buzzelli (Italy) and Maria Grazia Locatelli (Italy) were third and fourth, with 2016 winner Beate Albert (Germany) in the fifth and last qualifying position.
The 32 male players from qualifying were then divided into four groups of eight bowlers, each playing a round robin format. The top two from each group progressed to the grand final, which was another 8 game round robin.
In the Blue Group, Aurelio Briganti (Italy) was the clear winner, with Roger Pieters just holding on for the second place slot. The Green Group was won by Marco Reviglio (Italy), with second place being snatched at the end by Steven Jeeves (England) with games of 258, 244 and 248. The Red Group was dominated by Christer Danielsson, who averaged 238 to win by a substantial margin from Patrick Rolland (France) The final Yellow Group was won by Luciano Marsero (Italy), ahead of Hermann Wimmer.

In the men's final, Christer Danielsson and Hermann Wimmer were in a class of their own, with the lead changing several times between them. Before the last game, Hermann Wimmer had a 35 pin lead, and despite a 247 last game from Christer Danielsson, he held on to take the title for the second successive year. Steven Jeeves again finished strongly to take third place.
In the Women's final, Alessandra Morra, the clear qualifying leader, struggled over the first few games, with Maria Rosaria Matrullo leading after three games. However, Daniella Buzzelli bowled consistently to open a small lead which she held onto to take the win, ahead of Beate Albert and Alessandra Morra.
The next stop on the 2017 tour is at the Böblingen Senior Open at Dream Bowl in Böblingen, Germany. The tournament runs from the 8th to 16th July, full details are available at the ISBT web site, http://www.isbtbowlingtour.eu/
Results
Men
Final

Final Round 1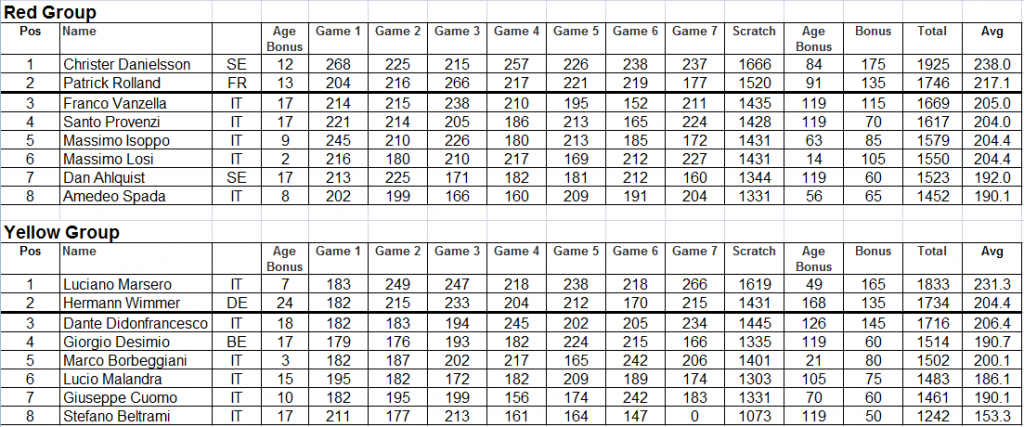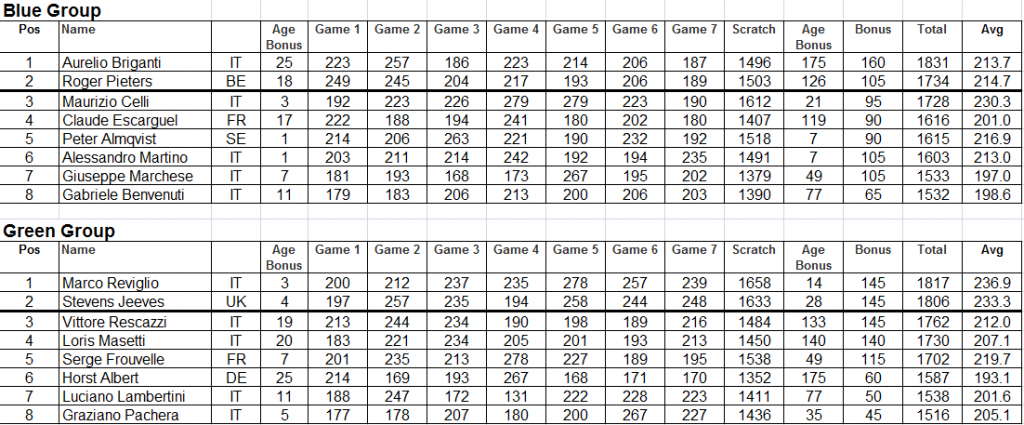 Qualifying
| | | | | | | | |
| --- | --- | --- | --- | --- | --- | --- | --- |
| Pos | Name | | Age Bonus | First Series | Second Series | Total | Average |
| 1 | Hermann Wimmer | DE | 24 | 1524 | 1504 | 3028 | 228.3 |
| 2 | Christer Danielsson | SE | 12 | 1522 | 1376 | 2898 | 229.5 |
| 3 | Claude Escarguel | FR | 17 | 1483 | 1361 | 2844 | 220.0 |
| 4 | Marco Reviglio | IT | 3 | 1443 | 1381 | 2824 | 232.3 |
| 5 | Loris Masetti | IT | 20 | 1449 | 1367 | 2816 | 214.7 |
| 6 | Alessandro Martino | IT | 1 | 1479 | 1320 | 2799 | 232.3 |
| 7 | Santo Provenzi | IT | 17 | 1474 | 1323 | 2797 | 216.1 |
| 8 | Giorgio Desimio | BE | 17 | 1409 | 1370 | 2779 | 214.6 |
| 9 | Dante Didonfrancesco | IT | 18 | 1388 | 1376 | 2764 | 212.3 |
| 10 | Amedeo Spada | IT | 8 | 1385 | 1357 | 2742 | 220.5 |
| 11 | Roger Pieters | BE | 18 | 1402 | 1336 | 2738 | 210.2 |
| 12 | Steven Jeeves | UK | 4 | 1373 | 1358 | 2731 | 223.6 |
| 13 | Graziano Pachera | IT | 5 | 1407 | 1321 | 2728 | 222.3 |
| 14 | Maurizio Celli | IT | 3 | 1390 | 1326 | 2716 | 223.3 |
| 15 | Massimo Losi | IT | 2 | 1365 | 1345 | 2710 | 223.8 |
| 16 | Marco Borbeggiani | IT | 3 | 1409 | 1299 | 2708 | 222.7 |
| 17 | Luciano Marsero | IT | 7 | 1360 | 1346 | 2706 | 218.5 |
| 18 | Patrick Rolland | FR | 13 | 1396 | 1309 | 2705 | 212.4 |
| 19 | Peter Almqvist | SE | 1 | 1352 | 1349 | 2701 | 224.1 |
| 20 | Horst Albert | DE | 25 | 1359 | 1340 | 2699 | 199.9 |
| 21 | Serge Frouvelle | FR | 7 | 1377 | 1321 | 2698 | 217.8 |
| 22 | Aurelio Briganti | IT | 25 | 1356 | 1320 | 2676 | 198.0 |
| 23 | Franco Vanzella | IT | 17 | 1379 | 1293 | 2672 | 205.7 |
| 24 | Stefano Beltrami | IT | 17 | 1397 | 1274 | 2671 | 205.6 |
| 25 | Dan Ahlquist | SE | 17 | 1362 | 1302 | 2664 | 205.0 |
| 26 | Lucio Malandra | IT | 15 | 1389 | 1275 | 2664 | 207.0 |
| 27 | Massimo Isoppo | IT | 9 | 1335 | 1324 | 2659 | 212.6 |
| 28 | Gabriele Benvenuti | IT | 11 | 1336 | 1310 | 2646 | 209.5 |
| 29 | Luciano Lambertini | IT | 11 | 1350 | 1293 | 2643 | 209.3 |
| 30 | Vittore Rescazzi | IT | 19 | 1329 | 1307 | 2636 | 200.7 |
| 31 | Giuseppe Marchese | IT | 7 | 1342 | 1281 | 2623 | 211.6 |
| 32 | Vecchio Sante Del | IT | 20 | 1350 | 1264 | 2614 | 197.8 |
| 33 | Antonio Maddaloni | IT | 12 | 1372 | 1242 | 2614 | 205.8 |
| 34 | Claudio Zucconi | IT | 17 | 1334 | 1279 | 2613 | 200.8 |
| 35 | Helmut Ulber | DE | 18 | 1306 | 1305 | 2611 | 199.6 |
| 36 | Benito Guzzinati | IT | 28 | 1328 | 1277 | 2605 | 189.1 |
| 37 | Ivan Burian | CZ | 5 | 1348 | 1229 | 2577 | 209.8 |
| 38 | Bjorn Bergvall | SE | 11 | 1303 | 1271 | 2574 | 203.5 |
| 39 | Vittorio Gorrieri | IT | 16 | 1364 | 1208 | 2572 | 198.3 |
| 40 | Togni Riziero | IT | 16 | 1315 | 1256 | 2571 | 198.3 |
| 41 | Dario Servadio | IT | 15 | 1300 | 1264 | 2564 | 198.7 |
| 42 | Oliver Simonian | FR | 11 | 1292 | 1271 | 2563 | 202.6 |
| 43 | Stefano Michelini | IT | 8 | 1282 | 1267 | 2549 | 204.4 |
| 44 | Auke Broekhuizen | NL | 6 | 1282 | 1262 | 2544 | 206.0 |
| 45 | Giuseppe Sciascia | IT | 13 | 1277 | 1263 | 2540 | 198.7 |
| 46 | Danilo Catani | IT | 14 | 1272 | 1262 | 2534 | 197.2 |
| 47 | Ulf Lonngren | SE | 21 | 1284 | 1236 | 2520 | 189.0 |
| 48 | Giorgio Galluzzo | IT | 14 | 1293 | 1222 | 2515 | 195.6 |
| 49 | Francesco Anacleria | IT | 18 | 1288 | 1226 | 2514 | 191.5 |
| 50 | Bruno Masslow | BE | 2 | 1280 | 1229 | 2509 | 207.1 |
| 51 | Laus Roberto Di | IT | 13 | 1274 | 1223 | 2497 | 195.1 |
| 52 | Jean-Philippe Rossire | CH | 15 | 1289 | 1208 | 2497 | 193.1 |
| 53 | Angelo Maggi | IT | 12 | 1249 | 1244 | 2493 | 195.8 |
| 54 | Giuseppe Cuomo | IT | 10 | 1305 | 1185 | 2490 | 197.5 |
| 55 | Calogero Miraglia | BE | 15 | 1288 | 1199 | 2487 | 192.3 |
| 56 | Antonio Garilli | IT | 16 | 1312 | 1173 | 2485 | 191.1 |
| 57 | Lamberto Catalani | IT | 1 | 1273 | 1206 | 2479 | 205.6 |
| 58 | Mauro Bruschi | IT | 6 | 1302 | 1169 | 2471 | 199.9 |
| 59 | Luca Caiti | IT | 2 | 1260 | 1204 | 2464 | 203.3 |
| 60 | Arthur Dahn | DE | 16 | 1254 | 1204 | 2458 | 188.8 |
| 61 | Paolo Ramondini | IT | 7 | 1256 | 1188 | 2444 | 196.7 |
| 62 | Ennio Giroldini | IT | 13 | 1267 | 1163 | 2430 | 189.5 |
| 63 | Giuseppe Panelli | IT | 10 | 1239 | 1180 | 2419 | 191.6 |
| 64 | Avellino Zampieri | IT | 7 | 1225 | 1192 | 2417 | 194.4 |
| 65 | Generoso Ciccone | IT | 17 | 1237 | 1175 | 2412 | 184.0 |
| 66 | Alder Zappaterra | IT | 19 | 1198 | 1190 | 2388 | 180.0 |
| 67 | Maurizio Gasperini | IT | 8 | 1235 | 1143 | 2378 | 190.2 |
| 68 | Maurizio Tiso | IT | 13 | 1218 | 1154 | 2372 | 184.7 |
| 69 | Roberto Panero | IT | 18 | 1212 | 1142 | 2354 | 178.2 |
| 70 | Roberto Reverdito | IT | 3 | 1232 | 1115 | 2347 | 192.6 |
| 71 | Roberto Antonello | IT | 11 | 1187 | 1153 | 2340 | 184.0 |
| 72 | Roberto Cesi | IT | 3 | 1230 | 1107 | 2337 | 191.8 |
| 73 | Nicola Galeone | IT | 7 | 1188 | 1141 | 2329 | 187.1 |
| 74 | Davide Sacchi | IT | 1 | 1237 | 1057 | 2294 | 190.2 |
| 75 | Sergio Trovato | IT | 9 | 1168 | 1125 | 2293 | 182.1 |
| 76 | Mauro Galli | IT | 16 | 1168 | 1124 | 2292 | 175.0 |
| 77 | Rinaldo Amadori | IT | 21 | 1197 | 1091 | 2288 | 169.7 |
| 78 | Michelangelo Chiale | IT | 16 | 1174 | 1114 | 2288 | 174.7 |
| 79 | Aniello Graziuso | IT | 3 | 1147 | 1141 | 2288 | 187.7 |
| 80 | Patrice Sustar | FR | 16 | 1148 | 1127 | 2275 | 173.6 |
| 81 | Ermanno Morini | IT | 14 | 1161 | 1112 | 2273 | 175.4 |
| 82 | Pat Nolan | US | 3 | 1153 | 1118 | 2271 | 186.3 |
| 83 | Giuseppe Pascotto | IT | 27 | 1181 | 1089 | 2270 | 162.2 |
| 84 | Monte Carlo Dal | IT | 23 | 1153 | 1113 | 2266 | 165.8 |
| 85 | Ezio Bona | IT | 16 | 1132 | 1132 | 2264 | 172.7 |
| 86 | Thierry Deboissy | FR | 37 | 1137 | 1127 | 2264 | 151.7 |
| 87 | Lorenzo Fiorentin | IT | 21 | 1152 | 1108 | 2260 | 167.3 |
| 88 | Daniele Fracasso | IT | 12 | 1236 | 1019 | 2255 | 175.9 |
| 89 | Dominique Brosens | BE | 8 | 1161 | 1090 | 2251 | 179.6 |
| 90 | Paolo Feretti | IT | 12 | 1174 | 1063 | 2237 | 174.4 |
| 91 | Giorgio Magni | IT | 3 | 1139 | 1093 | 2232 | 183.0 |
| 92 | Giorgio Sacco | IT | 10 | 1136 | 1095 | 2231 | 175.9 |
| 93 | Pasquale Dieni | IT | 14 | 1150 | 1080 | 2230 | 171.8 |
| 94 | Marcello Liperoti | IT | 0 | 1150 | 1080 | 2230 | 185.8 |
| 95 | Saverio D'Elia | IT | 6 | 1126 | 1103 | 2229 | 179.8 |
| 96 | Domenico Giacubbo | IT | 7 | 1157 | 1070 | 2227 | 178.6 |
| 97 | Wilfred Brocken | BE | 3 | 1117 | 1106 | 2223 | 182.3 |
| 98 | Vincenzo Fantauzzo | IT | 10 | 1159 | 1046 | 2205 | 173.8 |
| 99 | Enrico Salvati | IT | 13 | 1151 | 1031 | 2182 | 168.8 |
| 100 | Antonio Fecchio | IT | 16 | 1088 | 1055 | 2143 | 162.6 |
| 101 | Luigi Vicentini | IT | 13 | 1137 | 1001 | 2138 | 165.2 |
| 102 | Carmine Rotondaro | IT | 23 | 1096 | 1021 | 2117 | 153.4 |
| 103 | Claudio Nazzurri | IT | 10 | 1081 | 1018 | 2099 | 164.9 |
| 104 | Franco Meneghel | IT | 10 | 980 | 975 | 1955 | 152.9 |
| 105 | Wainer Gianotti | IT | 2 | 1093 | 0 | 1093 | 180.2 |
Ladies
Final

Qualifying
| | | | | | | | |
| --- | --- | --- | --- | --- | --- | --- | --- |
| Pos | Name | | Age Bonus | First Series | Second Series | Total | Average |
| 1 | Alessandra Morra | IT | 4 | 1369 | 1271 | 2640 | 216.0 |
| 2 | M.Rosaria Matrullo | IT | 15 | 1216 | 1212 | 2428 | 187.3 |
| 3 | Daniela Buzzelli | IT | 1 | 1208 | 1187 | 2395 | 198.6 |
| 4 | Maria Grazia Locatelli | IT | 15 | 1216 | 1149 | 2365 | 182.1 |
| 5 | Beate Albert | DE | 7 | 1186 | 1158 | 2344 | 188.3 |
| 6 | Maria Tirelli | IT | 6 | 1194 | 1136 | 2330 | 188.2 |
| 7 | Angie Brown | UK | 9 | 1174 | 1156 | 2330 | 185.2 |
| 8 | Laurence Gaillard | FR | 2 | 1163 | 1117 | 2280 | 188.0 |
| 9 | Carmen Secchi | IT | 10 | 1150 | 1119 | 2269 | 179.1 |
| 10 | Pasqualina Curcio | IT | 4 | 1127 | 1098 | 2225 | 181.4 |
| 11 | Luciana Cafaro | IT | 7 | 1110 | 1091 | 2201 | 176.4 |
| 12 | Giuseppa Torrisi | IT | 4 | 1096 | 1074 | 2170 | 176.8 |
| 13 | Doriana Marconi | IT | 9 | 1074 | 1059 | 2133 | 168.8 |
| 14 | Benedetta Fodera' | IT | 0 | 1059 | 1055 | 2114 | 176.2 |
| 15 | Maria Grazia Caliari | IT | 0 | 1059 | 1021 | 2080 | 173.3 |
| 16 | Monica Vento | IT | 4 | 1062 | 978 | 2040 | 166.0 |
| 17 | Nadia Petre | BE | 4 | 1031 | 995 | 2026 | 164.8 |
| 18 | Simonetta Marchesi | IT | 4 | 1021 | 1000 | 2021 | 164.4 |
| 19 | Anna Maiale | IT | 5 | 992 | 943 | 1935 | 156.3 |
| 20 | Maria Scarpino | IT | 8 | 884 | 845 | 1729 | 136.1 |