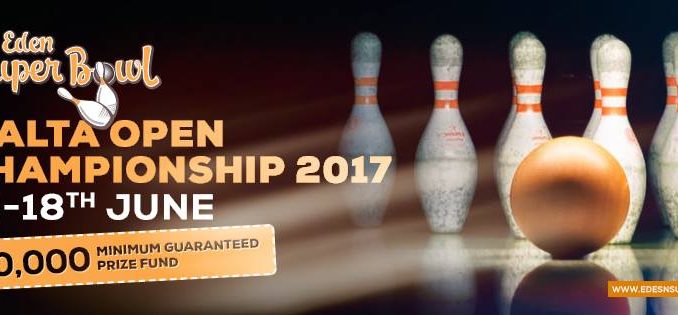 2017 Malta Open Championships – FINALS DAY
14-18th June 2017
Results http://www.edensuperbowl.com/index.php/scores-menu-2017
Malta's Sue Abela wins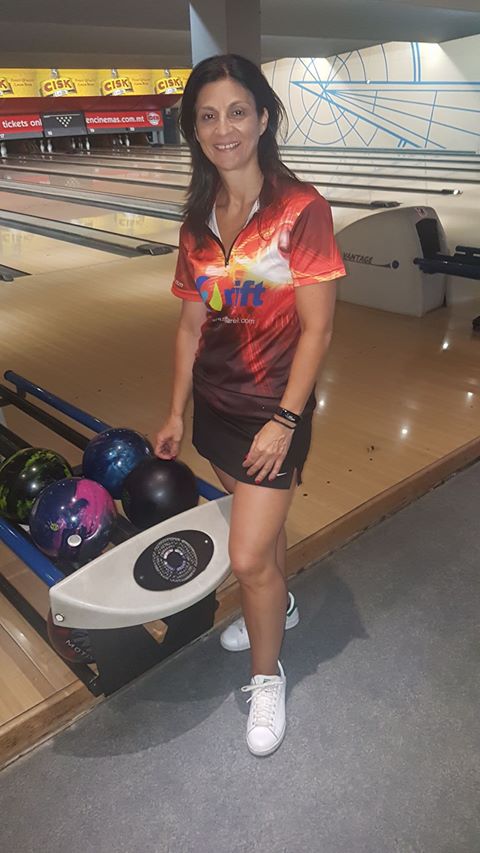 Final
Malta's Sue Abela met defending champion Aidas Daniunas of Lithuania. Abela known around Europe as the Queen of the Mediterranean won the first game against a strong left handed Daniunas 213-192 and took the second by almost the same margin 218-193 to claim the title for the third time and first in combined male and female event.
Watch here – https://www.youtube.com/watch?v=dnMJ_llMdy0
Semi Finals
Sue Abela took out Frenchman Julien Sermand with games of 218 and 278 to win 512-428 and Rob Thurlby lost to Aidas Daniunus with the Lithuanian hitting 528 to the Englishman's 452.
Watch here – https://www.youtube.com/watch?v=cXIW65u25PE
Quarter Finals
8 becomes 4 in the quarter finals and the full results can be viewed here. Sue Abela proceeds to play Julien Sermand and defending champion, Aidas Daniunus plays Rob Thurlby in the next round.
Matchplay
Matchplay is always exciting and the round of 16 was no exception. The full results can be viewed here, but it was heartbreakingly close for Vicki Harman who lost by 2 pins to Barry Foley, Gary Newton who lost by 3 to Rob Thurlby, and Mark Spiteri who gave it away in the 10th frame to Justin Caruana Scicluna.
The bowlers to proceed are Sue Abela, Mark Jacobs, Rob Thurlby, Aidas Daniunus, Justin Caruana Scicluna, Barry Foley, Julien Sermand and Gary Sykes.
Final Stage 2
The top twelve bowlers took to the lanes for their next four games, joined by those seeded 7-12 from qualifying. Scores were back to scratch, with the top ten bowlers going through to the matchplay rounds. Adam Michaels was the top scorer this block with 966, followed by Malta's Mark Spiteri with 951 and Justin Caruana Sciclu with 950. Rankin Luke Camilleri took the final spot with 859.
Final Stage 1
Bowlers 13-36 took to the lanes for their four games this morning. Kevin Brockman was fast out of the blocks, opening with 279. Gary Newton also started strongly with 269 and Neil Highgate 268. Barry Foley blasted games of 237-258-268-216 for 979, but it was Gary Newton who finished on top with 999, including the tournament's first 300 game.
The cut came at 853 for Amanda Larkin, with Damir Brazezac missing out by just one pin. The twelve bowlerhes are now joined by those seeded 7-12 for a further four games.
Qualifying
The results are in, with the top 28 bowlers from qualifying making the cut, which fell at 2576 for Maltese National Champion, Mauro Anastasi. They are joined by four bowlers from the turbo qualifying, Bart van Kerckhoven (290), Gary Newton (279), Neil Sullivan (277) and Sascha Wedel (272). The four bowlers to proceed from desperado were Marco Landman (279), Glenn Verlinden (248), Kevin Brockman (243) and Melissa Swift (242). It was bad luck for Tiziana Carannante who missed the top 28 by just 1 pin and the desperado by just 2.
The top 6 bowlers have a bye to round 3, with Rob Thurlby taking the sixth spot, and places 7-12 joining in with round 2. Marc Jorg was the cut to 12. Sue Abela is the tournament leader. The top 12 bowlers from round 1 will proceed to round 2. Scores are back to scratch.