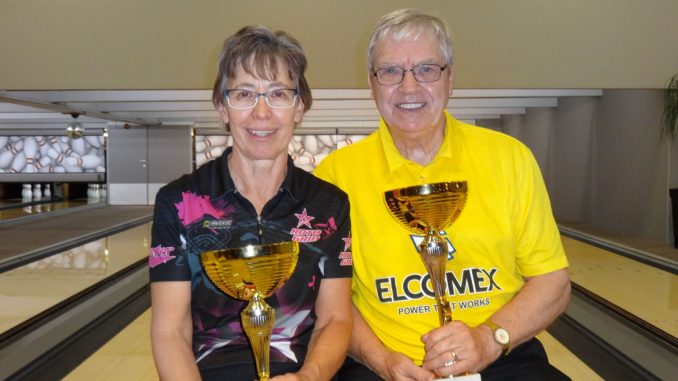 Euro Bowling, Deurne, Antwerp, Belgium
30th October to 3rd November 2019
Champions: Martina Beckel and Alan Jenkins
The tenth stop on the 2019 ISBT tour was a return to the popular venue of Euro Bowling in Deurne, Belgium, which attracted an entry of 80 men and 26 women. The format for the tournament was a single 6 game qualifying block, with unlimited re-entries. For those not able to qualify through the main leader board, there were additional opportunities through Turbo games, Scratch scores and a Desperado squad. Age bonus started at age 51 (1 pin per game), then increased a pin for every additional year of age with no limit. As with all ISBT events, there was a separate division for ladies.
Qualification squads ran from Thursday to Saturday, with two squads on the opening day. Arthur Dähn from Germany led with 1449, ahead of Jean-Marc Marin on 1418. In the ladies' section, Farida Pascoal-Blom from the Netherlands was highest with 1317, ahead of Linda Van Kerchove from Belgium.
Day two saw Georgio Desimio from Belgium top the scoring with 1438, ahead of Hermann Wimmer from Germany. Veronique Perniaux from Belgium leapt to the top of the leaderboard with 1379, with Kimberley Oakley from England finding a good 1356 block.
There were four squads on the final qualifying day, and Alan Jenkins from England moved to the top of the leaderboard with 1507, with other top scores being posted by Mo Singleton from England and Helmut Ulber from Germany. There was more good scoring in the ladies' section, with Martina Beckel from Germany being top over the day with 1346. No other lady managed to gain a top 5 place through the four Saturday squads.
At the end of qualification, Alan Jenkins was top with 1507, ahead of Mo Singleton, Helmut Ulber and Steve Carnall from England. These four would miss the first final round. The cut in 20th place was Alan Keddie from Scotland with 1370. Joining the top twenty would be three Scratch, three Turbo, and two Desperado qualifiers.
In the women's rankings, Veronique Perniaux was top with 1379, ahead of Kimberley Oakley and Martina Beckel. Farida Pascoal Blom and Daniele Guigon from France made up the five bowlers who would quality for the finals, the cut being a very high 1280. These five would be joined by one Scratch, one Turbo, and one Desperado qualifier.
9 men and 7 ladies took part in the Desperado competition. Robert Bruce from England and Ben Van Denzel from the Netherlands gained the last qualification places, along with Lynne Walker from Wales.
Early on Sunday morning, 24 men played a four game block, the top 11 plus the top scratch bowler would progress to the later rounds. Hermann Wimmer led with 1000, ahead of Roger Pieters from Belgium. The cut in eleventh place was Georgio Desimio from Belgium with 867. Jurgen Laermans from Belgium was the scratch qualifier with 824.

The sixteen bowlers were now split into four groups of four. Each group played a two game block, with the lowest player eliminated after each block until only one player remained in each block. After some close matches, the four finalists were Hermann Wimmer Alan Jenkins, Roger Pieters, and Mo Singleton from England. The final would be decided in a stepladder format, with all the male players making the final being at least 70 years old.
In the first match, Mo Singleton had a close win over Roger Pieters, then easily lost to Alan Jenkins. In the final match, Alan Jenkins powered away with strike after strike to defeat Hermann Wimmer 283-245 for his 4th ISBT title.
In the ladies' section, the format was two groups of four, with the lowest player being eliminated after each two game block. The four players to make the stepladder final were Veronique Perniaux, Martina Beckel, Lynne Walker and Linda Van Kerckhove from Belgium.
Lynne Walker had a close win in the first match over Linda Van Kerckhove, then ran into an on-form Martina Beckel who easily won the second match. The final was again full of strikes, but finally Martina Beckel defeated Veronique Perniaux, and emerged the champion 258-246, for her 3rd win of the year, taking her overall ISBT title count to 15.
The final stop for 2019 is the Goes Senior Open, which takes place at Bowling Goes in the Netherlands. The tournament runs from the 3rd to 8th December. Full details are available at the ISBT web site, http://www.isbtbowlingtour.eu/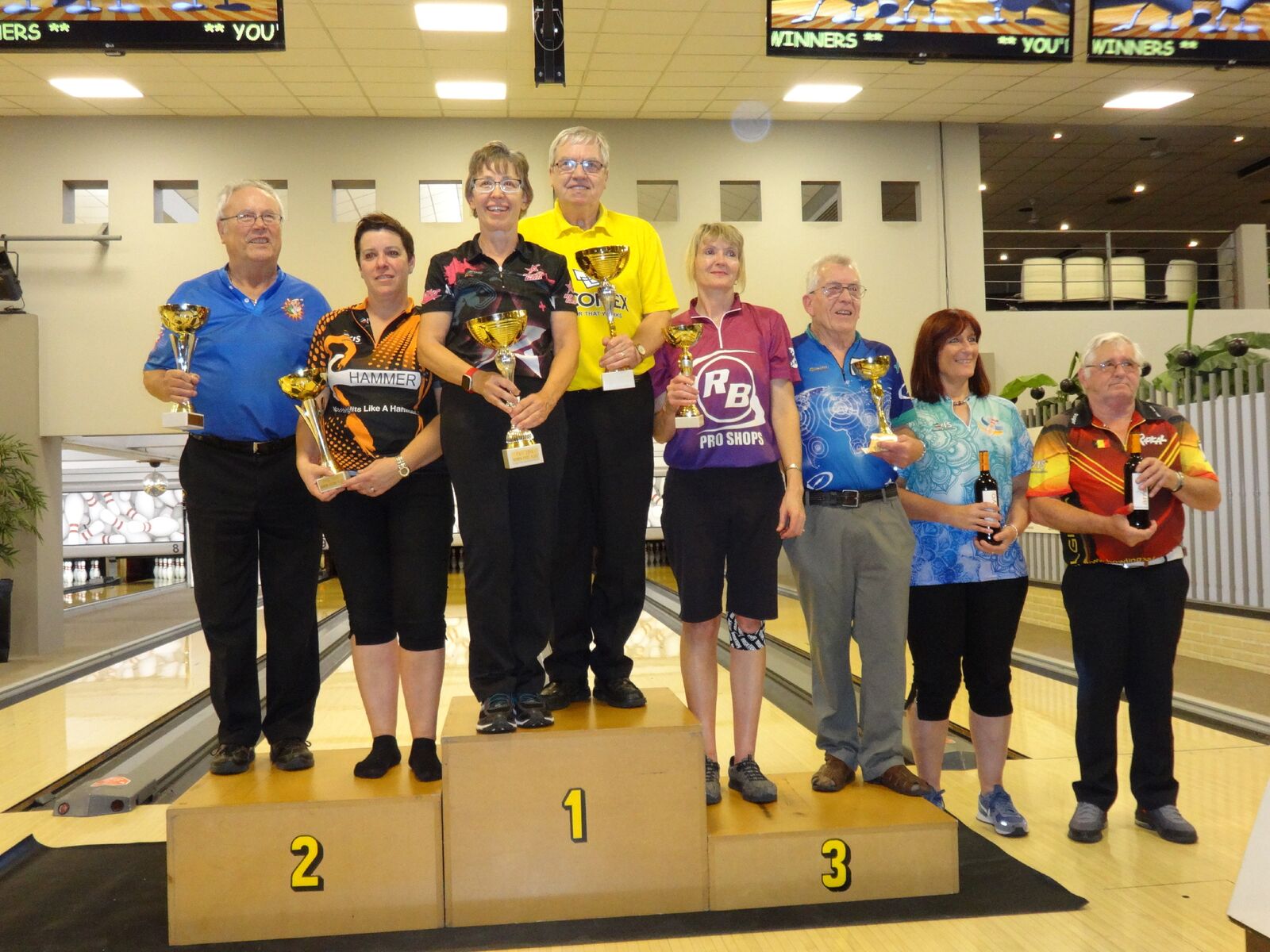 Results