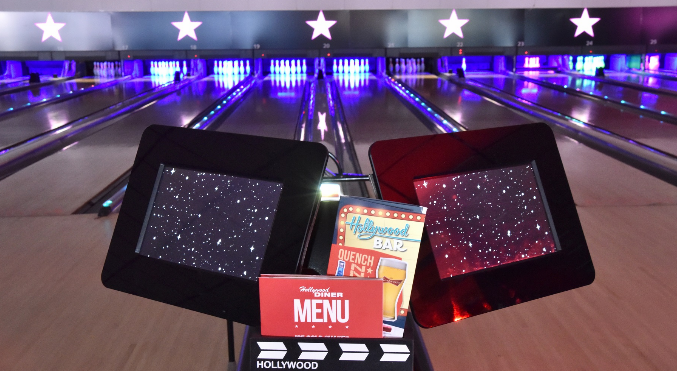 A brand new, multi-million-pound bowling centre is set to open in Southampton next month as part of the WestQuay Watermark dining and leisure development.
The 17,000 sq ft Hollywood Bowl will create 35 permanent and part-time jobs for the local community, when it opens mid-December.
Steve Burns, CEO at The Hollywood Bowl Group said: "We're very excited to be opening our brand new centre this December. It's been designed to be our most high-tech and innovative to-date, and we are looking forward to welcoming the residents of Southampton to the opening of our 55th centre.
"The project is running on time and we're all set to open pre-Christmas, allowing us to create some fun-filled celebrations for customers over the holiday period
Southampton design details
Hollywood Bowl Southampton is set to be one of the UK's newest and most high-tech bowling centres. Representing the 'new generation' of Hollywood Bowl, it includes 16 fully computerised lanes with plush seating, a new 'Hollywood Diner' restaurant concept and upgraded bar, and new décor celebrating all things Americana.
Any of the lanes can be pre booked, including the four new and exclusive VIP lanes decorated with portraits of Hollywood legends, allowing visitors to get the A-list treatment and bowl in a plush, roped off area, with bowling balls that look like giant pool balls.
The Hollywood Diner will feature the same inspired design as its Cheltenham counterpart, the 2015 winner of the International Design Excellence Award. With classic booths in the diner area available for customers to enjoy freshly-made American classics, including gourmet burgers and hot dogs, desserts and shakes, the centre will not only be a great place to enjoy a game of bowling, but also an entertainment haven for families and adult fun seekers alike.
Hollywood Bowl Southampton will also become home to a cutting-edge amusement area, making it one of the first bowling centres in the country to offer a completely cashless play experience.
In response to the growing trend for cashless facilities, customer's will now be able to top up play cards and use them on the latest industry leading games as well as  retro games and old favourites.
About Hollywood Bowl
Hollywood Bowl is part of The Original Bowling Company (TOBC), a company that was formed in August 2010 by the combination of AMF Bowling's UK Family Entertainment business, the Hollywood Bowl business which was acquired from Mitchells & Butlers PLC and Bowlplex which was acquired in 2015.
It is the UK's leading ten-pin bowling business with 54 centres operating under the Hollywood Bowl (31 sites) and AMF Bowling (12 sites) and Bowlplex (11 sites) brands.
Specialising in large, modern, high quality bowling centres, TOBC has built a reputation for delivering outstanding family entertainment in venues that, due to their unique nature, are also aspirational leisure destinations for young adults and perfect for corporate parties and events.
Since its formation in 2010, TOBC has modernised the customer bowling experience. With innovations like its state-of-the-art booking and scoring systems and centres offering premium restaurants, licenced bars, Costa Coffee outlets and exclusive pre-bookable VIP lanes, TOBC has brought bowling into the 21st Century.
The company employs 2,000 team members, 100 of whom are based at its central support centre in Hemel Hempstead
TOBC was acquired by Electra Partners in September 2014