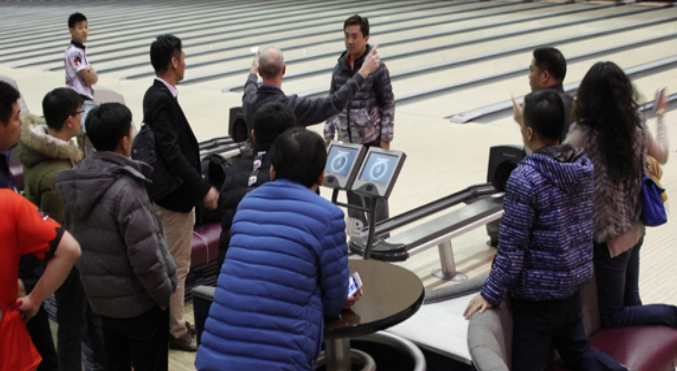 CHINA'S BACK WITH RECORD GROUP OF 10 PLAYERS
For the third year, "graduates" of China's Longmarch Pioneers League have returned to the GEICO PBA World Series of Bowling. This year's record group of 10 players includes three traditional right handers, two lefties and five players who use the "spinner" technique with very light bowling balls, a technique that is popular in Taiwan, Malaysia, Singapore and a few other Asian Rim nations. It's the largest group of "spinner" technicians ever to bowl in PBA competition.
After making its debut with six bowlers in 2014 and seven last year, China continues to pursue its first "casher." But the players who have qualified through the "Pioneers" program created by Longmarch Bowling President Frank Zhao continue to make progress and Zhao is making sure Chinese bowling fans are constantly updated by feeding them video and audio reports on social media on a daily basis. As a demonstration of the progress China is making, Zhiyong Wang averaged 224.5 in the Cheetah round to finish in 26th place – missing the cut to the match play elimination rounds by finishing two pins behind PBA legend Walter Ray Williams Jr.
In order to earn trips to the WSOB, Chinese players have to earn their PBA memberships through Zhao's Longmarch Pioneers League, establishing minimum 200 averages, and then they had to finish among the leaders in a national qualifying event.
Once again accompanying the delegation is Guotai Shi, who is Vice Chairman of the Chinese Bowling Association.
2016 WSOB "ANIMAL PATTERN" PRIMER
Since its inception in Detroit in 2009, the essence of the World Series has been a variety of "animal pattern" which not only offer PBA Tour titles, but serve as qualifying stages culminating with the PBA World Championship. In order to win the PBA World Championship, players must demonstrate a high level of consistency across the different challenges the "animal patterns" present.
While oiling patterns on bowling lanes are normally invisible, the PBA helped fans get a visual picture of the differences in playing conditions when it introduced blue dyed oil for televised WSOB events in 2013. The "blue oil" lanes have remained a part of PBA's televised events ever since.
Another major advance in understanding the challenges of bowling came when the PBA gave those varying oiling patterns names. Thus the so-called animal patterns were born, and fans can now relate to the playing surface involved simply by referring to the animal pattern name and knowing peculiar features are involved with that particular oiling pattern. This year's patterns are the Cheetah, Chameleon, Scorpion and Shark. The Shark, making its first WSOB appearance since 2011, replaces the Viper to give this year's World Series a different challenge than they faced in 2015. Here's a brief look at the 2016 animal patterns:
The Cheetah: PBA's description says "A cheetah may look harmless, but this speedster has a dangerous side. So does this pattern – with a fast scoring pace and play near the gutter, there's no room for error." The Cheetah involves applying oil on the lane to a distance of 35 feet. Past WSOB Cheetah champions include Norm Duke (2009), Eugene McCune (2010), Bill O'Neill (2012), Wes Malott (2013), Anthony Pepe (2014) and Parker Bohn III (2015). The Cheetah was not part of the 2011 WSOB.
The Chameleon: "Chameleons change color to outsmart their enemies. To excel on this pattern, bowlers must be versatile in many styles of play." The Chameleon pattern involves oiling to a distance of 43 feet. Past WSOB Chameleon champions include Bill O'Neill (2009), Scott Norton (2010), Jason Belmonte (2011), Scott Norton (2012), Ryan Ciminelli (2013), Mika Koivuniemi (2014) and Jesper Svensson (2015).
The Scorpion: "A scorpion is dangerous and unpredictable, like this pattern. If you can't find the right groove on the lanes, you'll be stung!" The Scorpion pattern involves oiling to a distance of 47 feet. Past WSOB Scorpion champions include Mike DeVaney (2009), non-member Yong-Jin Gu (2010), Dom Barrett (2011), Tom Daugherty (2012), Tom Smallwood (2013), Michael Haugen Jr. (2014) and Jon Van Hees (2015).
The Shark: "The shark involves a heavy application of oil and is frequently preferred by players who can play the inside part of the lane because abundant oil on the outside part of the lane can lead mistakes into the abyss. Precise shot-making will be rewarded. Miss your target or make an errant release, and you may wind up in the jaws of the beast." The Shark pattern involves a high-volume application of oil to distance of 43 feet. Past WSOB Shark champions include: Jack Jurek (2009), Osku Palermaa (2010) and Jason Belmonte (2011).
The PBA World Championship: A specific oiling pattern, to a distance of 41 feet, is used for PBA World Championship match play and television final competition. Past WSOB PBA World Champions include: Tom Smallwood (2009), Chris Barnes (2010), Osku Palermaa (2011), Parker Bohn III (2012), Dom Barrett (2013), Mike Fagan (2014) and Gary Faulkner Jr. (2015).
In addition to the distance oil is applied to the lane for each specific animal pattern, the distribution of oil across the lane varies from pattern to pattern, using sophisticated lane maintenance equipment for precise duplication of oil lane to lane. The oil application influences angles of attack, ball speed and numerous other decisions bowlers have to make. Instead of being able to see the oil on the lane – and how it is moved around as each round progresses – professional bowlers read the motion of their bowling balls as they travel down the lane in order to make adjustments.
The variety of playing surfaces challenges combined with the most talented bowlers in the world are reasons why the PBA World Series of Bowling is the greatest event in bowling.
NEXT UP ON XTRA FRAME: RANDY GOES "ONE ON ONE" WITH BARRETT, FAULKNER, RASH
As the PBA continues its extensive coverage of the GEICO PBA World Series of Bowling VIII on Xtra Frame, subscribers are getting a chance to meet some of the Tour's top stars who are featured in a new "One on One with Randy Pedersen" series of interviews.
On Thursday, Dec. 1, Pedersen will chat with Sean Rash, who tells some moose stories, talks about his favorite places to bowl, a growing affinity for wine with help from Johnny Petraglia and more.
Coming on Monday, Dec. 5: Anthony Simonsen talks his early start to bowling, his favorite PBA Tour roommates, dealing with success, miniature golf, why he'd rather eat with bowlers than anyone else and more. On Thursday, Dec. 8: Chris Barnes discusses quick wits and Tommy Jones, his favorite television opponents, bets with Mika Koivuniemi, what he does with any spare time he can find and more. Closing out the series on Monday, Dec. 12: Tom Daugherty chats about his standout 2016 season, his favorite restaurant in the world, his pro shops, one peculiar superstition and more.
If you missed them, the Xtra Frame archives includes conversations with Ryan Ciminelli, Jason Belmonte, Jesper Svensson, Dom Barrett and Gary Faulkner Jr.
Xtra Frame currently is providing exclusive coverage of the animal pattern qualifying rounds, leading into the start of PBA World Championship cashers round and match play coverage Dec. 4-5 when PBA Hall of Famer Marshall Holman will join the Xtra Frame announcing team. Holman will remain in the XF booth through the conclusion of World Series coverage, Dec. 6-8, and will then join ESPN announcers Dave LaMont and Randy Pedersen for the live ESPN telecast of the PBA World Championship on Dec. 11. For the Xtra Frame daily schedule, including air times, visit http://www.pba.com/Live.
Xtra Frame subscriptions are available in a variety of packages: three-day ($3.99), 30-day ($7.99) and Xtra Frame Season Ticket (a full-year's coverage at an average cost of $1.25 per week) subscriptions are available by visiting "xtraframe.tv" and clicking on the "subscribe now" link. As a reminder, new monthly or Season Ticket subscribers also are automatically entered into monthly sweepstakes where they have chances to win a new high-performance bowling ball from Brunswick, DV8 or MOTIV.
QUBICA AMF PBA REGIONAL UPDATE: FINDLING WINS IN BEAUMONT
Joe Findling from Mesquite, Texas defeated Mark Williams on Williams' home lanes Sunday, winning the 15th annual PBA Beaumont Southwest Open at Crossroads Bowling Center with a 218-182 victory over the PBA Hall of Famer. The victory was Findling's seventh career QubicaAMF PBA Regional title.
Findling led qualifying to claim the top berth for the stepladder finals. In the opening match, Williams defeated Andy Patterson of Tyler, Texas, 257-225. He then eliminated Dylan Macon from Lubbock, Texas, 233-214, to advance to the championship match. Then, holding a one-pin lead, Williams opened in the seventh frame and Findling pounced, striking in the ninth and 10th frames to secure the $3,000 first prize.
The only QubicaAMF PBA Regional activity over the Dec. 2-3 weekend will be the MJK Pro Shop/Knob Hill Eastern Challenge presented by DV8 for non-champions at Knob Hill Country Lanes in Manalapan, N.J.
For complete QubicaAMF PBA Regional schedules, rules and entry information, visit pba.com, open the "schedules" tab and click on QubicaAMF Regional Tours to find the event(s) in your area. For more information about QubicaAMF, visit www.qubicaamf.com or, for social media posts, visit http://bit.ly/QAMFSponsorship1.