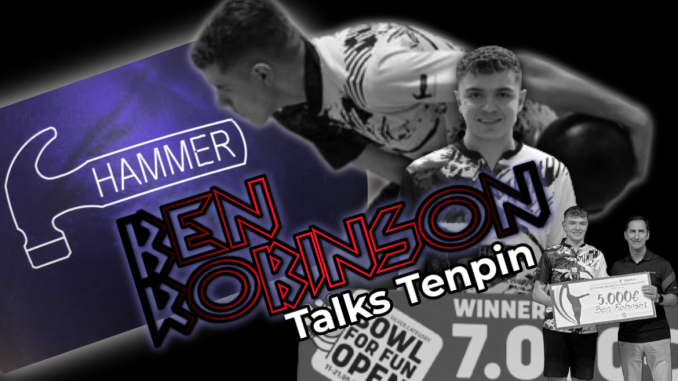 In a great crop of young English bowlers, one name is beginning to stand out this season. Ben Robinson only switched to the two handed release just before covid hit our shores and fast forward three years and just last week he added a second EBT win of the season in the Brunswick Madrid Open. He is also the reigning English Open champion and a name fast becoming one to watch in Europe. We got a chance for a quick chat a week after his latest win in Spain.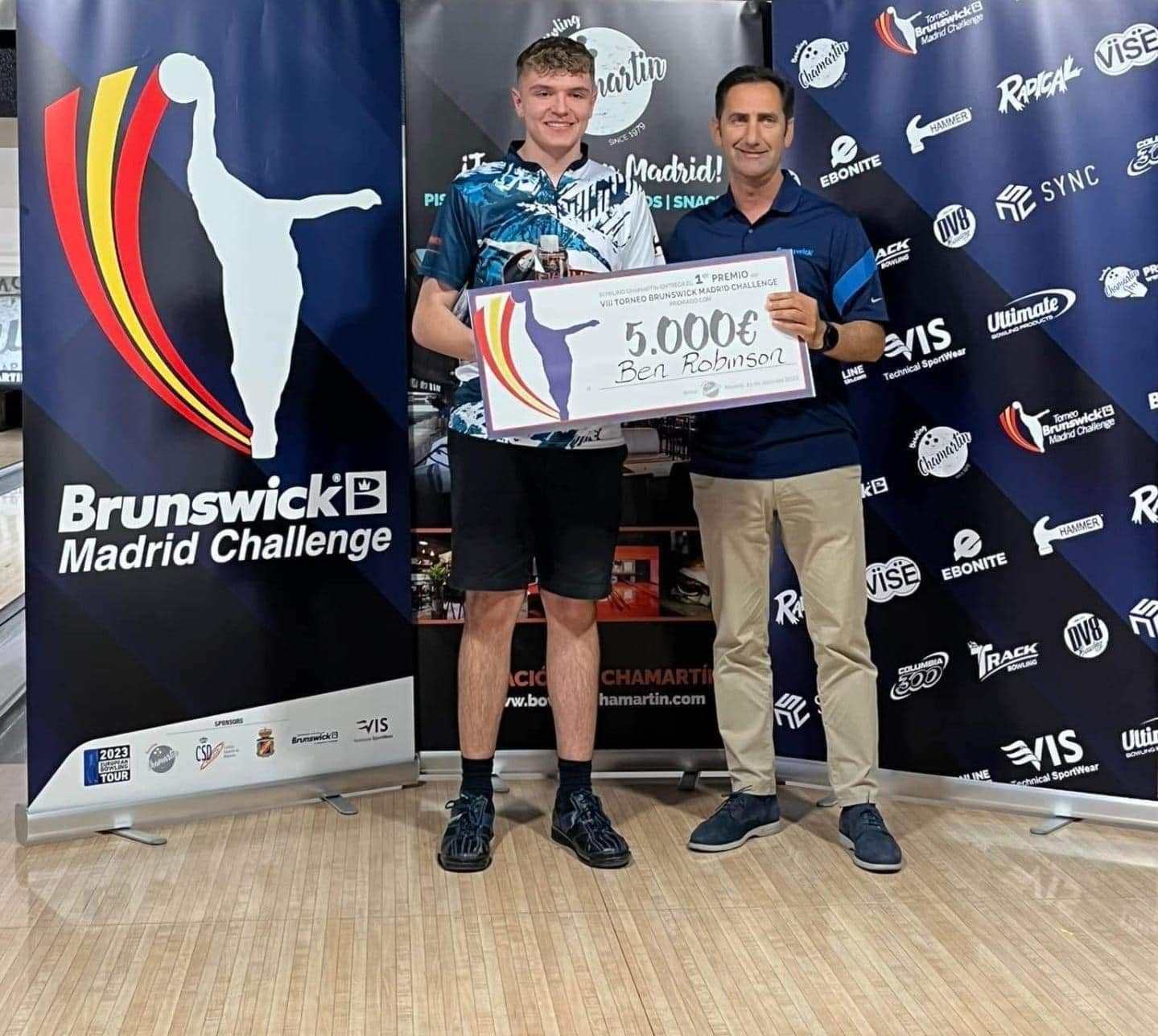 So I guess we start with the latest win and your second EBT win of the season. Winning one EBT is an achievement but gaining the second so quickly must fill you with confidence going into other tour events now?
It's definitely a confidence boost that I can take these guys down on multiple challenging conditions but it also drives my motivation to keep training knowing that I can win more if I keep progressing.
From the first time you played in a Euro stop until now, what have you learned about how to play the lanes and other athletes in Europe?
From the first time I've played to now I'd say I've learnt endless things, for example that terrible t word (transition) happens way faster than anything I've seen before, my angles through the front have never been more critical, and to never give up as score can come from anywhere at anytime.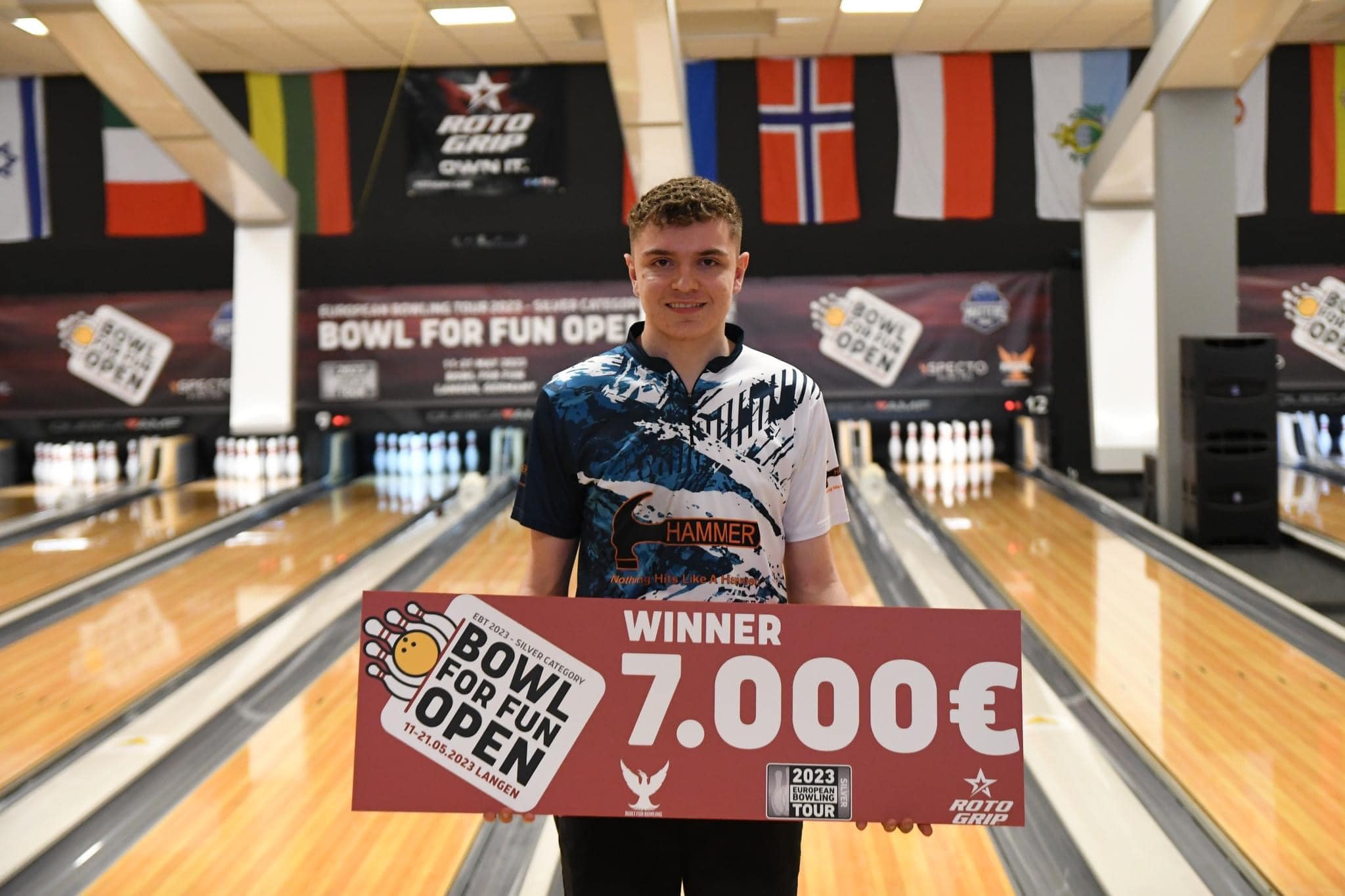 Second year with Hammer Bowling on staff and you certainly look to be rewarding their faith in you as an emerging talent and they cannot fail to be impressed with this season already. Obviously the Purple is dominating the scene but which of the other balls are fitting into the way you choose to attack patterns?
Yes I'm much grateful for there support and long May it continue, a lot of the time when I've not been throwing the purple I've been in balls such as the Envy, 3D attack, and the scorpion sting. Anything that gives me a blended shape on the lane is what I mainly look for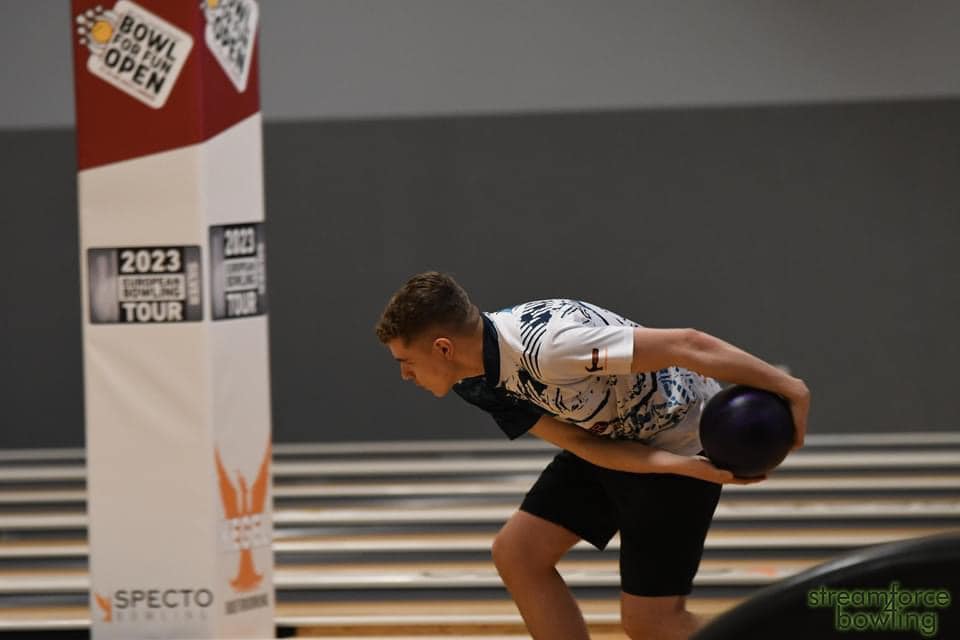 Lots of amazing bowlers out there and always tough to win these events. Which bowlers have you impressed you on the lanes or ones you know you need to watch out for?
Honestly, you can never count anyone out in the field there out here for a reason and they can make a run at any time. Some of the most notable big hitters I've seen so far are Mathias Ankerdel, Carl Eklund and William Svensson, no matter what they all put in a shift to get up the leaderboard.
2021-23 has seen an amazing progression in your game from youth to adult events. BTBA Nationals winner is one thing but English Open at a young age is something special, You almost won the Scottish Open too in 2022. Of everything you have won domestically, which ones mean the most to you?
It's gotta be the English open, from having no look in qualifying to finding something after 3 squads n taking my time trying to stay out of trouble in a lower scoring event, that one proved a lot to me.
What things do you now work on in training on the lanes and is there any cardio or gym work to keep in shape or is bowling a lot of game enough exercise?
In training I'm putting a lot of focus in how I get out of the ball and being as versatile as possible, and no I don't go to the gym I just bowl a load of games instead.
What's upcoming and how do you select the events you now enter?
I've got the airport doubles which is a local one for the next couple of weeks then it's off to Helsingborg for the Lucky Larsen, English open and a trip back to wittleshiem for the Brunswick open, most of my trips are determined by the price of flights, if I can get there cheap I'm going.
You follow in the footsteps of many great UK players in winning on the EBT tour and progression for most was eventually try out on the PBA tour. Is that in the future plans and when do you see yourself taking a trip across the pond?
I don't see myself doing it before I'm 21, I want to accomplish lots of things in Europe first, plus I'm in no rush to get out there.
Going back now, who helped you in the very early days to improve and further back, where did it all start?
Well I switched to 2 handed just before covid and then after covid, I bowled a lot on my own before teaming up with the Teeces (Ray and Richie), these guys have elevated my game to a new level and continue to teach me new things every time we work together.
When you are not bowling or in a centre, what other interests do you have?
I spend a fair bit of time trying to grow my socials, other than that lots of binge watching and YouTube –https://www.youtube.com/@bowlerben
You mention your socials, bowlers have always been popular and it seems social media is now a great way to connect with followers and fans. Having won a few events now, have you started do signings and what plans do you have for your growing Youtube channel?
Can't say I've signed anything for a "fan" yet but the dream would be for it to become another form of income, detailing the tournaments but I haven't found a way to do that yet without affecting my concentration on the lanes
A chance now to thank a few people for all they may have done to help you along your path, who gets a shout out?
Big thanks to the guys at Bowling Vision and Jordan Vanover, they provide me with all the kit I need and more! Also to the boys at stringing strikes services and all the Teeces for there help and support, and finally to everyone that's supported me along the way, it's been great so far hopefully it continues!
Finally Ben, we wish you all the best in the upcoming events and beyond. What is it about bowling that makes you strive to be one of England's greatest?
Honestly I don't know, it's just a massive addiction, some people like nicotine others like smashing pins…