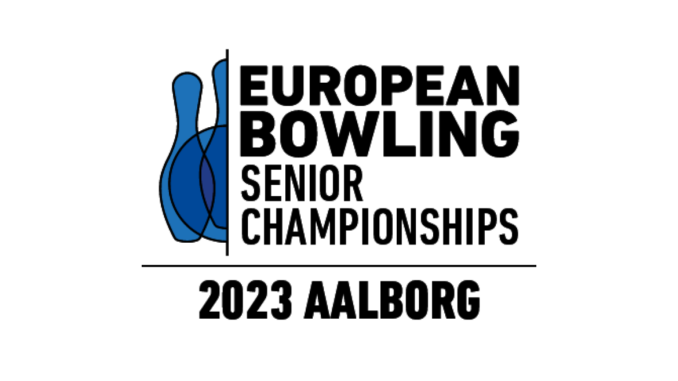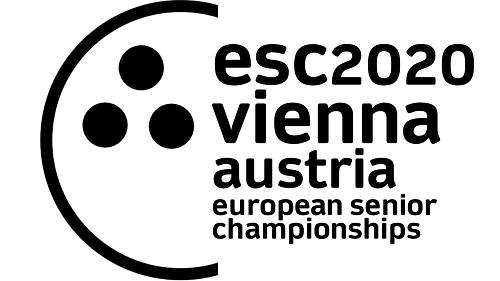 The championships are conducted every two years. Each federation can send four men and four women to the championships. The disciplines for both genders are Singles, Doubles, Team of Four, All Event and Masters
The first edition of the European Senior Championships was conducted in 2020 in Vienna, Austria with 96 male and 65 female athletes from 25 different federations taking part.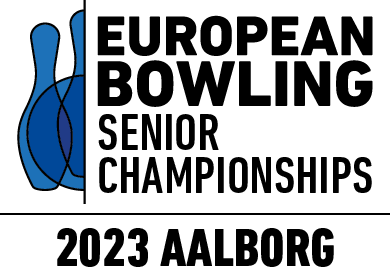 The best Senior bowlers in Europe on show in Aalborg
Italy and Belgium took the Gold's last time out in the singles as Finland and Italy took the doubles honours. Germany won both the mens and ladies Team titles and it was Two Gold's in All Events and Masters for Malta with Finland taking the ladies masters and Italy the Men's All events. A great championships for all the above mentioned countries who will looking for more glory in 2023. Who will, well that is anyones guess with so many top senior bowlers in the fields in Vienna.
Please visit the official website here
---
Event Reports

Mens Doubles

Off we went with the first of two mens doubles squads and by game five it was a close battle at the top between Norway, Germany and Sweden with England hovering in fourth place. 267 for Norway's Øyvind Harang with 267 and Sweden with games of 460 and 470 were highlights leading up to the end of the squad where Germany came thorugh to lead with 2514 followed by Norway in second with 2467, Sweden third with 2459 and England fourth with 2352.
Squad two and some great bowling from the Swedish pair of Martin Paulsson and Stefan Yngstrom with 2604 and into top overall. Germany dropping one spot to second with 2514 and France up into third with 2472. Grabbing the last spot was Norway with 2467.

Men's Doubles final
Sweden vs Norway and Germany vs France in the semi finals and joy for Sweden and Germany as both progressed. Sweden winning 439-388 as Germany won with a massive 478-381. 248 from Uwe Tscharke and 230 from Frank Oing.
Onto the final and Germany in no mood to let this slip and firing an even bigger 505 this time to Sweden's 386. Uwe with 268 and Frank with 237 taking the Gold.

Womens Doubles
The ladies knew going into this one the scoring would be lower and conditions tough and so it proved to be as Belgium made the early running with 369,377,376 and 365 to lead just ahead of Sweden in second, Germany third and Finland fourth.
At the end it was Belgium holding top spot with 2263 with Germany second on 2228, Finland third with 2209 and The Czech Republic into fourth with 2181.

Womens Doubles Final
Belgium vs Germany and England vs Sweden in the semi finals and it was Belgium through 378-348 in a close match and another close encounter saw England edge past Sweden 377-355.
The final was equally close and both team could have won but those going to bed tonight happy were England as they hit 367-351 to claim the WOmen's Gold medal and for Gaye McCully of England and Gold to add the the silver doubles gold she won in the 1st ESC.

Mens Team
The Men were first up on Tuesday and tricky conditions again but not that Sweden thought so as they fired 833, 779 and 852 to lead with 2464. Top man Martin Paulsson with 633. Second was Belgium with 2449 and Marc Franceus top with 619. Third was Norway with 2435 and Kenneth Hermanssen with a fine 669 then hold top four overnight was Romania with 2414 thanks in no small part to two hander Catalin Gheroghe with an awesome 721.

Belgium top after six games and some stellar  bowling from Marc Franceus with 1289, Gery Verbruggen with 1236 and Jean Marc Lebon with 1206 and Vincent Wuylens adding 1187 for 4918. Romania in second with 4822 and two hander Catalin Gheoghe on a different pattern to everyone else with 1398 including a 279 in game three yesterday. First day leaders Sweden in third with 4822 and fourth was Norway with 4731.
Mens Team Final
Semi Finals time and Norway vs Belgium and Romania vs Sweden.  Romania put up a good fight with 788 but overturned by Sweden with 853 and Stefan Yngstrom and martin Paulsson on 221 and 223. Norway booked their spot by beating Belgium in a classic close match 796-786.
Norway vs Sweden in the mens team final and Norway dancing tonight as they just edged the Swedes 763-751 and Ingar Gabrielsen top man with 208.

Womens Team
Germany were making the early running in this first block fo the lwomen and 818 and 802 leading the way after two games. Denmark, Sweden and Czech Republic close by.  Thats almost the way it ended, Germany on top with 2344, Denmark second with 2275, Sweden third with 2254 and France up to fourth overnight with 2122.
After another three games the leaders remained the same and Germany advancing the finals with 4582 as Sweden moved into second with 4505, Denmark n third with 4341 and Finland grabbing the final spot in the semi finals with 4275.

Womens Team Final
Germany vs Finland and Denmark vs Sweden for a place in the final. Sadness for the home nation as the Danes lost the Sweden 768-734 and the Swedes would meet Finland who eased past Germany 742-720.
Finland vs Sweden and not the first and last time these contries would meet in championships finals but this time it would be Sweden going home happy with Gold in a close match 796-778 and Christina Dahlgren tops with 213.

Mens Singles
The Men were up first and two squads starting at 9.00 local time. Leading the way after the six game block was Sweden's Joakim Stål with 1285 followed by Germany's Ralf Schlingensief with 1268, third was Malta's Mark Spiteri with 1247 and fourth going to Romania's Catalin Gheorghe with 1230.
Predictions were around 1330 to make the singles finals and a touch less in the end. 1274 the number and Uwe Tscharke from Germany through and joined by Marc Franceus from Belgium who topped the field with 1313. Second was Sweden's Martin Paulsson with 1295 and third was Sweden's Joakim Stål from squad 1.

Mens Singles Final
An all Swedish match up saw team mates Martin Paulsson go up against Joakim Stål and it was Paulsson just shading it 197-190. Joining him in the final was Belgium's Marc Franceus with 213 against Germany's Uwe Tscharke's 165.
Onto the final and Belgium dancing tonight as Marc Franceus became the Singles Gold medallist with a 189-157 win against Sweden's Martin Paulsson.

Mens All Events
After all the games and all the moments of joy and pain we found our mens All Events winner and it was Two hander Catalin Gheorghe with a 3883 215 average. Silver to Sweden's Martin Paulsson with 3795 and bronze to Belgiums Marc Franceus with 3788.
The cut for the top 24 landing on the legend from Norway Tore Torgersen with 3515 (195).

Womens Singles
Two squads one in the morning and one in the afternoon as before and Sweden leading the pack after six games with Annika Kilander on 1202 and a fine 253 in game two. Second was Finland's Reija Lunden with 1194, third t Germany's Anthe Materne with 1179 and hold fourth was Nathalie Di Martino from France with 1162.

An exciting conclusion to the womens singles saw Germany's Martina Beckel raise to the top with 1229 as team mate Michaela Gobel-Jank was second with 1223 and join by the top two from the first squad, Sweden's Annika KIlander with 1202 and Finland's Reija Lunden with 1194. The cut for the top 24 landing on England's Angie Brown with 3221.

Womens Singles Final
Finland vs Germany and Sweden vs Germany in the semi finals and going through were Finland's Reija Lunden defeating Germany's Martina Beckel 204 to 177 as Sweden's Annika Kilander won by just a single pin 169-168 against Germany's Michaela Gobel-Janka.
A close final saw Finland taking Gold as Reija Luden rolled 194 to Annika KIlanders 181 and crowned singles champion.

Womens All Events
Germany crowned as All events champion as the very experienced Martina Beckel rolled 3562 to claim the Gold ahead of Poland's Felinda Grzybowska with 3543 and Germany's Bianca Volkl-Brandt in Bronze with 3539.
Masters
Two rounds played on Friday evening and the Women catching up on Saturday morning saw quite a few shocks and expected performances from the more successful participants this week, This is best of the best stuff now and difficult to predict a winner. Players out included England's STeve Thornton and Norway's Tore Torgersen among others.
By the end of step three we were down to the last four. In the men it was Norway's Øyvind Harang, Italy's Marco Reviglio, Belgium's Gery Verbruggen and a wait to find out the last match as Martin Paulsson of Swededn and Jean-Marc Lebon from Belgium were all level and decider needed.
In the Women it was Nathalie Di Martino from France, Anna Staflund of Sweden, Valerie Murat from France and Rikke Qwist Bork from the home nation of Denmark.
A round later we are down to just two and in the mens event it was ultimate joy for Belgium as Jean-Marc Lebon defeated Italy's Marco Reviglio 2-1 as team mate Gery Verbruggen beat Øyvind Harang from Norway 2-0.
For the women it would be a France vs Denmark final as Valarie Murat defeated team mate Nathalie Di Martino 2-0 and Rikke Qwist Bork beat Sweden's Anna Staflund 2-1.
Masters Final
Either way, Belgium were going home Masters champion just which one would it be
In the womens final would it be the home nation or would it be France?
Well for the men it was Jean-Marc Lebon coming from behind to win 2-1 and a home nation Gold for Denmark as Rikke Quist Bork won 2-0 to be crown champion.
---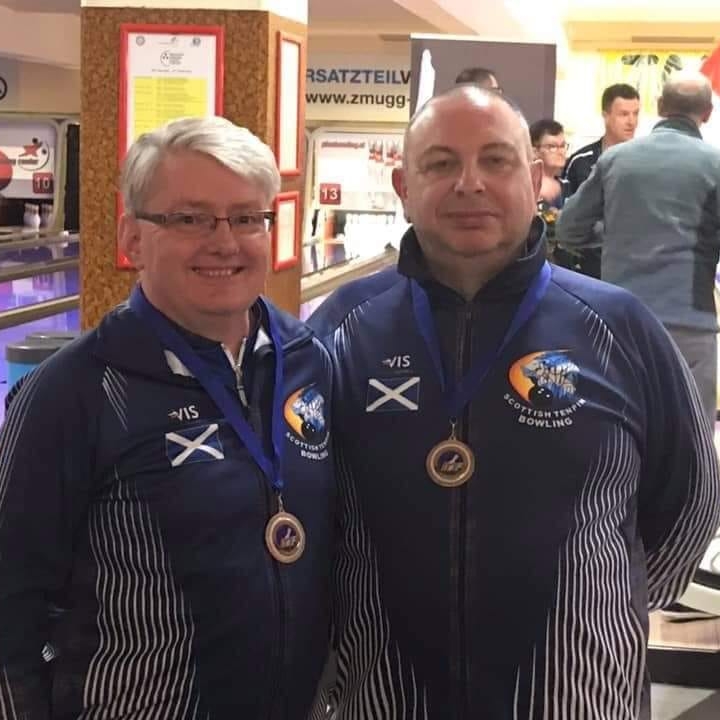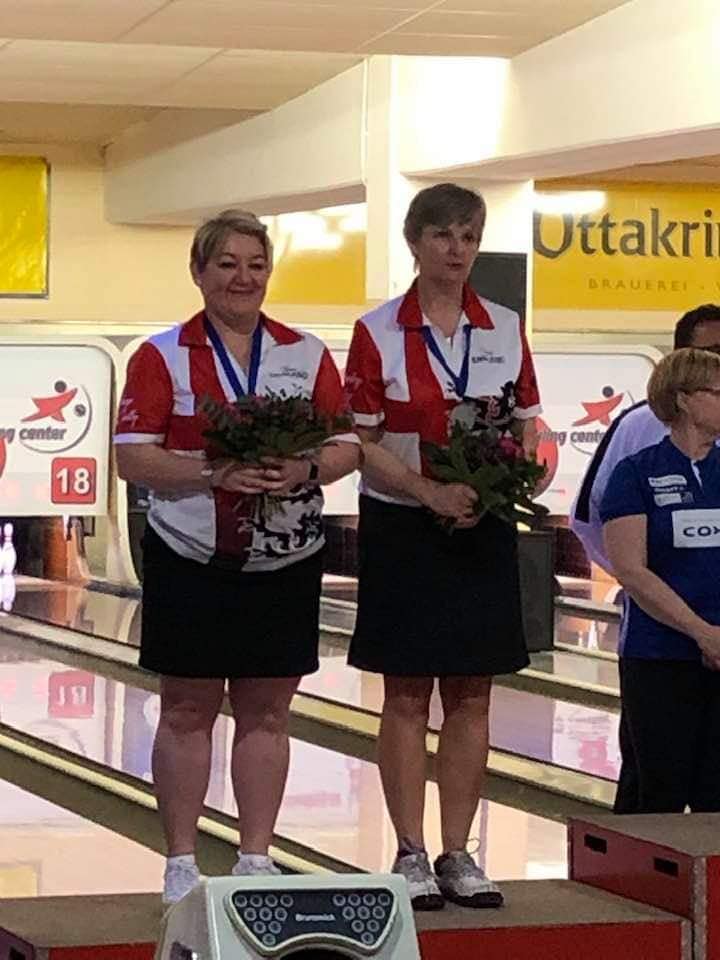 Home Nation Reports
At the last championships England ran out with 4 medals and Scotland grabbed 2 medals in a successful first Senior Championships for the Home nations. Medals won included Singles Bronze for Team England's Kim Oakley, Doubles Silver Gaye McCully, Kim Oakley, All Events and Masters Bronze for Kim Oakley, Doubles Bronze for Scotland's Bernie Matthews, Andy Gillespie and then a Masters Bronze for Andy Gillespie. Both the home nations with strong line-ups again for the 2023 event.
---

England
Silver medalist Gaye McCully is back for Team England and joined by Carole Orange, Jan Hodge and the in form Angie Brown. England fans will fancy the men's chances as Gordon Humphries, Paul Cosgrove, Colin Grose and UK Tenpin Hall of Famer Steve Thornton make up a strong mens team.
| | |
| --- | --- |
| | |
| Colin Grose Paul Cosgrove Steve Thornton Gordon Humphries | Carole Orange Angie Brown Gaye McCully Jan Hodge |
---
Men's Doubles
Play was underway at 9am in Denmark and a shaky first frame for both Paul and Gordon which was soon forgotten and a series a good games by both bowlers. Games of 393,410, 403, 416 then a tough game five that saw Paul salvage the game while Gordon remained firm for 388. Both players helping each other during the squad as one slipped the other stepped up. This team work saw them inside the top four early on where they remained. At the end a slight drop as both struggled to 171 and 341 for a total of 2352 and sitting in 4th place.
Stevie T aka the Silver Fox and Colin aka the beast up next for England and a pairing that last featured together way back in the 90's on the YAC tour. Steve opened with a double but colin tapped twice then an open and it was a game that promised but failed to deliver on the brutal fresh oil and 351..
Where the previous pair found a rhythm early, Steve and Colin had to work some things out and quickly did and started to pick up, both now more comfortable with 423, 441 and 411. Pacing a top four place at this point the pair would need to dig deep and keep the 210's coming to be sure.
Time to avoid the splits, catch the spares and doubles but game five proved tricky and splts for both bowlers in a 393 and work to do in the final game. Time to go big in the last game and at least 440 needed to grab a top four place. Sadly as the frames past the strikes were not flowing but Stevie at least carried a big split in the closing frames for 374 and 2392 overall. Steve with 1189 and Colin with 1203.
Womens Doubles
The ladies now knew going into this squad the lanes would be tough and so it proved in the first squad of the day for Carole and Jan. 180 for Carole and 162 for a 342 start but sadly things were not to get better in the next few games with 327, 294 then 247 and sitting in 16th place. 308 and 300 to finish gave a total of 1818 in 18th place then 33rd later. Lessons learned and both will be back for the Singles and Team more educated.
Next up in the doubles was Angie Brown and Gaye McCully and both steady through the first game, then a spark from Gaye and a run of strikes ending with 197 and Angie Striking out to 177 for 374. Game 2 and looking a lot more comfortable with 212 each and 424 and pacing a top four place early on in second. Game three and Gaye was flying and catching three doubles a turkey and biggest game yet with 235 and Angie adding 168 for 403 with our ladies leading the field and pacing the top spot at the halfway stage. 346 and 378 next and coasting in second place with a game to go.349 to finish and into the finals in third place.
Semi final vs Sweden and tight all the way through as both teams went at each other. Gaye hitting a turkey and striking in the 10th for 201. Angie who with only one split open adding 176 and we were going for gold 377-355
Last time out it was Silver in the Doubles for Gaye, this time hopefully Gold for Gaye and Angie. Spare strike for Gaye and two spares for Angie as Belgium struck and spared each. An open from Gaye in frame three but Angie sparing kept them in check, Three more spare from Gaye and a spare strike spare for Angie and this was another tight match with belgium on 193 in the 6th and England on 201.
An open from Belgium and open door for England and Gaye sparing again as Angie struck. and Belgium with a spare each.
Gaye back on strike in the 8th frame and angie with a nine spare and belgium clean with two spares. Two to go and tense moments, Gaye could not catch the double in the 9th and spared as Angie roared with delight with a strike. Belgium not striking still but hitting the spares until an open and a big chance for England to take the Gold. As Belgium hit a double in the tenth it was a nine miss for Gaye and 170 as Belgium hit 196 and five pins in it. Nine count for angie as Belgium spared and hit 9 for 155 and 251. Angie Spare strike and 197 for 367 and it's GOLD for Team England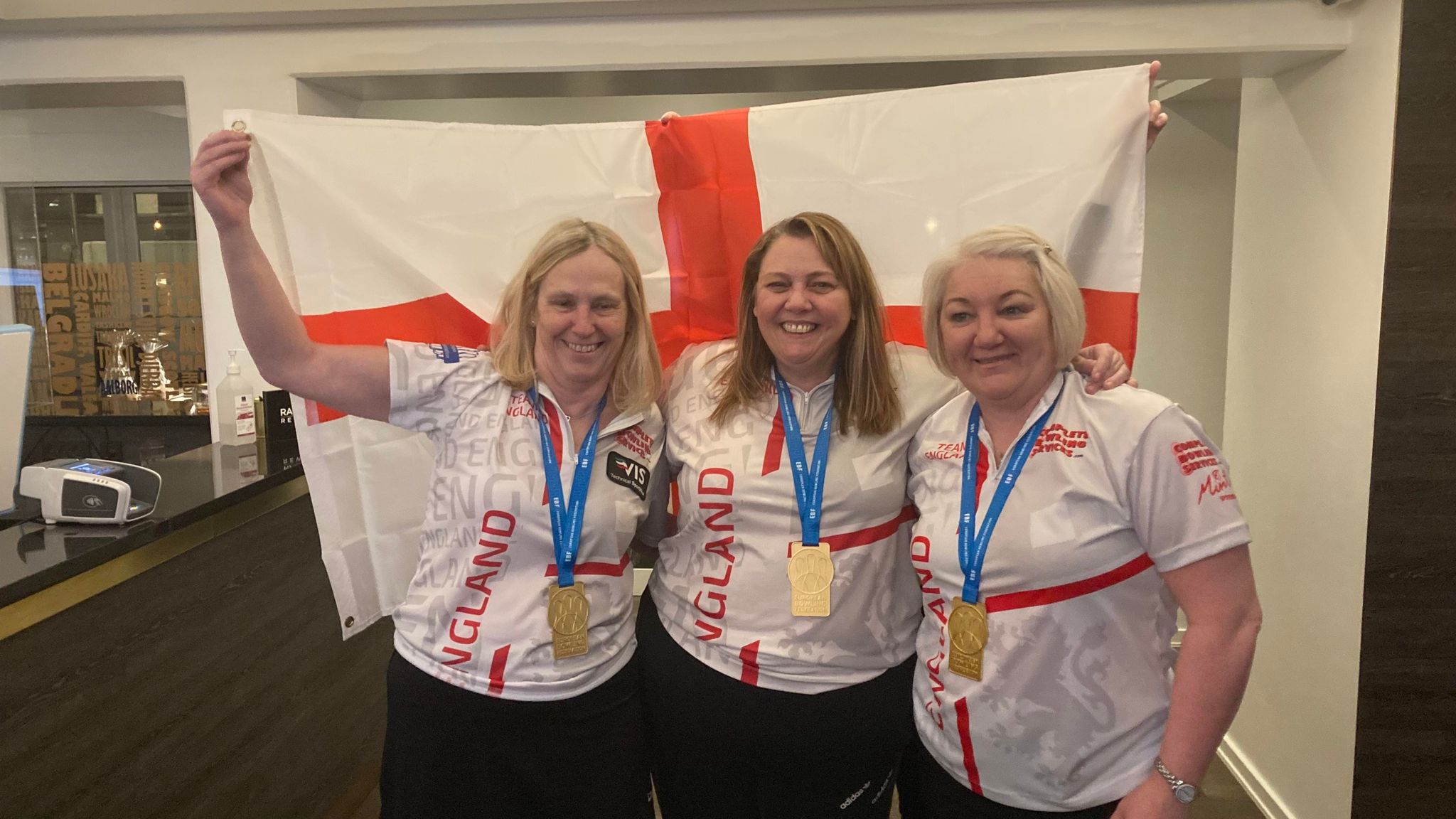 Mens Team
A day England will want to shake off and make an assault on the top four on Wednesday as the team opened with 694 with more splits than you would like but roard back with 832 in game two before dropping to 681 in game three for 2207 and 12th place.
Day two and a better looking England on the lanes, some way off the pace but improved with Steve Thornton pick of the bunch with 1199 and a team total of 4532 for 9th.
Womens Team
Not the greatest day at the office for England and 13th place after third and a lot of work to do to qualify. Gaye McCully with 528, Jan Hodge with 455, Carole Orange with 457 and Angie Brown with 527 for 1967.
Squad 2 and a bit too far to make a run on the medals as Gaye McCully hit 1067, Jan Hodge 886, Carole Orange 949 and Angie Brown pick of the bunch with 1067 and 3930 for 12th place.
Mens Singles
A bright start for Steve Thornton and games of 210,208 before a slight drop to 187,191,192 and 170 for 1158 but looking good for a masters top 24 place and sitting in 10th with a squad to go. Colin opening with 162 then a fine 228 and further adding 202,159,143 and 191 for 1085 and 15th in masters placings.
Next up was Paul and Gordon to complete the singles at 13.15 local 12.00 UK and a great start for Paul with 226 then 197 but dropped to 164 and 171 before recovering to 213 and 182 for 1153. Gordon starting with 176 and up to 191 then 174, Game four he opened with the frong six and ending with a fine 253 but sadly a drop at the end to 140 and 147 for 1081.
Mens All Events
Joy for England as Steve Thorton qualified for the masters in 19th place with 3546. Colin Grose placed 31st with 3438, Gordon Humpries in 39th with 3396 and Paul Cosgrove in 42nd with 3373.
Womens Singles
A much better day on the lanes for both Carole Orange and Jan Hodge for England and Carole in 7th at the end after games of 197,225,142,166,208 and 210 for 1148 as Jan Hodge hit 998 in 20th.
Singles didnt go exactly to plan and Gaye with 1052 and Angie with 1079 but both fighting hard for a place in the Masters.
Womens All Events
Joy for England as both Gaye MCully in 17th and Angie Brown right on the cut in 24th advance to the masters event. Gaye with 3279 and Angie with 3221.
---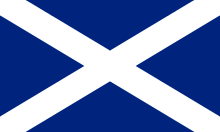 Scotland
Bronze medalists Bernie Matthews and Andy Gillespie are back again for Scotland together with the experienced Jack Smith and Alan Keddie and a line up that will excite the Scottish bowling fans. Liz Gove, Margaret Rae, Julia Claxton, Joan Taylor make up the ladies side for ESC and looking for a strong showing in the championships.
Alan Keddie and Jack Smith up next and again, a mixed bag of scores that resulted in a 19th place with 2097 and a squad to forget for both with Alan on 1058 and Jack with 1039.
Men's Doubles
Bernie Matthews and Andy Gillispie up for Scotland in the first of the two mens doubles squads and the pair never really got going to their usual level, Games of 347,381,372,355,352 and 349 for 2156 in 16th did not really tell the full story. Close but not close enough this time but plenty events left and the next pairing in squad 2.
Jack Smith and Alan Keddie up next for Scotland and a mixed bag of scores starting with 349 then 292, 340,373, 395 and 348 for 2097 and 38th overall.
Womens Doubles
Julia Claxton and Liz Gove up first for Scotland and a shaking start with 291 forgotten with 351 in game two then 339 and 360 to sit in 11th with two still to go. Things got better and up a place at the end after games of 358 and 307 for 2006 in 10th place.
Up next was Margaret Rae and Joan Taylor and both fought the conditions starting with 283,269,348,283,273 and 236 for 1692 and 35th place overall.
Mens Team
Scotland were hoping to challenge for a placing but they like England struggled along and just one place ahead of England in 11th with 2217. Bernie Matthews the pick of the Scots with 584 as Andy Gillespie and Jack Smith both added 552 and Alan Keddie with 529.
Day two and a drop in places for Scotland sasly in 13th with 4402 and Bernie Matthews high man with 1170. Alan Keddie with 1111, Jack Smith with 1085 and Andy Gillespie with 1036 for 4402.
Womens Team
16th for the ladies after a tough block with 1727 and Julia Claxton top Scot with 529 then Liz Gove with 444, Joan Taylor with 347 and Margaret Rae with 347.
17th at the end for Scotland after day 2 of the team event and Julia Claxton tops with 1031.
Mens Singles
23rd and 35th for Scotland in the first block for the mens singles and Alan Keddie top man with 1115 and a high of 218. Jack Smith with 1064 and a best of 205.
Bernie Matthews and Andy Gillespie up next for Scotland and 33rd and 35th at the end as Bernie hit 1085 and Andy with 1085.
Mens All Events
Bernie Matthews in 57th was the top Scot in these championships with 3287 (182) as Alan Keddie placed 59th, Andy Gillespie 66th and Jack Smith 73rd.
Womens Singles
Joan Taylor and Margaret Rae up first for Scotland in the singles and 782 for Joan and 719 for Margaret.
---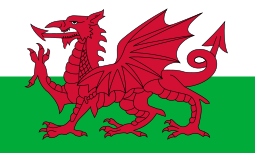 Wales
Wales have six in Aalborg for the championships. A full mens team and two female bowlers. Hilary Cooke, Lynne Walker for the ladies and Robert Bruce, Guy Lipscomb, Steve Williams, Suren Johanssen making up the mens team. Keep a close eye on Wales, a talented line up with medals in them.
Men's Doubles
Suren Johanssen and Steve Williams on the lanes first for Wales and a bright start with games of 393,393 and 400 but a slight dip with 361,364 and drop at the end to 306 for 2217 and 11th place with a squad to go. A good start from the Welshmen.
Robert Bruce and Guy Lipscomb up next for the Welsh and looking good after the first few games and in the top four with 415,416 and 409 before dropping to 379, 357 and 358  for 2334 and 9th in the block.
Womens Doubles
Hilary Cook and Lynne Walker flying the flag for Wales as their only female pairing and looking good after four games as they opening with 319 and improving to 327, 379 before a dip to 345 and sitting in ninth with two to play. Sadly the pair would drop to 12th at the end after games of 291 and 329 for 1990.
Mens Team
Hopes for a medal seemed lost early on for Wales sadly as they hit 2135 for 17th place. Robert Bruce topping the line up with 585 as Steve Williams hit 544, Guy Lipscomb 515 and Suren Johanssen with 491.
14th at the end for Wales but a really good over par 1210 for Robert Bruce in a 4392 score.
Womens Team
Playing in the combined team to keep All Events scores the Welsh pair of Lynne Walker rolled 1044 while team mate Hilary Cooke had 877.
Mens Singles
16th and 31st for Wales early on as Guy Lipscomb hit 1142 and a high of 221 as Steve Williams hit 1080 (61st) with a best of 210.
Last up for Wales was Robert Bruce with 1108 and into the Masters in 14th place, Suren Johanssen with 1067 to end overall in 72nd.
Mens All Events
So the great news for Wales was Robert Bruce into the masters after sets of 1250,1210 and 1108 for 3568. Elsewhere Guy Lipscomb was 55th, Steve Williams was 61st and Suren Johanssen was 72nd.
Womens Singles
The final event for the WOmen and Lynne Walker hitting 1068 and Hilary Cooke with 970.
Mens Masters
Robert Bruce the sole hope for Wales in the masters and not the easiest of first matches against England's Steve Thornton. Lossing the first game but winning the second and a great comeback continued as he took the tie 2-1 and into the next round.
That round saw him uo against Germany's Uwe Tscharke and again this one went to three games, robert taking the first the losing the second by claiming the third to advance again.
Hopes were now raised and into the quarterfinal and up against Italian lefthander Marco Reviglio. Sadly not to be for Robert and Wales this time, going down 2-0 but a great showing considering he had not felt well earlier in the week.
---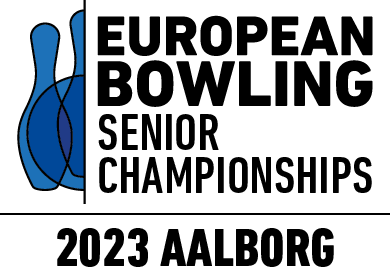 Results
Results will appear on the Official website here during the event
Partners