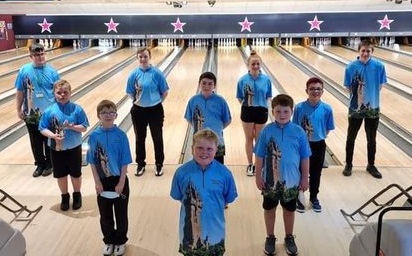 Stirling Youth Tenpin Bowling Club was formed in 2002 to promote Ten Pin Bowling in the Forth Valley area. The club is based at the Hollywood Bowl in Stirling and aims to work with young bowlers to take part in local, regional, national and international competition.
Locally, we run leagues and coaching sessions within the SYBC. In addition to this, the club takes part in six regional tournaments throughout the year with the bowlers participating at both junior and adult level. Scores achieved at these competitions are used within the Scottish Rankings with the top bowlers representing Scotland in national and international competitions.
Over the 20 years of the club we have seen many of our youths and young adults qualify for Scotland. To date 17 girls and 19 boys have proudly represented their country at United Kingdom and Ireland, European and World Championships. This year alone the club had representatives at Junior Triple Crown, Adult Triple Crown, European Mens Championship, European Womens Championship. European Champions Cup, European Youth Championship and World Youth Championship.
We have been fortunate to have a great team of coaches and parent helpers who have made sure that the club has lasted as long as it has. We currently have 6 club coaches the majority who have been with the club for many of these 20 years.
If you require any further information or you need me to do anything else please do not hesitate to contact me.
Maureen Addison