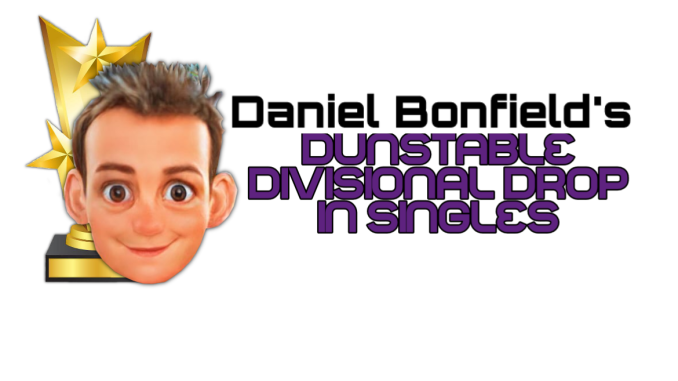 Week 6 of season 6. A decent turnout considering we're in the summer holidays
Championship
A great consistent block by Spencer Edwards 210,213,203,205 for a 831 set that gave him the high set pot. But a 237 game from Jo Green won her the high game pot.
Overall standings – Richard Parker is in the lead with a 192 average and 272 points with Spencer in 2nd on a 197 average and 238 points – but Spencer has played a week less then Richard and will catch up. These two look to be on course for promotion to the Premiership.
Premiership
Lee Miller on 11 in a row steps up for a 300 – pulled it, and it slid through the oil, never gripped and slid past the head pin for a 7 count and a 297 game which won him the high game and with a 968 Miller the Ferret clean swept the pots – he's now averaging 244 over his 12 games.
Overall standings  – Jordan the Hit Man Hart still leads the league but has played a week more then the rest of the field. In 2nd is Alan Keddie and 3rd is Lee Bradley
But from week 7 onwards, players starting catching up their missing weeks and dropping their lowest scoring weeks, so it starts taking shape from here on in.
Watch Miller blowing a 300 here https://clips.twitch.tv/TenaciousBigWombatPeoplesChamp-YxG1Zdpr024Q_aeS
League runs every Monday – everyone welcome to come and join the league at any point in our season. Just rock up at Dunstable bowl between 7.30 – 8pm on Monday.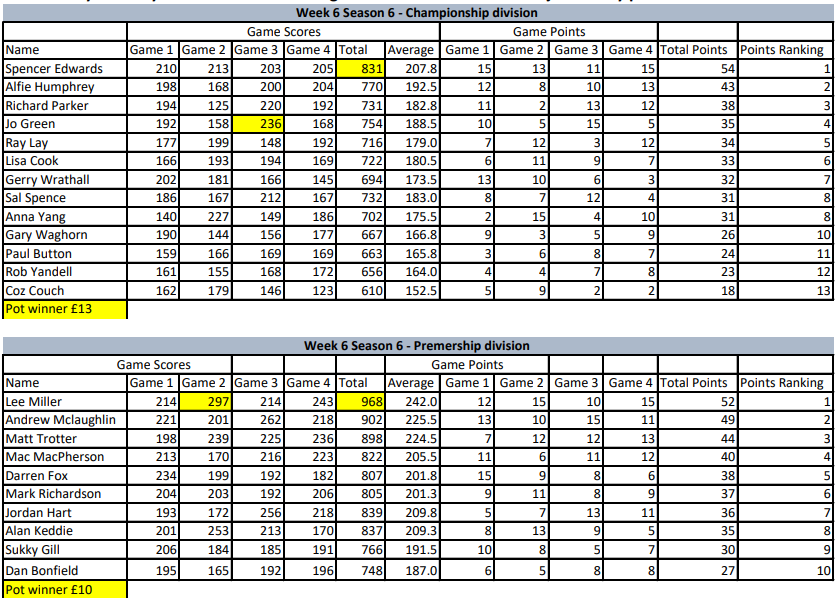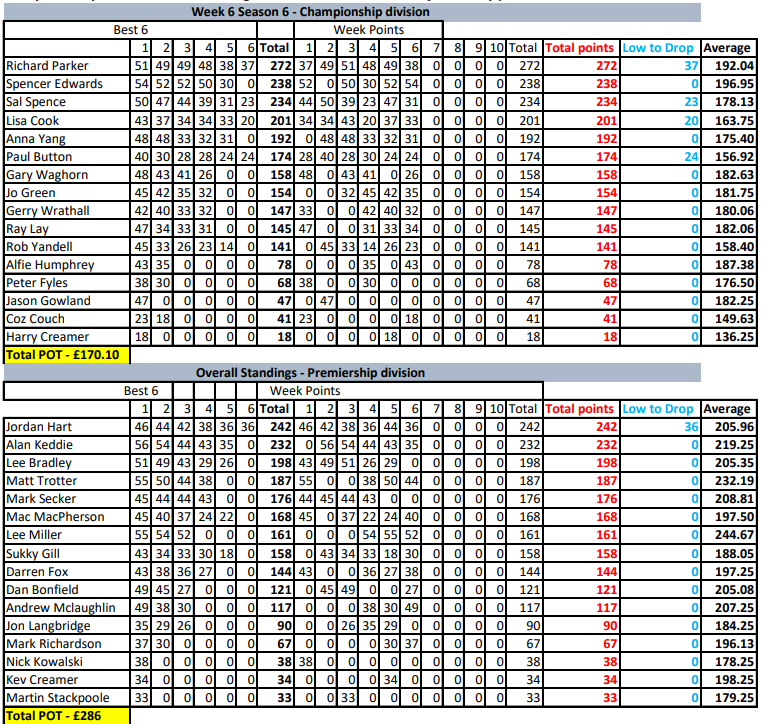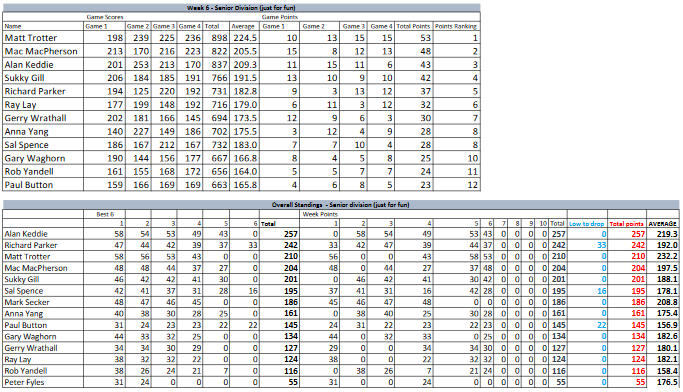 ---
Week 5 of season 6 – Some returning faces… Mark Richardson done a lord Lucan after season 4 but he re-appeared last night for his long awaited debut in the premiership. Also returning were the roofer's Kev and his boy Harry Creamer – double the security and make sure your cars are locked !
Championship
Some good bowling in this division tonight. Sal Spence put together a decent 815 block and was the 3rd highest point scorer on the night. Richard Parker's fine form continues as he put together a 800 block to secure 49pts, but top point scorer on 52 points with a 841 block was Spencer Edwards. Spencer also secured the high game pot with a 244 game.
Overall
Richard Parker continues in the lead, a massive 31pts ahead of Sal Spence in 2nd with Spencer in 3rd – though Spencer has played a week less. Richard and Spencer are on course for promotion to the premiership.
Premiership
Wowzers – we've only had maybe 1 or 2 1000 sets in the 6 seasons… then all of sudden you get 2 in the same night ! Some top skittling on show. Matt Trotter "grinded" out a 1003 set – but that didn't win him either the high game or high set pot. Because Lee the ferret Miller went and shot 224,237,278,277 for a 1016 block and a clean sweep of the pots.
Overall
Previous league leader Mark Secker Bag had a week off, and a good week for Jordan Hit Man Hart meant he surged to the top of the league on 206 points with Lee Bradley in 2nd on 198pts, then in 3rd is Alan Keddie on 197th – but Ked's has played a week less and will surely take the lead when he catches up.
I should be back next week – health permitting. But I want to thank Monsieur Bradley for looking after the league in my absence
The entry form for the next King of the Hillz tournament is out – and you can enter via this link https://eu.jotform.com/build/222003199961354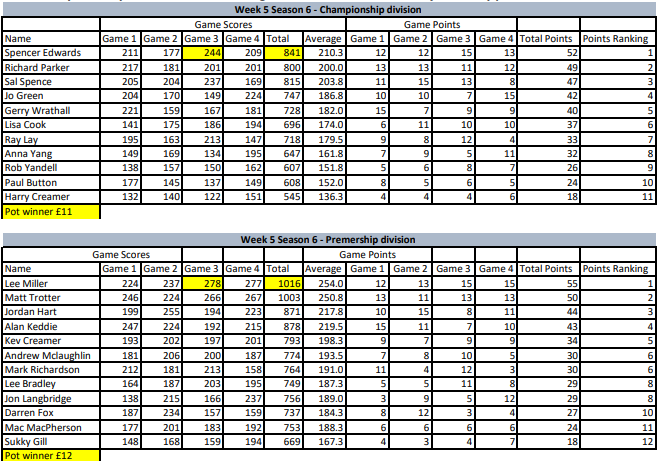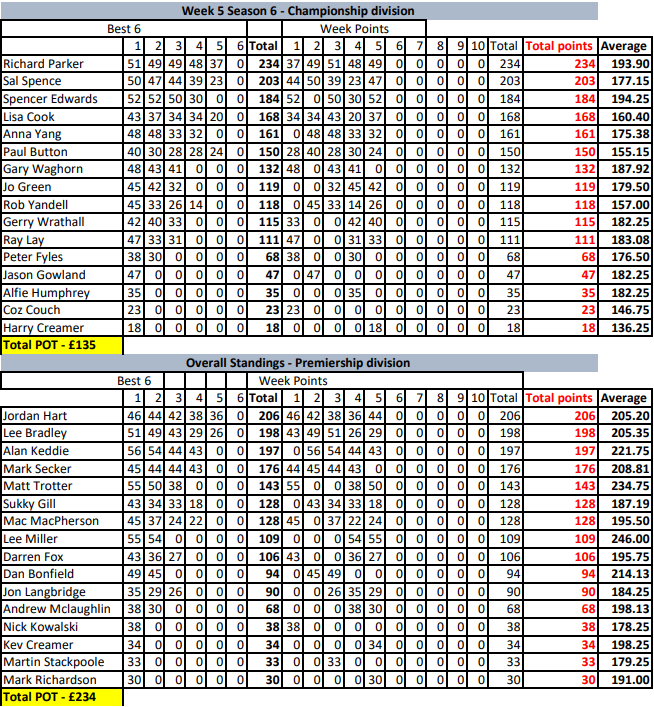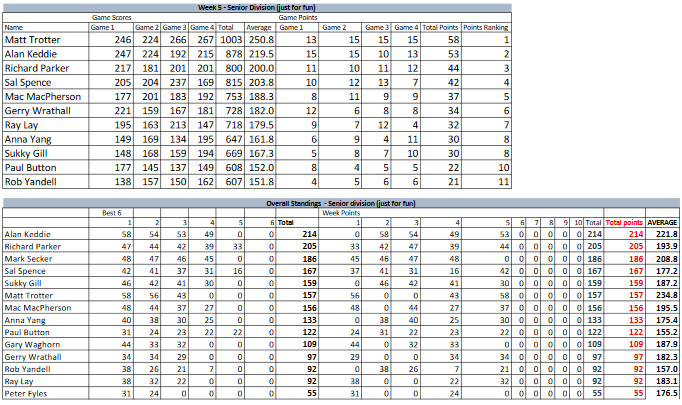 ---
Week 4 – and Basher handed the league reins over to his good friend… ok just his friend, ok.. to a bloke he knows… Lee Bradley !
And perhaps it was because Basher weren't there that we had a great turn out, 24 bowlers and 2 newbies youngster – Alfie Humphrey and long time Dunny league bowler Andrew McLoughlin – welcome. And making a re-appearance to the league was Lee "the ferret" Miller… now I'm taking it personally… I've asked him loads of times to come and have a bowl, then when I'm not there he re-surfaces !
Championship
Some good performances this week, Jo Green bounced back from a bad week to shoot 820 set, but it was Richard Parker AGAIN who clean swept the pots. Richard won the high game with 236 and then the set pot with 821, beating Jo by one pin. Elsewhere Gerry Wrathall had a good block 781 and Alfie Humphrey had a good game with a 224 that nearly won him a pot on his first night.
Overall – Richard Parker has a commanding lead in the league with a 29 point lead from Sal Spence in 2nd but more importantly his current average is 192, if it finishes that high Richie will finally be promoted to bowl with the hurlers and twirlers in the premiership.
Premiership
It's so typical of the "ferret" Lee Miller, doesn't turn up for ages, wipes the dust of his bowling bag rocks up and shots a 952 block (256,228,241,227) and wins the pot. But luckily Darren Fox shot a 269 to win the high game pot to deny Lee the clean sweep.
Overall – Lee Bradley had a bad night, probably the stress of running the league, this meant that good old Mark Secker Bag has risen to the take the lead 7 points ahead of Bradders and Jordan the Hit Man Hart  is 3rd – but the BIG FISH are yet to enter the pond !!! – namely ME ! – oh and Trotter and Keddie… Possible Lobbers later in the season and maybe Miller if turns up again.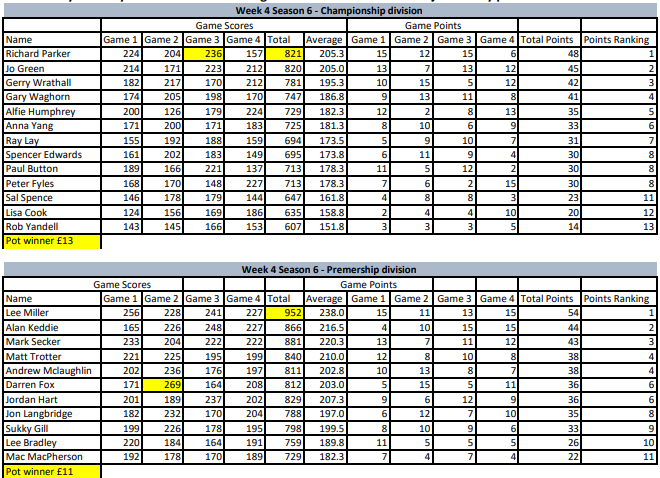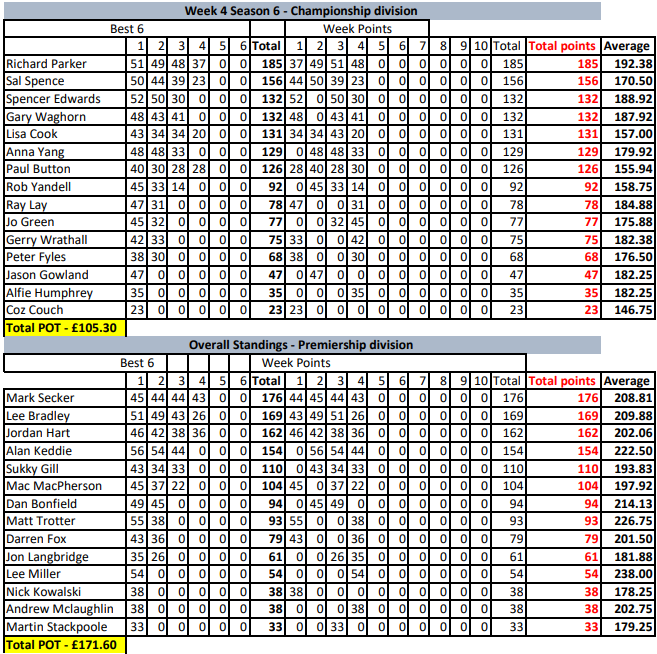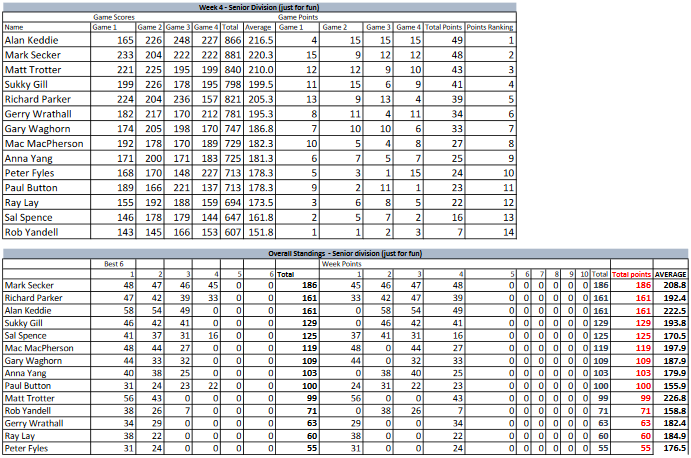 ---
Week 3 of season 6 – it was a super scorcher, the hottest day on record anywhere ever – according to the BBC news we would all die if we left the house.
But league bowlers are a hardy lot, perhaps a bit mental – and this was proven when 18 of us rocked up to bowl.
This is why bowling proprietors have to value league bowlers… because we go bowling on super sunny days and sub zero snowy days – league bowlers will be there ! – we're hard core.
Championship – Richard Parker had every thing in his block of 4, a rocky start a steadying of the ship a lane change due to a break down and then some great bowling to finish off – Richard went 143, 201 (lane change) 238, 243 for a 825 block and that won him high game and high series pot in his division. Also scoring good points (50) was Spencer Edwards
Overall – it's still early days, but Richard parker leads with Sal Spence and Lisa Cook in 2nd and 3rd.
Premiership
Despite their being a heat haze at about 50ft there was still some good skittles. Lee Bradley with the front 10 then a rather woeful 6/ for a 286 in game 2 gave him the high game pot, and then he completed the clean pot sweep by shooting a 940. But he was wasn't top point scorer. That honour went to the very sweaty sock Alan Keddie who shot a 920 but ended up with 54 points.
Overall – Lee Bradley leads the league, averaging 216… this boy used to be in the championship average 170ish a year ago. In 2nd is Mark Secker bag and in 3rd is Jordan the Hit Man Hart.
Catch up on the action via twitch … https://www.twitch.tv/basherback2back
I'm away for the next two Mondays – leaving the league in the capable hands of Mr Lee Bradley.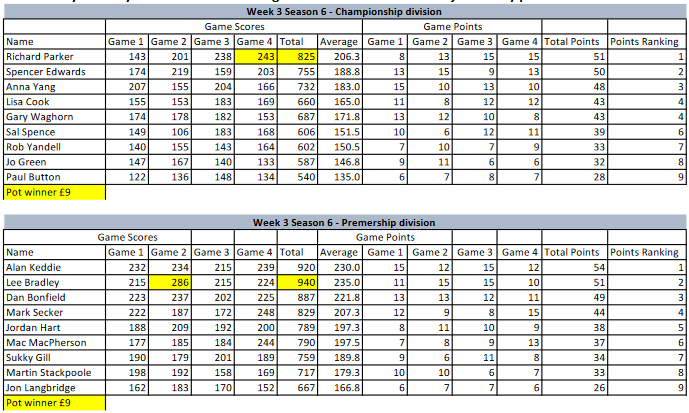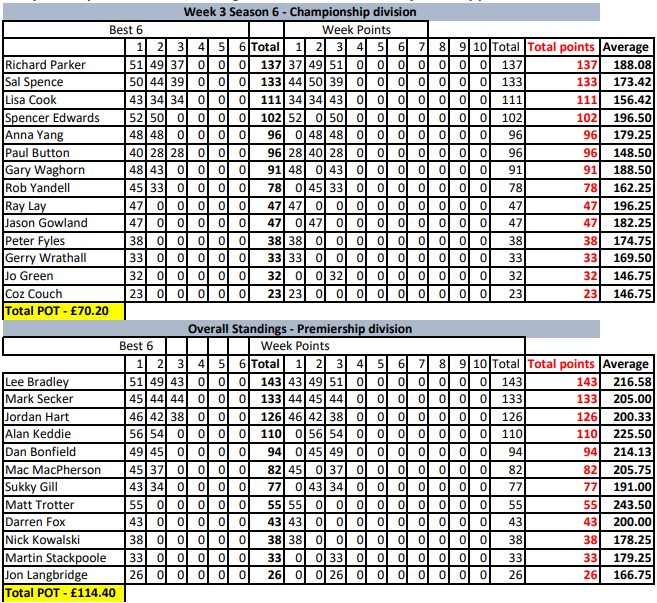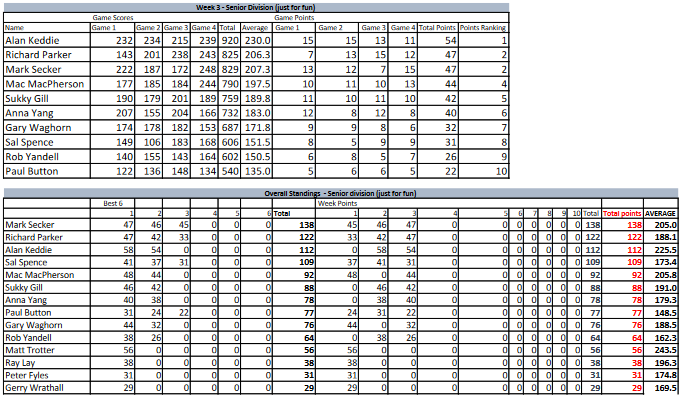 ---
Week 2 of Season 6 – man it was a scorcher. I swear there was a heat haze at about 50ft. A very poor turnout this week, but it was too be expected – it was a busy weekend of bowling with the MSL, Lez Rogers Memorial event and the senior event in Shipley. But it did mean that those that played picked up some good points.
Championship – Any game over 200 was a good game it this heat. Rob Yandell opened up with a 208 and Rich Parker a 202, but the highest game of the evening and earning himself the pot money went to Jason Gowland who shot a 233 in game 3.  The high series pot also went to Jason who shot a 729 just beating Richard Parkers 720. But it was one them nights where even though Jason won both pots he only came 4th in the points situation.
The early league leader is Sal Spence followed by Richard Parker.
Premiership – Basher took awhile to acclimatize to the heat as he opened with 156 but a strategic bit of white tape meant he bounced back with a 253 to win the high game pot. Lee Bradley banged in a decent set with 860, but the high series pot went to the sweaty sock (literally)  Alan Keddie with a 884 block.
Early league leader is Lee Bradley with Mark Secker Bag in 2nd
Week 3 next week – lets hope with can start getting the attendance back up into the 20's
July 24th is the King of the Hill event at Dunstable – there are currently 9 spaces remaining. If you wish enter this event then please click here and enter https://form.jotform.com/221664323403346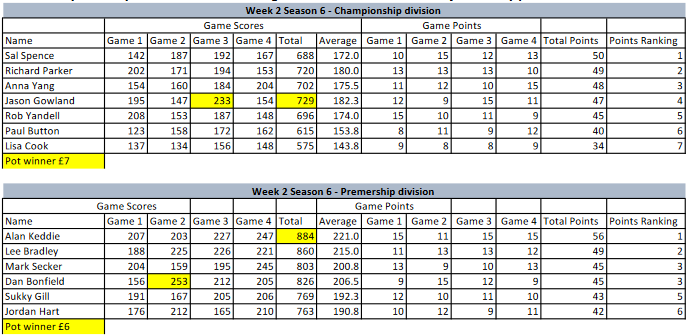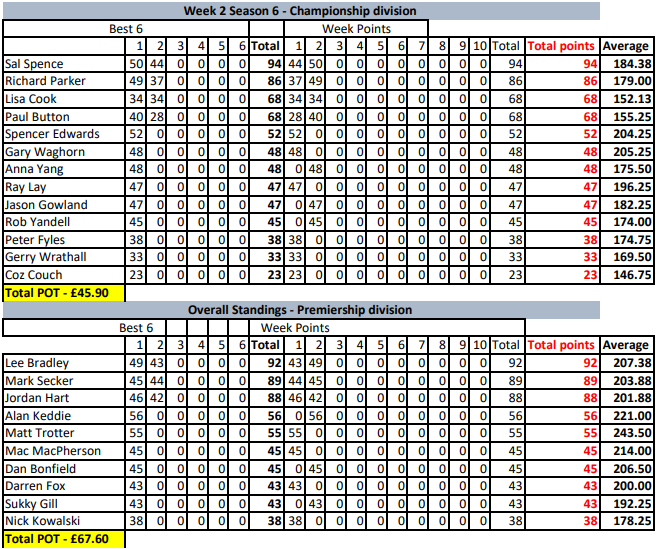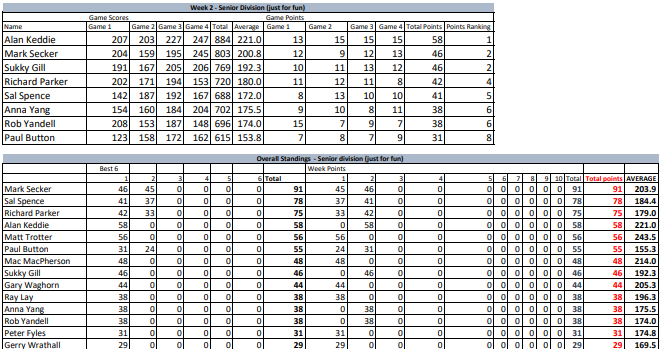 ---
So round we go again… week 1 of a new season, Season 6 of the drop in singles league. New bowler this week Spencer Edwards, son of the leg-end Cass Edwards.
Championship – Gary Waghorn continuing his good form from last season into this one shooting a 235 in game 3 to take the high game pot. Spencer was in there like swim wear and made an impressive debut shooting an 817 set, not bad for someone who hasn't bowl competitively since YBC days. But Spencer was denied a pot on his first week by the impressive Waghorn who shot a 821 set. Ray lay and Sal Spence both shot decent sets as well. Should be a competitive championship league this year and hopefully a few bowlers earning promotions into the premier league.
Premiership – Matt Trotter going for the three-peat. Having won the last 2 leagues, Matt cruised to a 974 set, and even managed to sandbag in the last game, he doesn't want his average getting too high, just keep it in the 240's this season. Matt won both pots with a 266 in game 2. Big Mac Macpherson shot a decent 856 and Jordan the Hit Man Hart had a consistent block for a 852.
Anyone can join the league at any point in the season, and bowl as little or as often as they like – every Monday at 7.30 for a 8pm start.
July 24th is the 3rd King of the Hill tournament at Dunstable – we still have 10 spaces remaining and you can enter the tournament here https://form.jotform.com/221664323403346