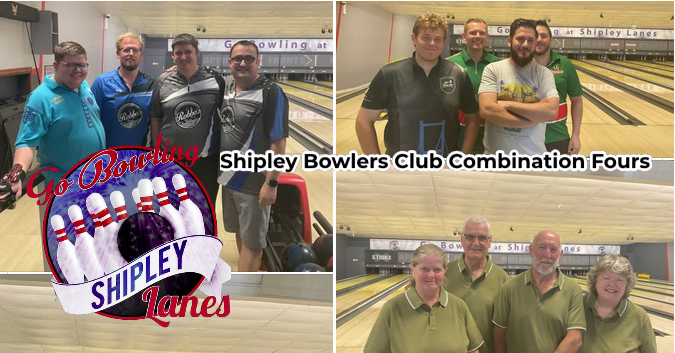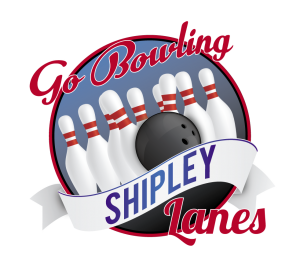 20th, 21st & 27th,28th August 2022
This is the fourth time Go Bowling Shipley has held this event and it was another great success.
The entering average for the whole tournament (96 bowlers – 24 teams) was 189.9. The tournament bowled 1152 games and averaged 192.1 a difference of +2.2. We used our Kegel Flex and put down the Kegel Elements Pattern Lithium with current conditioner and Ice conditioner. This pattern has a ratio of 9.15:1 and provides a shot for most styles of bowling. Out of 1152 games bowled there were 452, 200+ games including 13 275+ games which is a great achievement.
Thank you to all the bowlers that participated and to the spectators that turned up to watch this great event. Next year the event will be held on 12th, 13th, 19th, 20th & 26th, 27th August 2023. (YES 3 WEEKENDS More Teams = More Prize money and more Paid Positions).
I would like to thank Jeff Taylor, his front of house team and his technical team for supplying us with his Centre for two weekends, supplying great food and a great environment to bowl. I also want to thank him for the sponsorship he gave us and an amazing lineage rate.
I also need to personally Thank Steve Kay from powerplay Shipley for supplying extra sponsorship for this event. Next I want to thank my tournament management team Dave Ward, Terri-Anne Kay, Carole Orange, Steve Kay and everyone else who helped me out either by collecting scores, sorting out any issues or simply selling numbers on the number boards for the Shipley youth bowling fundraising and just making sure everything ran smoothly.
Another big thank you must go out to Laura (my Mrs.) for helping with data input into the spreadsheet. A lot of people don't see the ins and outs of creating this event and the hours put in at home and at work so a huge thank you goes to her for helping and putting up with me when stuff doesn't go to plan and takingup the weekends of August.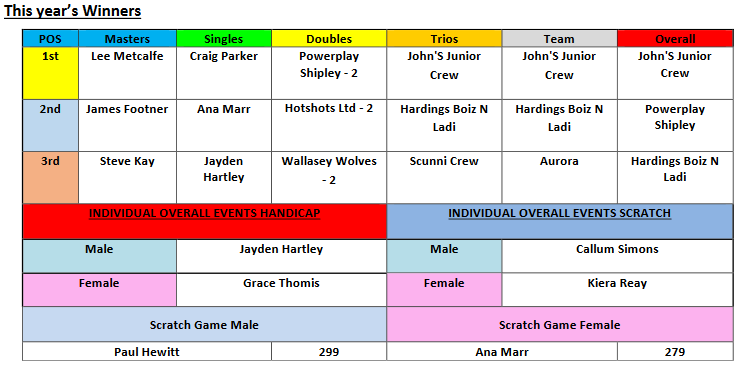 With the results above I also want to congratulate George Jagger & Thomas Cummings in the doubles (Powerplay Shipley 2) who bowled an outstanding 1595 scratch which is now the new Go Bowling Doubles Centre record that was previously held for 21+ years
Throughout the 2 weekends we ran 2 number boards to raise funds for the Shipley youth bowling club.The draw took place as soon as these were full. The winners will receive a custom shirt of their choice from striking shirts. The first number board was drawn on the 1st weekend and with number 96 was won by James white, the second was drawn on the second weekend and with number 47 this was won by Jimmy Neal. I will be in contact soon to sort out which design you will love to #lookgoodbowlgood. As I'm part of the Ybc committee I Thank everyone who donated their money to the club.
Thank you again to everyone who made this event a success and I hope to see you all again very soon please share your experiences with your fellow athletes and friends we are hoping for 36 teams next year I know it's a big ask but with your help I'm sure we can get there.
Please see the live video posts on my Facebook if you have access to see the players and the prize giving ceremony.
If you would like to know more about events taking place at Go Bowling Shipley please search for Go Bowling – Shipley Lanes, Shipley Bowlers Club or Pin Monkey Coaching on Facebook.
By Lee Metcalfe
Results
team section overall team trios section doubles section singles section
Scratch overall male Scratch overall female
handicap overall female handicap overall male