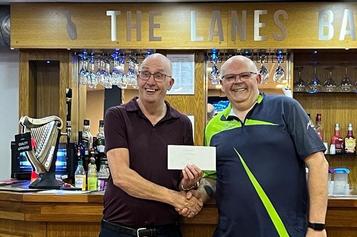 Bowlers made their way to Go Bowling – Shipley Lanes last weekend for a tournament with a different format from the usual singles events that make up Team England qualifiers. Teams started out their day bowling six games with their doubles team scratch totals plus age, average, and ladies bonuses all counting towards qualifying pinfall.
DOUBLES QUALIFYING
In the early morning squad, Kevin Lamb (244) and Paul Hewitt (231) got off to a flyer in the very first game. Their 495 game (with bonus) was the high team game of the whole day, and they finished their set with another high game of 468, for third place in the squad on 2498.
Local bowlers, Carole Orange and Ian Kennedy also had two great games of 475 and 465 in their 6-game block, and were leading after four games, but a 365 last game dropped them back into second for the squad, finishing on 2500.
Leading the way in the first squad were Colin Grose and Paul Loberman with a 2524 total, including two high games that won the high game prizes for games two (445) & three (457).
The second squad started around about on time, but then disaster after just one frame — a breakdown on lane 11 enforced a break in play. Whilst all the other teams finished their first game, Gary Baker, Kim Johnson, Sandra Boswell, Sandra Simmonds waited it out whilst Callum Simons worked tirelessly in the pindeck to fix things. But no sooner had one thing been fixed…the ball return belt had snapped on the same pair, extending the delay even further. With all the pairs being used, there was no real option but for teams to wait it out, not only for the repair job to be completed, but also for the remaining two teams to finish their first game. Only then, after another five minutes of practice time, could everyone move on to their second game. It was one of those unfortunate events that thankfully doesn't happen too often at a tournament, and whilst it was certainly frustrating for everyone, thankfully, the bowlers seemed understanding of the situation and get on with things.
The break in play and soaring heat no doubt had an impact on the scoring pace in the second squad, with Gary Baker and Kim Johnson the only team over 400 in Game 2. However, scores started to recover as teams got into a better rhythm.
Barry Walker and Gordon Humphries hit games of 448, 456 & 434 on their way to bowl 2422 — the third highest set in this squad. Baker and Johnson finished one pin in front of them on 2423.
Leading the way for the squad and taking the lead overall in the tournament by 3 pins were Geoff Brown and Matt Trotter shooting 2527, including high game of 471 to win the high game prize in game five.
SINGLES SEMI FINAL
The Top 18 scratch scores (with ladies bonus) from the doubles qualifying, made the Singles semi-final, to bowl another three game block before a cut to the Top 6. 100% of the qualifying pinfall carried forward in the scratch singles section in each round.
The cut to the Top 18 was Mike Halliwell on 1148 (a 191 average) with Kevin Lamb missing out by one pin and Carole Orange five pins outside the cut. Carole had done enough though to win the prize for highest place woman in the field. A fairly low cut (including bonuses) was unexpected to quite a few bowlers who thought they hadn't made it and had already put their bowling balls in the car, only to have to get them back out again.
Only 9 bowlers were averaging over 200 at this stage, with Colin Grose continuing his fine form in 2022 leading the way with a massive 1346 (224 average). Matt Trotter rolled six 200+ games in qualifying to stay within 39 pins of Colin. Graham Hepworth (209 average) making a tournament return was in fourth place, with Robert Bruce third (210) and Gordon Humphries fifth (206).
The lanes were redressed and as bowlers started their semi-final round, the cut for the final was sitting at 1231 (205 average). It was expected to go higher. But that turned out not to be the case, which surprised many when the scores were in.
Colin and Matt matched each other's 607 series to stay at the top of the field, but a 667 from Alan Keddie moved him up from 8th to 3rd, within striking distance of the leaders. Meanwhile, the biggest mover was Geoff Brown, who qualified in 16th place. Geoff's 654 series moved him up to 6th place on 1814 and into the final. Unlucky Graham Hepworth also finished with 1814, but Geoff's higher last game decided the tie. Geoff was as surprised as anyone, treating the singles semi-final as "practice for the doubles final", then finding himself in both.
DOUBLES FINAL
The top 12 teams (with bonuses) after the first six games of qualifying would play another three games in the doubles final. It turned out to be six teams from the first qualifying squad and six teams from the second squad.
Only 50% of the qualifying pinfall was carried forward into the doubles final, bringing the whole field closer together.
Only 51 pins separated the Top 7 teams, which made it anyone's to win or lose. There was no lane redress after the Singles, so the final started after a lane draw.
A big first game of 482 from the leaders, Mrs Brown's Boys (Geoff Brown and Matt Trotter) extended their lead at the top to 98 pins over Witney Specials (Gary Baker & Kim Johnson) who climbed into second with a 436 game.
Chronologically Gifted immediately dropped down to fifth with a 354 game. Having started the final just one pin behind the leaders, Loberman and Grose were now 129 pins back.
The pendulum shifted in the second game, as they found plenty of strikes and clawed back to within 26 pins shooting a 483 game, whilst Mrs Brown's Boys hit 380. With six more teams all scoring over 400, there was still only 101 pins separating the top six teams.
In the final game, it was neck and neck through the first five frames with Mrs Baker's Boys also having 10 bonus pins head start on Chronologically Gifted.
Thomas Grose was calling the shots on the inaugural Riding the Ditch livestream. But it was too close to call in the commentary and neither team could see what the other was doing six lanes apart. Neither were they looking.
But…they could hear the noise levels increase from Loberman and Grose as they hit 10 strikes in the final 14 frames — including a final seven bagger from Loberman — to finish with a 457 team game and take their first senior title by 47 pins.
Mrs Baker's Boys held on to second place with a 384 game from the Witney Specials in third.

SINGLES FINAL
Pinfall from the singles semi-final carrying forward again, Colin Grose had a 39 pin lead over Matt Trotter, who was only 26 pins in front of Alan Keddie.
Game one of the final saw Colin shoot 255 — his third 250+ game of the day — but his lead was cut, as Matt bowled 266. Geoff Brown continued his run up the leaderboard to move into fourth with a 265 game, followed up with a 213 to pull himself right into contention, albeit still some way back from the leader.
Matt cut Colin's lead down even further in game two, rolling 198 to Colin's 183 to make it only a 13 pin difference going into the last game. Alan Keddie's 205 kept him in the race, only 70 pins behind Colin too. We were all set for another close finish.
The first few frames were fairly evenly matched. Matt spared a split in frame two, but after a strike in frame three, he left another pocket split in frame four to leave the door open for Colin to extend the lead, but a missed seven pin kept Matt in contention..
Meanwhile, Alan was pounding the pocket consistently, and a turkey pulled him right back into the mix, and by frame five, it looked like momentum might swing his way, until two flush ten pins put an end to his run and he eventually rolled 227 to finish clear in 3rd place.
Matt reeled off a four bagger from frame seven to ten which put him into the lead for the first time, as Colin struggled to carry a double the whole game. Matt closed out a solid game with a ringing ten pin leave for a 215 game but it left the door open for Colin who had just struck in the ninth frame.
Grose still needed a double and six pins to take the win, and stepped up to hit the first two strikes, before stopping midway through his approach on the last ball when he was distracted by something. It only added to the tension. He reset and threw a fourth strike in a row to seal the win by just five pins(!) and also gain maximum Senior Team England ranking points.

AND FINALLY…
Excellent bowling in both finals, especially for the spectators, many of whom stayed to watch. It was a very late finish, due mostly to the lengthy breakdown, but those who stayed were treated to a gripping final few games in both events — all captured thanks to Thomas on the Riding The Ditch YouTube livestream if you missed it.
Well done to the winners, and a big thank you to everyone who played the event. Although there were only 20 teams, 70% of the bowlers bowled at least nine games, having qualified for either the Singles, Doubles, or both semi finals/finals.
Thank you to the team at Go Bowling Shipley, especially Callum Simons for managing the breakdown under pressure as quickly as he could. Thanks also to Jack Smith for running the tournament on the day, and dealing with the unexpected.
The next Senior Team England qualifier is the English Sportbowling.uk Tour at Acocks Green later this month.
View Results here