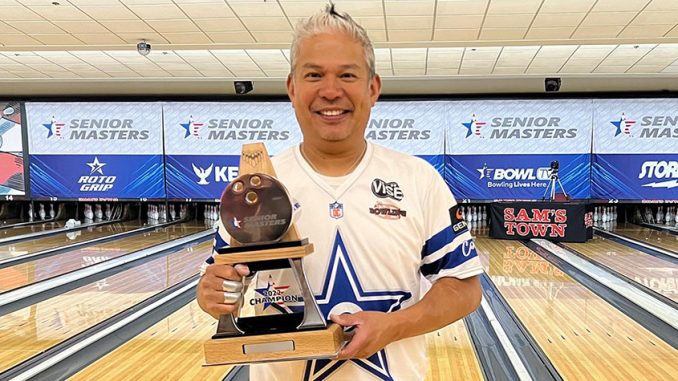 By Joe Jacquez
Bowlers Journal International
LAS VEGAS – When it is your day, it is your day.
It certainly was Dino Castillo's day.
As the No. 5 seed at the 2022 United States Bowling Congress Senior Masters, Castillo, of Highland Village, Texas, ran the ladder to win his first career Professional Bowlers Association 50 Tour title at Sam Town's Bowling Center inside Sam's Town Hotel and Gambling Hall on Sunday live on BowlTV.com.
A die-hard Cowboys fan who is always representing his favorite team, even with his sock choices, shot games of 300, 257, 255 for 812 in his three games against No. 4 seed Chris Barnes (300-222), No. 3 seed Jack Jurek (257-196) and No. 2 seed Parker Bohn III (255-219) to reach the championship.
In the USBC Senior Masters format, No. 1 seed Chris Warren, who came into the stepladder undefeated in the tournament, had to be beaten twice to lose the tournament.
Warren had the best look all week, but Castillo had just come off averaging nearly 271 with his Black Widow Ghost, a ball that he switched to late in the day to get to the show, because he needed a different shape and more importantly, needed to start striking in bunches.
That he did. To do it against some of the best players in the world, including hall of famers, Castillo said was a dream.
"It almost feels like a blur, because I had five matches to bowl," Castillo said. "Someone was having trouble coughing and so that kind of took the pressure off, because it became a joke to me."
At that point, knowing he was lined up, Castillo was loose and just needed to repeat shots. Having a bunch of miss room helped, too.
"The only way I could beat Chris and Jack was to get them off their spot," Castillo said. "My look was not very good on the fresh, so I talked to Shawn Maldonado last night, and he said that is what I need to do."
Castillo took his Black Widow Ghost, sanded it up at 360 and 240 and took the approach of trying not to bowl bad and getting his opponents off of their line.
He did that.
"What I didn't know was that I was going to be able to create an unbelievable reaction for myself," Castillo said.
Castillo defeated Warren, the 2018 Senior Masters champion, by scores of 253-201 and 216-169 to win the 2022 event. He finished with 1,281 pins knocked down in the stepladder.
Castillo stopped trying to win on the regular tour after making some shows in his first five years, but as a rookie on the PBA50 Tour this year, he has been as motivated and as focused as ever to win.
Ball rep Jeff Johnson said entering Sunday's stepladder finals, he could tell Castillo was there to win.
"I am a good reader of body language, and I knew it was a Dino day," Johnson said.
It certainly was a Dino day.
Castillo was not only able to get his opponents off their spot, but besides avoiding trouble, he was able to create so much miss room that even on shots that he missed right, the ball got back to the pocket, because of the ball he was using, his hand, the tricks he has and his rev rate, which is higher compared to most players on the senior tour.
He said he wasn't really thinking about what his score was for a set of games, but after the fact, that was a different story.
"But now that I know, holy crap I shot 812, that's amazing," he said.
Castillo said he could have never dreamed of winning the Senior Masters because of the format and how tough it is.
"I knew it was going to come, but this is the last tournament I would have expected to get," Castillo said. "It's just a dream I never thought I would have."
Now it's a reality.
Castillo collected the top prize of $20,000 with the win, while Warren took home $12,000 for the runner-up finish.
The 2022 Senior Masters started with 261 players age 50 and older competing in three five-game qualifying blocks to determine the top 63 joining defending champion Tom Hess of Granger, Iowa, in the double-elimination bracket.
Hess was guaranteed a spot in the bracket as the defending champion and finished the 2022 event tied for ninth place.
All bracket matches leading up to the stepladder featured a three-game total-pinfall format.
For more information on the USBC Senior Masters, visit BOWL.com/SeniorMasters.
United States Bowling Congress
The United States Bowling Congress serves as the national governing body of bowling as recognized by the United States Olympic & Paralympic Committee (USOPC). USBC conducts championship events nationwide including the largest participation sporting events in the world – the USBC Open and Women's Championships – and professional events such as the USBC Masters and USBC Queens.
Founded in 1895, today USBC and its 1,519 state and local associations proudly serve more than a million members. USBC is headquartered in Arlington, Texas, working toward a future for the sport. The online home for USBC is BOWL.com.
2022 USBC SENIOR MASTERS
At Sam's Town Bowling Center
Las Vegas
Sunday's Results
Final standings
1, Dino Castillo, Highland Village, Texas, 1,281 (five games), $20,000.
2, Chris Warren, Grants Pass, Ore., 370 (two games), $12,000.
3, Parker Bohn III, Jackson, N.J., 219 (one game), $9,000.
4, Jack Jurek, Lackawanna, N.Y., 196 (one game), $7,000.
5, Chris Barnes, Denton, Texas, 222 (one game), $5,500.
Stepladder results
Match 1 – Castillo def. Barnes, 300-222.
Match 2 – Castillo def. Jurek, 257-196.
Semifinal – Castillo def. Bohn, 255-219.
Championship – Castillo def. Warren, 253-201 and 216-169.