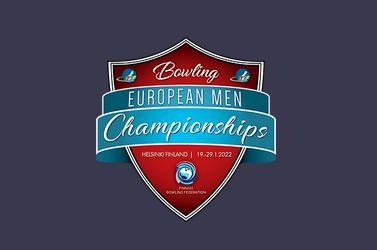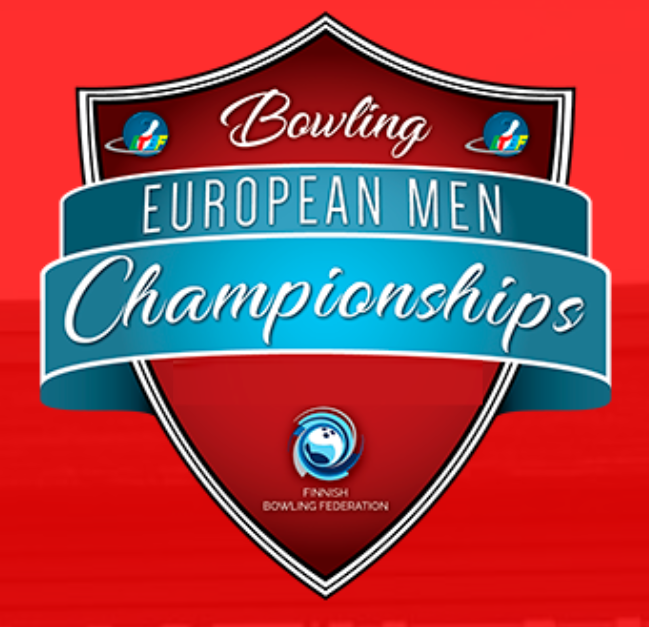 Twenty-five countries featuring 146 bowlers will compete in the 2022 championships set in the World famous Tali Bowl in Helsinki, Finland from the 31st May to the 10th of June.
Bowlers will play Singles, Doubles, Trios, Teams and Masters and a chance to join the great champions of the past with the championships last held in Tali in 1987.

Livestream
Watch EMC 2022 live from the official YouTube-channel of the Finnish Bowling Federation here

Online Scoring
Follow all the scores as they happen here
International Reports

Sweden will again be favourites for medals and field a stellar line up in 2022 including Martin Larsen, Jesper Svensson, Pontus Andersson, William Svensson, Markus Jansson and James Blomgren. Home Nation Finland also tipped for honours with a talented line up of Joonas Jähi, Osku Palermaa, Tomas Käyhkö, Niko Oksanen, Juho Rissanen and Kimmo Lehtonen.
Others to watch out for include a strong Italian side of Nicola Pongolini, Antonino Fiorentino, Tommaso Radi, Walter Alessandro Santu, Pierpaolo De Filippi and Erik Davolio. Lithuania, Croatia and many baltic states much improved in the last few years will join the hunt, as will Germany, Denmark, England and Iceland. The truth is, you can try to predict the winners but there will always be some surprises along the way.
Opening Ceremony

Singles gets underway on Thursday
Leading the way after the first squad of singles was Denmark's Mikkel Brus Sorensen with 1332 followed by Sweden's William Svensson with 1310 and in third was Lithuania's Laurynas Narusis with 1308. Taking fourth was Germany's Andreas Hernitscheck with 1298.

Singles – Home Nation Finland strong in the second singles block

Finland took the top two spots after squad 2 of the singles with Niko Oksanen leading despite a 158 in game four and 1411. Second to countryman Tomas Kayhko with 1403 and Swedish PBA star Jesper Svensson in third with 1387. Taking the final spot with a squad to go was Frenchman Maxime Dubois with 1367

Singles – Sweden's Jansson a level above
The final squad of singles on Friday afternoon saw a few fireworks from Swedish star Markus Jansson rolling games of 258,287,224,267,227 and 223 for a fine 1486. in second was the Czech Republic's Jaroslav Lorenc with 1423 and joined by the two Finns Niko Oksanen on 1411 and Tomas Kayhko with 1403.

Singles Finals – Sweden claim the Gold

Finland had two bites of the cherry in the semi finals but it was the Czech Republic and Sweden saying how do you like them apples as both had to settle for Bronze medals, Jaroslav Lorenc (CZE) beating Niko Oksanen 213-209 and Markus Jansson (SWE) defeating Tomas Kayhko 232-197.
Sweden vs Czech Republic final and a one sided final at that as Markus Jansson raced to 279 leaving Jaroslav Lorenc trailing with 192 qnde the first Gold of the championships to Sweden.

Doubles -Who is going to stop the Flying Finns?
Game one and a championships record from Finland as Tomas Kayhko hit 279 and Niko Oksanen adding 268 and 547 in the books. They did not stop there, adding 474,502,419,425 and 468 for 2835 with Kayhko hitting 1481. Second were Sweden's Pontus Andersson and WIlliam Svensson with 2695 followed by Spain in third with 2608 and Czech Republic fourth with 2575.

Doubles – Supreme Scandinavians
If one country was going to challenge Finland it was Sweden. World Champions James Blomgren and Jesper Svensson with 2722 and slotting into second overall. Finland's Kimmo Lehtonen and Juho Rissanen crashing the party in third overall with 2702 with Sweden's Andersson and Svensson in fourth now with 2695 and a block to play on Sunday morning.

Doubles – France grab a place in the final
The final was almost locked up before the squa even started and some big games needed to make the final four. France gave it a go and smashed in 2721 to place third overall and a fine 1421 from Maxime Dubois. Two finnish teams and a pair of Swedes joining them in the final.

Doubles Finals – It's Sweden again

Not the best draw for Finland in the semi final as one of their duos would advance and one go out. Going through were Kimmo Lehtonen and Juho Rissanen with 450 to 434 and Tomas Kayhko and Niko Oksanen. Also into the final were Sweden's James Blomgren and Jesper Svensson beating France 484-398.
Sweden vs Finland final and Gold for the former as Jesper Svensson smashed in 289 and James Blomren adding 223 for 512 as Finland's Kimmo Lehtonen (201) and Juho Rissanen (181 hit 382 for the Silver medal.

Trios – Super Swedes
No shocks to see Sweden leading after the first squad of trios. Games of 739, 684 and 651 for a 2074 total and Martin Larsen the pick of the players with 778. Second was Denmark with 2025, Italy in third with 1987 and Finland fourth with 1970.

Trios -Sweden head the teams into the finals
Four squads and six games each later we found our final four and it was Sweden's Blomgren,Laresen and Svensson in first place with 4148 as Denmark placed second with 3953, Sweden's Jansson, Andersson and Svensson third with 3901 and fourth going to Italy with 3824.

Trios – Super Swedes part II
Another bloack and another Swedish team leading, thanks in no small part to a 286 last game by Pontus Andersson. 1995 the total followed by Denmark in second with 1958, Norways in third with 1877 and Finland in fourth with 1867. Only the Swedish trio breaking into the combined scores in 3rd behind team mates Sweden 1 and Denmark.

Trios finals – Italy grab the Gold
Italy vs Sweden and Sweden vs DEnmark in the semi finals and one Swedish team though and one out as Italy beat Blomgren,Larsen and J Svensson by just four pins 647-643 but the other Swedish team of Jansson, Andersson and W Svensson took out Denmark 654-621′
The final between Italy and Sweden also going down to the closing frames and it was the Italians dancing at the end with a 683-657 Gold win.

Team – Finland excite the Home fans
Home fans were cheering as Finland shamshed in games of 1166, 1110 and 1078 for a fine 3354 as Denmark placed second with 3227 and Italy third with 3226, taking fourth overnight was The Netherlands with a tied 3226.

Team – Sweden lead teams into the finals

Sweden came back from a ppor game by their high standards to lead the four teams in the finals with 6605 ahead of Finland with 6591, Italy with 6453 and finally The Netherlands with 6410.

Team Finals – It's Dutch Delight
The Netherlands must have thought it could be their day when they beat Sweden in the Semi final 1033-935 as Italy eased past Finland 971-949.
The final was a tight one but two games below 160 gave the Dutch an edge and Gold 997-955.

All Events – Jesper claims the Gold
Swedish two-handed star Jesper Svensson claimed the All Events Gold with 5567 averaging 232. Taking Silver was Finland's Tomas Kayhko with 5536 (230) and bronze going to Denmark's Thomas Larsen with 5467 (227).
Masters – Ongoing….
Step 1 and wins for Walter Alessandro Santu Italy, Laurynas Narusis Lithuania, Lukas Jelinek Czech Republic, Carsten Warming Hanson Denmark, Tobias  Bording Germany, Nicola Pongolini Italy, Osku Palermaa, Finland, and Niko Oksanen Finland.
Step 2 and Sweden's Martin Larsen through, Frenchman Maxime Dubois, Italys Walta Alessandro Santu, Sweden's Jesper Svensson, James Blomgren, Finland's Joonas Jahi and Tomas Kayhko and Germany's Tobias Bording.
Step 3 and it was Finland vs Germany, Sweden vs Italy, Sweden vs France and Sweden vs Finland. Joy for Finland and Sweden as Tomas Kayhko, Joonas Jahi, Jesper Svensson and Martin Larsen advanced.
Step 4
It could have been an all Finland or all Sweden Final but a fair result was maybe Finland vs Sweden. Finland's Joonas Jahi beating Sweden's Jesper Svensson 2-0 and Sweden's Martin Larsen taking out Finland's Tomas Kayhko 2-0.
Step 5
Winning the European Masters on home soil must be quite a feeling and one Joonas Jahi will remember for a long time as he defeated Sweden's Martin Larsen with games of 235 and 268 to 193 and 193.  Gold to FInland and Silver to Sweden.
Home Nations and Ireland Reports

A much changed Team England side travel to Tali due the postponements and will feature some new caps for Callum Simons, Adam Shrubb, Garry Baird, Garry Sykes and George Jagger and joined by the experienced Jamie Bottomley.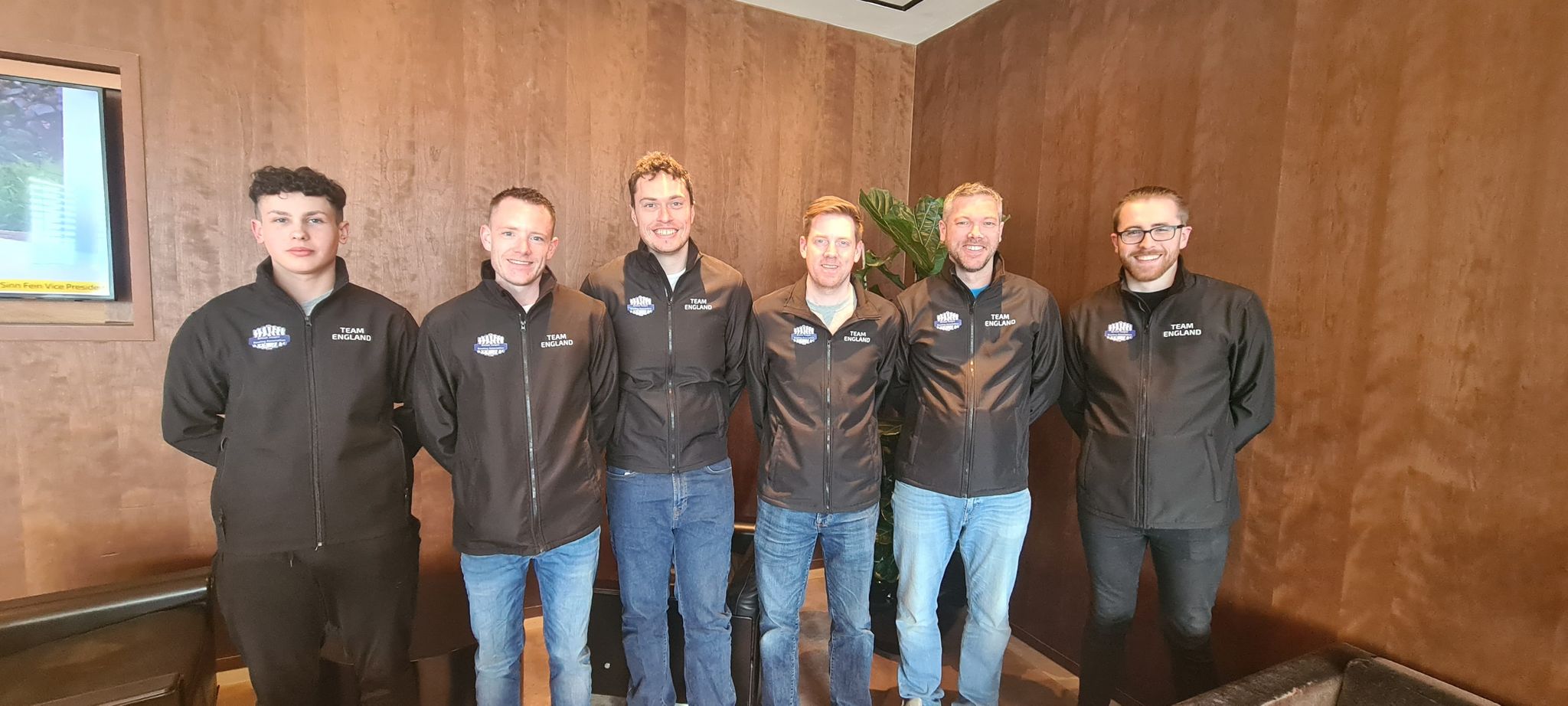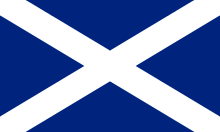 Scotland send some experienced heads in Kenny Jamieson, Steven Gill, James Guthrie, Brian Gillespie, Chris T Nairne and Jak Herbertson.

Ireland hoping to land some medals with Anthony Byrne, Sean Dempsey, Paul Molphy, Aidan Byrne, Eoghain Lebioda and Karl Doherty.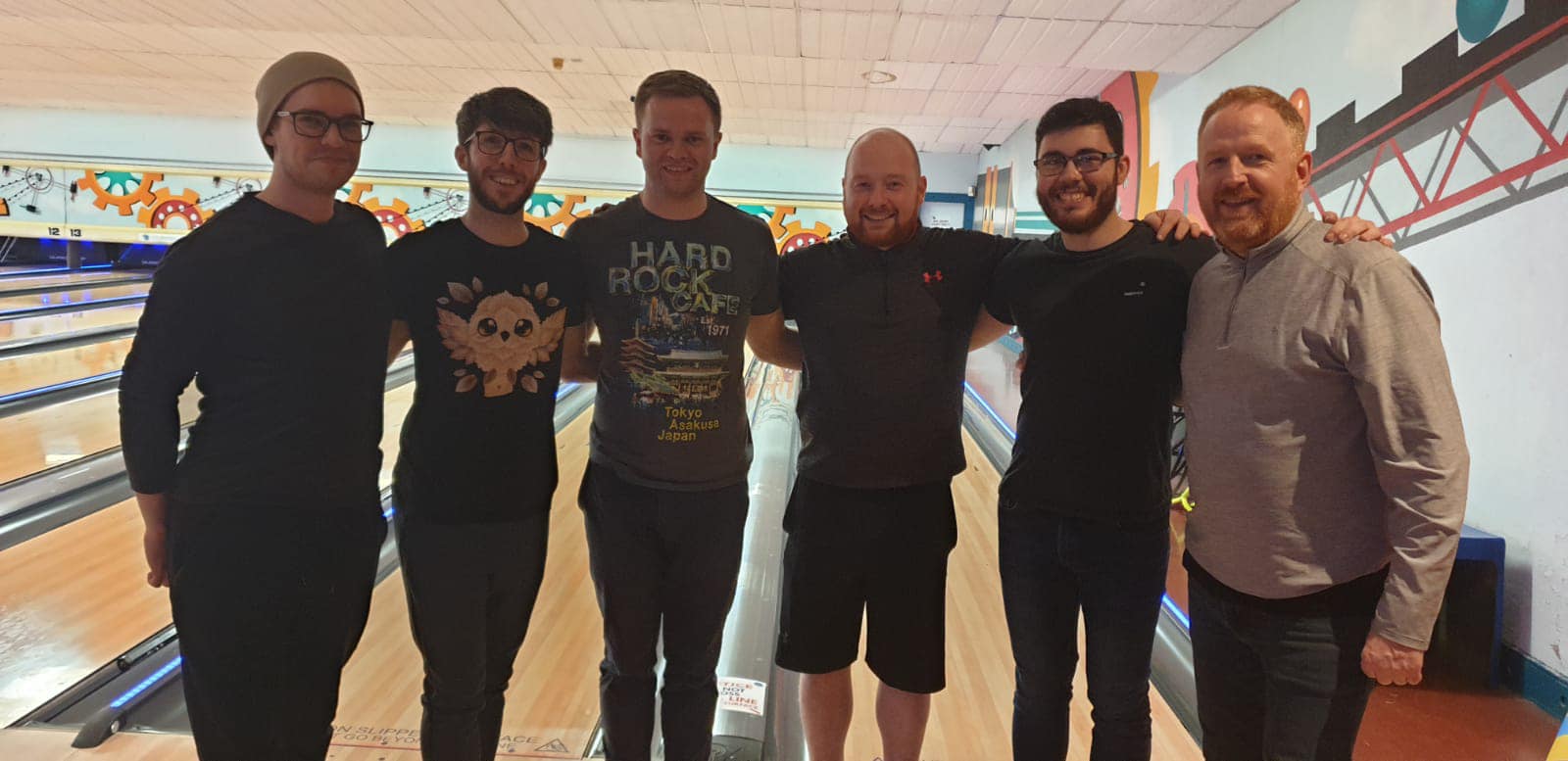 Singles – Home nation players have a mixed first day
In what proved to be a challenging pattern for all players, Scotland headed the home nation bowlers as James Guthrie placed 17th with 1213 and just ahead of England's Jamie Bottomley with 1202. Elsewhere England's Garry Baird was 25th with 1161, Scotland's Brian Gillespie in 32nd with 1137 and Ireland's Eoghain Lebioda in 40th with 1085 and Sean Dempsey in 47th with 1046.

Singles – Home nations struggle to keep up with the top pace
The Youngest player in the England team this year was top home nation bowler in squad 2 of the singles at EMC, George Jagger with 1151 in 31st as Scotland's Steven Gill was 39th with 1102, England's Garry Sykes in 41st with 1096 Ireland's Aidan Byrne in 44th with 1090, Paul Molphy in 44th with 1081 and finally Scotland's Chris Thompson-Nairne win 47th with 1063.

Singles – England's Shrubb starting to bloom as Scotland's Guthrie heads the home nation players
The singles was one to forget for the home nations in the end and the pick of the players was Scotland's James Guthrie with 1213 in 58th and England's Adam Shrubb with 1191 in 67th. Elswhere England's Jamie Bottomley was 63rd, Garry Baird 82nd, George Jagger 85th, Scotland's Brian Gillespie in 95th, Steven Gill in 112th, Kenny Jameson in 114th, England's Garry Sykes in 115th. Scotland's Jak Herbertson in 119th, Chris Thompson-Nairne in 130th, England's Callum SImons in 138th. Irelands players landing in 116th, 120th, 122nd, 136th, 142nd and 146th.

Doubles – An improved England
England's Garry Baird and George Jagger headed the first block of home nation teams in the doubles with 2426th in 10th place as Scotland's Gillespie and Guthrie placed 20th with 2281 and Ireland's Byrne and Dempsey in 24th with 2162.

Doubles – Tough day at the office for the Home Nations

Scotland's Steven Gill and Chris Thompson-Nairne were the pick of the home teams with 2342 in 14th just ahead of England's Adam Shrubb in 15th with 2306 and Ireland's Anthony Burne and Paul Molphy in 22nd with 2106.

Doubles – Ireland lead the way
The final block of the doubles saw the Irish pair of Eoghain Lebioda and Karl Doherty lead the home nations with 2216 in 18th place with England's Simons and Sykes in 19th with 2204 and Scotland's Jamieson and Herbertson in 24th with 2009.

Trios – England looking better
Tough debuts for England players got better in the singles and England 1 in 9th and 118 pins off the top four pace with 1857 and Callum Simons top man with 661. Scotland in 20th with 1687 and Ireland in 21st with 1667.

Trios – England again the pick of the Home Nations
1806 and 9th place for the English trio of Garry Baird, Adam Shrubb and Jamie Bottomley as Scotland were in 18th place with 1638 and Ireland back in 21st with 1555.

Trios – England round out the trios ahead

The trio of Callum Simons, Garry Sykes and George Jagger placed 10th in the final squad with 3622 as Scotland placed 12th with 3509 and Ireland in 21st with 3335.
Overall it was England in 11th and 20th, Scotland in 25th and 38th and Ireland in 37th and 45th.

Team – Mixed day for all
England in 13th started brightly but faded away a little towards the end with 2931 and Adam Shrubb tops with 626. Scotland were 19th with 2783 and Ireland in 24th with 2596.

Team – Home Nations off the pace this year
Not the greatest of years for the home nation sides with England ending in 15th, Scotland in 19th and Ireland in 23rd. and no players making the masters.

All Events
Scotland's Steven Gill was the MVP for the home nations in 32nd with 5033 (209) and just 73 pins off the masters placing. England's youngest player George Jagger on his debut was top average for the English in 58th with 4813 (200.5) and third was England's Adam Shrubb in 64th with 4747 (197).
Results
Full Results will appear on the Official website here
Singles

Finals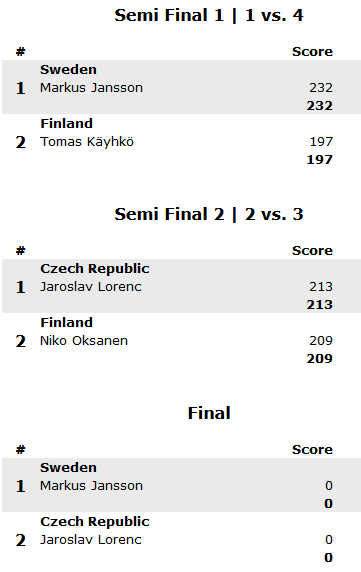 Combined qualifying (Top 4 advance)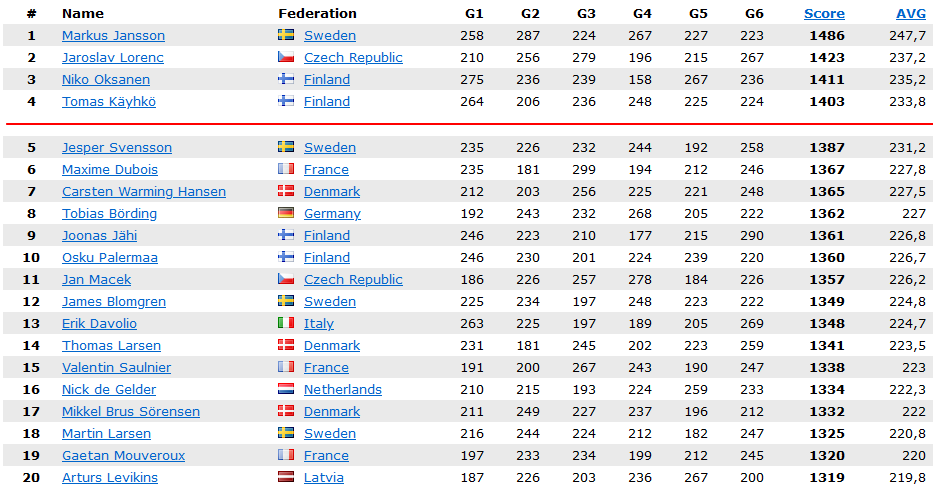 Doubles
Finals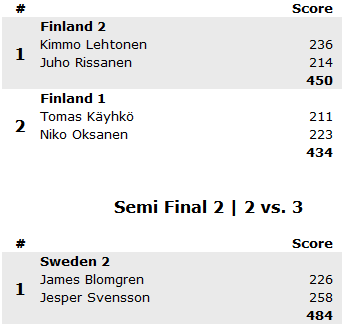 Qualifying Combined Top 7 qualifying (Top 4 advance)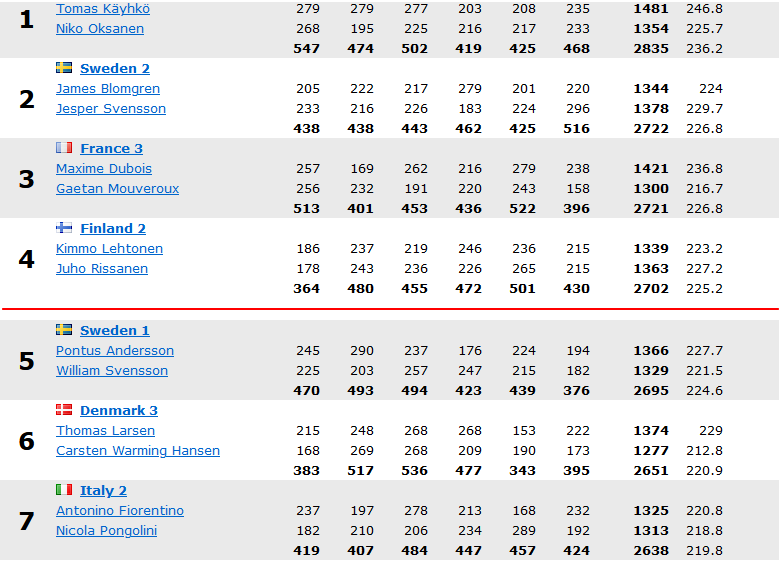 Trios
Finals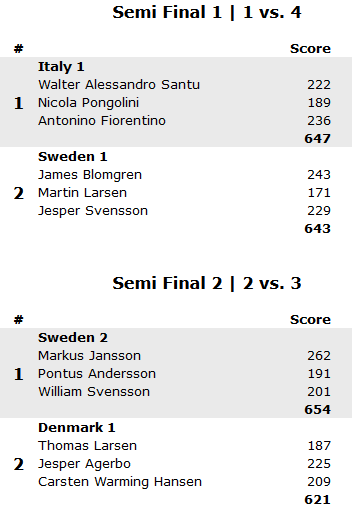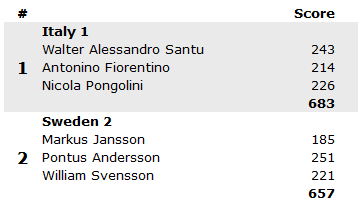 Combined Squad top 5 qualifying (Top 4 advance)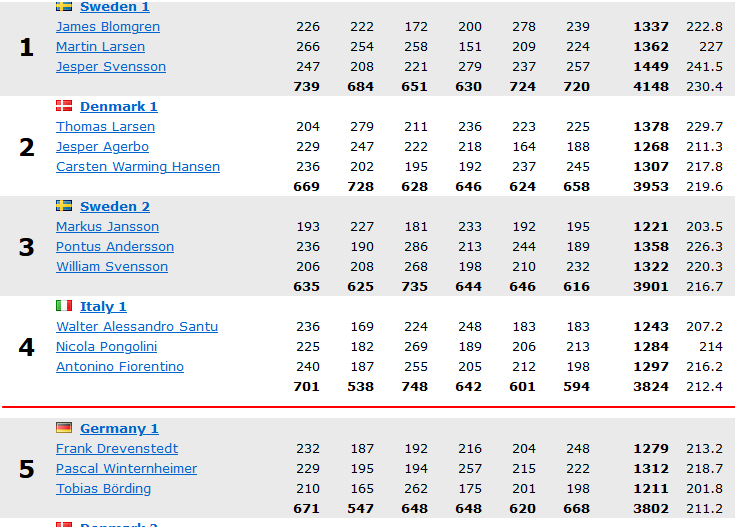 Team
Final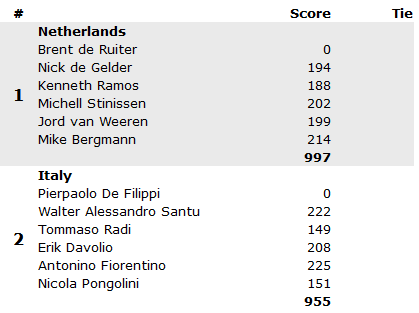 Semi Finals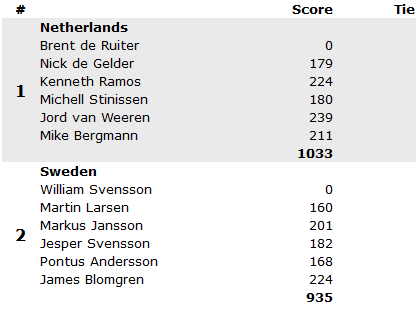 Combined Squad top 5 qualifying (Top 4 advance)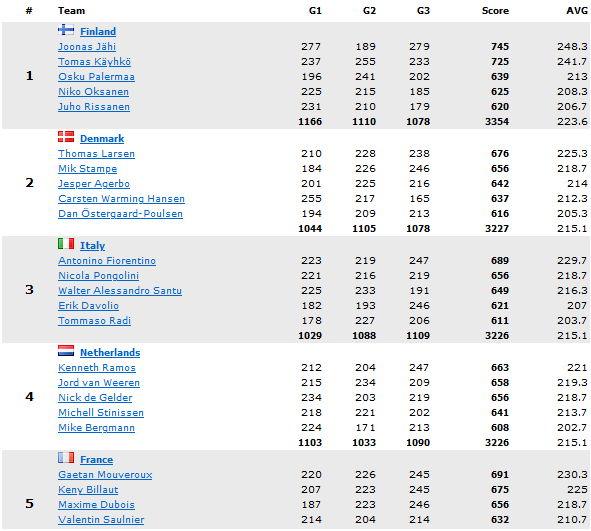 Masters
Final

Semi Final

Quarter Finals

Final step 2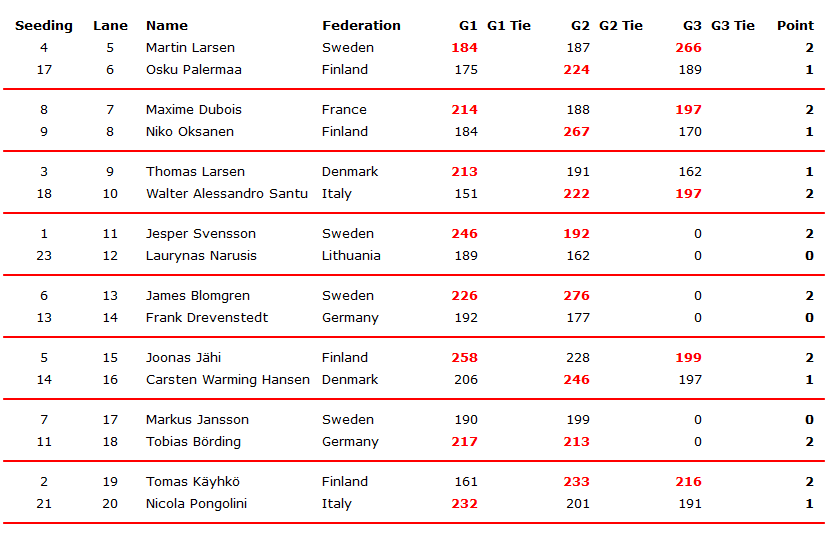 Final step 1