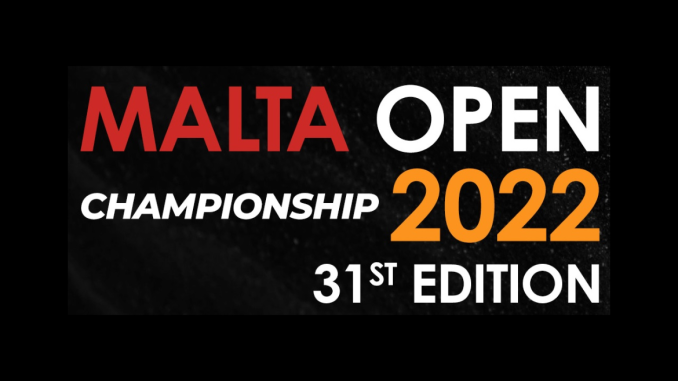 Happening between the 8th and 12th June 2022 at the Eden SuperBowl in St. Julians, Malta
The Malta Open is back again and over 80 bowlers from multiple nations set to compete for one of Europe's coverted International titles and won by some of the greats of the past including, Chris Vandamme, Paul Moor, Dom Barrett, Stu Williams, Martin Larsen, Tore Torgersen ont eh mens side and Kirsten Penny, Martina Beckel, Sue Abela, Kamilla Kjeldsen, Ghislaine Van der Toll and Linda Haglund to name just a few. See the full list here
Always competitive and friendly and highly rated amongst European bowlers.
The SuperBowl is Malta's only 18 lane facility and has been around since 1988. Situated in St. George's Bay the facility is a stones throw away from the nightlife and entertainment capital of the country. It has also just had a major change to layout and a fresh new look for 2022.
Reports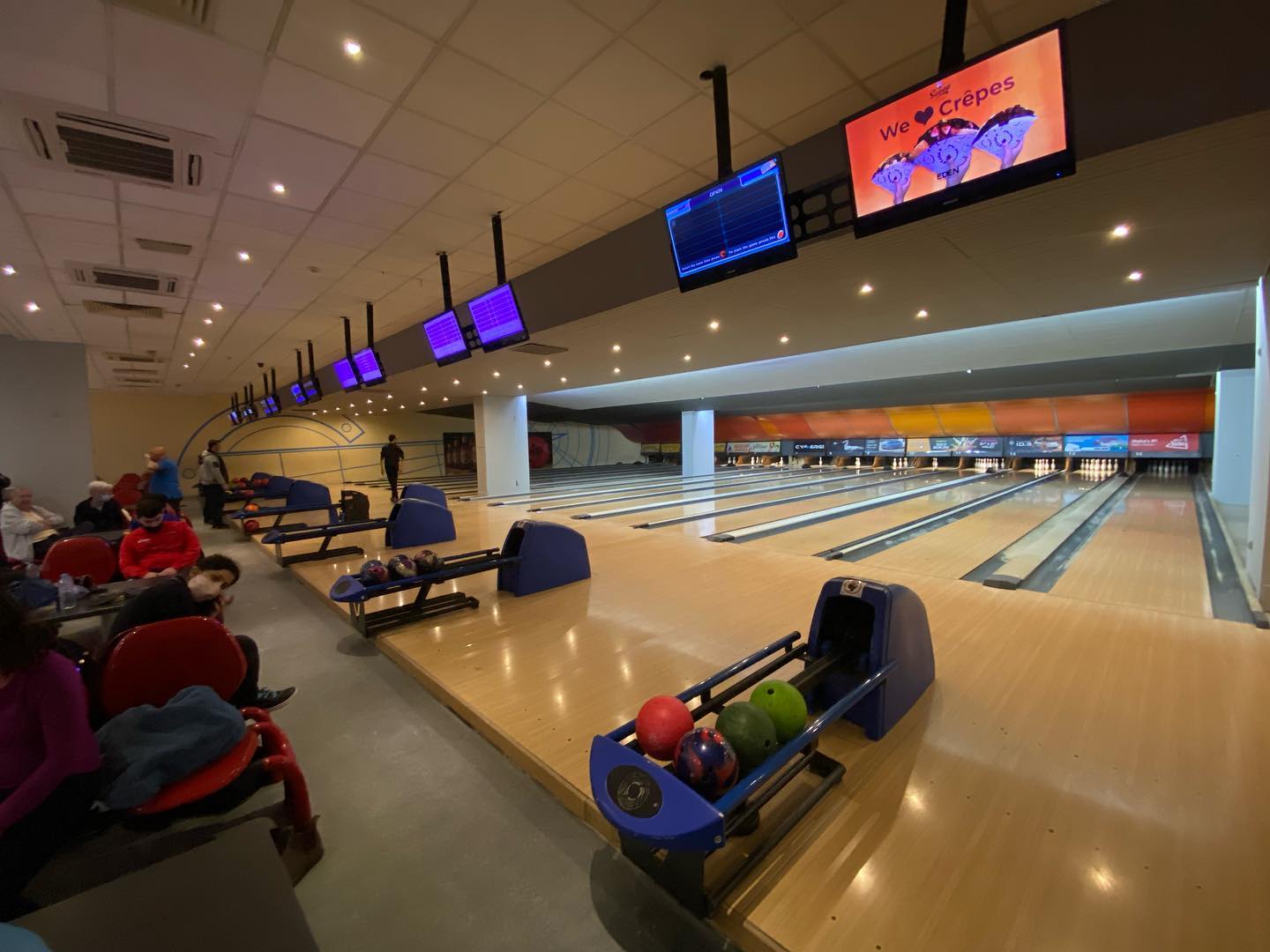 Not an easy win for even the top Europeans who have come through the Malta Open over the years, Always a challenge from the home nation players who for a small island certainly have a lot of talent. That talent has won elsewhere in Europe and currently have a very strong youth coaching program so do not be shocked to see a few new names winning this event very soon.
The English and Dutch are always there in force and challenging as are a few Swedes and other nordic countries. Hard to predict a winner of this event but whoever wins certainly earns it. You will not miss any of the action thanks to Live streaming from Rick Vogelesang and expect a few people joining on the commentary during the event.
Wednesday – Squads start with a win for Germany,Norway and The Netherlands

Play got underway on Wednesday the 8th of June and Germany taking the first squad as Vanessa Timter hit 1395 with ladies bonus ahead of The Netherland' Mark Jacobs with 1284 and Nicole Sanders in third with 1259.
The second squad of the day listed as squad 3 saw Norway's Halvar Hagen Nilsonon top with 1324 and tied with Frenchman Julien Sermand but Halvar with a higher last game, Malta's two time winner Sue Abela in third with 1260 (Inc bonus).
The final squad of the day saw Dutchman Mark Jacobs (Photo left) leading the way with 1322 ahaead of young home star Miguel Xuereb with 1276 and third to Malta's Daniel Grech with 1268.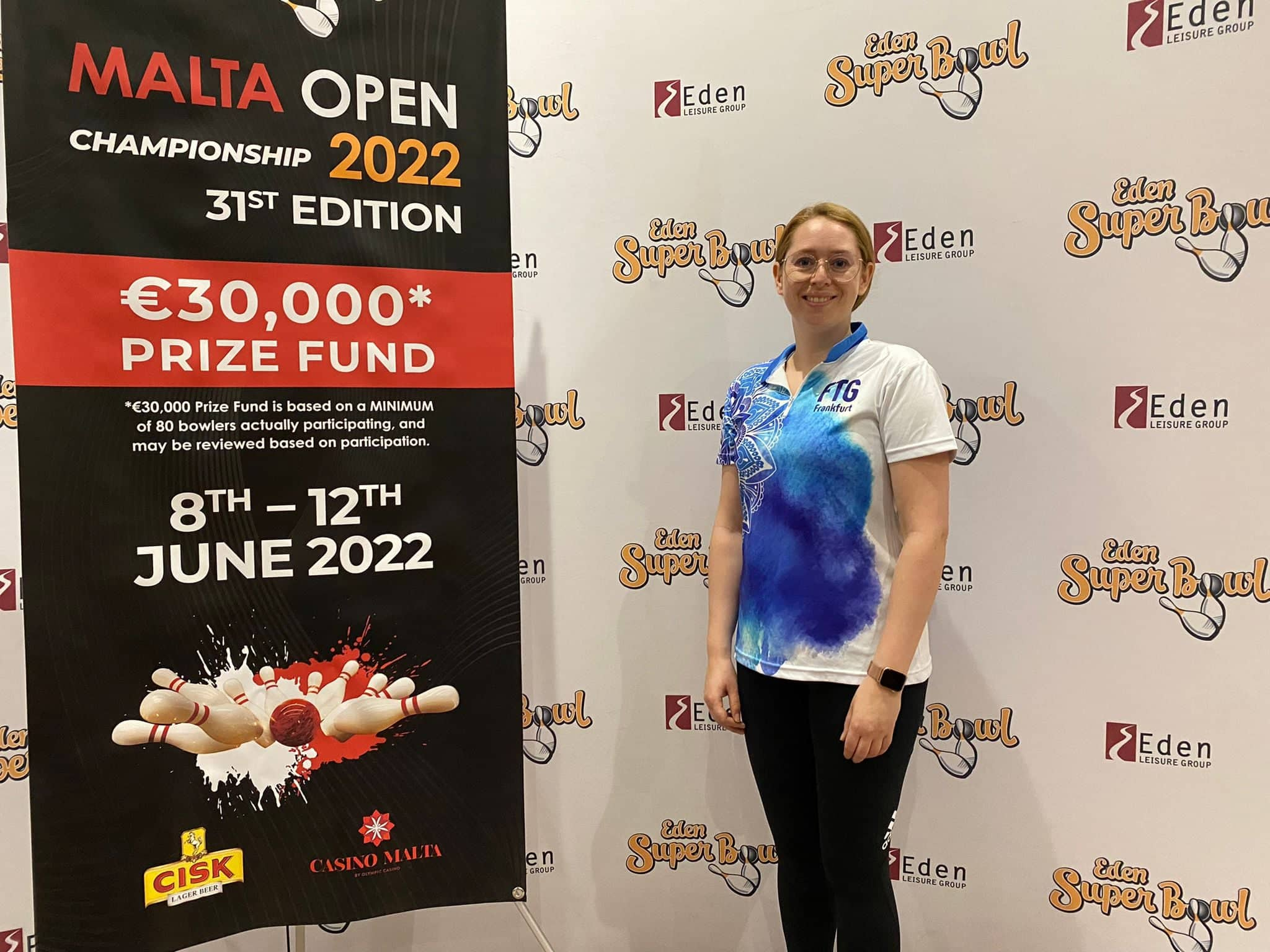 Thursday – Timter Top
The English had arrived in squad five in some style as former Brunswick Euro Challenge winner Rob Thurlby took the first squad of the day with a fine 1407 after opening with a 265. Second was Nicole Sanders with 1354.
Germany's Vanessa Timter (Photo left) was back on the Eden lanes and another six game block and squad win with 1396 (inc ladies bonus) and top of the overall board now with 2791. Second in the squad was Slovakia's David Barak with 1329 and third to Norway's Halvar Hagen Nilson with 1326. Halvar now second in the combined overall list with 2650.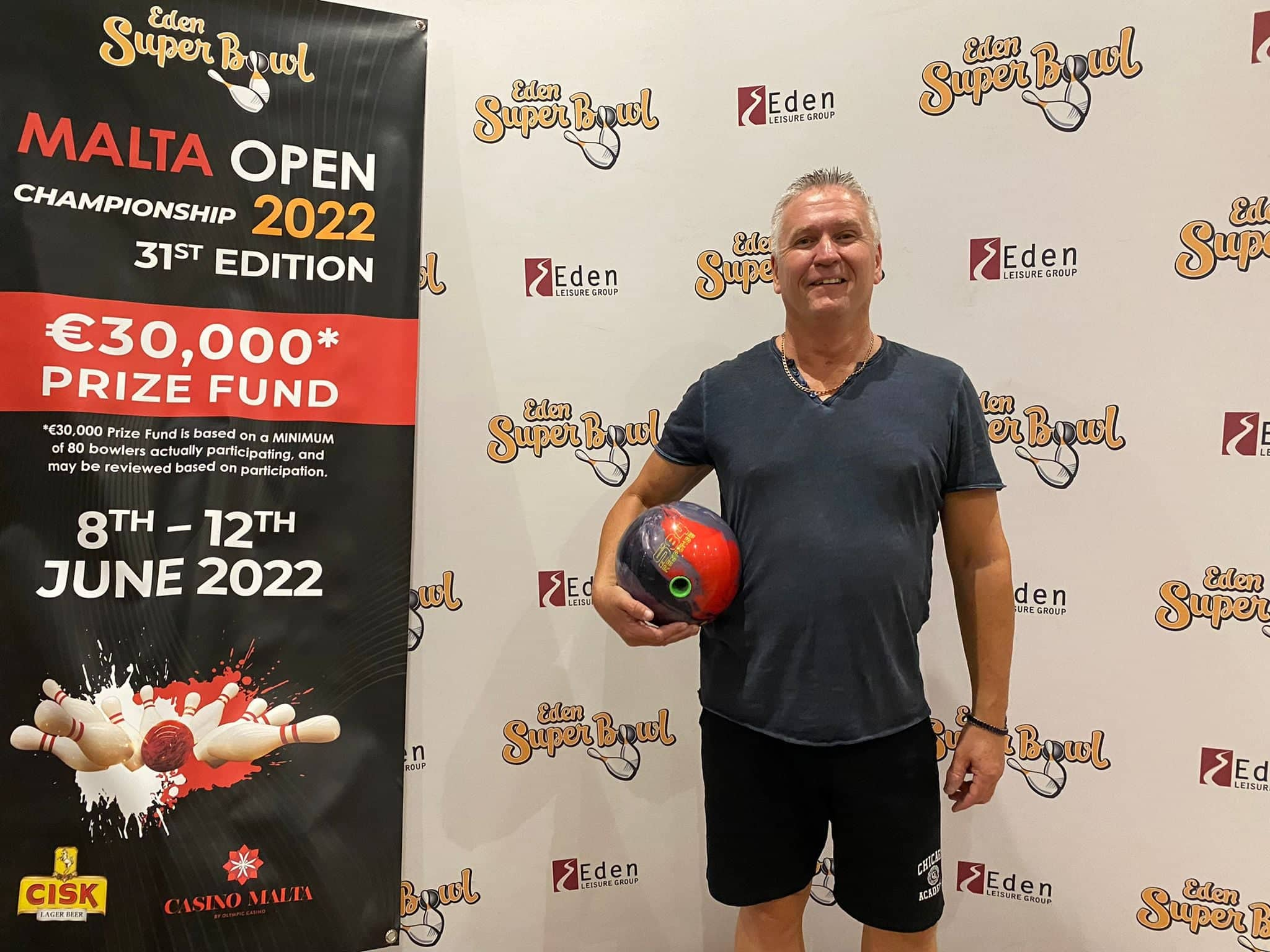 Malta knows Cliff Dew (Photo left) and Cliff Dew knows Malta, he proved the point again by winning the 7th squad with 1293 ahead of Italy's Jose Angel Amenta on 1285 and England's Steven Kay in third with 1274.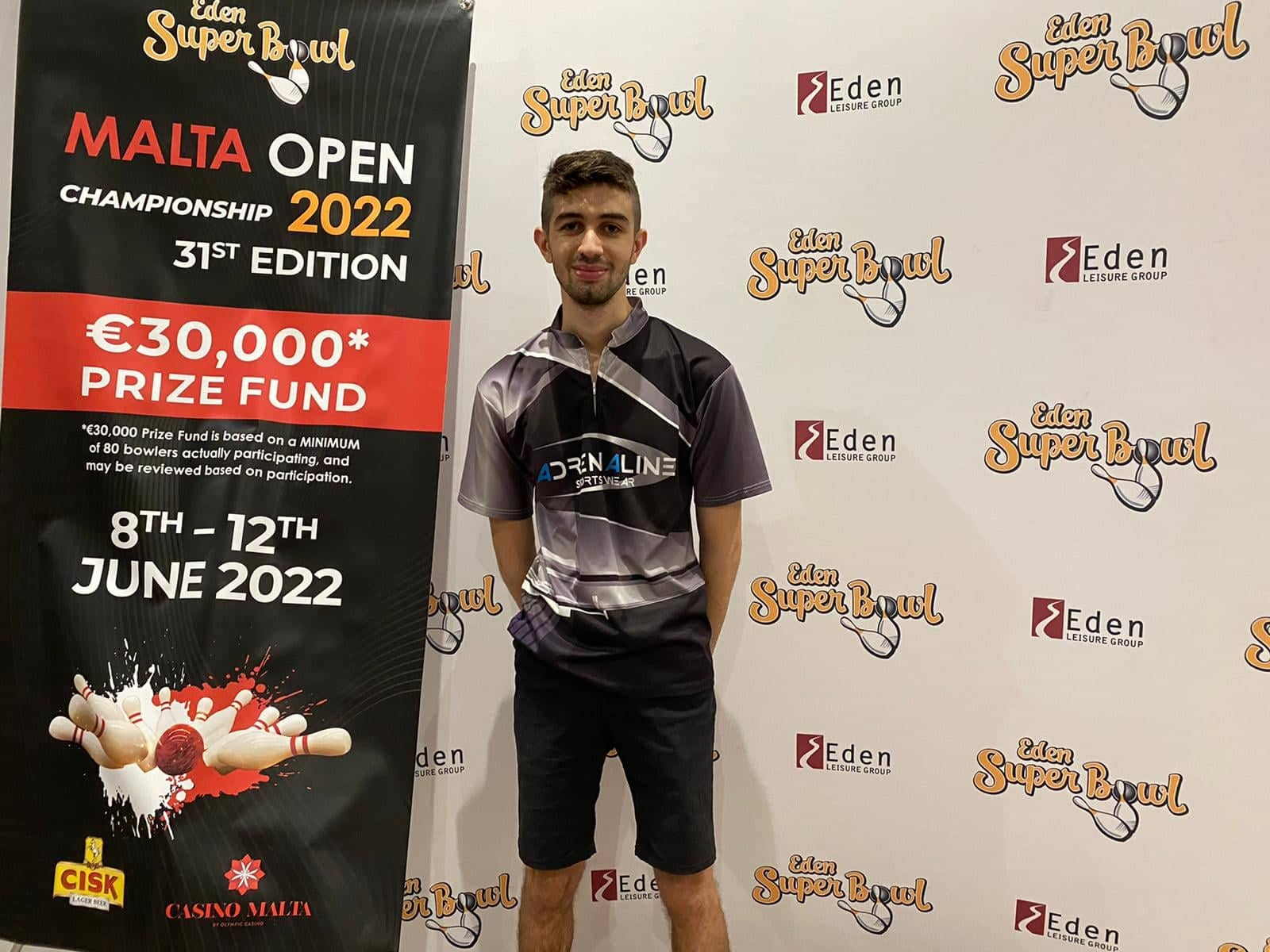 The final squad of the day saw Malta's Matthew Magro (Photo Right) on top with 1307 with Dutch stars Michal Kok in second with 1302 and Mark Jacobs third with 1249.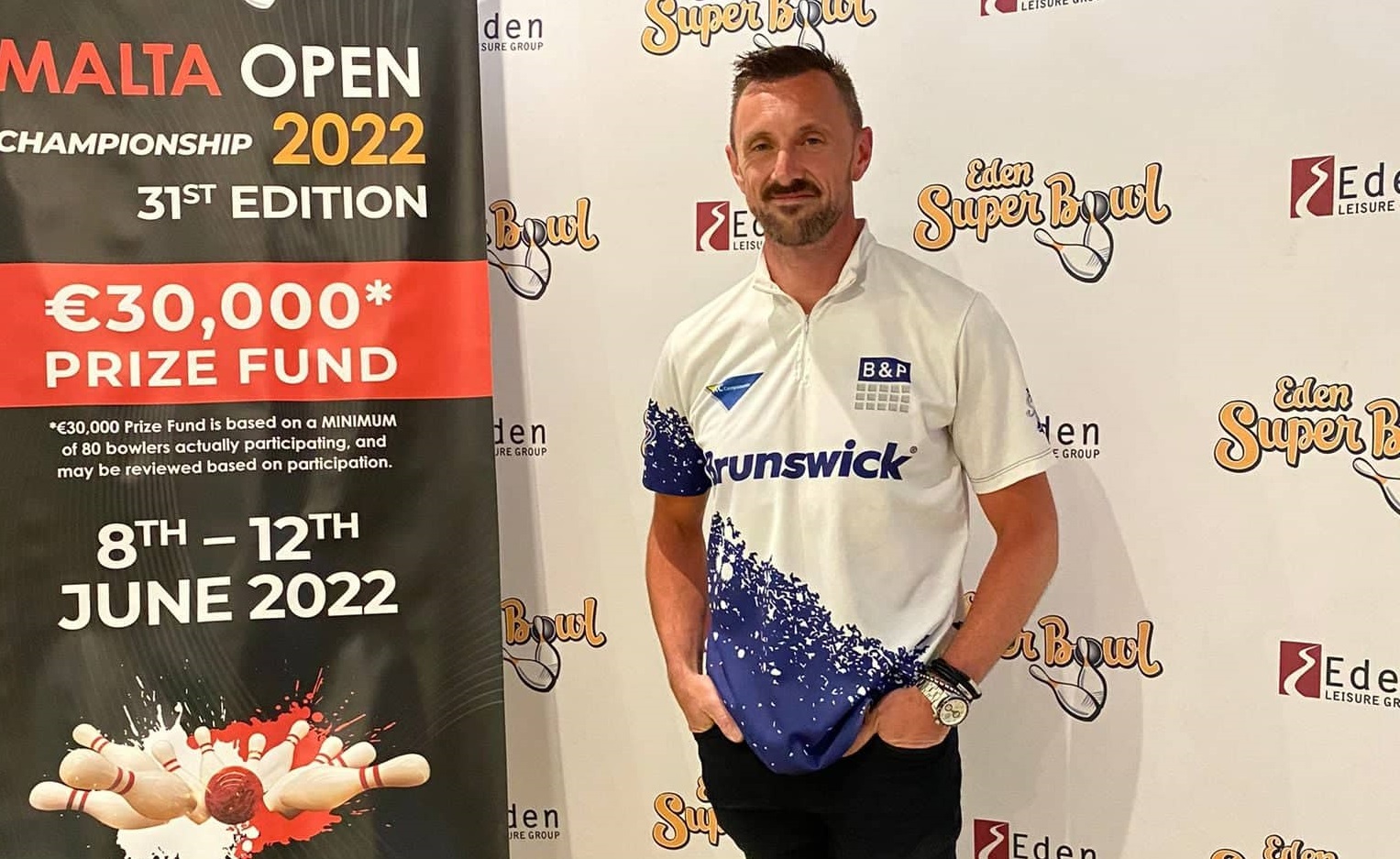 Friday – Thurby top two
Friday opened up with a squad win for former England International Lee Cocker with 1332 ahead of dutch star Nicole Sanders with 1326 and England's Rob Thurlby in third with 1326 also. Rob now moving into second place overall with 2733. Nicole Sanders in 4th with 2680. Lee cocker into 8th with 2570.
Later in the day Mark Jocobs was back and top with 1400 ahead of Germany's Janin Ribguth with 1280 and third to Slovakia's David Barak.
Then we saw Malta's Nicolai Mallia top with 1304 followed by fellow Malteaser Matthew Magro in second with 17299 and David Barak third with 1299.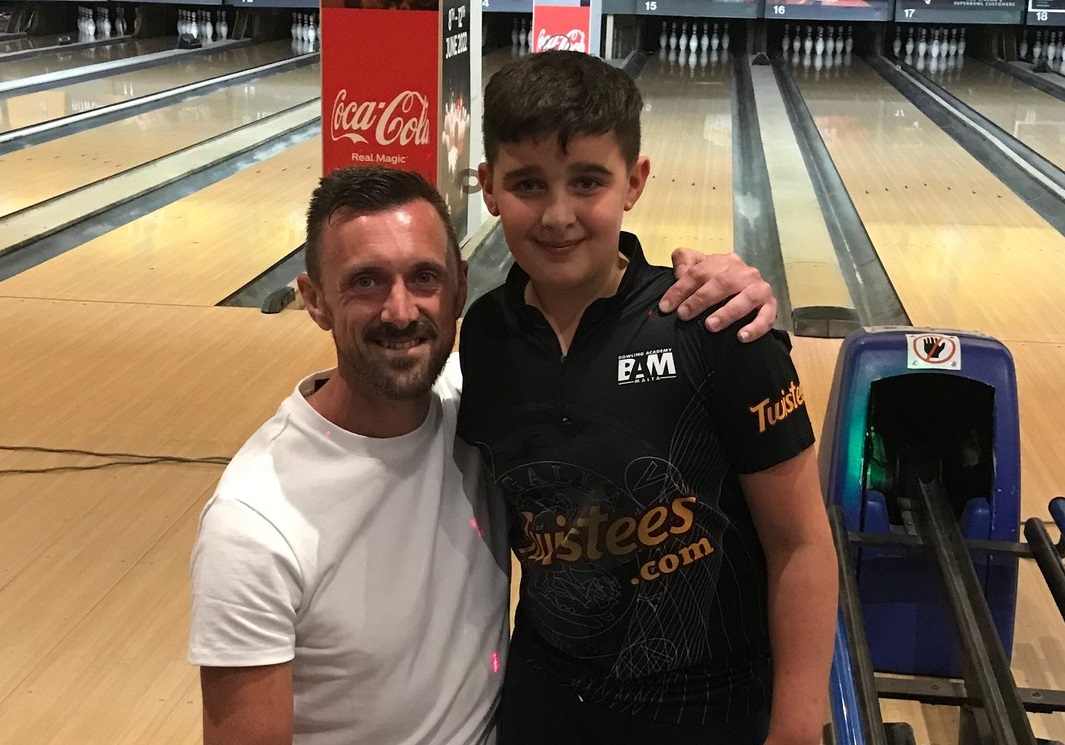 Saturday – Watch out for the Kids

With qualifying coming to a close today, Janin Ribguth from Germany added her name to the squad winners list with 1270 as The Netherlands Marco Lanman placed second with 1225 and Malta's Dwayne Zahra in third with 1185.
Later the current overall lead was back on the lanes and still winning squads, Venessa Timter from Germany with 1348 ahead of Israel's Abed Latif Mahamid with 1335 and Frenchman Julien Sermand with 1323.
With time running out fast one of Malta's young up and coming stars Dwayne Zahra smashed in a 1422 to take the last squad of qualiying with The Czech Republic's Zdenek Minar second with 1308 and England's Steven Kay in third with 1219.
No changes at the top with Vanessa Timter winning qualifying with 2791 but young Dwayne Zahra pushing himself into the top 8 with 2617.
Finally the always exciting Desperado saw four more bowlers grab a finals place. taking the one game shoot out was 12 year old Nicolai Mallia  (Photo left with Rob Thurlby) from Malta with a fine 259. Second was Malta's Tiziana Carannante with 231, third to England's Matt Giles with 217 and fourth to Malta's Clifton Micallef with 215.
Finals Day – Who will win? Could the Kids mount a challenge? Find out by watching the finals live today
So over the last five or so years, Malta has grown a youth program that has churned out a series of talented young players that are now beginning to make a few waves in the sport away from the Island. One is currently in the USA on the American Colligiate tour and some are out in Sweden in the next week for the IBF U21 World Championships.  This all down to the support bowling gets from the Eden Superbowl owners and the work of Coach Rick Vogelesang who as many will know is also providing the livestreaming again this week. The Eden Superbowl is changing in the next few years and will be better than ever. Hopefully remaining freefall machines and we will see just how far this group of kids can go and how much it inspires the Island. A few to watch out for today.
FINAL STAGES 1 – 5 https://youtu.be/4yQoICxfxro
GRAND FINAL https://youtu.be/Jvij38g3Rds
Final Step 1
Four games and not a lot of time to get settled and score and The Czech Republic's Zdenek Minar did not need time to settle with games of 248,226,269 and 248 for 991 and heading the players intothe next step. Second was England's Lee Cocker with 993 including a final game of 279. Third going to Malta's Miguel Xuereb with 889. Top 12 through included, Steven Kay, Cyntia Duca, Matteo Magini, Sue Abela, Kayden Lagana, Michael Kok, Beat Grauwiler, 12 year old Nicolai Mallia from Malta and Abed Latif Mahamid.
Final Step 2
We did say watch out for the kids!! Final step 2 and another of the Maltese wonderkids crashing the party with games of 224,205,267 and 257 for 953 and tied with England's Steven Kay. Tied total and last game of 257 also so back another game and 267-255 enabling the step win. Third going to Malta's Mathew Magro with 922. Others inside the top 10 cut included Sander Kastas Lindstad, Lee Cocker, Cynthia Duca, Matteo Magini, Janin Ribguth, Adenek Minar and David Barak.
Final step 3
Wins for Vanessa Timter, Nicole Sanders, Halvar Hagen Nilsen, Julien Sermand, Zdenek Minar, Janin RIgbuth, Matthew Magro and Kayden Lagana and all into the final step 4.
Final step 4
Germany's Vanessa Timter the qualfying winner book a place in the quarter finals beating the Czech Republic's Zdenek Minar 422-394 as Dutch star Nicole Sanders lost to Janin Rigbuth of Germany 392-436. Norway's Halvar Hagen Nilsen through 454-416 against Malta's Matthew Magro and the home fans lost their final hope as Kayden Lagana went down 417-451 to Frenchman Julien Sermand.
Final step 5
Semi final time and Germany vs Germany and Norway vs France. The german were sure of a finalist and no shock to see the qualifying winner through and in some style beating Janin Ribguth 490-436 and meeting Frenchman Julien Sermand who beat Norway's Halvar Hagen Nilsen 493-426.
Final step 6
They will be dancing in Germany tonight as Vanessa Timter wins the MAlta open by defeating Frenchman Julien Sermand. Down after the first game 171-223 Vanessa fought back to add 226 in the second game to the Frenchman's 168 to win by six pins scratch but 22 pins with ladies bonus not that she neede it in the end with some find bowling all week. It is not often the qualifying winner completes the job but Vanessa Timter did this year.
Results
Results will appear on the Official website here during the event
Final step 6

Final step 5

Final Step 4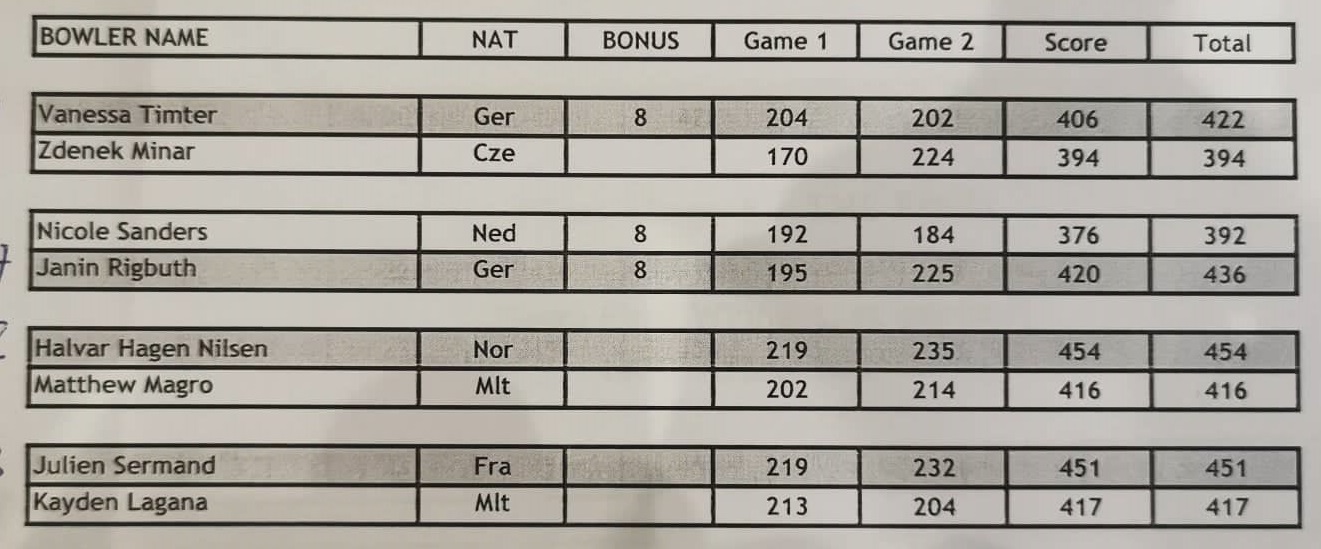 Final step 3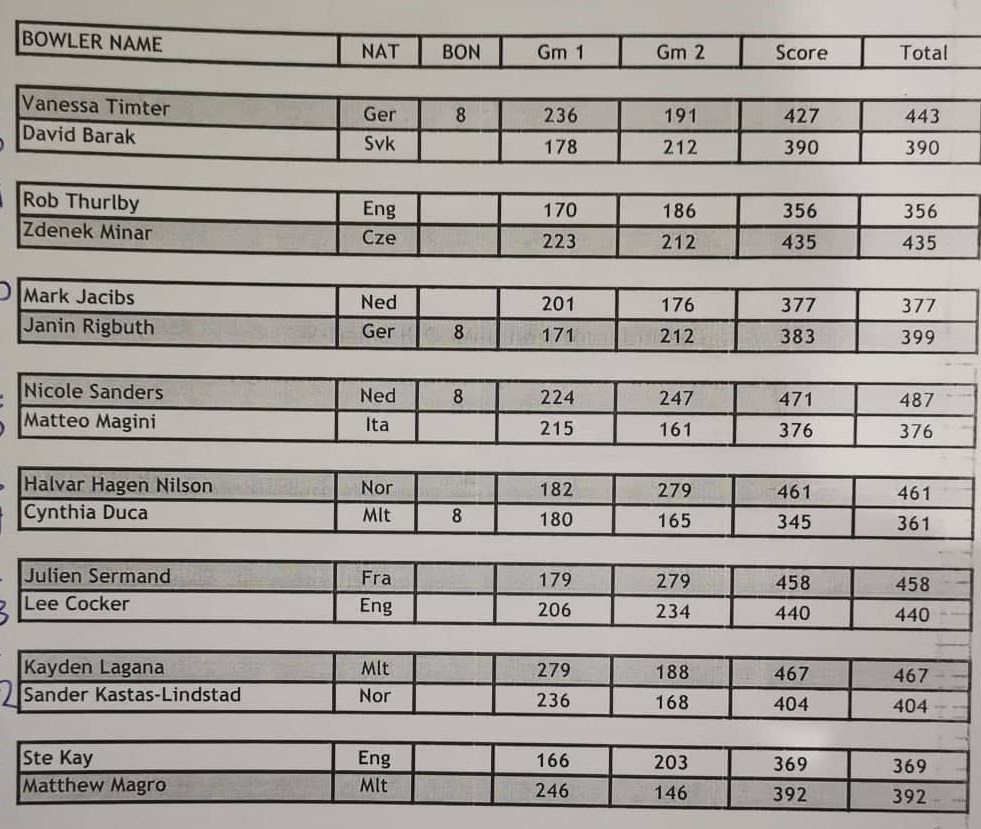 Final step 2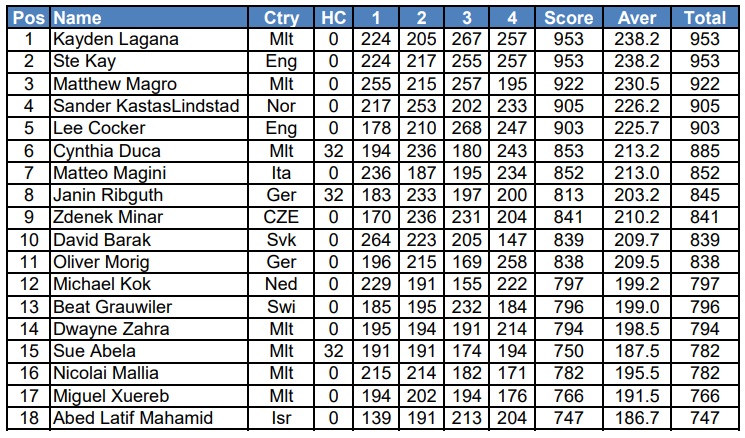 Final step 1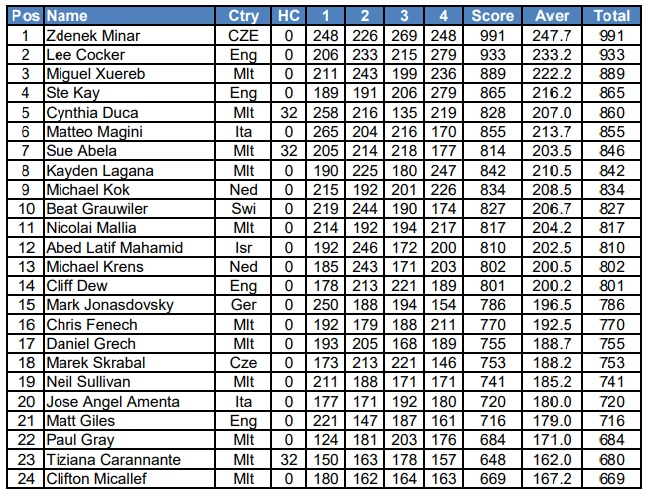 Qualifying

Live Streaming Schedule
QUALIFICATION ROUND 1 https://youtu.be/f704ZTPacsA
QUALIFICATION ROUND 2 https://youtu.be/_zF_ccq9eyI
QUALIFICATION ROUND 3 https://youtu.be/ZIBRnXex8hc
QUALIFICATION ROUND 4 https://youtu.be/r6BtOAJnj5Q
QUALIFICATION ROUND 5 https://youtu.be/mqegSB420Cs
QUALIFICATION ROUND 6 https://youtu.be/3KLgr6lL7sE
QUALIFICATION ROUND 7 https://youtu.be/IqipFz7kE6g
QUALIFICATION ROUND 8 https://youtu.be/qb5VMiJPX7o
QUALIFICATION ROUND 9 https://youtu.be/H_C5nRSaj2w
QUALIFICATION ROUND 10 https://youtu.be/6pUN0XXAlfQ
QUALIFICATION ROUND 11 https://youtu.be/iq-fk09YFYw
QUALIFICATION ROUND 12 https://youtu.be/c1GxtmZ9YEY
QUALIFICATION ROUND 13 https://youtu.be/HoctyWoRFWI
QUALIFICATION ROUND 14 https://youtu.be/hHB-yRLwAY4
QUALIFICATION ROUND 15 https://youtu.be/RDSYjpwH24A
DESPERADO 1 GAME https://youtu.be/LPd7JMBCg0E
FINAL STAGES 1 – 5 https://youtu.be/4yQoICxfxro
GRAND FINAL https://youtu.be/Jvij38g3Rds
Find us on Facebook here and the official website here