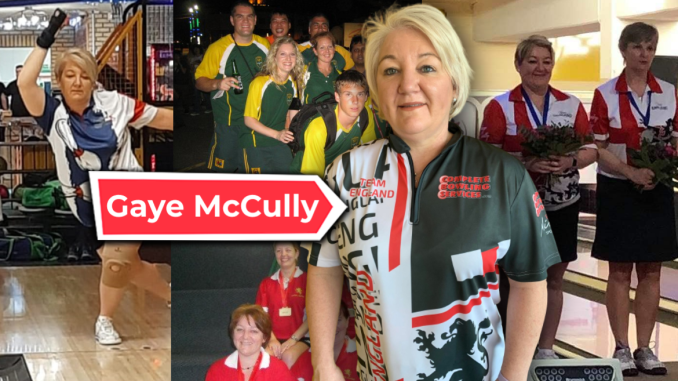 A star bowler on the South side of the planet and becoming one on the North side, That's Gaye McCully, national team for South Africa and now for Team England. We caught up with the latest senior sensation just back from claiming the Masters Gold at the 2022 Triple crown in Ireland.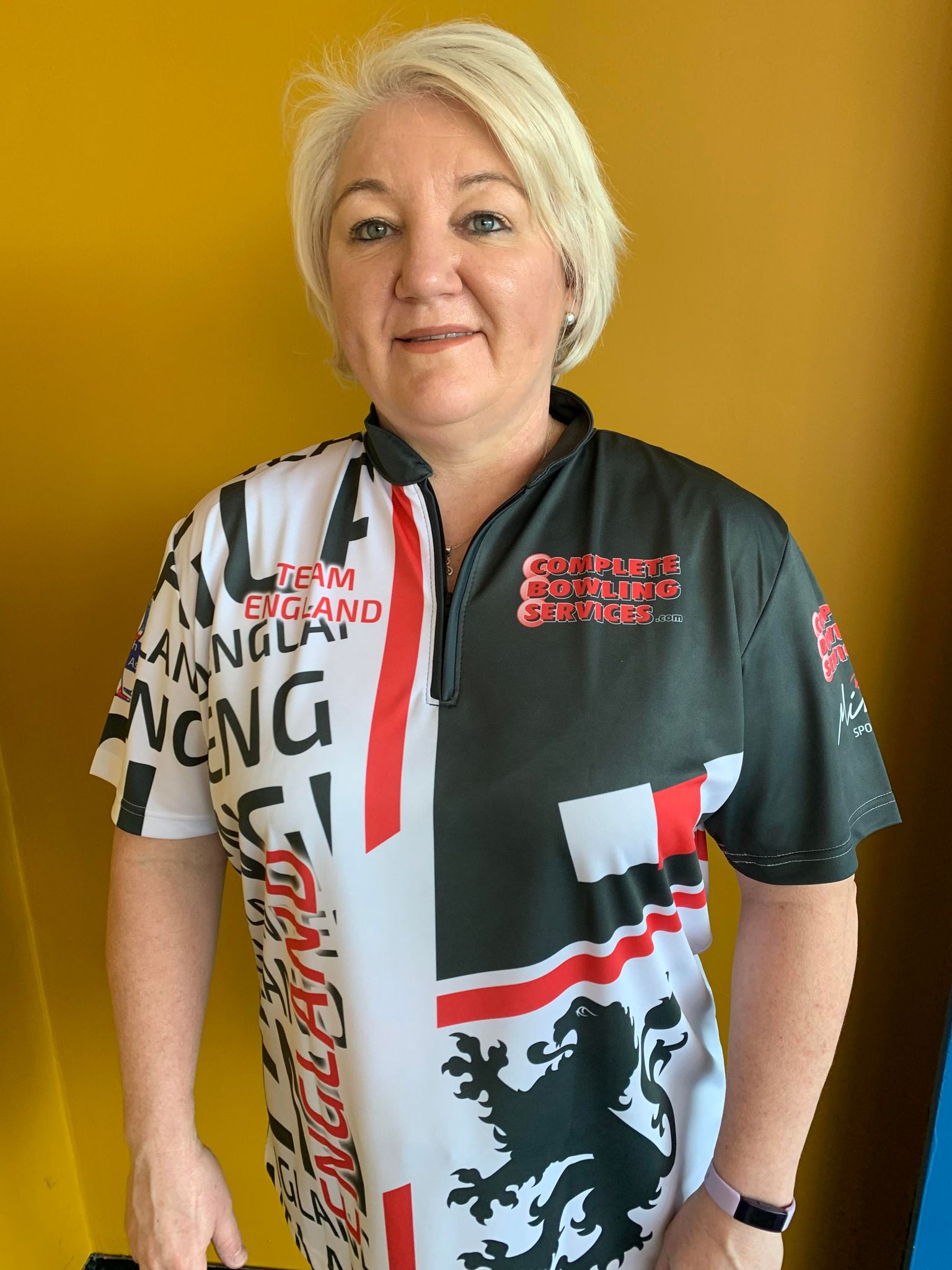 Let's start at the beginning and your first taste of Tenpin Bowling, Where was this and why did you take it up as a hobby?
It was actually my mum who got us all involved to be honest. She joined a House Wives league on a Wednesday morning and really enjoyed it. We, being myself and my siblings, went to watch during the school holidays and it really looked like fun….that's where it all began.
I was very much into my gymnastics at the time, but my sister then joined the Junior League at our local centre, Bracken City in Alberton, Johannesburg, South Africa. Within 6 months she was off to Vegas. I had been doing hours and hours of training, injury after muscle strain after sprained ankle, the furthest I ever got to travel was to a city in South Africa called Bloemfontein……it was then that I decided, enough was enough. I then joined the same Junior league and never looked back.
Once this sport gets into your blood, that's it! We all bowled and both my parents were involved in the sports administration at some or other time, we were a Bowling Family!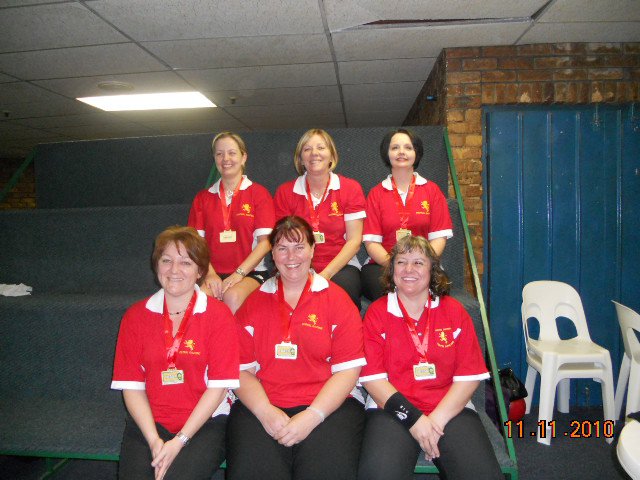 Who helped you improve in those early years?
Whilst South Africa was and probably still is lesser known for winning in Team Events over the years, individually the country has produced some phenomenal talent and I have been extremely lucky to have benefitted from knowing and being both formally and informally coached by a few of them. My sister Jody Ellis now Jody Scheerer a current PWBA bowler, World Masters Champion Guy Caminsky and AMF World Cup Champion Francois Louw to name a few and coach extraordinaire Paul Pisecny. They all had a major contribution to making me into the bowler I am today. I have made amazing, life long friends back in South Africa, who all contributed to my success in their own ways, I will never forget my beginnings.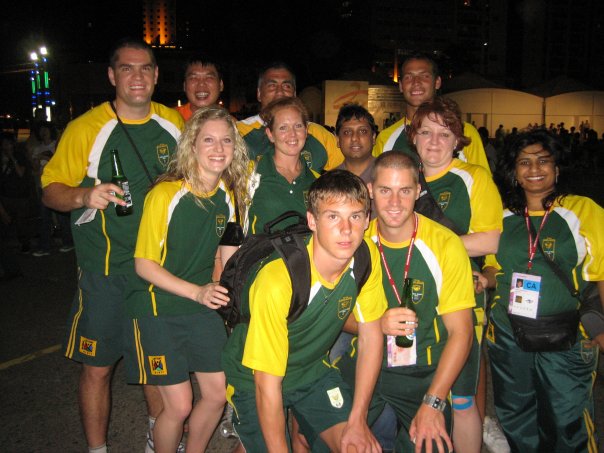 What success did you have in your bowling career in South Africa?
I had many successes in South Africa, coming up through the various divisions from Juniors through to Adults. I won all of the major events we held within South Africa throughout my career and represented South Africa internationally several times. The World Team Championships in Abu Dhabi was such an achievement but being selected to represent South Africa at The World Games in Kaohsiung in 2008 was an honour and highlight. I got to share the lanes with some of the absolute best in the world. I think I spent most of the time Star struck and gawping all day long.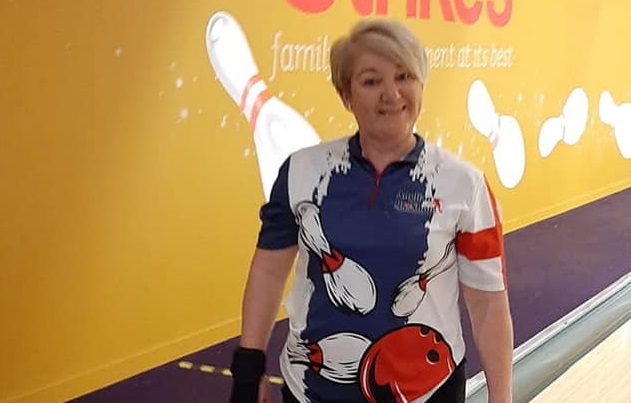 So, onto today and now living in England. You have settled in nicely and your bowling skills seen and harnessed by the national team already, How was it, putting the England shirt on for the first time?
Well now that is a question….I have been extremely blessed and count myself very lucky to have been able to play for not 1 but 2 countries, and whilst wearing the Green and Gold of South Africa was a huge honour putting on that England shirt for the first time was surreal and I find it difficult to put into words. It is something I just can't quite adequately describe. Growing up in South Africa and only being able to read about the great British bowlers over the years was one thing, getting over here and being able to join them in the history books is something quite indescribable.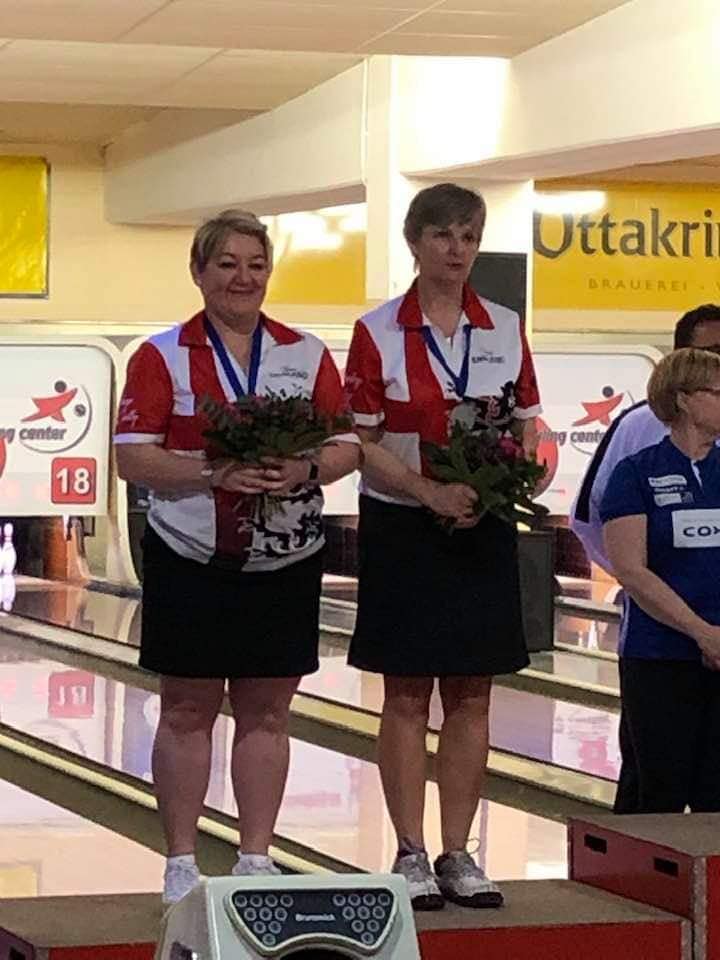 And to win your first medal European medal at the Vienna championships in Doubles, that must have been special?
Since bowling in the senior division, my love and passion for the game has grown. Being able to compete in the various European events and to see just how competitive this division is, has made me want it more, practice harder and devote as much of my time as I can to the sport. To see this reap the rewards and to have been selected to go to Vienna to compete in the first ever European Senior Championships, AWESOME! To have come away with the Silver in the doubles alongside my great friend and one of the best Kim Oakley, LIFE CHANGING! The way in which we won it too was something you dream about, going right down to the wire, with us both having to strike out in the last frame to take it… I may have slipped a Brooklyn in too just to make it even more interesting.
Standing on the podium receiving that medal was emotional, but cemented my intentions and my plans for the future were beginning to form……….then Covid hit!!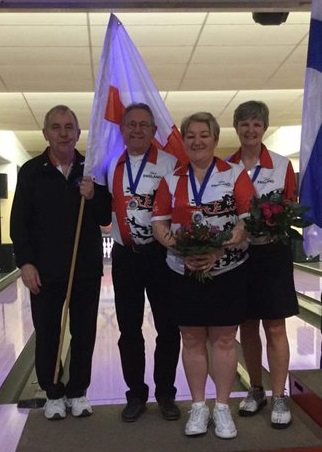 Indeed and for pretty much two years, we all were unable to mix, travel or even bowl, how did you deal with the pandemic and restrictions?
Those days during lockdown were tough, I missed the game so much, not just the physical part of it, but the opportunity to push myself, challenge myself, be better! To feel that connection with others, it was really very hard.
I work from home under normal circumstances so getting out onto the lanes was my form of socialising with others, connecting with the world, when that disappeared, home became quite a different place. I signed up to Les Mills and did home workouts to try and stay in shape and in the beginning I was really disciplined but with time my interest waned.
Luckily for me, my husband and daughter were around to do daily walks and keep me company. We watched lots of bowling on TV and my sister was bowling non-stop over in the states, so we watched her play quite a few PWBA events, so kept my head in the game, I think.
I tried to throw a few balls on the lawn but when one of my deliveries took out a pot plant, cracked it straight down the middle, I thought it was time to give that a skip, replacement pots are expensive.
I was also fortunate enough to have been signed on with H5G Sports Wear in the States, and spent time designing my various shirts which I love and am extremely proud to show off. Weekly Zoom calls with other bowlers also kept me sane. When restrictions started to lift and centres were allowed to open, I was in there, masked up and ready to go. I practiced and did drills every week until the Trials and continue with this same protocol.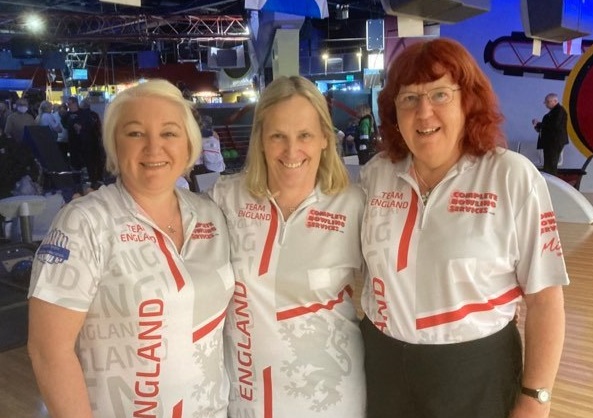 Back in the National team you are just back from a successful trip to Ireland and the 2022 Masters Champion. Happy with the medal and performance in the championships I guess?
The Triple Crown in Dublin was fantastic. I had been told that it was a great event, competitive while at the same time, friendly and fun!! I was not disappointed!!! I got to know my teammates better, they are quite a fun bunch and got to meet some wonderful new people! The bowling was very competitive and I am happy that I managed to perform well and winning the Team Event Ladies Gold and Overall Team Gold was an amazing feeling. Something unforgettable about standing on a podium and singing the national anthem. Winning the Masters was just the icing on the top for me. I loved every minute of it and can't wait for the next one.
What goals do you have in the Seniors and with the national team?
My goals are to participate in more European events, pitting myself against the best in Europe and being competitive. I'd like to enter the Queens event in the USA in 2023 but will have to see how things pan out. I know the Europeans are happening beginning of 2023 and the World Champs later on in the year, hopefully Team England will be sending teams to these events. I would also like to support my county seniors ladies team at the upcoming Senior County's, I really do love team events, they seem to bring out the best in me and I enjoy them very much!.
Of all the bowlers you have faced over the years, which have impressed you most?'
That is such a tough question, as I have had the privilege of bowling against and with some of the best ever! As well as meeting many a pros over the years! I would have to say my sister is right up there, she is a talent second to none!
Sue Abela and I have crossed paths on many occasions and she is just amazing and continues to be supreme! I got to share the lanes with Carol Giannotti and Kelly Kulick too, I was in total awe!
But we have some very talented bowlers back here in the UK who I am now very honoured to say I am part of their team, and Zara Giles, wow what a talent. I watched and competed against her at the World Games in Taiwan, absolutely breathe taking! BUT one day, I will get to meet my idol Liz Johnson, until that day comes, I am happy to watch her on tour!
It is often said how friendly yet competitive the Senior division is. For those coming up to 50 or already of senior age, why should they consider a return or new start in bowling?
The senior division is seriously competitive. It is also the biggest division worldwide. The comradery and friendships span over many years and over many countries with that one major element in common, bowling!! Anyone who left as an adult and now eligible to compete in the senior division, I would say get new balls drilled and get out there, you won't be sorry. I am more passionate about my bowling now than I have ever been. It's a great way to get out there, stay active and travel with friends! Just do it, you won't be sorry!