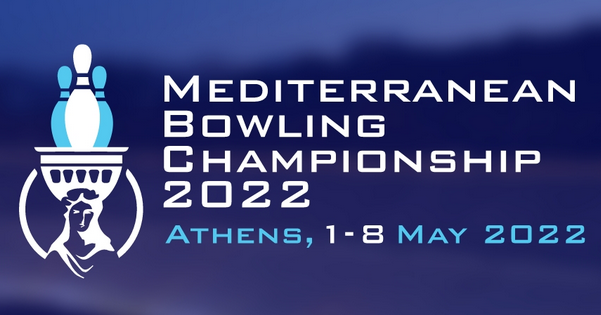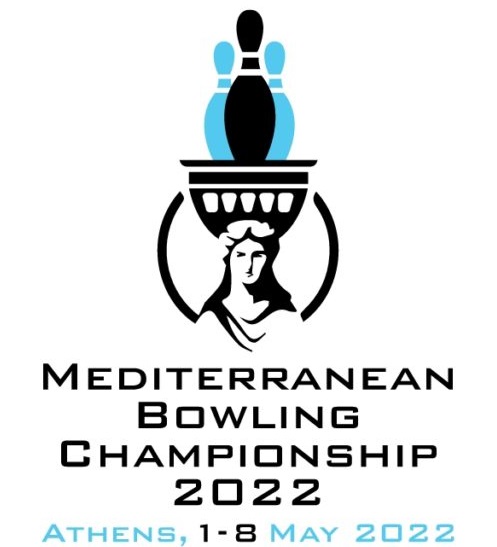 The Mediterranean Challenge Cup, now known as the Mediterranean Bowling Championships, is a ten-pin bowling competition for the federations around Mediterranean Sea. It is recognised by the International Bowling Federation,[European Bowling Federation] and started in 1998. Each eligible federation sends two men and two women to compete for medals in Singles, Doubles, Mixed Doubles (added in 2012), Teams, All-Events and Masters.
This year's edition is running from 1-8 May 2022 in Athens, Greece at the Strike Bowling Center and featuring fifteen nations.
Please visit the official website here
Livestream
Here are the streaming links for the events!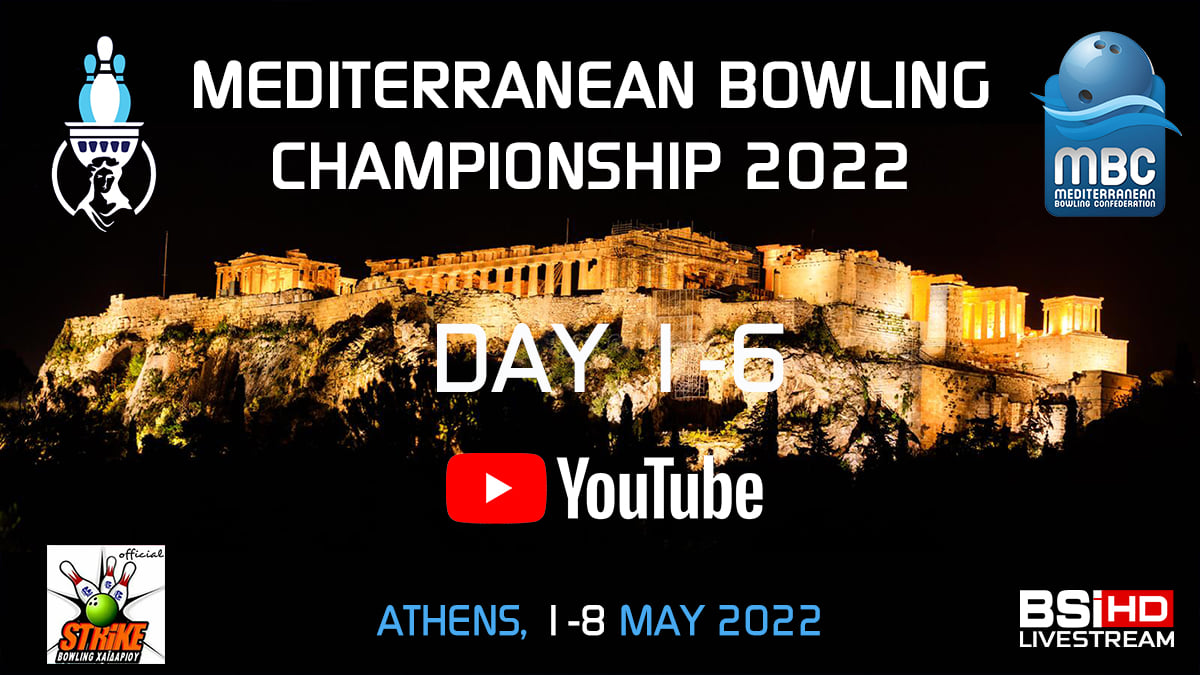 .
Reports
Womens Singles – Slovenia Take Gold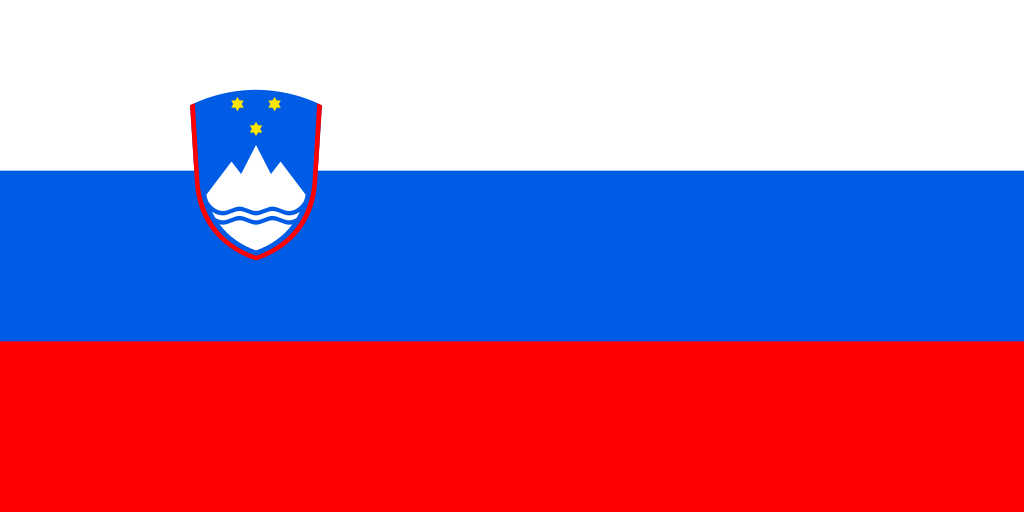 The championships opened up with the Womens singles on Tuesday and a close fought race for the first medal. Italy, Greece, Slovenia and Egypt swapping places in the first five games. Alja Bergauer leading the way with games of 212,211 and 233 but a 157 opening up the field and a 219 recovery with a game to go. Egypt's Sara Gamal took her chance to take over the lead in game five thanks to 236 and 226 after a slower start. At the end, the young Slovenian champion fired 237 at the end to claim the gold with 1269 as Egypt's Sara Gamal to Silver with 1214 and Bronze to Christine Cappatos from Greece. This was the 1st ever medal for Egypt in the MBC.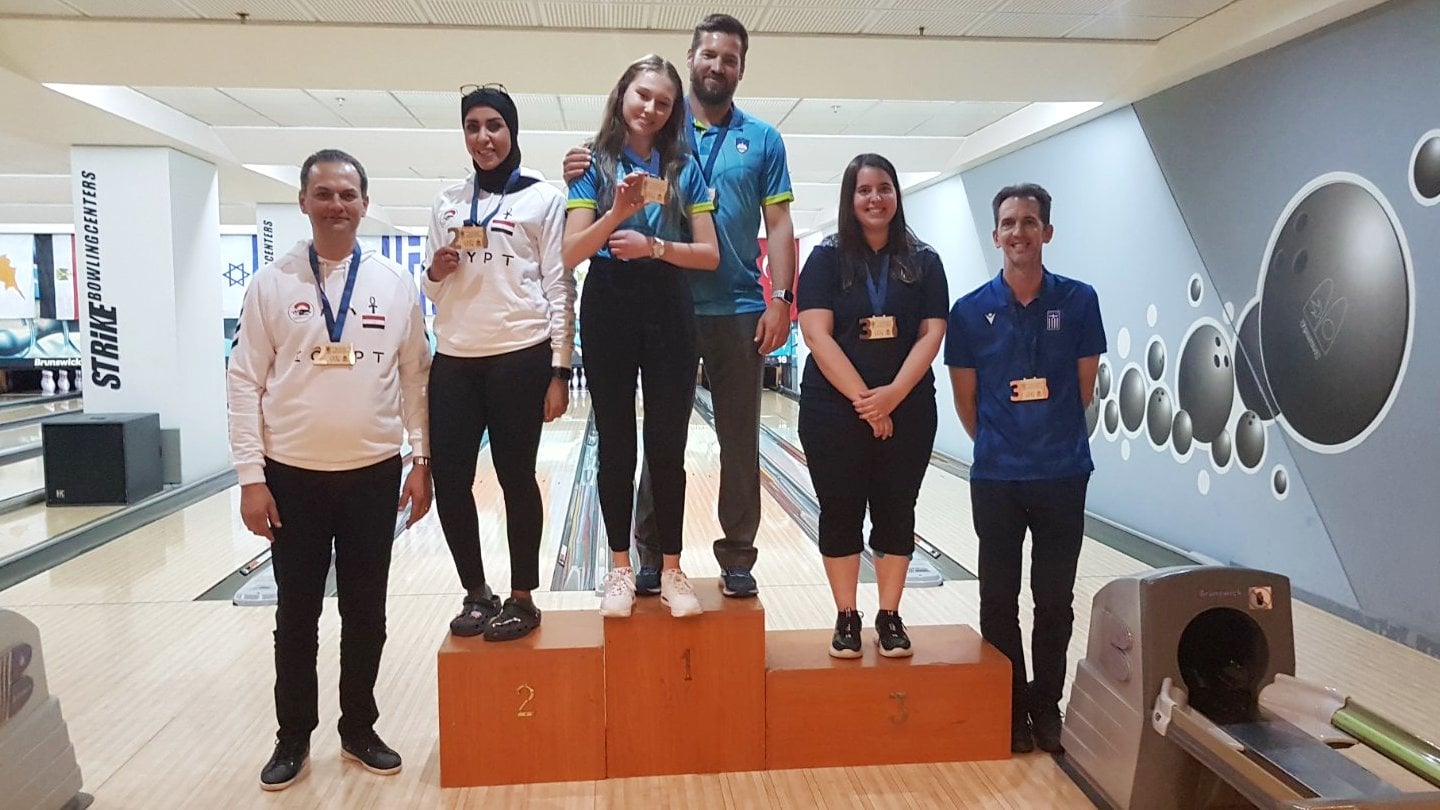 Mens Singles – Gold and Silver to France


The afternoon saw the sart of the singles for the men and leading after the first game were France with 259 from Hugo Bonnefoy and team mate Keny Billlaut in third with 246. The pair continued the form with 279 from Billaut and 232 from Bonnefoy to hold the top two places with Italian Gianotti Massimiliano third.
Two games later the Frenchmen were beginning to pull away from the field. Billaut adding 234 and 260 and Bonnefoy 244,259 with one on a 254 average and the other on 248. Closest to them at this point was Montsenigos Lefteris from Greece with a 233 average.
At the end it was a one-two for France with Gold and Silver gained. Keny Billaut adding 258 and 268 for a massive 1545 (257) and new mens singles record. Silver to Hugo Bonnefoy with 1459 and Bronze to Montsenigos Lefteris from Greece with 1409.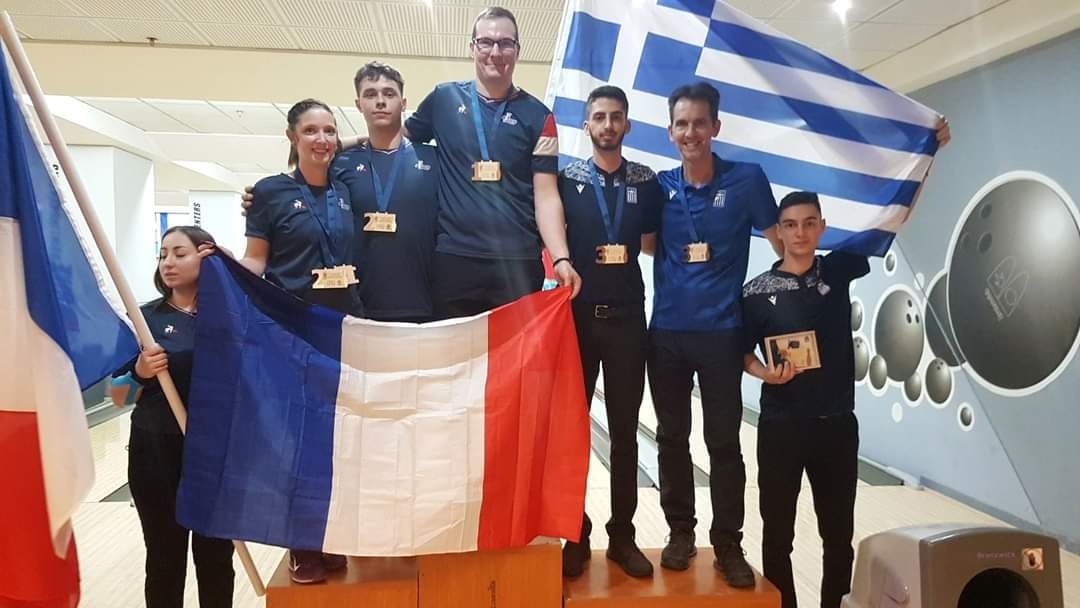 Doubles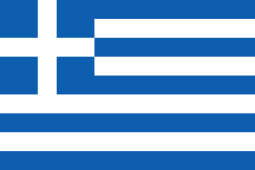 Men's Doubles – Greece Lightning finish for Gold

Another great start for the two Frenchmen who won Gold and Silver in the Singles, Combined they race to the top in the first two games with 534 and 433 for 967 with Greece 20 pins behind and Malta in third. Games three and four saw no changes at the top but just four pins separating France and Greece as they battled for Gold with Malta slipping and challenged by Spain and Turkey going into the final two games. Those four pins soon disappeared as Greece fired 504 as the French hit 449 and the positions changed. The Greeks held on with 426 with France on 425 and Gold to Lefteris Montsenigos (231) and Orestis Stamatiou (242). Silver to Frenchmen Keny Billaut (232) and Hugo Bonnefoy with a 300 game (232). Bronze to Malta's Mauro Anastasi (214) and Ranking Camilleri (206). France break the Doubles 3/games with 1486 pins
Women's Doubles – Slovenia race to the Gold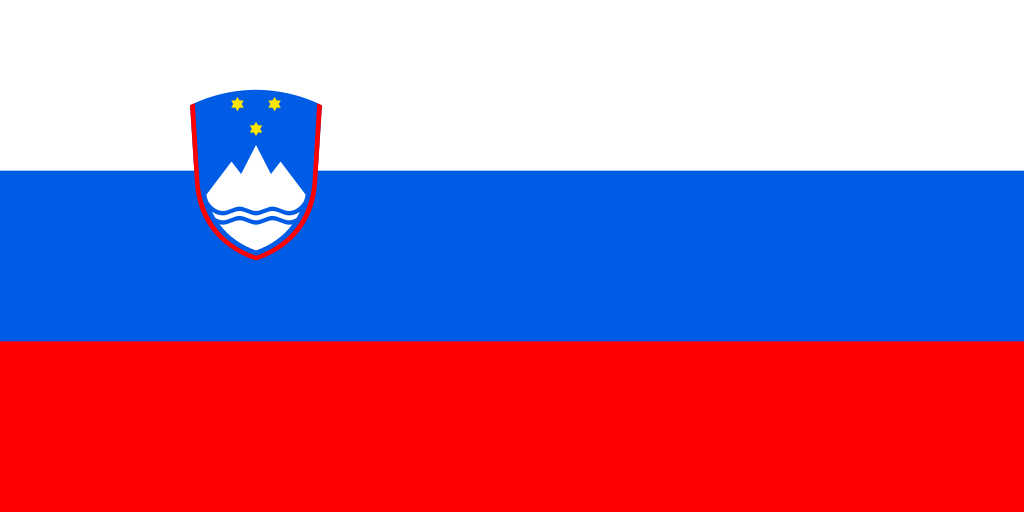 After the first two games of the Women's doubles, Slovenia were in the hunt for another Gold medal and leading with games of 426 and 439 (865). Close by were Cyprus with 428,433 (861) and France in third with 407,403 (810).
Slovenia kept up the pace and started to pull away after game three and by game five had it almost sewn up and a lead of 136 over France in second and Greece in 3rd. The top three well ahead of the rest of the field. At the end, no one was catching Slovenia and they claimed the Gold with 2600, Eva Krafogel (220) and Alja Bergauer (212). Malta racing up the list to grab Silver after a final game of 470 for 2505 and Bronze to France with 2494.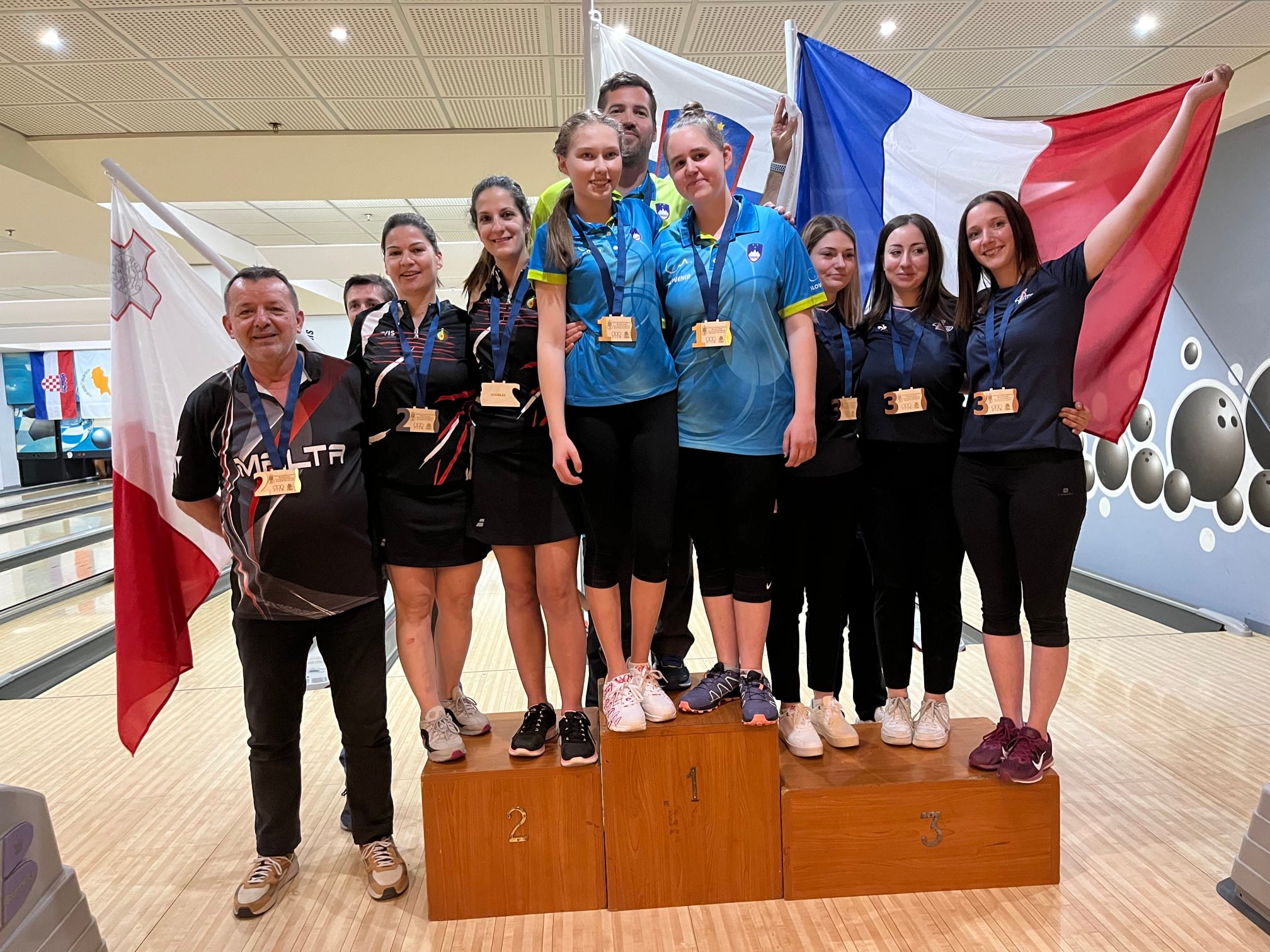 Mixed Doubles – French Connection claims Gold


Thursday saw the first of two Mixed doubles squads and after two games it was Malta's Camilleri and Swift leading the way with games of 404 and 484 for 888 followed by Spain with 865 and Slovenia third with 856.
All change by game four as Slovenia's Krafogel and Malek rolled 459 and 469 to jump into the lead with 1784 as Spain held second with 1768 and Malta dropping two places to third with 1659 and just ahead of Greece with 1652 and France with 1643. The final two games and Slovenia gave themselves a shot at Gold with 2681 including a massive 534 game. Spain held second with 2608 but France moved past Malta with 2524.
Group B began in the afternoon and Slovenia yet again challenging for a medal with double Gold medal winner Alja Bergauer (208) and Ziga Zalar (217) posting 2556. The French pair of Grandshire and Bonnefoy who opened with a 299 game, were flying after five games and needed just 413 in the last game to take the Gold.  Greece threw their hat in the ring for a medal as Lefteris Montsenigos (214) and Christina Kappatou (220) posted 2612 to grab Bronze but the French pair shot 449 at the end for the Gold medal with 2718 and pushing Slovenia's Krafogel and Malek into Silver with 2681.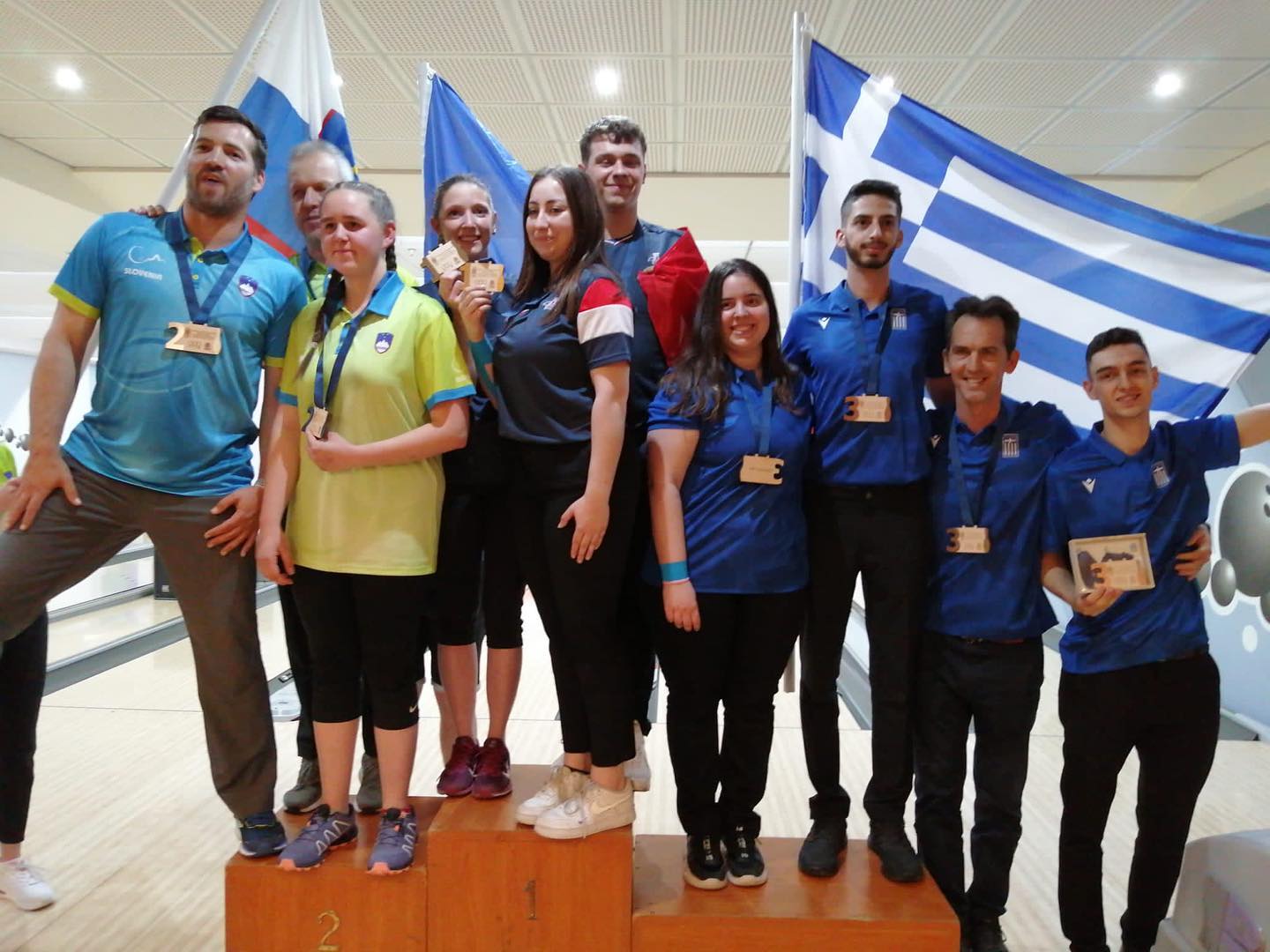 Team – France claim Gold


Game one saw Spain lead the way with 886 thanks partly to a 267 from Paco Rodriguez. France in second with 858 and Slovenia in third with 816 followed by Greece with 787 and just 10 pins ahead of Malta with 777. Croatia close by with Cyprus and Malta.
Things would change and be tighter in the second game Slovenia smashed in a 915 game as Greece hit 845 and France with 821 staying with Spain who had 814. Game three saw the French flying and Keny Billaut hitting 299 and Hugo Bonnefoy 258 on the way to a massive 953 and leading overall with 2632. Slovenia up to second with 2544 and Spain in third with 2499. Greece with 2435 hanging in there above Malta and Cyprus.
Game four in the afternoon and France held the top spot, starting with 871 and Slovenia holding second with 846. Greece making a move into third with 887 and closing slightly on Slovenia and France. Spain down to fourth and now being challenged by Cyprus who rolled a 874.
Game five came and went with France pulling away at the top after a 901 and 4404 and Slovenia with 845 and 4235 giving some hope of gold still. Malta going well with 905 pushing into the medal positions with a game to go.
The French were not about to slip up now and claimed the Gold with a final game of just 725 and 5129 total. Silver to Slovenia with 5085 and Bronze to Greece with 4937.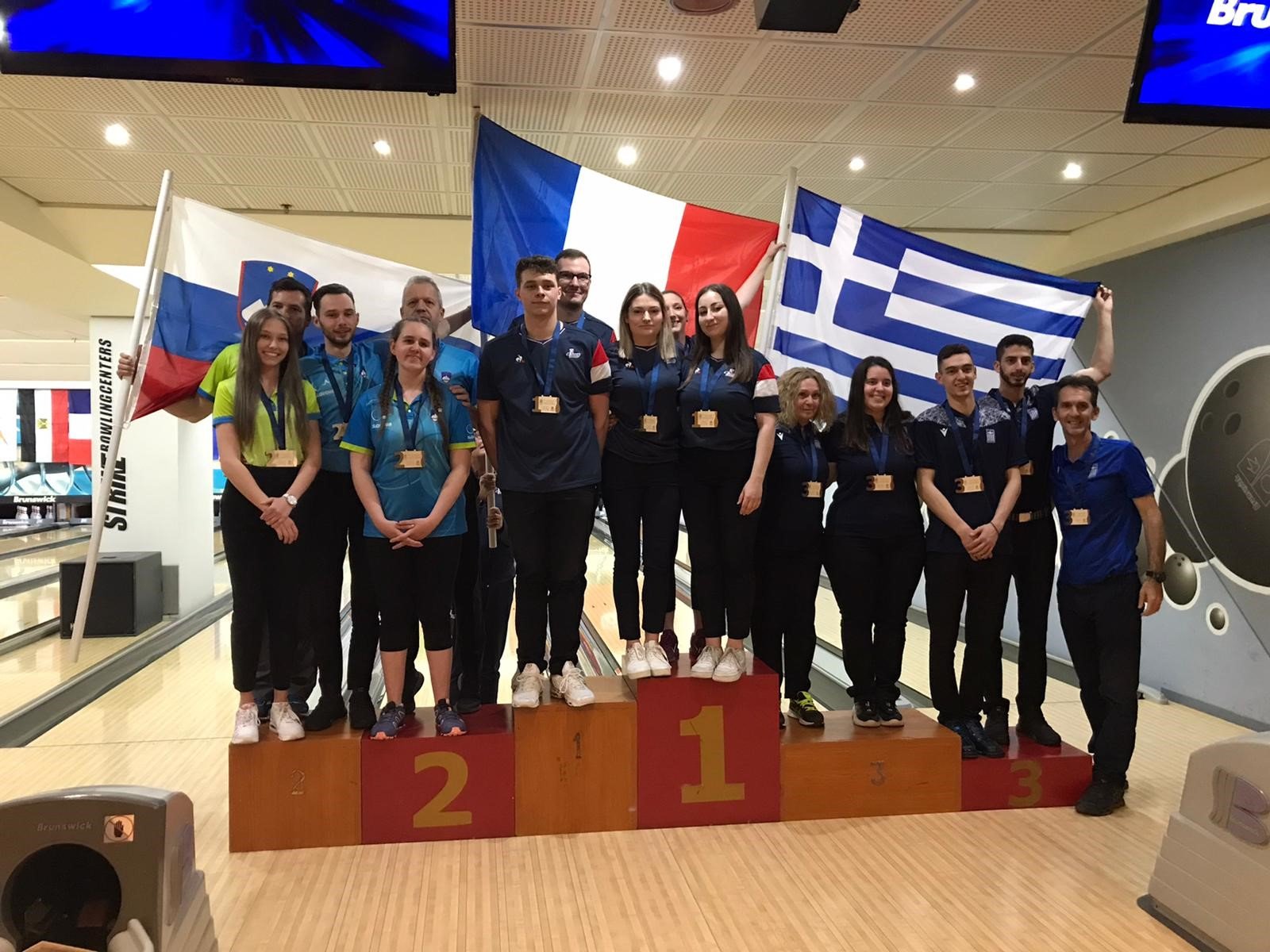 All Events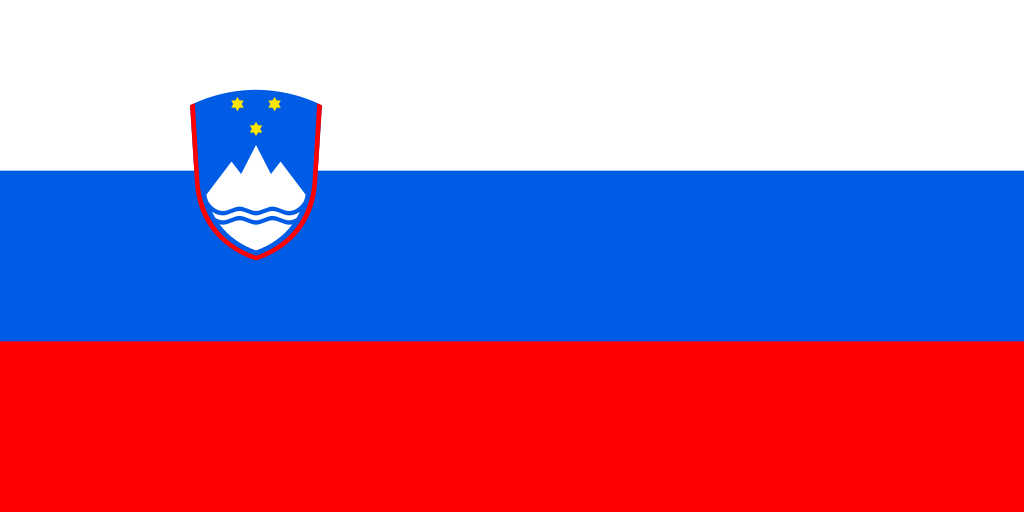 Slovenia's Alja Bergauer picked up her third Gold and fourth medal overall in the all events with a total of 5145 (214), Malta's Melissa Swift in Silver with 4898 (204) and Slovenia's Eva Krafogel in Bronze with 4815 (200). Into the masters also went Christina Kappatou (GRE), Manon Grandsire (FRA), Myria Kastori (CYP), Marie Matczak (FRA) and Carolina Munoz (ESP).

The Men's All events went down to the very last game with both Frenchmen just 10 pins apart. 227 for Keny Billaut and it was Gold with 5815 (242) as Hugo Bonnefoy hit 145 and claimed Silver with 5722 (238). Lefteris Montsenigos from Greece taking the Bronze medal with 5566 (231) and into the masters with the top three went Orestis Stamatiou (GRE), Mauro Anastasi (MLT), Paco Rodriguez (ESP), Taygun Erkeskin (TUR) and Roko Knezic (CRO)
Masters
Final Step 1
Final step 1 began on Saturday morning with fireworks in both the mens and womens divisions. Slovenia's Alja Bergauer firing 299 in game one and 184 to win against Munoz of Spain 483-367. Malta's Melissa Swift beating Matczak of France 401-377. In a close fought match Grandsire from France beat Kappatou from Greece and finally Kastori from Cyprus brushed past Krafogel from Slovenia 419-293.
The firework display continuing in the mens division as Keny Billaut from France fired 300 in game 1 and 244 in game two for 544 against 418 from Knezic from Croatia. Another french win for Hugo Bonnefoy defeating Erkeskin from Turkey 428-422. Joy for Greece as Stamatiou defeated Malta's Anastasi 487-400 and team mate Montsenigos beating Spains Rodriguez 481-422.
Final step 2
Semi final time and France vs Greece in noth men's semi's and Cyprus vs Slovenia and France vs Malta in the Womens event.  Joy for Cyprus and Shock for Slovenia as Myria Kastori defeated the championships sensation Alja Bergauer 357-344 and would meet Grandire of France in the final after she beat Malta's Swift 441-348.
Joy and heartbreak for Greece and France as Stamatiou beat Billaut 453-418 to send the Greeks into the final but team mate Montsenigos losing to Frenchman Hugo Bonnefoy 471-447.
Final – Greece and France claim Gold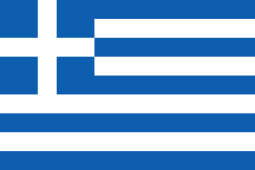 The mens final would go down as an instant classic as Orestis Stamatiou of Greece looked odds on after game one and a 279 to Frenchman Hugo Bonnefoy's 185 but then the second game happened. Bonnefoy was not giving up and went front 9 and Stamatiou playing well was being caught. a split and open in the ninth and this would be close.
Bonnefoy striking in the first frame of the tenth, then the second and single pin leave for 299.

A strike and spare 215 from the greek and it was Gold and 494-484.
The womens final was pretty close until the end of the first game and Manon Grandshire from France taking a good lead with 222-180. Game two looked lost for Cyprus halfway through and 151 for Kastori not enough and Gold to France with 173 and a 357-344 win.
Results
Results will appear on the Official website here
Masters Women
Final

Semi Final

Final step 1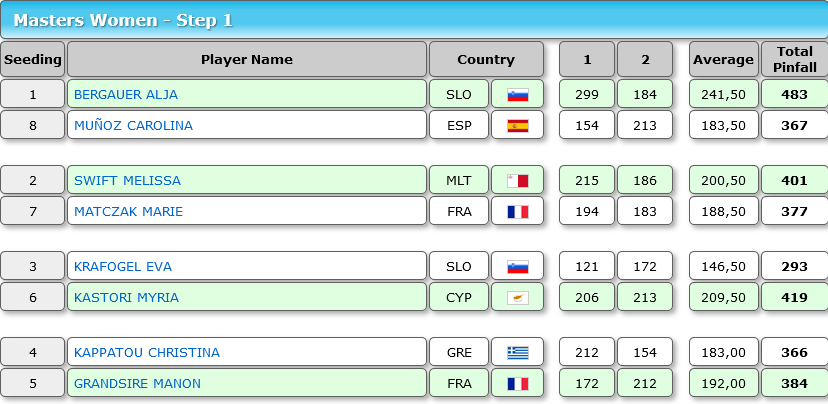 Masters Men
Final

Semi Final

Final step 1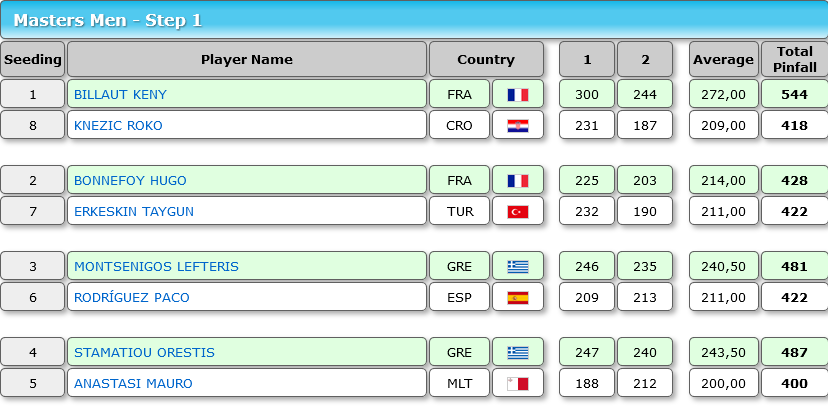 All Events
Women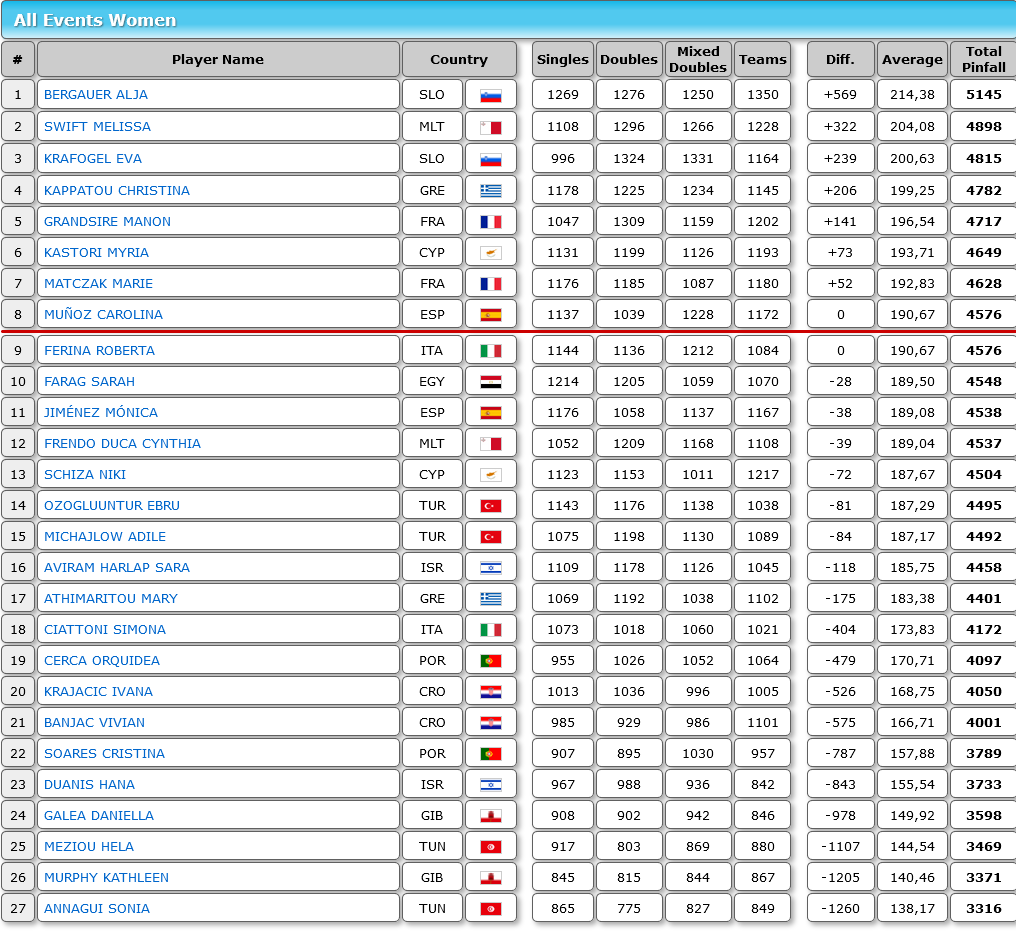 Men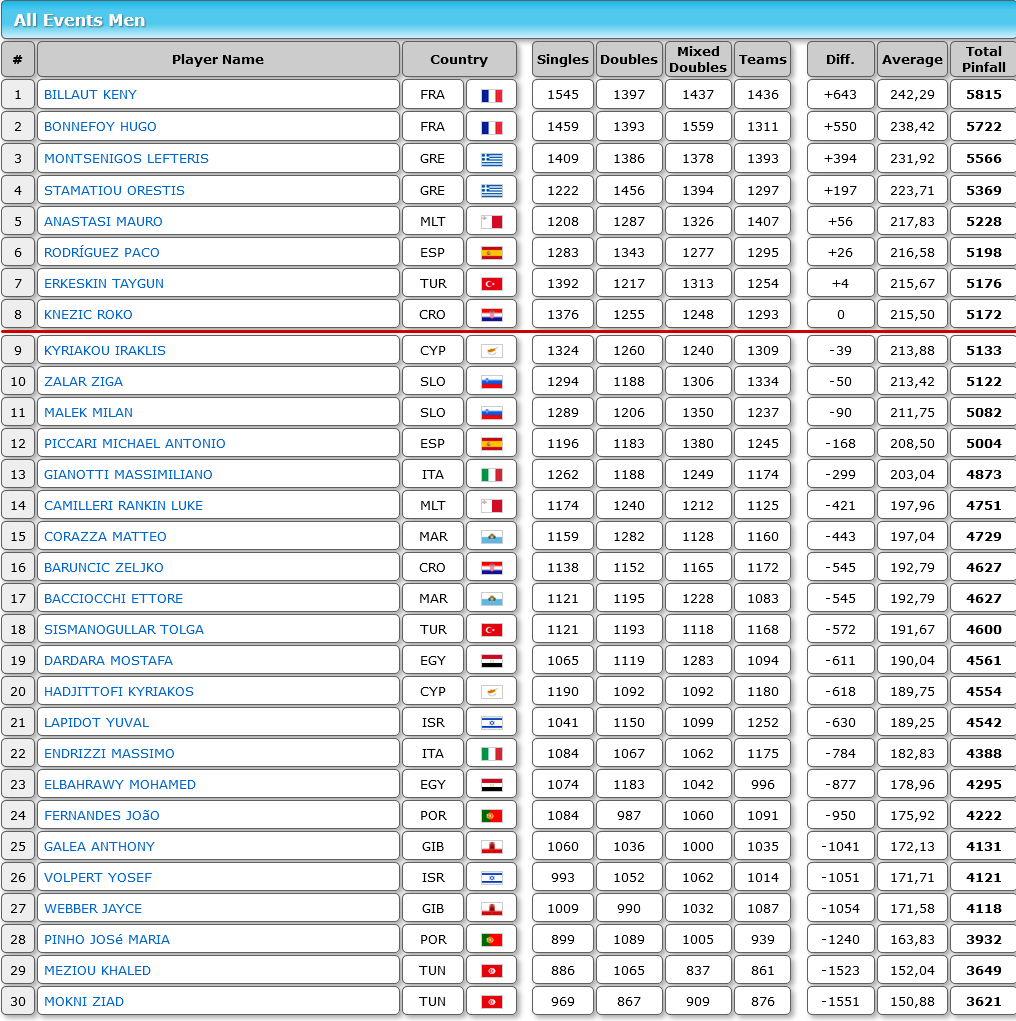 Team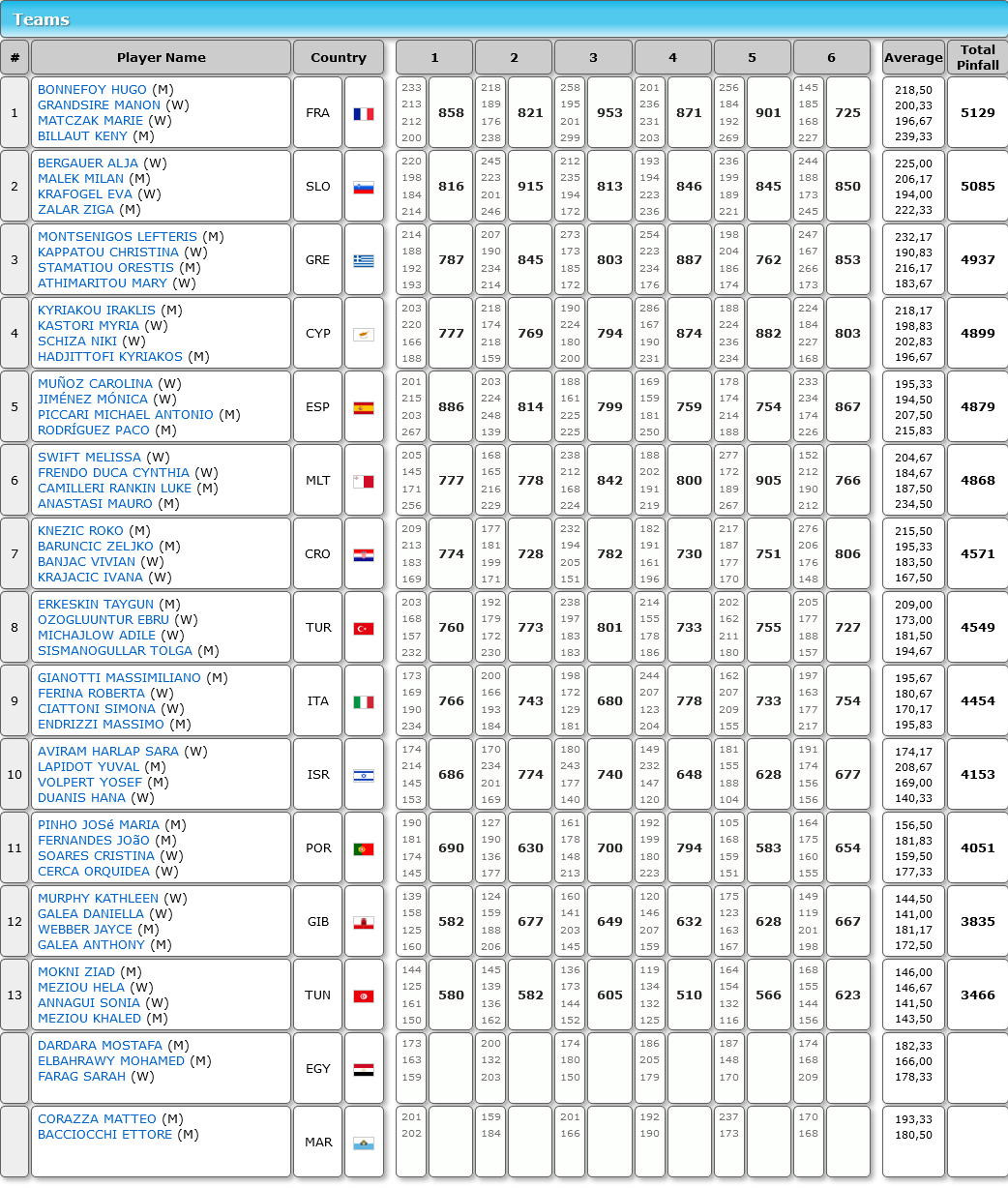 Mixed Doubles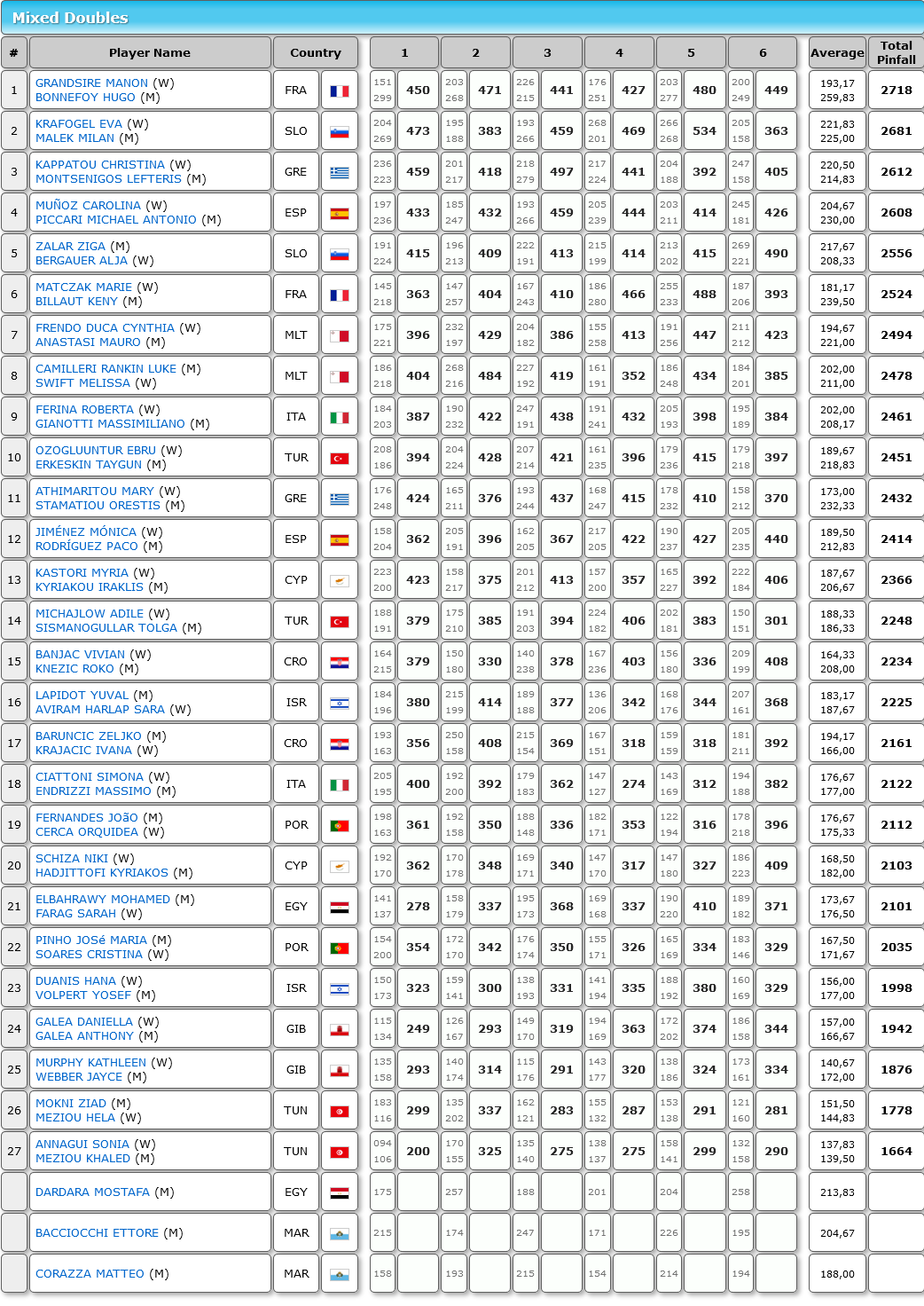 Doubles
Men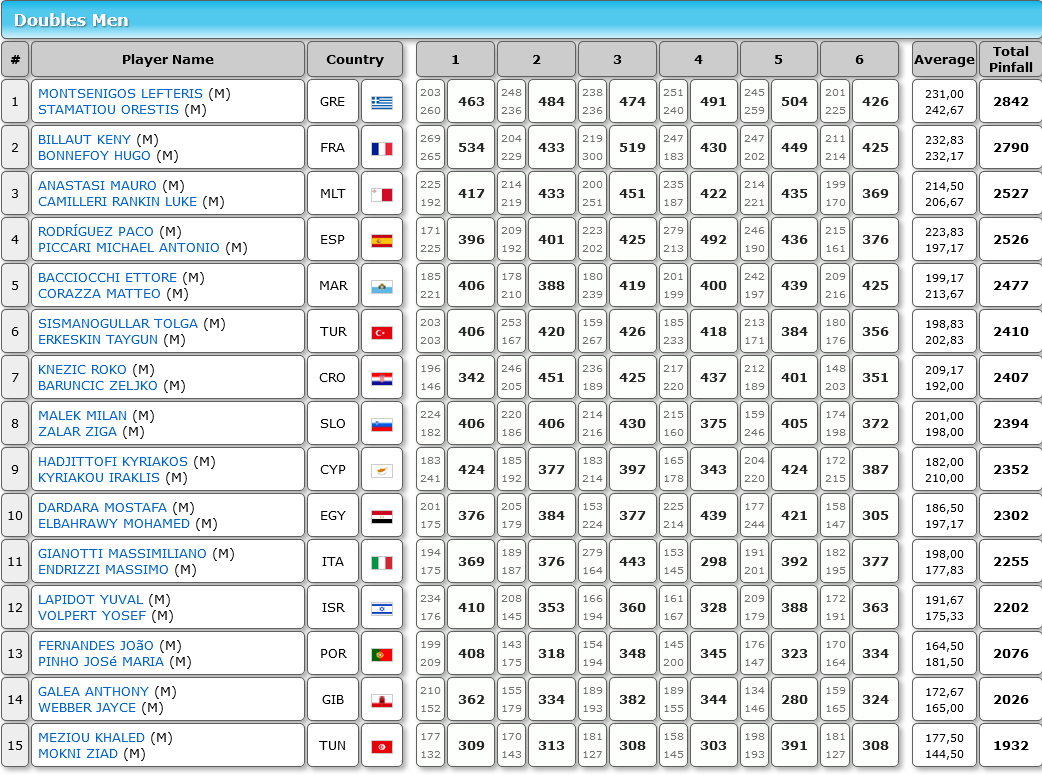 Women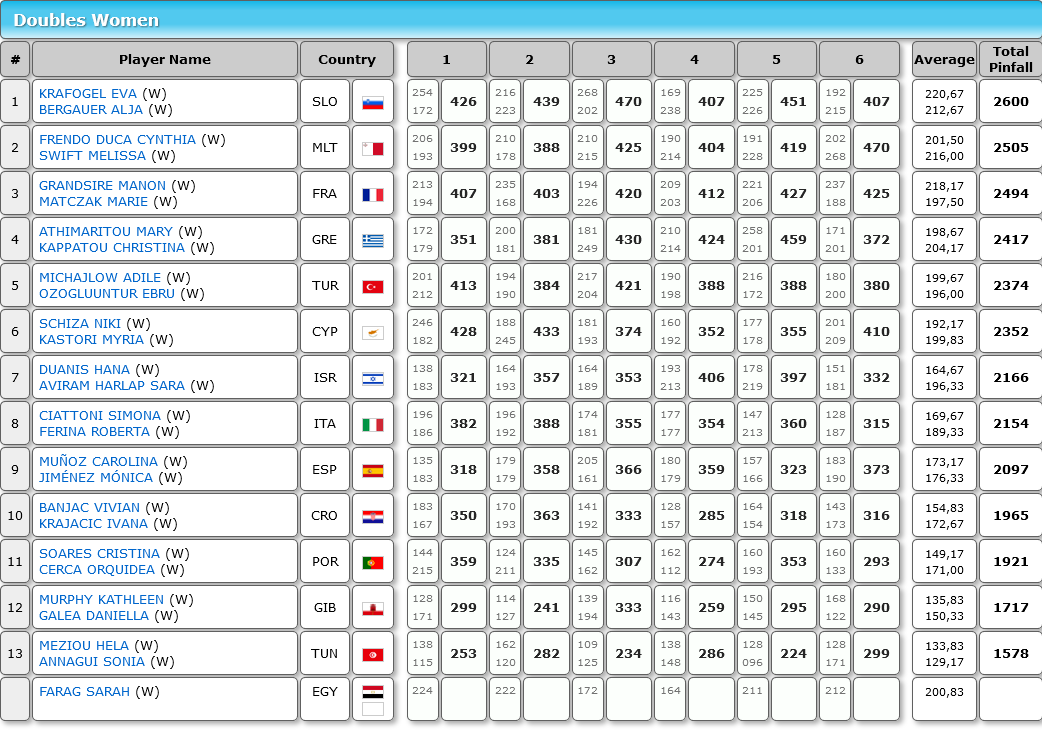 Singles
Women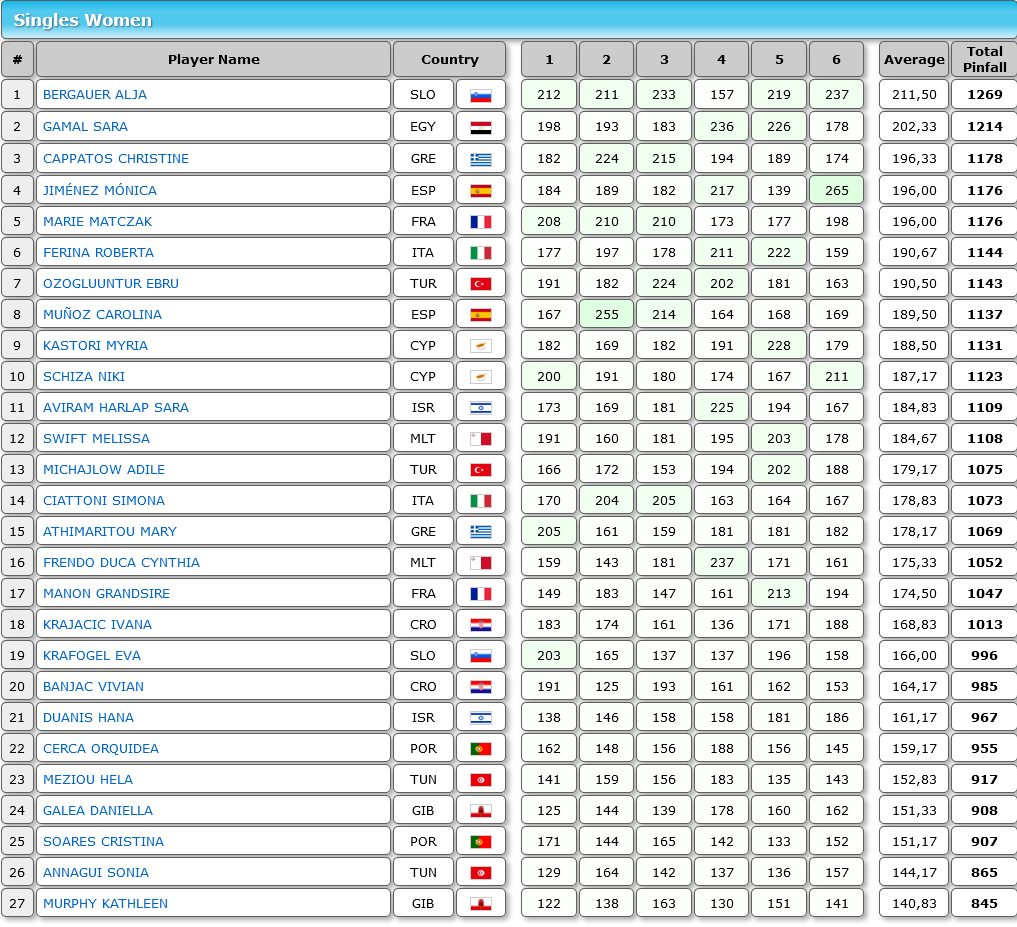 Men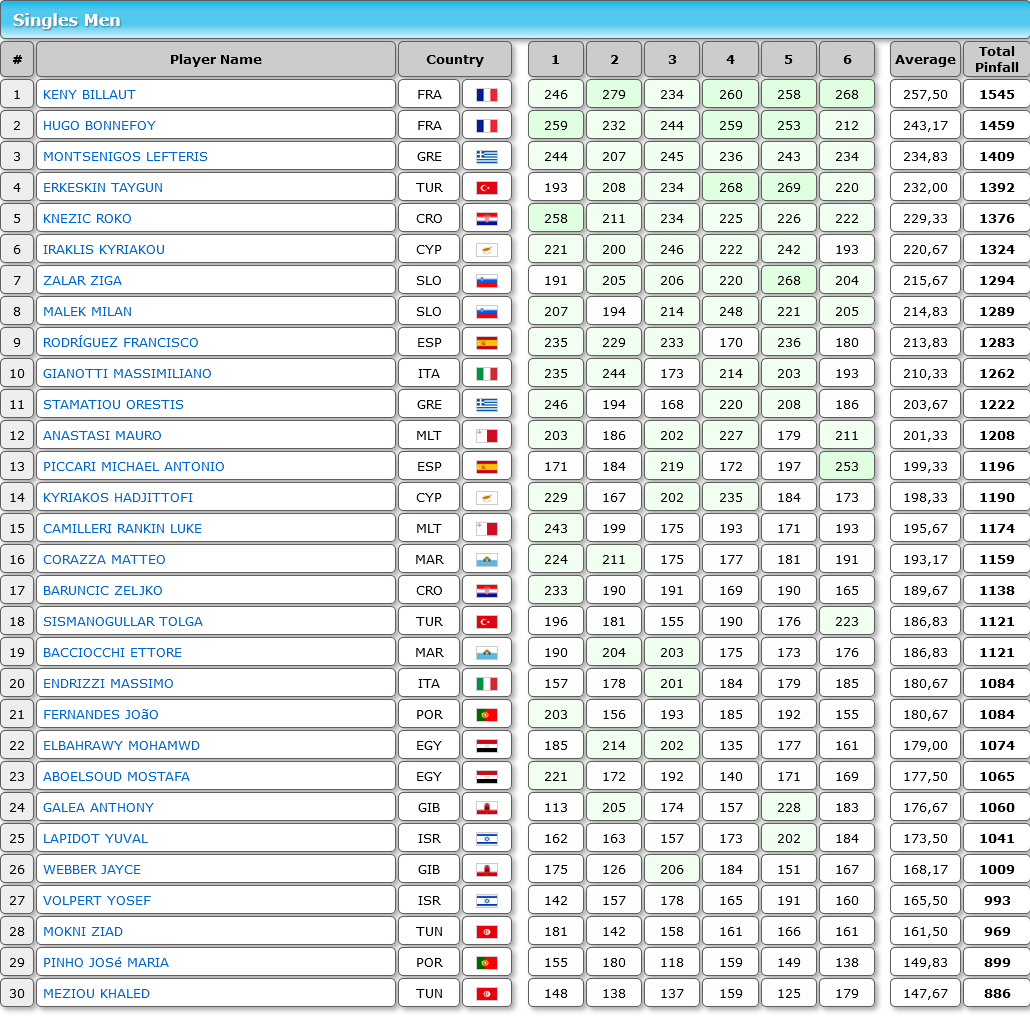 History
Malta and Greece have won the most medals over the years and separated buy just four medals total.
View Championships Bowling records here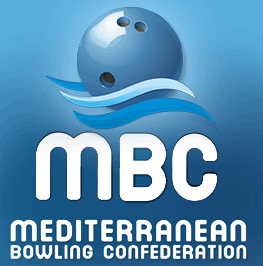 About the Championships
The idea of creating the Mediterranean Games came about in 1997 during the European Championship that was being held in Nottingham, England.
Mediterranean countries share a lot of history, traditions and culture and a sport event is always an opportunity to enforce good relations. For this reason, Roni Ashkenazi from Israel, Roger Cristofidis from Cyprus, Niko Papadimitriou from Greece, and Julian Pace Bonello from Malta came up with the idea of uniting all Mediterranean federations in one Bowling event.
During the 2015 edition of the Mediterranean Challenge Cup in Greece, the decision was taken change the name to The Mediterranean Bowling Championships or MBC. This decision was taken with intention to formalize many aspects of the event.