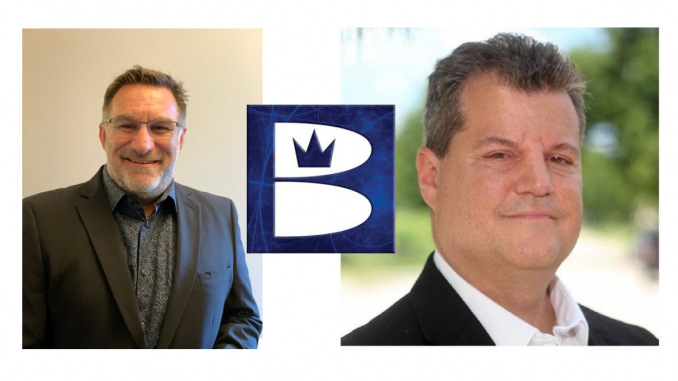 MUSKEGON, Mich., December 17, 2021 – Brunswick Bowling Products has hired industry veterans David Garber and Chuck Lande to join its capital equipment team as Brunswick product champions, a newly created position that will help proprietors take full advantage of the Brunswick Sync POS, scoring and cloud operating system and all its business-building features.
David Garber was most recently associate publisher of International Bowling Industry, a leading bowling and FEC trade publication, and managing partner of Firefly Taps and Grill in Waynesville, NC., where he focused on marketing, buying, training, and POS systems. Previously David worked for Station Casinos, creating opportunities for their 250+ lane beds.
David is well known in the competitive bowling world as a four-time United States Bowling Congress (USBC) Team USA member. He was a collegiate All-American at Wichita State University where he helped lead his team to consecutive national championships in 1993 and 1994. He is also a licensed scuba diver.
David lives in Eugene, OR with his partner, Victor. Having also lived in North Carolina, Las Vegas, and Los Angeles, and with family in Oregon, Texas, and Michigan, David is well traveled. He'll be working from his home office in Eugene.
Before joining Brunswick, Chuck Lande was the USA Youth Development Program Manager for the USBC, where he helped bowling centers and associations across the US launch and grow their youth leagues. Chuck has extensive experience in technology and digital marketing, and as a former proprietor. For many years he owned Bowlarama in Rowlett, Texas, which was honored by Bowlers Journal as the best new center in the world in 2004.
Chuck is well known to bowling fans as a former professional bowler with five PBA regional victories.
Chuck was born, raised, and still resides in the Dallas suburbs. He and his wife Diane have two adult children, two children in college, and two dogs. Chuck's hobbies include digital marketing, personal development, cooking, traveling, and collecting old sports cards, vintage bowling artifacts, and antique toys. Chuck will be working from his home office in Dallas.
The position of product champion was created to support the growing number of centers adding Sync center operating system.
"With an ever-expanding set of features within the Sync universe, centers need assistance in understanding and utilizing all the options within Sync," said Scott Meier, Global Product Manager – scoring, POS and cloud. "Our product champions will allow us to more quickly communicate with proprietors around the world and act as advocates for Sync and other Brunswick products. David and Chuck will also be responsible for driving marketplace awareness and user adoption. By creating these positions, Brunswick continues to reinforce our leadership position in proprietor support and technological innovation in the FEC industry."
Learn more about the Sync collection of business solutions at brunswickbowling.com/bowling-centers/.