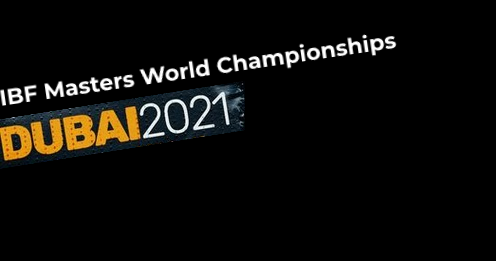 DUBAI, United Arab Emirates – Representing Team USA on the lanes always has been a dream for Tom Hess of Granger, Iowa.
He has participated in the United States Bowling Congress Team USA Trials to gain experience, test his skills against the best bowlers in the United States and to see if he could have a strong enough week to earn a spot on Team USA.
Turning 50 in 2019 doubled his chances of competing with USA across his back, as he also became eligible to submit his resume to be considered for selection to the senior version of the team.
He just missed the opportunity to compete in the International Bowling Federation Masters (formerly Senior) World Championships in 2019, but he was hopeful his credentials were enough to earn him a spot on the team that would travel to Dubai for the 2021 event.
The 51-year-old right-hander confidently submitted his resume and turned his focus to the 2021 Professional Bowlers Association 50 Tour season, where he was part of an ultra-talented rookie class.
The status of his application remained in the back of his mind during his rookie campaign on the PBA50 Tour, and in case his credentials, which include being the 2011 USBC Masters champion weren't enough, his success in 2021 likely made the decision much easier for the selection committee.
Whether the decision already was made, or his two PBA50 major titles on the way to the PBA50 Player and Rookie of the Year awards pushed things in his favor, Hess was chosen to be one of the eight players to represent Team USA at this week's IBF Masters World Championships.
He's now at the Dubai International Bowling Centre ready to be a rookie for the second time in 2021, but this time, he will share the lanes with teammates Chris Barnes, Parker Bohn III and Bob Learn Jr.
Bohn and Learn are past participants and world champions, while Barnes, one of the most decorated bowlers in Team USA history, also will be making his debut as a senior.
The women's team in Dubai this week includes veterans Tish Johnson and Sharon Powers and newcomers Debbie Ayers and Tracy Calfee.
"When I found out I was picked for this trip, it was surreal," Hess said. "I felt I deserved it because of the season I had and because I was bowling as well as anyone, but I know there's a lot more that goes into such an important decision. It's an honor to have been selected, and I'll never forget how real it started to feel the day the jerseys arrived."
The PBA50 Tour season concluded in September with Hess beating Barnes in back-to-back title matches at the 2021 PBA Senior U.S. Open and USBC Senior Masters, which also locked up the postseason awards.
Hess became the fourth player in history to win both the Masters and Senior Masters and third to win both the Senior U.S. Open and Senior Masters in the same season.
In the weeks since, Hess has been focused on preparing for the Masters World Championships, knowing expectations – his own and others – are higher after his recent success.
He said he hasn't always been one for practicing too much, but he made sure to spend extra time learning to navigate the high-scoring 44-foot oil pattern they're facing in Dubai.
"It has been an amazing year, but I can't let it rest there," Hess said. "I'm still out there bowling regionals and other events and doing all I can to stay sharp. I've been very focused on Dubai and making sure I'm at my best for my team and Team USA. My confidence is high, and I'm really looking forward to spending time with such a great group, on and off the lanes."
Two dozen countries will be represented at the 2021 Masters World Championships, and they'll compete across two age classifications – 50 and older and 65 and above, though Team USA only will compete in the 50-and-older division.
IBF is providing livestream coverage and results at StrikeCloud.com, and additional information can be found at bowling.sport.
Officially practice for the Masters World Championships is taking place Wednesday, and competition will get underway Thursday morning with singles squads throughout the day. The tournament will conclude Nov. 26.
The tournament also will include doubles, mixed team and team competition, with gold, silver and bronze medals being awarded in each discipline.
As part of the tournament's new format, everything after singles will be contested using a variation of Baker scoring.
In the traditional Baker format, each member of a five-player team bowls two frames, and the team members work together to complete a game. The leadoff bowler bowls the first and sixth frames, the next team member completes the second and seventh frames and so on.
In Dubai, the concept has been adapted for doubles and the two team events, with strategy determining which players in the lineup will bowl extra frames, where applicable.
The same structure was used for the recent IBF Super World Championships, the first of the three events being held in Dubai this month. The inaugural IBF Para Bowling World Championships shared the spotlight.
Each event will feature 10 games of qualifying, after which, the field in each gender classification will be cut to the top 32, 16 or eight, depending on the event.
Advancing players and teams will move on to round-robin group match play.
Points will be awarded for each win in match play, and the top two players or teams in each group, based on points, will advance to the bracket-style quarterfinals.
The quarterfinals and semifinals will be one-game matches, and the championship match will be a best-of-two battle, with a ninth- and 10th-frame roll-off being used if a third game is needed.
This week, Team USA will look to defend the men's singles, men's doubles and men's team titles, as well as doubles and team on the women's side.
The United States has swept the team gold medals for the last three editions of the event (2019, 2017, 2015).
Team USA also won the women's all-events and Masters gold medals in 2019, but those events no longer are part of the agenda. Instead, medals are expected to be awarded to the most valuable athletes and top-performing federations.
For more information about IBF, visit bowling.sport.
For more information on Team USA, visit BOWL.com/TeamUSA.
United States Bowling Congress
The United States Bowling Congress serves as the national governing body of bowling as recognized by the United States Olympic & Paralympic Committee (USOPC). USBC conducts championship events nationwide including the largest participation sporting events in the world – the USBC Open and Women's Championships – and professional events such as the USBC Masters and USBC Queens.
Founded in 1895, today USBC and its 1,524 state and local associations proudly serve more than a million members. USBC is headquartered in Arlington, Texas, working toward a future for the sport. The online home for USBC is BOWL.com.