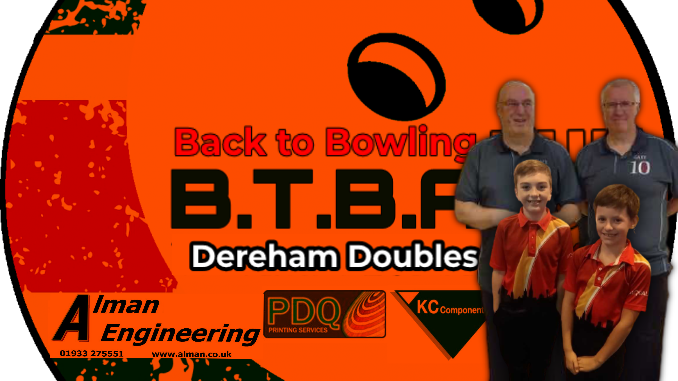 4th Tournament in the BTBA back to bowling series was at Dereham, Norfolk. I was directly contacted by the bowl asking if they could hold one of these events, and that rarely happens so I was determined to find a date and a tournament manager to make it happen. First Sunday in November is the usual date for County finals, but with that cancelled – I had my date, and luckily a request on facebook for a tournament manager was answered by Gaye McCully. So it was ON !
All these Back to bowling events have followed the same format – 3 games doubles, re-entry, 3 divisions – Division A teams with 390+ combined average, Division B teams with 331-389 combined average and a division C for teams with a 330 average or less combined
Division C – Only 1 team entered, but it was great to see these two kids bowl – representing Norwich YBC Aston Thompson a two hander, and his little mate Flynn Thompson a stylish more conventional bowler. Their reactions when they got strikes, they were so pleased no matter how the pins fell over. I hope they both enjoyed and learned a lot bowling in an adult tournament. I know us adults all enjoyed seeing them bowl.
Division B – 23 teams. In 3rd place were Jack Sparkes and Sam Pateman on 1119, and in 2nd were Jon Greengrass and Mark on 1125 and the winners were the 10X team of Gary Fraser and Dave North on 1196
Division A – 10 teams. In 3rd place were Craig Parker and Gary Christopher on 1148. In 2nd were Daniel Davies and Craig Barrett on 1183 and winners were Porky's Pro Shop Craig Ellis and Richard Balaam on 1286 – a Craig in 1st, 2nd and 3rd… can I get a re re rewind.
We also had a scratch pot running. Bowlers could pay an extra £5 and enter their individual scores into the scratch pot… we paid out to 5th place. In 3rd place was Craig Parker on 628, in 2nd was Gary Christopher with a 651 and the winner was Craig Ellis with a 680 set (266, 202,212)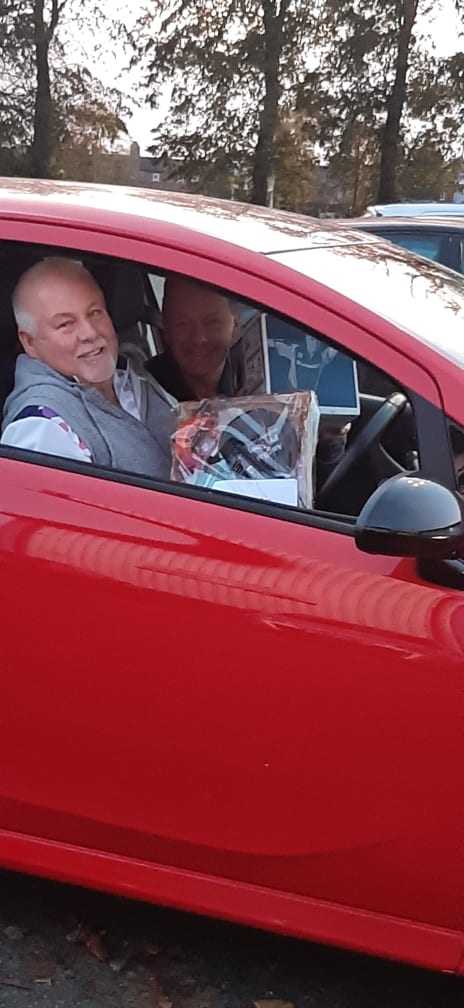 Of course we had a raffle – raising £124.50 for the local association. We had two prizes, a lovely bowling hamper donated by Anglian ProShop, it had all sorts of bowling accessories in it. This was won by Mark Wills. We also had a bowling ball kindly donated by tour sponsors Bowling Vision – a Solid Igniter and this was won by Geoff Brown.
It was nice to go to a new centre, and the staff at Dereham really made an effort to make us all feel welcome.
A big thank you to all the bowlers who travelled to support the event and a massive thank you Gaye McCully for running the event on the day and getting the squads turned around quickly.
As I come towards the of my end of my tenure as BTBA tour manager I reflected on how great it was to see Juniors, Adults, Seniors and International Bowlers all sharing the lanes together in competition – let's hope in continues in 2022 and beyond.
Drive by raffle winners !! – Mark Wills winning a "bowling hamper" donated by Anglia Proshop and Geoff Brown with the Solid Igniter donated by Bowlingvision – the raffle raising £124.50 for the local association
Download and view results here