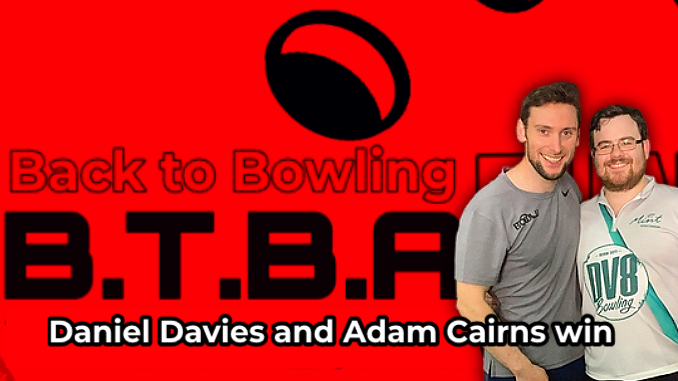 The BTBA Back to Bowling Fun Tour rolled into Yorkshire this weekend with the BTBA Re-entry Doubles @ Shipley.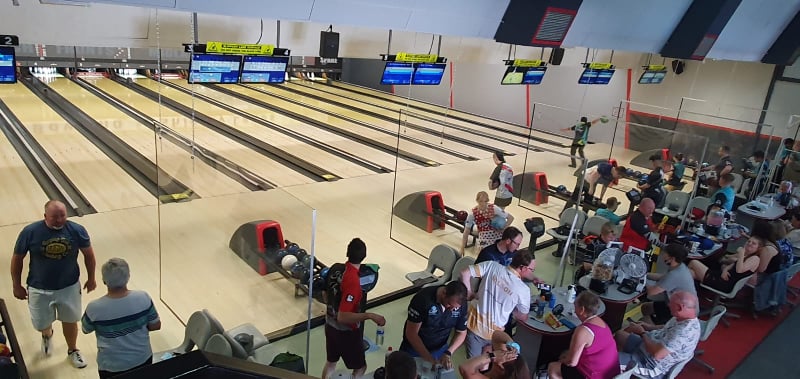 Report by Lee Metcalfe
Thank you to all the bowlers from all ages and abilities that turned up to a super-hot, sticky and humid Shipley Lanes. I know from experience how much of a hard grind it was but a huge well done to everyone.
Thank you to the centre and staff that has hosted us, help out and kept us all safe with the  sanitising of the pods after every squad. I must give a big shout out to Callum Simons for helping out when I was bowling, Laura Turvey for selling raffle tickets, Amy Smith for helping with finances, selling raffle tickets and organising strike ball plus anyone else who helped me in whichever way.
The oil pattern we used was the recreational pattern Big Ben with Terrain & Ice conditioners. This played harder than normal due to the heat but they were still some great scores. Overall average for the event was 193.0.
The event had 72 teams of doubles booked in and only with a couple of changes on the day we still had full numbers and it ran on time.
In the divisions we had
A, 400+ had 21 entries and paid out 4 places
B, 331-399 had 41 entries and paid out 8 places
C, 330 – had 10 entries and paid out 2 places
This year the optional scratch pot was very popular with 92 entries this means we could pay
out 15 places in this. Probably should have had 93 entries but I didn't bother entering it in
the last squad and shot 750 which would of put me in 2nd but shame on me being a tight
Yorkshire man ha ha.
Bowling Vision provided us with a Radical Squatch Solid which we raffled off at £2.00 per strip raising an extra £177.00 for the prize fund so thank you to them. The winner of the ball was Shipleys own Ginger Belmo, Josh Neen. I also want to thank the rest of the sponsors of the tour that put in an extra £300.00 in to the event.
During each squad we ran a Strike Ball Competition for £1 a go and raised a very nice £165.00 which was split £82.50 to the winners and Shipley YBC. Pin Monkey Coaching also put up £50 for the 1st bowler to shoot a perfect game, although they was a few close calls this money is safe back in my wallet, but well done to everyone
who managed to get close even with this gruelling heat.The Shipley Bowlers club put an extra £50 up for the best team overall and this went to Clear the Deck 2 who consisted of Adam cairns & Daniel Davis who shot a very respectable 1400 team scratch.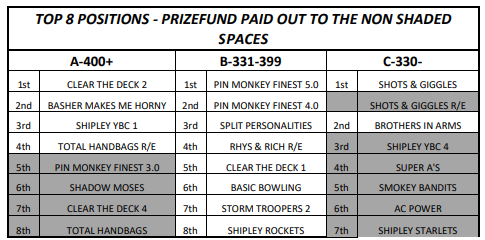 Above is the teams that were paid out, a shout out must go to Callum Hall & Kristopher Todd for shooting 1st & 2nd in division C but unfortunately as per entry form rules, Teams with the same bowlers can only cash once.
Thank you once again to all the bowlers who came to super sunny Shipley and I can't wait to see everyone again in the next event.
Results
–