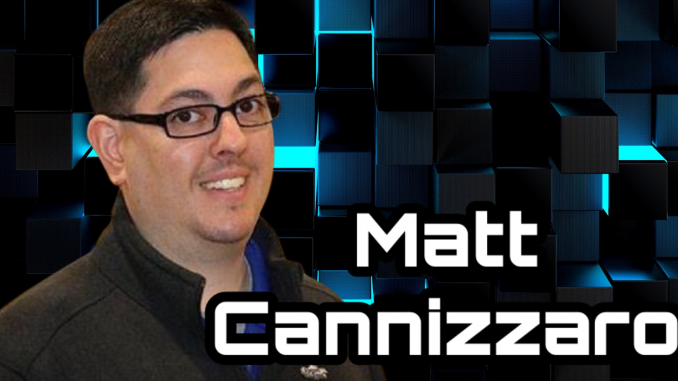 The USBC have had some great writers over the years who have evolved into multimedia experts who create great content for the US members and also the World viewers. One such person has pretty much grown up in the communications team and gone from simple reporting to providing livestreaming, video interviews and much more for many years now.
A lot of bowling people will know the name Matt Cannizzaro. A very likeable man who you may remember from such shows as the USBC Championships, QubicaAMF Bowling World Cup or just about any Team USA outing for the last few years.
2020 is the year we will all want to forget and for Matt it has meant no travelling to the big tournaments and like us all more confined to home. This has not stopped the USBC and Matt from bringing members lots of new content to their channels but before he starts to get busy again in 2021 we took a chance to find out more about the man behind the media.
Tournaments stopping, lockdowns and strange and testing year for sure Matt, how has the job changed for you in 2020 since the pandemic hit?
I had just arrived in Reno, Nevada, when this all started. We were setting up for the 2020 USBC Open Championships, which was scheduled to last from March until July. Instead, we all were asked to return home immediately and indefinitely, like much of the world.
Since my job requires me to be away from home for 300 days a year sometimes, there certainly was an adjustment period. Time that would've been spent at events was spent preparing for events that were postponed or keeping up with the announcements and social media as info became available.
In the months since, I've had a chance to learn some new skills, work in areas I previously hadn't and help with projects that have been incredibly educational and rewarding.
I've gotten to work with some great folks I only knew by name, and I absolutely have a greater appreciation for all of the hard work that happens inside the International Bowling Campus….things I didn't realize or see because my days in the office are limited, even after 16 years. These last two items were huge positives in a challenging year.
As someone who spends a lot of the time on the road, how has it been spending so much time at home?
In some regards, I do miss the travel and all the amazing places I get to go, but that's more because of the people I get to share those experiences with or the people I meet when I get there.
As noted above, being at home has given me a chance to learn and do things professionally that are new and interesting.
We are closer to vaccinations and a return to some kind of normality in 2021 but some way to go yet. Do you think we may see a return to tournaments later in the year rather than in the spring.
We're planning to run our events as scheduled and hope that will be possible. Nobody can predict what will happen with the virus, but we're optimistic and will be ready to go as soon as it's reasonable to do so.
Obviously you just want to get back out there reporting on the big events, which of these have you missed the most?
You're absolutely right. There's nothing like being on the front lines at some of the world's biggest and most prestigious events.
I've had the pleasure of being part of dozens and dozens of top-tier competitions, from USBC events to any event that includes Team USA and Junior Team USA, and each one is unique.
Sure, they all have winners and loser/non-winners. But the emotion of it all is the best part. Dreams come true. Victory slips away. Perfection is achieved. Etc. To be able to share these stories is an honor. THAT is what I've missed the most.
As far as specific tournaments or venues, there's always something special about each. There's no city or facility like Reno and the National Bowling Stadium. We've made great friends at many bowling centers across the United States. I love any opportunity I get to reunite with the folks I might only see at the World Championships. And, who could forget the awesome and dedicated World Cup team?
I miss them ALLLLLLLL!
Going back in time, give us the full story on how bowling started for you and how did it take you to the USBC?
Like many children, I bowled in the hallway at home. It was the perfect activity for when it was cold and/or dark outside. That led to a bowling outing or two, which turned into a birthday party at the bowling center, which turned into joining a league….then multiple leagues.
Bowling allowed me to compete for scholarship money. While it was accumulating, I said if I couldn't bowl for a living, I was going to write about it, as I'd determined in third grade that I was going to be a writer of some sort.
I bowled at the University of Florida and stayed in Gainesville for a few years to help coach the team, serve on the local USBC Board and to work at the local newspaper as a high school sports writer.
One day in 2004, I got a random email from a young bowling writer named Lucas Wiseman, who had heard about me from a mutual friend. Lucas asked if I had any interest in working in bowling, specifically as a public relations guy at the Open Championships. The rest is history.
I joined Lucas at the 2005 #USBCOpen and spent the rest of the year working at USBC Headquarters or covering other events.
As the communications world evolved, so did we. Our responsibilities started with news releases, photos and media relations and now include social media, video, livestreaming and much more.
Lucas and I worked together at USBC for about a decade, which included me getting to tag along and assist at many great events. I learned a ton about international bowling coverage and travel. Once he moved on in his career, I was able to step in and be the main guy for those events.
I've done my best to learn from the people who brought me in and showed me the way, so I could do the same for the next guy(s). We've had a pretty solid core group over the years, and I can't speak for them, but the camaraderie is a big part of what has made it so enjoyable.
Much travelled in the ten years and not just in the states, which country has been your favourite to visit?
I think I've now been to 15 or 16 countries, most because of my role at USBC.
However, my favorite place was determined on a non-bowling trip to Ireland. We stayed just outside of Dublin based on some advice from World Cup Tournament Director Bernard Gibbons, and it was very convenient.
We did all of the touristy things in the area, took a bus trip/castle tour and really enjoyed the food, drink and history.
Additionally, we were able to meet up with Bernard and his brother and their friends at their "office," which was an awesome experience and as non-touristy as you could get. It was a real taste of how the locals roll. It was like being at an Irish Cheers.
Having heard podcasts of you for various bowling media outlets, you get asked about good food in the areas you visit. Which places Worldwide get the Matt Cannizzaro "Eat here" badge?
It's true, I love the foods. The bigger, the better.
No matter where we are, we always try to get out for one day of sightseeing and one spectacular meal, usually before the events get underway. Then, as you know, most meals come either at the hotel, bowling center, conveniently located fast food joint or….Domino's, which we ate almost daily for a week in Colombia.
We've been fortunate that bowling centers around the world take a lot of pride in the food they serve, too.
The bowling center in Abu Dhabi was one of the nicest I've seen, and the food was great. There also was a terrific schnitzel spot Lucas and Herbert (Bickel) found there, so that was among the motivators to write faster on the early days.
On our Team USA trips to Brazil and the Dominican Republic, we almost wanted to be at the center long enough for lunch AND dinner. The specials were delicious, and the prices were fair.
The center in France for the World Junior Championships in 2019 was top-notch, too, though there was a Burger King right next door for a change of pace and a McDonald's right next to the hotel. This also might've been the trip where I realized the number of countries in which McDonald's was my friendly fallback.
As important as the actual food on these trips is the company. When we can get out, it's nice to spend time with the coaches and players and other media folks and get to know them off the lanes. Even a trip to Walmart or a walk to the grocery can be really cool team-building experiences.
I think my favorite overall spot for food was Hermosillo, Mexico, for the 2017 World Cup. There were steak places for days within walking distance of the hotel, and we also found an authentic roadside taco place we could walk to. Since things in the region don't get going until late, they were open for us once bowling was done for the day, and it gave me a chance to really get to know many of the World Cup staffers.
One of the perks of your job is you get to travel the World with Team USA. What is is like travelling with your country's best talent?
There's nothing like it. It is an honor, and it's humbling.
In fact, here's a story that explains it:
https://bowl.com/News/NewsDetails.aspx?id=23622334030
Additionally, my job has allowed me to meet the great players from around the world. I can't remember the last event I wasn't starstruck at least once.
To be able to call so many of the world's best my friends is like a gold medal in itself. There are people I can hang out with when I go to Ireland. It would be the same in England, Bermuda, Germany, Malaysia, Singapore and many more places. I'm in touch with special people from Norway, South Africa, Canada, Hong Kong, etc.
It's awesome, and I'm incredibly grateful.
After many years with the USBC how has the job changed over the years?
Originally, I wrote stories and took a photos to go with them. Then, came the formal news releases, pitching stories, monitoring message boards, traveling, videos, video editing, livestreaming, graphics, social media, general editing, research projects….probably so many things I'm not thinking of, too.
Things change and evolve, which is the scariest part for me. I'll admit that new things and change intimidate me, and I'm sometimes slow to adapt. I bet it's pretty frustrating to work with me sometimes.
Ultimately, though, there's always 10 pins. The lanes always are the same width and length. There's winners and non-winners, and we get to tell their stories, even if the way we tell them is different as time passes.
Like a pro, you interview many of the USA and World's best bowlers and bowling people. Of all the interviews you have done, which make your top three?
I'm fortunate to have built relationships with so many Team USA athletes and other bowlers from around the world. That helps me be much more comfortable in our official conversations, and I think it helps them be more open and honest. When they're willing to open up and express emotion, there's nothing like it.
Among my favorites forever will be our longtime bowlers at the USBC Open Championships – specifically, Bill Lillard Sr., Sylvester Thiel and Bob Hart, to name a few. Names that likely aren't known too much outside of the event, but what they've done for our game and tournament is priceless. I could listen to their stories for hours and hours. Their recollection of things that happened half a century ago is phenomenal.
I'll always enjoy my talks with the great ladies like Kelly Kulick and Leanne Hulsenberg and Wendy Macpherson because they don't hold back their feelings or emotions, along with the most passionate champions at our events, like John Gaines, Matt McNiel and Adam Barta, who truly understand and appreciate what they've accomplished and do everything they can to spread the word and teach the next generation that it's about more than just prize money.
I also appreciate getting to speak to the non-bowlers (athletes from other sports who try or start bowling and love it), newcomers to our events and young players who understand and appreciate the history and prestige, long before their careers really get going.
I've been fortunate to talk to so many incredible people. There's no way I could narrow it down to three, so you got three….categories.
Finally Matt, It is clear from your media that you are a fan of the sport. Why have you liked and still like bowling?
Believe it or not, I was pretty good at it once. So, that kept my interest. Then, working in bowling and getting to enjoy the incredible archives and resources at USBC and the OC, has helped me develop a passion and appreciation for the history of the sport.
While the game itself doesn't change much, the people and places change often, and there's always excitement. It's an honor to be one of the guys telling the stories and chronicling the history for the next generation.
More than anything, as I've said numerous times, I've met some incredible people along the way, and I look forward to each time I get to see them. Thanks to bowling, I can count on that happening.