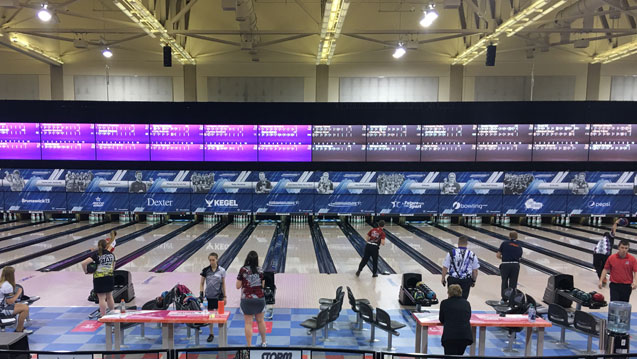 BATON ROUGE, La. – A total of 16 men and 16 women remain in contention after the opening day at the 2017 Intercollegiate Singles Championships (ISC).
Competition began Tuesday at the Raising Cane's River Center with 24 players in each division. All bowlers rolled six qualifying games to determine seeding for the single-elimination bracket, with the top eight qualifiers in each division receiving a bye for the first round of match play.
The first round of the bracket also was contested Tuesday, featuring three-game matches with total pinfall determining the winners.
Two additional rounds will take place Wednesday starting at 9:30 a.m. Eastern to determine the semifinalists in each division. They will return to the River Center on Saturday to bowl for the ISC titles, and each show will air on CBS Sports Network in May.
The women's show will broadcast May 2 at 8 p.m. Eastern, and the men's final will air May 9 at 8 p.m. Eastern.
Maryland Eastern Shore's Jacqueline Rhoda fired games of 245 and 270 to conclude her qualifying block to earn the top seed in the women's bracket, and she'll face Wichita State's Estefania Cobo in Wednesday's opening round.
Lindenwood's Bryan Dragotta put together a consistent block to pace the men's field with a 1,301 qualifying total. Dragotta will take on Wisconsin-Whitewater's Aaron Turner to start competition Wednesday.
The defending men's ISC champion, Daniel Hanson of Robert Morris-Illinois, also qualified for the event in 2017, but he was eliminated by Calumet's Nicco Vicari in the first round, 603-588.
Competitors earned their spots in the ISC field by qualifying through one of four sectional events held throughout the country in March.
BOWL.com's BowlTV will provide live coverage of the event leading up to the televised finals.
For more information on the Intercollegiate Singles Championships, visit BOWL.com/ISC.
About International Bowling Campus
The International Bowling Campus (IBC) is the headquarters for the bowling industry and directly serves the more than 69 million bowlers in the United States. The IBC houses the resources of the United States Bowling Congress, the governing body and membership organization for the sport; the Bowling Proprietors' Association of America, representing the business interests of bowling centers; IBC Youth Development; Strike Ten Entertainment, the marketing arm for the industry; the International Bowling Museum and Hall of Fame; the International Bowling Pro Shop and Instructors Association; the International Bowling Media Association; the Bowling News Network; the Billiard and Bowling Institute of America; and the International Training and Research Center.
2017 INTERCOLLEGIATE SINGLES CHAMPIONSHIPS
At Raising Cane's River Center, Baton Rouge, La.
Tuesday's results
QUALIFYING
Six games to determine seeding for match play
MEN
1, Bryan Dragotta, Lindenwood, 1,301
2, Nick Pate, Midland, 1,293
3, Joshua Taylor, Fresno State, 1,266
4, Michael Coffey, Lindenwood, 1,261
5, Nicholas Scelfo, College of New Jersey, 1,251
6, Ryan Stubblefield, Lindenwood, 1,206
7, Nick Kross, Robert Morris-Ill., 1,197
8, Drew Fakler, Wisconsin-Whitewater, 1,191
9, Nicco Vicari, Calumet, 1,187
10, Armando Godoy, McKendree, 1,179
11, Ryan Ashby, Notre Dame-Ohio, 1,159
12, Dustin Zehner, Purdue, 1,159
13, Brandon Biondo, Wichita State, 1,158
14, Andrew Kopec, Cayuga CC, 1,155
15, Casey Cohagan, Notre Dame-Ohio, 1,142
16, Joshua Schneider, Wisconsin-Whitewater, 1,141
17, Aaron Turner, Wisconsin-Whitewater, 1,130
18, Scott Hill, Lindenwood-Belleville, 1,121
19, Mitchell Zierer, Wisconsin-Madison, 1,114
20, Andrew Dekowski, William Patterson, 1,110
21, Jayson Robarge, Lindenwood, 1,101
22, William Mateffy, Minnesota State-Mankato, 1,091
23, Tyler Scott, Saginaw Valley State, 1,068
24, Daniel Hanson, Robert Morris-Ill., 1,007
MATCH PLAY
Single elimination; three-game matches decided by total pinfall
ROUND 1
Turner def. Schneider, 606-504
Vicari def. Hanson, 603-588
Dekowski def. Biondo, 585-578
Zehner def. Robarge, 660-642
Hill def. Cohagan, 617-616
Godoy def. Scott, 632-598
Kopec, def. Zierer, 677-508
Ashby def. Mateffy, 609-505
WOMEN
QUALIFYING
1, Jacqueline Rhoda, Maryland Eastern Shore, 1,305
2, Sydney Brummett, Wichita State, 1,276
3, Kelly Belzeski, Nebraska, 1,242
4, Maria Bulanova, Vanderbilt, 1,231
5, Taylor Bulthuis, Webber International, 1,210
6, Stephanie Schwartz, Stephen F. Austin, 1,204
7, Jessica Mellott, McKendree, 1,197
8, Alexis Neuer, Delaware State, 1,194
9, Hollyann Johansen, Wichita State, 1,177
10, Haley Cummings, Lindenwood, 1,176
11, Abby Ragsdale, St. Francis-Ill., 1,161
12, Rachel DeVillier, Florida State, 1,134
13, Breanna Clemmer, McKendree, 1,128
14, Jordan Newham, Vanderbilt, 1,118
15, Alyssa Balicki, Long Island, 1,113
16, Estefania Cobo, Wichita State, 1,112
17, Alexandra Mosquera, Nebraska, 1,109
18, Brooklyn Greene, Robert Morris-Ill., 1,106
19, Kelsey Hackbart, Duquesne, 1,087
20, Samantha Laird, Hastings, 1,072
21, Christalynn Bonifacio, Emmanuel, 1,047
22, Mattie Brandos, Robert Morris-Ill., 1,043
23, Hannah Munson, Grand View, 1,037
24, Elizabeth Malley, Lindenwood, 948
ROUND 1
Cobo def. Mosquera, 589-524
Malley def. Johansen, 631-552
Clemmer def. Laird, 605-479
DeVillier def. Bonifacio, 549-529
Balicki def. Greene, 560-546
Cummings def. Munson, 603-560
Newham def. Hackbart, 512-491
Ragsdale def. Brandos, 557-499