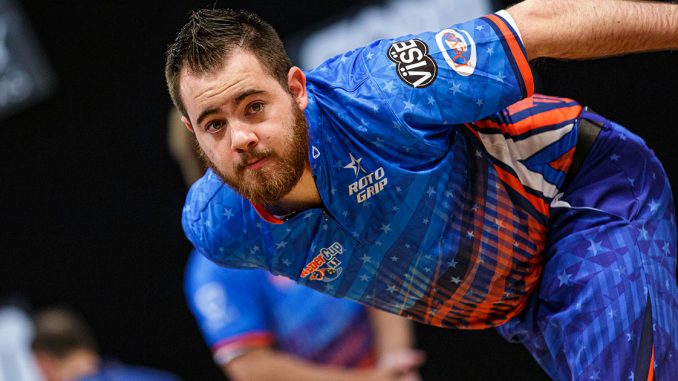 Reigning MVP Anthony Simonsen is captain Chris Barnes' latest selection to join Team USA when they defend their BetVictor Weber Cup title at Morningside Arena, Leicester this October 23-25, live on Sky Sports and DAZN.
Simonsen won five of his six singles matches in Las Vegas last year as USA defeated Europe 18-14 in the annual transatlantic tenpin tussle. The Texan will re-join the team this year as they look to make it three BetVictor Weber Cup titles in a row.
The 23-year-old will join Barnes, PBA Tour Points List qualifier Bill O'Neill and fellow wildcard selection Kyle Troup on the roster, with the fifth and final player to be announced soon.
"Having victories on both the right and left side of the lane, Simonsen has reset the bar as the most versatile player on tour," said Barnes. "His incredible tools combined with his fearlessness in clutch situations make him the most successful player over the past two Cups."
Team USA will take on a European team again led by Dominic Barrett, who will have Jesper Svensson, Stuart Williams and Osku Palermaa in his ranks. Europe's fifth player will be announced on Friday.
Tickets for the BetVictor Weber Cup are available now at www.webercup.com priced from just £15 per session, with under 18s half price. Great value day and season tickets are available and for the first time, the BetVictor Weber Cup is introducing a Premium Ticket. Priced at £50 for Friday and £70 all day for Saturday or Sunday, the Premium Ticket includes seating in the front two rows, food and unlimited beer, wine and soft drinks.
Follow the BetVictor Weber Cup on Facebook, Twitter and Instagram for all the latest on bowling's famous Europe vs. USA battle.