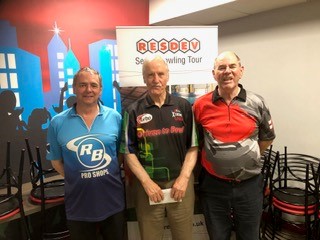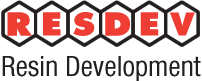 Sunday 28th July 2019
by Alan Turner
55 entries playing the traditional Senior format of a six game qualifying round with the top 16 going forward to a four game round two, with scores carried forward. In round two the top six then go into a round robin final.
Qualifying round :-
On a tough condition there were only 6 bowlers averaged over 200.
Qualifiers with bonuses included :-
1st   Ian Mcdonald           1313
2nd Paul Maddock          1309
3rd. Ron Oldfield.            1302
4th. Dave Rawding.         1295
5th. Keith Hodge.            1286
Round Two :-
The big mover in the first two games was the RAF veteran, Gary Fraser with 212 & 222 scratch.One of the other RAF "Vets", Paul (Porky) Maddock was the new leader at this point.
In game three Porky extended his lead to 46 pins with a 247 scratch game. At this point the first round leader dropped out of the top 6. A battle royale then started as the 3 fighting for the last place in the final were all playing on the same pair of lanes. Gary Fraser was in the prized 6th place after 3 games, having bowled 212 – 222 – 202 scratch and climbing from 14th place. Dave Rawding was 13 pins behind and Frosty Halliwell another 3 pins adrift. With everything to play for in game 4 Dave closed the gap with a double in frames 5 & 6. Frosty also gave chase. However Gary responded with a turkey to give him a 209 game and climb to 5th place.
The top 6 moving into the Round Robin Final were :-
1st      Paul Maddock.          2167
2nd.   Ron Oldfield.             2144
3rd.    Alan Keddie.              2117
4th.    Keith Hodge.             2112
5th.    Gary Frazer.              2106
6th.    Jan Hodge.               2095
Round Robin Final :-
With only 72 pins between the 6 finalists it really was there for any of them to take the title.
The leader, Porky maintained his form with 209 – 217 – 233 – 192
Ron Oldfield was the first to take over at the top of the leader board from Porky after 3 games with 207 – 235 – 225 but he  struggled with 156 in game 4 against Alan 183 to allow Keith who had played supremely well with 227- 206 -251 – 230 winning all 4 games to go top with only one game to go.
The question was could Keith hold on to the top spot as he played Alan. Ron played Porky.
These were the top 4 :-
Keith  3116
Paul. 3078
Ron.  3057
Alan. 3014.
Keith needed the win against Alan and the 30 pin win bonus to take the title. Porky needed the same against Ron and also for Alan to beat Keith.
However both Alan & Ron had different ideas as Alan's 230 against Keith's 191 lifted him into 3rd place. Keith finished as runner up to Ron who scored a magnificent 255 with 7 in a row against Porky's 192 to take the title.
This was Ron's 100th Senior tournament win.
Results
Final
| | | | | | | | | | | | | | | | | |
| --- | --- | --- | --- | --- | --- | --- | --- | --- | --- | --- | --- | --- | --- | --- | --- | --- |
| Name  | Bns | 1 | bns | 2 | bns | 3 | bns | 4 | bns | 5 | bns | ttl | bns | ttl | B/F | Gttl |
| RON OLDFIELD | 10 | 207 | 30 | 235 | 30 | 225 | 30 | 156 | 0 | 255 | 30 | 1078 | 120 | 1198 | 2144 | 3342 |
| KEITH HODGE | 15 | 227 | 30 | 206 | 0 | 251 | 30 | 230 | 30 | 191 | 0 | 1105 | 90 | 1195 | 2112 | 3307 |
| ALAN KEDDIE | 5 | 208 | 0 | 221 | 30 | 225 | 0 | 183 | 30 | 230 | 30 | 1067 | 90 | 1157 | 2117 | 3274 |
| PAUL MADDOCK | 10 | 209 | 30 | 217 | 30 | 233 | 0 | 192 | 0 | 193 | 0 | 1044 | 60 | 1104 | 2167 | 3271 |
| JAN HODGE | 25 | 196 | 0 | 165 | 0 | 182 | 0 | 193 | 30 | 223 | 30 | 959 | 60 | 1019 | 2095 | 3114 |
| GARY FRASER | 10 | 197 | 0 | 200 | 0 | 239 | 30 | 146 | 0 | 172 | 0 | 954 | 30 | 984 | 2106 | 3090 |
Round 2
| | | | | | | | | | | | |
| --- | --- | --- | --- | --- | --- | --- | --- | --- | --- | --- | --- |
| | NAME | BONUS | 1 | 2 | 3 | 4 | SCR TOTAL | BONUS X 4 | TOTAL | B/F | TOTAL |
| 1 | PAUL MADDOCK | 10 | 211 | 181 | 247 | 179 | 818 | 40 | 858 | 1309 | 2167 |
| 2 | RON OLDFIELD | 10 | 187 | 199 | 214 | 202 | 802 | 40 | 842 | 1302 | 2144 |
| 3 | ALAN KEDDIE | 5 | 192 | 208 | 216 | 215 | 831 | 20 | 851 | 1266 | 2117 |
| 4 | KEITH HODGE | 15 | 192 | 195 | 181 | 198 | 766 | 60 | 826 | 1286 | 2112 |
| 5 | GARY FRASER | 10 | 212 | 222 | 202 | 206 | 842 | 40 | 882 | 1224 | 2106 |
| 6 | JAN HODGE | 25 | 207 | 180 | 155 | 170 | 712 | 100 | 812 | 1283 | 2095 |
| | | | | | | | | | | | |
| 7 | IAN MCDONALD | 20 | 167 | 192 | 153 | 173 | 685 | 80 | 765 | 1313 | 2078 |
| 8 | DAVE RAWDING | 10 | 193 | 184 | 175 | 184 | 736 | 40 | 776 | 1295 | 2071 |
| 9 | MIKE HALLIWELL | 10 | 157 | 212 | 213 | 183 | 765 | 40 | 805 | 1262 | 2067 |
| 10 | PAULINE MCDONALD | 30 | 178 | 130 | 182 | 184 | 674 | 120 | 794 | 1237 | 2031 |
| 11 | STEVE COATES | 10 | 224 | 156 | 174 | 195 | 749 | 40 | 789 | 1234 | 2023 |
| 12 | IAN KENNEDY | 15 | 203 | 151 | 183 | 182 | 719 | 60 | 779 | 1228 | 2007 |
| 13 | JOHN STRETTLE | 15 | 184 | 223 | 156 | 166 | 729 | 60 | 789 | 1217 | 2006 |
| 14 | AL JENKINS | 10 | 159 | 207 | 184 | 191 | 741 | 40 | 781 | 1214 | 1995 |
| 15 | STEVE SKILLICORN | 15 | 156 | 145 | 200 | 135 | 636 | 60 | 696 | 1233 | 1929 |
| 16 | NEV ROBINSON | 10 | 153 | 164 | 148 | 173 | 638 | 40 | 678 | 1243 | 1921 |
Qualifying
| | | | | | | | | | | | |
| --- | --- | --- | --- | --- | --- | --- | --- | --- | --- | --- | --- |
| | NAME | BONUS | 1 | 2 | 3 | 4 | 5 | 6 | SCR TOTAL | BONUS X 6 | TOTAL |
| 1 | IAN MCDONALD | 20 | 192 | 190 | 204 | 228 | 223 | 156 | 1193 | 120 | 1313 |
| 2 | PAUL MADDOCK | 10 | 206 | 247 | 133 | 237 | 237 | 189 | 1249 | 60 | 1309 |
| 3 | RON OLDFIELD | 10 | 195 | 182 | 197 | 258 | 218 | 192 | 1242 | 60 | 1302 |
| 4 | DAVE RAWDING | 10 | 191 | 257 | 218 | 205 | 206 | 158 | 1235 | 60 | 1295 |
| 5 | KEITH HODGE | 15 | 152 | 190 | 222 | 225 | 201 | 206 | 1196 | 90 | 1286 |
| 6 | JAN HODGE | 25 | 170 | 194 | 161 | 178 | 204 | 226 | 1133 | 150 | 1283 |
| 7 | ALAN KEDDIE | 5 | 188 | 203 | 240 | 205 | 174 | 226 | 1236 | 30 | 1266 |
| 8 | MIKE HALLIWELL | 10 | 171 | 185 | 201 | 201 | 224 | 220 | 1202 | 60 | 1262 |
| 9 | NEV ROBINSON | 10 | 186 | 151 | 167 | 218 | 244 | 217 | 1183 | 60 | 1243 |
| 10 | PAULINE MCDONALD | 30 | 207 | 139 | 200 | 180 | 176 | 155 | 1057 | 180 | 1237 |
| 11 | STEVE COATES | 10 | 189 | 253 | 170 | 166 | 212 | 184 | 1174 | 60 | 1234 |
| 12 | STEVE SKILLICORN | 15 | 190 | 166 | 212 | 188 | 197 | 190 | 1143 | 90 | 1233 |
| 13 | IAN KENNEDY | 15 | 188 | 177 | 214 | 199 | 193 | 167 | 1138 | 90 | 1228 |
| 14 | GARY FRASER | 10 | 212 | 205 | 168 | 205 | 187 | 187 | 1164 | 60 | 1224 |
| 15 | JOHN STRETTLE | 15 | 203 | 189 | 183 | 186 | 194 | 172 | 1127 | 90 | 1217 |
| 16 | AL JENKINS | 10 | 181 | 257 | 179 | 194 | 195 | 148 | 1154 | 60 | 1214 |
| | | | | | | | | | | | |
| 17 | KEVIN LAMB | 10 | 191 | 161 | 212 | 172 | 214 | 202 | 1152 | 60 | 1212 |
| 18 | FRANK LINDSAY | 10 | 176 | 251 | 164 | 197 | 192 | 168 | 1148 | 60 | 1208 |
| 19 | GARY BARLOW | 5 | 193 | 210 | 203 | 197 | 202 | 170 | 1175 | 30 | 1205 |
| 20 | MICK INCE | 15 | 189 | 150 | 153 | 200 | 209 | 214 | 1115 | 90 | 1205 |
| 21 | MARK FULLBROOK | 10 | 225 | 143 | 194 | 205 | 182 | 191 | 1140 | 60 | 1200 |
| 22 | ANDY GILLESPIE | 5 | 193 | 213 | 223 | 191 | 188 | 160 | 1168 | 30 | 1198 |
| 23 | ANDY CLOUGH | 10 | 203 | 149 | 199 | 200 | 194 | 189 | 1134 | 60 | 1194 |
| 24 | HELEN CATON | 20 | 159 | 190 | 204 | 157 | 183 | 178 | 1071 | 120 | 1191 |
| 25 | GEOFF BROWN | 5 | 199 | 193 | 188 | 190 | 194 | 196 | 1160 | 30 | 1190 |
| 26 | DOUG SINCLAIR | 20 | 178 | 157 | 159 | 135 | 207 | 233 | 1069 | 120 | 1189 |
| 27 | JEFF TAYLOR | 5 | 194 | 210 | 167 | 187 | 171 | 225 | 1154 | 30 | 1184 |
| 28 | ANDY SINCLAIR | 10 | 203 | 181 | 176 | 212 | 137 | 211 | 1120 | 60 | 1180 |
| 29 | DAVE NORTH | 10 | 181 | 253 | 162 | 179 | 170 | 168 | 1113 | 60 | 1173 |
| 30 | GARY CHRISTOPHER | 0 | 200 | 240 | 190 | 216 | 192 | 130 | 1168 | 0 | 1168 |
| 31 | LES TAYLOR | 20 | 180 | 155 | 197 | 167 | 173 | 172 | 1044 | 120 | 1164 |
| 32 | SIMION HOGG | 10 | 212 | 198 | 199 | 171 | 146 | 171 | 1097 | 60 | 1157 |
| 33 | CARL TAYLOR | 5 | 215 | 159 | 152 | 204 | 184 | 210 | 1124 | 30 | 1154 |
| 34 | AL TURNER | 15 | 171 | 160 | 182 | 168 | 204 | 178 | 1063 | 90 | 1153 |
| 35 | TREVOR GREEN | 10 | 168 | 169 | 180 | 164 | 213 | 195 | 1089 | 60 | 1149 |
| 36 | DAVE BIRDSALL | 15 | 173 | 142 | 201 | 179 | 163 | 199 | 1057 | 90 | 1147 |
| 37 | MO SINGLETON | 15 | 169 | 203 | 157 | 185 | 180 | 152 | 1046 | 90 | 1136 |
| 38 | SIMON HAIGH | 0 | 208 | 200 | 236 | 175 | 149 | 160 | 1128 | 0 | 1128 |
| 39 | LOUISE GILLESPIE | 20 | 176 | 174 | 169 | 152 | 191 | 143 | 1005 | 120 | 1125 |
| 40 | STEVE LAYCOCK | 10 | 163 | 169 | 174 | 184 | 165 | 207 | 1062 | 60 | 1122 |
| 41 | ANDY YEOMANS | 10 | 195 | 181 | 178 | 163 | 160 | 172 | 1049 | 60 | 1109 |
| 42 | JOHN LAWLESS | 10 | 219 | 161 | 156 | 137 | 170 | 206 | 1049 | 60 | 1109 |
| 43 | PAUL NEWTON | 20 | 168 | 171 | 120 | 147 | 182 | 201 | 989 | 120 | 1109 |
| 44 | RUTH RATHBONE | 20 | 169 | 165 | 137 | 181 | 179 | 156 | 987 | 120 | 1107 |
| 45 | PHILLIPE IVES | 15 | 190 | 155 | 148 | 179 | 179 | 162 | 1013 | 90 | 1103 |
| 46 | BARRY WALKER | 5 | 190 | 168 | 186 | 156 | 168 | 203 | 1071 | 30 | 1101 |
| 47 | KEITH BOWEN | 5 | 182 | 208 | 220 | 166 | 135 | 157 | 1068 | 30 | 1098 |
| 48 | IAN BUCKLAND | 10 | 190 | 147 | 193 | 179 | 169 | 155 | 1033 | 60 | 1093 |
| 49 | TREVOR LAMPRELL | 10 | 156 | 202 | 174 | 157 | 169 | 166 | 1024 | 60 | 1084 |
| 50 | MARTIN GREEN | 10 | 148 | 156 | 176 | 159 | 189 | 194 | 1022 | 60 | 1082 |
| 51 | MARK S SMITH | 5 | 141 | 167 | 205 | 148 | 182 | 203 | 1046 | 30 | 1076 |
| 52 | CAROLE ORANGE | 20 | 118 | 157 | 146 | 172 | 180 | 135 | 908 | 120 | 1028 |
| 53 | MIKE TAYLOR | 10 | 178 | 172 | 148 | 146 | 144 | 179 | 967 | 60 | 1027 |
| 54 | LES GRANT | 15 | 131 | 129 | 190 | 137 | 147 | 187 | 921 | 90 | 1011 |
| 55 | DAVE BROOMFIELD | 5 | 180 | 165 | 131 | 155 | 197 | 147 | 975 | 30 | 1005 |
| 56 | MALCOLM MYATT | 10 | 155 | 131 | 178 | 111 | 158 | 131 | 864 | 60 | 924 |