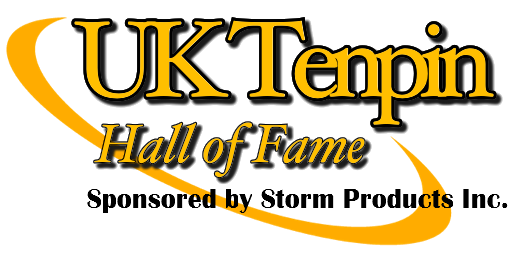 Geoff Buck and Judy Howlett are to be inducted into the UK Tenpin Hall of Fame, which is kindly sponsored by Storm Products, Inc., through their UK distributors, Bowltech UK.

 Bowling Vision's David Trend, will be inducted in the Distinguished Services division, sponsored by the TBPA.
Nominations were made by each of the ten members of the UK Tenpin Hall of Fame committee and a list was drawn up. The Committee then had access to the UK Tenpin Hall of Fame Database to research details on each player and a ballot was held to find the final Male, Female and industry names to be inducted in 2019.
The players selected were chosen for their achievements in World, European and Domestic tournaments and for additional honors like World Bowler of the Year and induction into the World Bowling Writers Hall of Fame.
As well as the players being celebrated and honored an industry award for distinguished service was again selected. Since the sport arrived on our shores special individuals all over the United Kingdom have dedicated their time to improving the game and working tirelessly to make the sport better for everyone. From BTBA, YBC officials to tournament organizers these people are the backbone of our sport and make it possible for bowlers to reach for the stars.
So here is a brief run down of the 2019 inductees
Geoff Buck has his first database winning entry in 1974 and kept winning right through to 2006 for over 30 years as a champion. Twice winner of the British Matchplay and three times in Paris, Geoff won medals of all colours for Great Britain and England including Gold in the European Team Cup and wins on the Asian Bowling tour. Irish Open, Scottish Open, UK Open, PTBC wins, NST wins and many more. Joins wife Pauline and brother Chris in the UK Tenpin Hall of Fame for three people from the same family inducted.
Judy Howlett became the first English women to win the British Open in 1983 going on to win it again in 1985. Winning Gold, Silver and Bronze medals in the European championships and Bronze in the World Championships Judy almost won the biggest event on the planet placing 2nd in the 1985 AMF Bowling World Cup. Wins on the PTBC and 13 wins on the NST tour in a productive bowling career.
David Trend – Part of the UK's bowling history since 1978, Over 40 years Dave has been responsible for many industry seminars and trade shows which helped raise the level of knowledge in Pro Shops, and for Technicians in machine and lane maintenance.
AMF Employee from 1978 -2001. Dave originally worked at the Bowl in Hemel Hempstead and drilled house balls for the AMF/Humber chain. Over the 23 years of his tenure Dave introduced many new items to the bowling world. Brunswick Employee from 2001 – 2007 In 2001 Dave joined Brunswick with responsibility for Europe, Middle east & Africa. Bowling Vision 2007 to present Along with Graham Waller, Dave formed Bowling Vision, the Brunswick Distributor for UK & Ireland. Bowling Vision also introduced a line of Pinspotter Parts.
Presentations dates will be announced soon.
---
About the UK Tenpin Hall of Fame
A UK Tenpin Hall of Fame has been long overdue for many years. We have had many amazing bowlers who have won just about everything from World Cups and World Championships to PBA and European titles. But there was never a place to honour these exceptional bowlers until now. At long last some of the most influential people in UK bowling have been brought together to form the UK Tenpin Hall of Fame.
They include; International bowling writer and former World of Tenpin owner Keith Hale chaired the committee, Secretary of the Tenpin bowling Proprietors Association John Ashbridge, BTBA's Jo Cundy, Bowltech UK's Nick Keppe, Bowling Vision's Graham Waller, QubicaAMF UK's Darren Lewis, TV Commentator Cass Edwards, PTBC's Andy James, Former NST creator David Grainger, Former British Open organizer and AMF Humber's Jock Caie and Talktenpin's Dominic Gall.