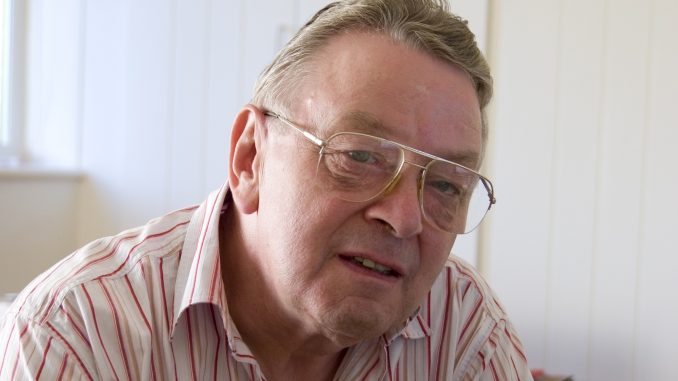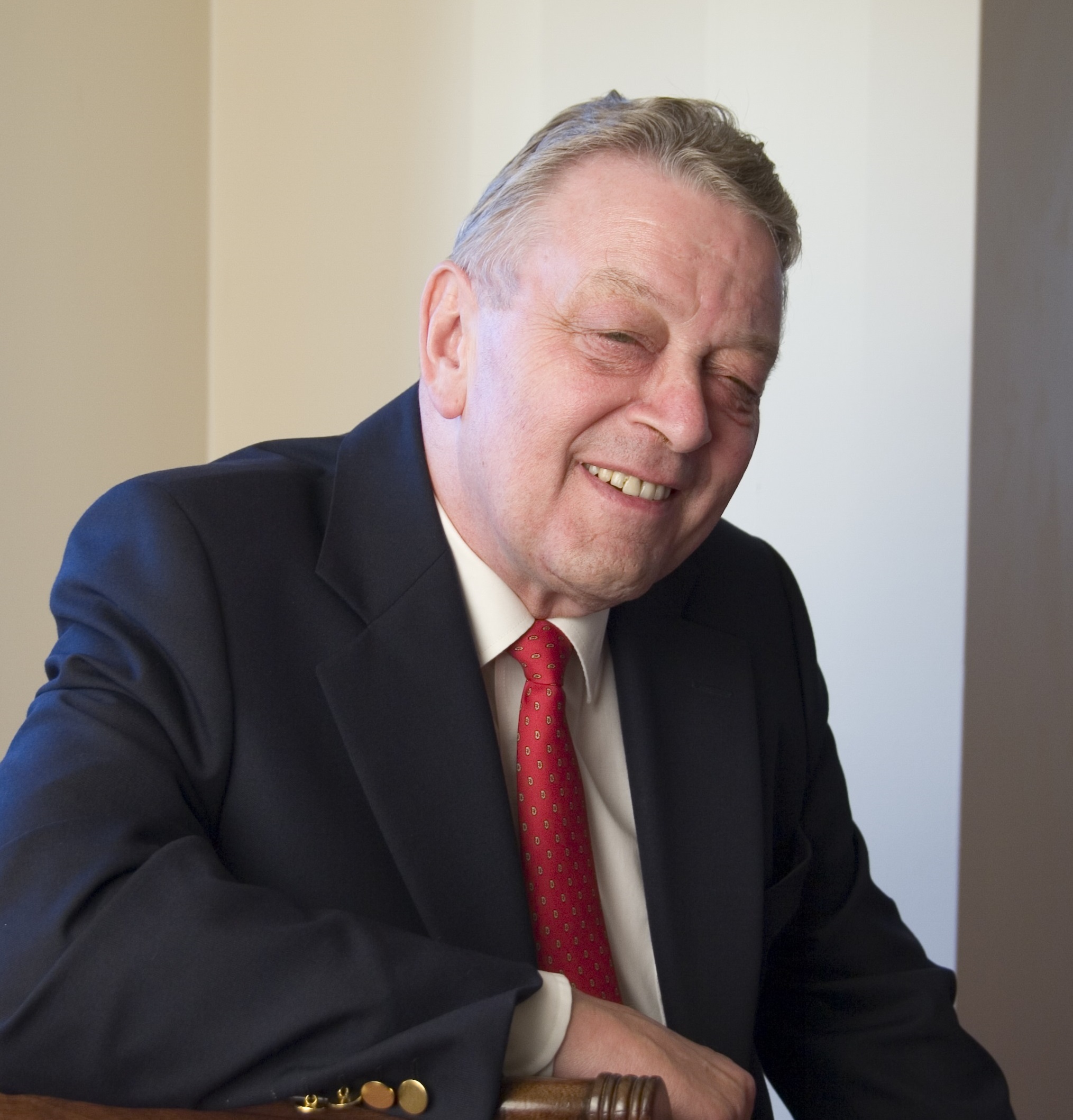 We love old bowling stories, we like to know what happened in the past. When someone contacts us and says " I have a story of my time in bowling." We are interested.
That is exactly what happened with our next feature. John V Watson worked in a lot of UK bowls in the early days, what's more is he has a great memory and has put it all down in writing for us all to enjoy. Over to you John….
John V Watson:
My Career in Tenpin Bowling: 1963 to 1968.
© 2018, John V. Watson
Note that the vast majority of the details recorded here are based on my own memory.  I still have an excellent memory, but it is not perfect.  Therefore, the odd error of a date, a year, or a name may have crept in . . .

1963: Chatham Bowl:
I joined the Top Rank Bowl, Chatham, Kent in February 1963 as a Control Clerk, appointed by the General Manager, John Teasdale.  The Bowl itself was housed in the former Odeon Cinema which was built in (I think) 1937; it was converted into a bowling centre in 1961.  I was 21 years of age, heading for my 22nd birthday that coming May.
I had just finished a four-year term with the Royal Air Force, the last two-and-a-half years of which were served in Singapore, at the RAF Tengah jet fighter base.  Following my demobilisation from the service on the 16th January 1963, I returned to live at my parent's home in Chatham, on Maidstone Road.
Initially, I regarded my new job as Control Clerk at Chatham Bowl merely as a temporary measure, a "stop-gap"; I had always wanted to go into the film industry and was still looking for opportunities to do just that.  However, I soon fell into the "spirit" of the tenpin bowling scene; I liked the social atmosphere of the Bowl, and I certainly did not mind working unsocial hours at all – usually on evenings and at weekends.
Mike Thilthorpe was the Assistant Manager at Chatham Bowl; a very pleasant young man not that much older than me, and he had a very pretty girl friend, whose name (unfortunately) I cannot recall.  I soon addressed him by his first name, "Mike", but with John Teasdale (then in his early 30s), he was always addressed by the staff, including me, as "Mr. Teasdale".  Those were the days of course where respect for ones superiors ruled, unlike the familiarity within workplace relationships that pertain so much today, in these more 'liberal' times!
I can also recall the names of two leading tenpin bowlers at Chatham, a lady called Lylie (I think she was also an instructor) and another called Liz Bean.
I first met the Brunswick Bowling Instructor, Claire Williams, at Chatham Bowl.
League Bowling was very strong at Chatham Bowl; as always, this sport was ardently encouraged and promoted by the General Manager, John Teasdale.  He also had a strong association with the Gillingham Football Club, and many of the team members were regulars at the Bowl.
Open bowlers were charged 3 shillings and 6 pence per game, whereas league bowlers were charged 3 shillings per game.  Remember that in those pre-decimalisation days there were 20 shillings to the £1, and 12 pence to the shilling.
Within a few weeks of my becoming a Control Clerk, Mr. John Teasdale, the General Manager of Chatham Bowl, recommended me to go forward on to Rank's Tenpin Bowling Management Course which was held at the Top Rank Bowl, Streatham.
For reasons I no longer remember, the management course was postponed, and more than once.
In June of 1963, the 'Carry On' film star, Hattie Jacques, made an official visit to Chatham Bowl.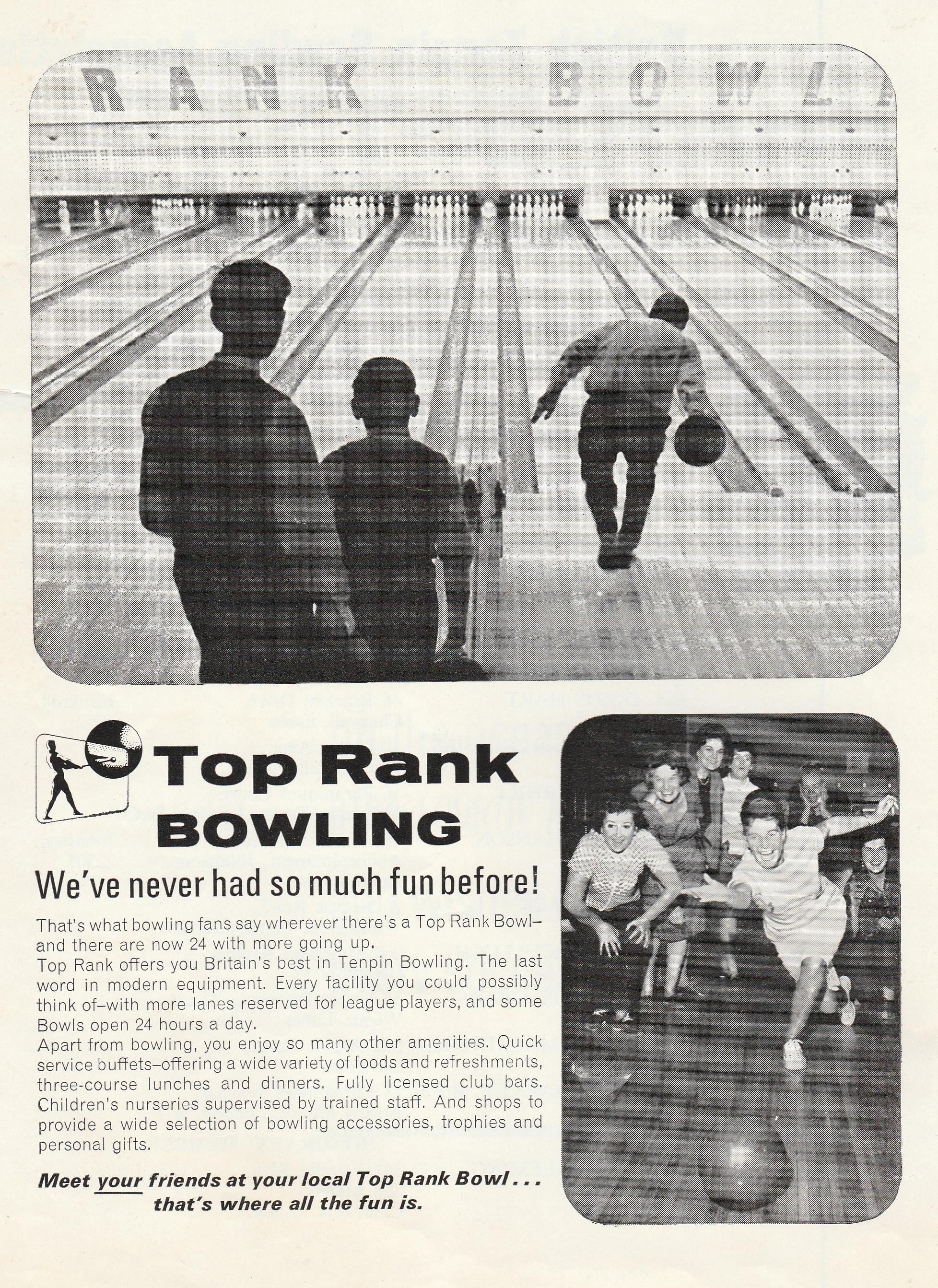 1963 – J. Heinz:
Frustrated at my continued waiting to go on to this management course (apparently it was postponed several times), I decided to find another job.  Thus, in the early autumn of 1963, I left Rank to join H. J. Heinz and Co. at their Harlesden (North London) Head Office, as a Sales Office Assistant for North London Branch.  I had wanted to become a salesman for Heinz, but I literally fell short of their minimum height requirement of 5 feet 10 inches tall!  Thus, an administrative role was the only opportunity open to me at Heinz.
J. Heinz was a wonderful company to work for; although somewhat paternalistic in their approach to their employees, they did look after you in so many ways; for example, they gave you a very good Christmas present, and, wanting to encourage your career with them, the company sent you on various courses. But I was somewhat bored by my position in an office with no apparent immediate prospects for me, and, in particular, it lacked all of the social contact that the leisure businesses, including tenpin bowling, certainly had.
One evening in November, the entire compliment of Heinz's North London Branch had some sort of celebratory dinner party at a restaurant in Soho.  What makes this company event historically important is that we all found out later that evening  the shocking news that President John F. Kennedy had just been assassinated – on 22nd November 1963!
1964: Streatham Bowl:
In the spring of 1964, my former boss, the General Manager of Chatham Bowl (John Teasdale) contacted me to say that he had been appointed as the General Manager of the Bowl in Bournemouth soon to be opened in May, and offered me the post as his Assistant Manager at the centre.  I accepted without question and joined the Management Training Course at the Streatham Bowl in March 1964.
The General Manager of Streatham Bowl was Clive Sainsbury, and the most popular record on the juke box at the Bowl was the Doris Day hit song, Move over Darling.
Bournemouth Bowl:
On 15 May, 1964, Bournemouth Bowl, on Glen Fern Road, was opened by Lord Louis Mountbatten.  Teddy Tinling, the Tennis and Tenpin Bowling sports clothes designer, was one of the luminaries present.
Mike Thilthorpe had been transferred from Chatham as the House Manager at Bournemouth Bowl.
Most (if not all) of the executives from Rank's Tenpin Bowling Division were present, including Ken Andrews, recently promoted as Terence Wright's assistant from being the General Manager of Kingswood (Bristol) Bowl.
The Bowl opened 24 hours each day, and, as the Assistant Manager, I was often assigned to manage the centre on the all-night shift!  Not that good for my new romantic adventures!
Before the new Bowl was opened, for the first few weeks in April-May, all three of us (John Teasdale, Mike Thilthorpe and I) were based at the Odeon Cinema in Westover Road, Bournemouth.  There we interviewed the many several applicants seeking employment at the new Bowl.
Some time after the opening of the Bowl, The Beatles debut movie, A Hard Day's Night, hit the local Odeon Cinema to huge crowds!  Peyton Place was all the rage on television not that I saw many episodes of it, or even wanted to, as I was working hard at the new Bowl, mostly evenings, if not, over night.
Kingswood, Bristol Bowl:
In July of 1964, I was posted to the Kingswood, Bristol Bowl as the Assistant Manager.  I did not get on with the General Manager there; he was a Welshman living in South Wales called Tim (his surname I forget!).  I did not last there that long as a result of my untenable relationship with him – just a matter of weeks.
However, in the meantime, I acquired (if that is the correct term?) a very nice girl friend who worked at the SWEB electricity board office which was situated just over the road from the Bowl in Kingswood; she lived in Downend, and we used to visit the Berni Inn in Bristol; if my memory serves me correctly, a 3-course dinner cost 15 shillings in 1964 – 75 pence in the decimal currency!  Not at all bad value as my salary then as an Assistant Manager with Top Rank was £20 per week, plus an additional £1 I was paid as an entertainment allowance.
Southampton Bowl:
In the autumn of 1964, I was transferred to Southampton Bowl, the General Manager of which was Jack Huggins, whom I remember as not only a particularly nice man, but one who was very understanding, offering me sound advice.  I also found out from the Catering Manager of that Bowl (I cannot remember his name) that the film star Rock Hudson was actually gay – shock, horror, at this news!
Birmingham (Pershore Street) Bowl:
In late 1964, I was transferred to the Top Rank Bowl, Pershore Street in Birmingham.  I got along very well with the General Manager, Joe Caldicott; he was an ex-Regimental Sergeant Major with one of the Guards Regiments – and, working for him, you never forget that!
Above the Bowl in Pershore Street was a large Ice Rink, called Silver Blades.  One of the resident DJs there was Jimmy Saville!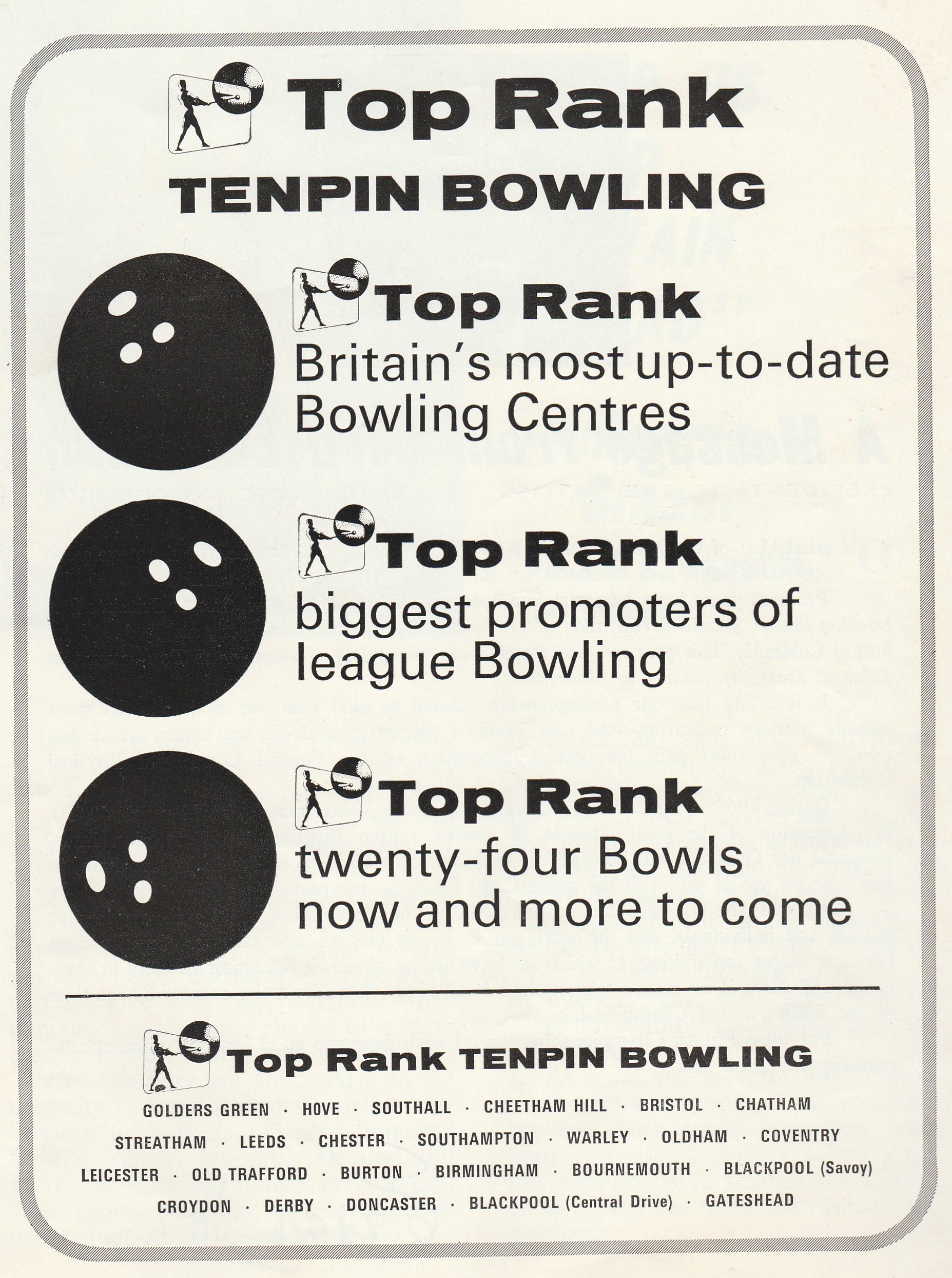 1965:
I was at the Pershore Street Bowl when the State Funeral of Sir Winston Churchill was held on 30 January 1965.
Warley, Birmingham Bowl:
In around March, 1965, I was transferred to Top Rank's Warley Bowl, north west of Birmingham, as Assistant Manager, where they needed one quickly.
Here I met my good friend, Arthur Davison who was the General Manager at Warley; originally from Consett, he had started his career in 1946 with ABC Cinemas.  Why he joined Rank's Tenpin Bowling Division, I cannot now remember, but his attitude was that he sort-of "put up" with tenpin bowling as he really was still a cinema man at heart.  Indeed, he soon returned to cinema management in late 1966, becoming the Manager of the brand-new Superama Cinema in Derby which was operated by the Compton Cinema Group, London.  We remained good friends until he died in the early 1990s.
Jack Barlow had also joined Compton by the end of 1966 as the company's Cinema Circuit Controller.  I first met him (see "Derby" entry below) in late 1965, when he was Rank's Tenpin Bowling Division Circuit Controller.
Doncaster Bowl:
A few months later, I was transferred to the Top Rank Bowl in Silver Street, Doncaster, if I remember correctly, for an extended relief management period.  But I was certainly in Doncaster for the famous St Leger Stakes flat horse race which is always held in September.
Derby Bowl:
Not that long after, in later 1965, I was transferred to the Top Rank Bowl in Colyear Street, Derby, as its Assistant Manager.  George Rogers was the General Manager, and his wife, Iris, was the Bowl Office Secretary.
I got along very well with George Rogers, and, to such an extent, that he invited me to stay at his family home somewhere in London for Christmas (or was it for New Year?) that year, with his two brothers and his mother.
Whilst at Derby Bowl, one event I remember being involved with was a presentation I gave (assisted, I think, by the Bowl's Senior Control Clerk, or maybe it was the Bowl's Instructor) to a local Women's Group about the "joys" of Tenpin Bowling at a function the ladies held at the then-new Rank Pennine Hotel, which was located in the same very large building complex as the Bowl.
The digs I had in Derby was a room in a local pub, the landlady of which was, shall we say, somewhat lusty!
Whilst I was at Derby Bowl, in the autumn of 1965, the entire Top Rank Leisure Division was taken over by the Top Rank Suites Division, which managed a number of Top Rank Suites throughout the country.  Top Rank Suites offered public dancing four nights a week (presenting a mixture of disc jockeys and an orchestra), with the other three days and nights available for private functions, including dinner dances (for anywhere up to 600 people), weddings and various other functions.  The Managing Director of the merged divisions was Jim Whittle (an Australian).  The Circuit Controller was Jack Barlow.
The takeover by Top Rank Suites soon saw several changes, many fundamental, to the way Tenpin Bowling was promoted to the public, and with much emphasis now being placed on attracting the late-teenager and the early twenties age brackets.
1966-1967:
Chatham Bowl:
Towards the end of 1965, Rank wanted to transfer me to the Top Rank Bowl in Stoke-on-Trent as Assistant Manager, but, for reasons I now cannot recall (either I did not want to go, for whatever reason, or Rank had changed its mind where to send me, I do not remember), I was transferred to Chatham Bowl instead.  This was initially an odd experience as I had started here at Chatham as a Control Clerk, and some of my former work-mates were still employed there, and now I was their Assistant Manager!
The General Manager was Pat H. C. Heather; formerly the General Manager of Top Rank Stoke-on-Trent Bowl, he was transferred to Chatham as a "last chance" imposed on him by Rank.  He had run off with a married employee at Stoke (or maybe she was a customer there?), and she had two children!   He employed her as the Office Secretary at Chatham Bowl, which, if I remember correctly, Rank did not take to kindly too!  His days were obviously numbered, and the inevitable happened; Pat Heather was fired by Rank in either March or April of 1966.   Rank put me temporary in charge of the Bowl on a three-month trial basis, with a small increase in salary; an extra £2 a week, if I recall correctly.
When I was first promoted to Acting General Manager of the Bowl, there was now no Assistant Manager.  Thus, head office sent me either temporary relief managers or trainee managers to help me run the Bowl, and, of course, to give me my days off.
I particularly remember one of the trainees sent – his name was John Jablonski, and the reason why I remember him that he was studying for membership of The Institute of Public Relations, and his keenness was so acute that it inspired me to join that institute!
After a couple of months in my temporary appointment role, and with my usual impatience, I wrote to my overall boss, Jack Barlow, the Tenpin Bowling Circuit Manager, and asked him if he would appoint me as the permanent General Manager at Chatham; he did and I also received an increase in my salary to £25:00 per week – not at all a bad wage for a young man who had just turned 25!  In comparison, I was paying most of my staff £10 to £12 per week, I think I recall correctly.
As some of my staff were still at the Bowl when I started as a Control Clerk three-and-a-half years before, there were a few initial problems caused my new (to them) managerial status, but these were soon overcome without much difficulty.
Under previous recent General Managers, the League Bowlers at Chatham had become increasingly disgruntled at their general lack of interest in league bowling.  But not so with me; I was very keen to keep the sport 'alive-and-kicking'!  My approach was certainly appreciated, and to such an extent that Alf Tuffrey, a keen league bowler, who (I think) wrote a regular column about bowling in the local press, gave me a glowing review about my attitude and assistance toward league bowling in the 'Kent Messenger' published during February 1967.
There was one aspect – a relatively minor one – falling within my position as the Bowl's General Manager, and that was measuring bowlers for their own personal bowling ball.  I hated doing it, and I made every excuse to avoid this – to me – unbearable task!
The Fire Brigade Station was close by to the Bowl, and I was asked by the Station Officer if they could use our (small) car park on various occasions, and I agreed.  The Station Officer was called Ian (for the life of me, I cannot recall his surname!), and we soon became very good friends.  For quite a while, I shared accommodation with him in the house he was given to live in by the brigade. He was an absolute car "nut", and it would be not unusual to find yet another car engine stripped down in the sitting room!
With the general flagging fortunes of Tenpin Bowling brought about by declining attendances from the general public, Rank were imposing economy drives wherever they could.  One of these was the creation of local Bowl Supervisors to replace Bowl Assistant Managers.  An Assistant Manager was paid £20 per week, whereas a Bowl Supervisor was paid just £16 per week; each position though was obviously and effectively the same.  The only difference was: Assistant Managers could be transferred from one site to another, whereas Local Bowl Supervisors could not as implied by their job title.  With the direction of the Regional Manager, John Jarvis, we employed Lloyd Cook as our Bowl Supervisor in (I think) the summer of 1966.  In his early 40s, Lloyd was a very pleasant and courteous man, and he proved to be a very efficient and reliable assistant to me.  He still lived with his mother and drove a 3-wheel car; it was either a Robin Regal or Reliant Regent, I think.  A humorous note: each week, Lloyd and I would draw up our management work schedule for the following week; Lloyd often complained that, out of all the hours I put myself down for, I didn't actually work some of them – he was quite right!
Another economy saving measure was the merger of the once separate department positions of Catering Manager and Bar Manager.  Catering at any Bowl consisted of the Buffet; at Chatham, it was on the ground floor at the left hand side inside the Bowl entrance, and it offered the usual range of fried meals, snacks and various beverages.  The Bar was situated on the upper floor at the front of the building.  It was actually a Club Bar, and, in order to comply with the then current legislation, it had to have a committee of which some its members had to be drawn from local people; our Club Chairman was a Morris (his surname I forget), an affable man with sharp features and brushed down shining hair.  He was in the Club during most of its opening hours, especially during the evenings.  The Club had a good fruit machine, with generous jackpots, the recipient of which had to sign for.
I passed my own driving test in the summer of 1966 (or was it the early autumn that year?), first time.  I was lucky though; I had a friend who was a driving instructor locally; he often let me drive his top-down sports car with the "L" plates around Chatham and its environs at no extra charged.  The first car I bought was a second-hand Hillman Imp from a garage in Chichester, Sussex, where my parents were then living.  I still remember its registration number: LPX 25D, registered 1962.  It had a transverse engine at the rear of the car, and the engine's Bakelite covering often gave trouble; cracks shorted out the electrics!
The Assistant Divisional Officer at the Station was a Mr. Davis, and his wife worked at the Bowl part time in the evening as the Club Bar Secretary; I recall she was a very pleasant, courteous lady.
The Bowl's Chief Engineer was a young man called Michael Perry.  I was best man at his marriage to a Control Clerk at Chatham Bowl (regrettably, I cannot recall her name).  I remember I arrived at the small wedding ceremony held in a small cafe near the Bowl a little late and somewhat under "the influence"!
John Jarvis was the Southern Region Manager, of which of course Chatham Bowl was part of.  Mr. Jarvis did not visit us that often; as Chatham Bowl's General Manager, I did not present him with any problems, and therefore there was no need for him make to regular visits to the Chatham, as I was seen to be running the Bowl properly and efficiently.
On several of my evenings off, and also after the Bowl had closed at around 11 to midnight, I would visit the G. I. Club situated on New Road, opposite Victoria Gardens, near the centre of Chatham.  I usually drunk Rum-and-Coke (with a piece of lemon and some ice) there, chatting to various people.  Although the club was run by Sid and Wally (right 'Sarff' London characters, they were), I feel pretty certain that the notorious Krays were the ultimate owners; indeed it was not uncommon to see 'car dealers' and other dodgy characters from 'The Smoke' (i.e. London) visiting the Club.  Great fun though, if one kept one's nose clean, of course.
Under the new regime imposed by the Leisure Division take over of Bowling, we started 'Teen and Twenty' nights on Monday and Wednesday evenings.  This promotion was designed by Gary Brown, the former Leisure Division Director and now the Operations Director of the joint businesses, in order to counter the flagging interest in Bowling of the general public.  This involved darkening the ground floor lanes and putting colour gelatines over the pin machine areas.  I also engaged a disc jockey to play pop records, one of which I particularly recall was 'Al Capone', a top twenty hit in the UK for its Jamaican singer, Prince Buster; it reached number 18 in the charts in February 1967.
In later 1966, (or was it earlier in 1967?), the annual National Electronics Fair (I think that was its title) which was usually held at the Earl's Court Convention Centre, London, was not to be held that year, for some reason which I cannot recall.  So, I decided to run my own convention at Chatham Bowl.  I had a young German friend who ran a small electrical shop (with his English girl friend) which was situated on the roundabout at the junction of Chatham and Rochester.  I asked him if he would be interested in putting a large display of radios, television sets and other similar items at the Bowl.  He agreed, and with great enthusiasm, and I wound up having a magnificent display of so many of these gadgets spread across the entire top floor of the Centre.  This unusual event for Chatham Bowl ran for a week, I think.  It was a great success for both of us, and I am sure I gained a lot of kudos for running it with my superiors at head office.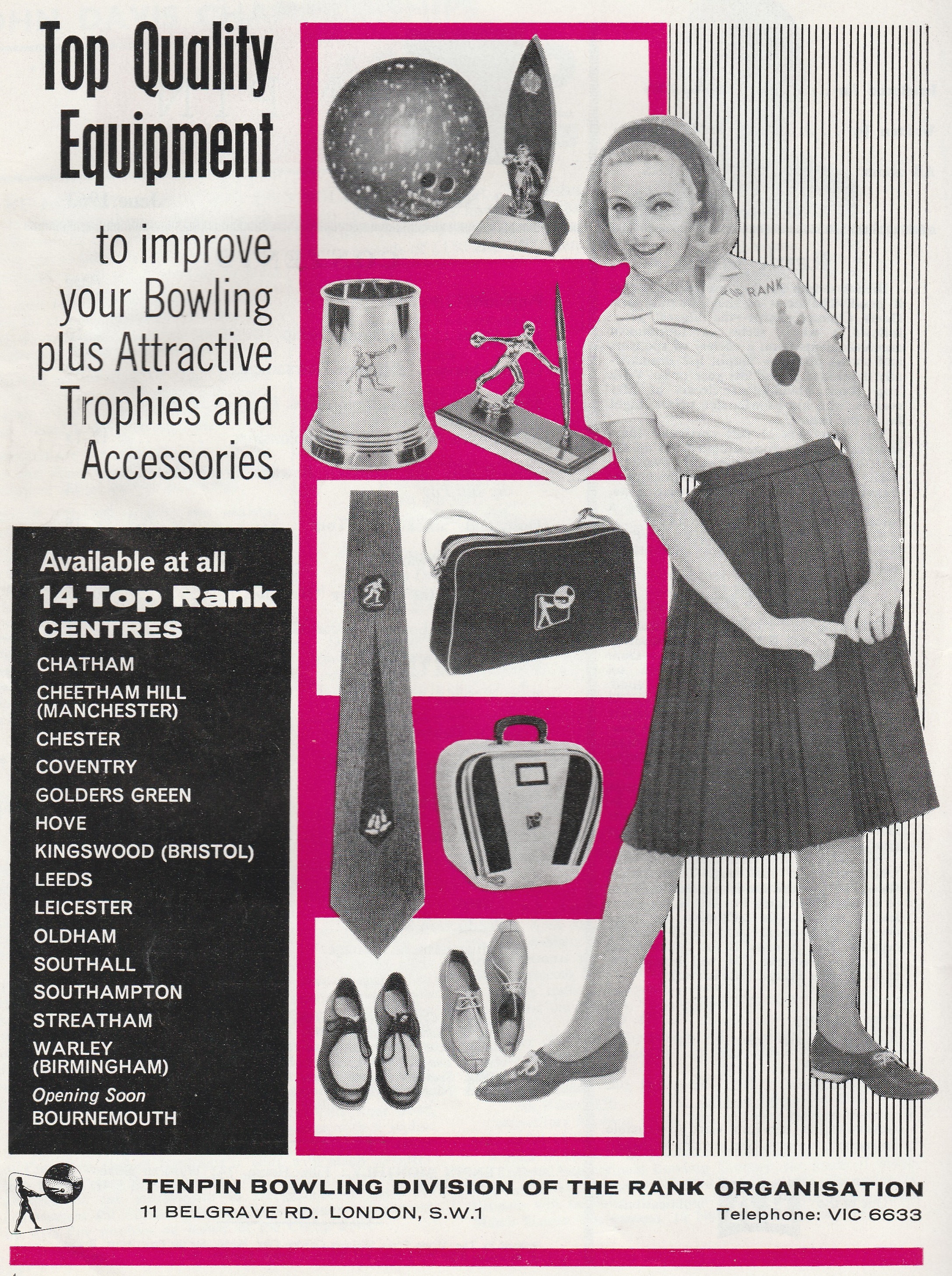 1967:
Doncaster Bowl:
In May 1967, I was made the General Manager of the Top Rank Bowl in Doncaster.  I was awarded an increase in salary to £28 per week.  Located in Silver Street, the Bowl was situated under the Top Rank Suite above.  I remember celebrating my 26th birthday just after I arrived in a nice restaurant nearby.  Whether I was given this promotion to Doncaster by Rank, or whether I applied for this position instead, I cannot remember.
Unlike the Chatham Bowl, which was a conversion from a former Odeon cinema, Doncaster Bowl was custom-built (as was the Top Rank Suite above it).  In so many ways, therefore Doncaster was far better than Chatham.  The lanes area, on one floor only, at Doncaster was far more spacious than at Chatham, which had two floors of 12 lanes.
The manager's office was much more 'palatial'; in fact, there were two offices adjoining, the General Office and the General Manager's Office.  My office even had a very nice shower, and a great big settee, apart from the usual office desk and office desk chair.
John Teasdale, by then promoted (I think) to Bowling Circuit Controller, after the departure of his predecessor, Jack Barlow, to Compton Cinemas.  He came up to see me installed as General Manager at Doncaster, with the usual local newspaper interviews arranged.  One unusual point I remember about this point of time; it was the first time I had heard about the singer Barbara Streisand; John Teasdale was a huge fan of hers!  This was about a year before she had made her first film, Funny Girl (1968), the romantic musical comedy about the life and career of the Broadway star, Fanny Brice.
Business at Doncaster Bowl was brisk, but, from memory, sales were on the decline.
In the meantime, I decided to give up my temporary "digs", a bed-sitter with a very small stove, and, instead, I "shacked up" in my office at the Bowl.  As described above, it had all the facilities for me to live in comfortably, but, of course, this was completely against company rules!  Indeed, I almost got caught out once, when the Northern Regional Manager, Ben Beetles, made a sudden visit.  But I got away with it – just!
I got to know the General Manager of the Top Rank Suite above the Bowl, (I think his name was Lance Glover).  I soon saw that the Top Rank Suite scene was the one for me for my future, as Tenpin Bowling was in decline.  Thus, sometime during the summer of 1967, I applied to Head Office for a transfer to Suites, and, to my delight, I was accepted.
Before my transfer to the Suites (I was assigned to go to Cardiff Top Rank Suite in September for my training reassignment), they sent a guy called Rick (or Ricky) Fryer to take over from me as general Manager after I left.  He was an Australian, and an expert Snow Skier, but with little or no experience of Tenpin Bowling, as I recall.  He was an appointee of Gary Brown, one of the Division's Directors.  Nice enough fellow, not that managerial adept, and who soon "insisted" on having erected a pair of skis on each of the two side walls of the bowling lanes area, of course much to the "amusement" of the Bowlers, especially the Leagues, who I don't think were really that impressed!
The Bowl had a very well appointed Club Bar and which included a very good Juke Box; I had set of keys to this machine which meant I could play any of the records on it for free.  I became "obsessed" with one of its disc selections; "It Ain't Necessarily So", the modern jazz version by Miles Davis of the popular song with music by George Gershwin and lyrics by Ira Gershwin.  For me, it was wonderful jazz interpretation, and I played it constantly, but this really started to irritate the Club Bar Manager, whose name I cannot recall.
Top Rank Suite, Cardiff:
I was transferred to the Top Rank Suite in Cardiff to start my Suite Management Re-Training in mid-September 1967.
It was the very last time I saw my Father; he died that December of a heart attack at the age of 67.  I had been staying with my parents in Norwich for a few days holiday before starting my retraining at Cardiff.
Mike Jay was the General Manager of the Suite, Cardiff, which was situated in Queens Street in the centre of the city.
It was huge operation; the management compliment itself consisted of the General Manager, House Manager and Assistant Manager, plus Catering and Assistant Managers, Bars and Assistant Bars Managers, Engineering Management and a Door Supervisor.
There was a Head Chef (he was a Swiss called Rudi), and he had Assistant Chefs under him.  I spent some time with Rudi whilst at the Suite in order to start to learn about the kitchen operation.  He liked to go over the road to the pub some lunchtimes or earlier afternoons to relax over a pint or two of beer; I often joined him, enthusiastically, of course.
The Suite operated on a policy of Public Dancing four nights a week, with the remaining three days and nights available for hire: Dinner Dances seating up to 600 people, Ballroom Dancing and attendant competition, Weddings, Functions, Business Meetings, etc., etc.
For the Public Dancing evenings, the Suite could house up 2,200 people!  Many of these came down from the Valleys for a night out.  We had over 20 doorman (a.k.a. "bouncers"), who were managed by a Door Supervisor.  The Suite certainly needed them; alcohol and violence were a heady mix!
Indeed, on Thursday and Saturday nights, the Suite was full of people.  We could accommodate up 2,200 people, many flooding down from the Valleys, where many of the mining districts were then,
The entertainment for Public Dancing nights consisted of a Disc Jockey and a Live Band, or Orchestra.  They were placed on a revolving stage; for example, whilst the DJ was performing, the Band or Orchestra were preparing behind.  A curtain divided each half of the stage.
Popular tunes played at the Suite on public nights included the song for "Bonnie and Clyde" (1967), the film of which had just been released to huge acclaim.  The film made a star of Faye Dunaway, and it certainly enhanced the career of Warren Beatty.   Another big hit was the theme song sung by Nancy Sinatra for the fifth James Bond film starring Sean Connery, "You Only Live Twice" (1967).
I soon got to know one of the cashiers at the Suite.  Her name was Pauline (Alicia) Clarke.  We soon 'hit it off' and to such an extent that we were married the following year (1968) at Llandaff Cathedral in Cardiff.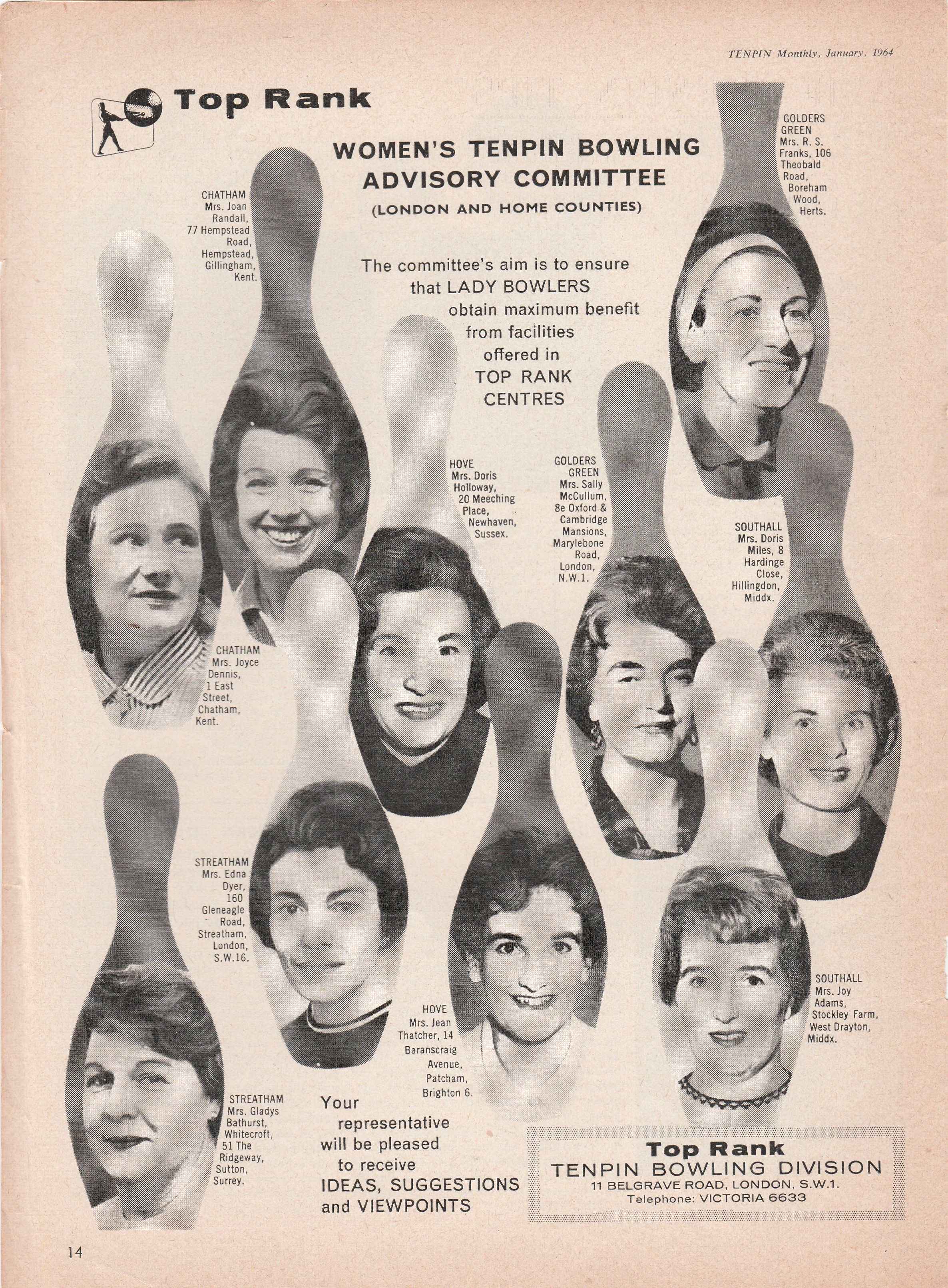 Top Rank Suite, Reading:
Sometime during October 1967, I was seconded to the Top Rank Suite in Reading to help out prior to its opening later that month.  I often did boring, menial jobs, such as sticking on plastic number badges onto coat hangers – not exactly a stimulating experience; it was a somewhat sticky time using all that strong glue!
The Gala Opening Night was held later in October.  Hundreds of people attended.  The star attraction was none other than that great comedian, Bob Monkhouse!  He was hilarious; one moment during his act I remember well was how well he dealt with a drunken heckler in the audience who would not shut up.  Bob told him something like, "Why don't go and stand against the wall, and you both will be plastered!"
I then returned to the Top Rank Suite in Cardiff to continue with my Suite Management training.
Top Rank Suite, Watford:
During my training at Cardiff Suite, I also did a very short stint at the Top Rank Suite in Watford.  One of the nights I was there a Beauty Contest was held.  Imagine, me standing in the middle of lots of very pretty girls waiting to go stage!  Wonderful!
I then returned to the Top Rank Suite in Cardiff to complete my Suite Management training.
1967-68:
Doncaster Bowl:
As there was no senior management vacancies currently available at any of Rank's Suites, I returned to Doncaster Bowl as its General Manager in the autumn of 1967.  The Bowl had just become vacant as the previous General Manager (Ricky Fryer), who had taken over from me some months earlier, had just left.  I think he was fired, but I am not now certain.
A personal tragedy: my Father died on my Mother's 54th birthday, on the 17th December 1967; he was 67.  I was given time off by Rank to go to my home in Norwich to attend his funeral, and, of course, to get over the trauma of losing a beloved parent.
Derby Bowl:
I was transferred from Doncaster to Derby Bowl as General Manager sometime in earlier 1968.  I cannot now recall the reason for my transfer, or the exact time of it.
Whilst at Derby, I married Pauline Clarke in Cardiff, at Llandaff Cathedral.
Late one night, as I was closing the Bowl late one evening, the film star, Alan Bates, walked by; he greeted me with a very cheery "Good Night"!  Alan was on location nearby filming Ken Russell's film version of the D. H. Lawrence novel, Women in Love.
My good friend, Arthur Davidson (whom I first met at Warley in 1965), was the General Manager of the luxury cinema located next door to the Bowl.  Named the "Superama", it was truly a luxurious cinema, with stadium seating, and a massive curved screen, which was ideal for the 'roadshow' blockbusters that were usually played there.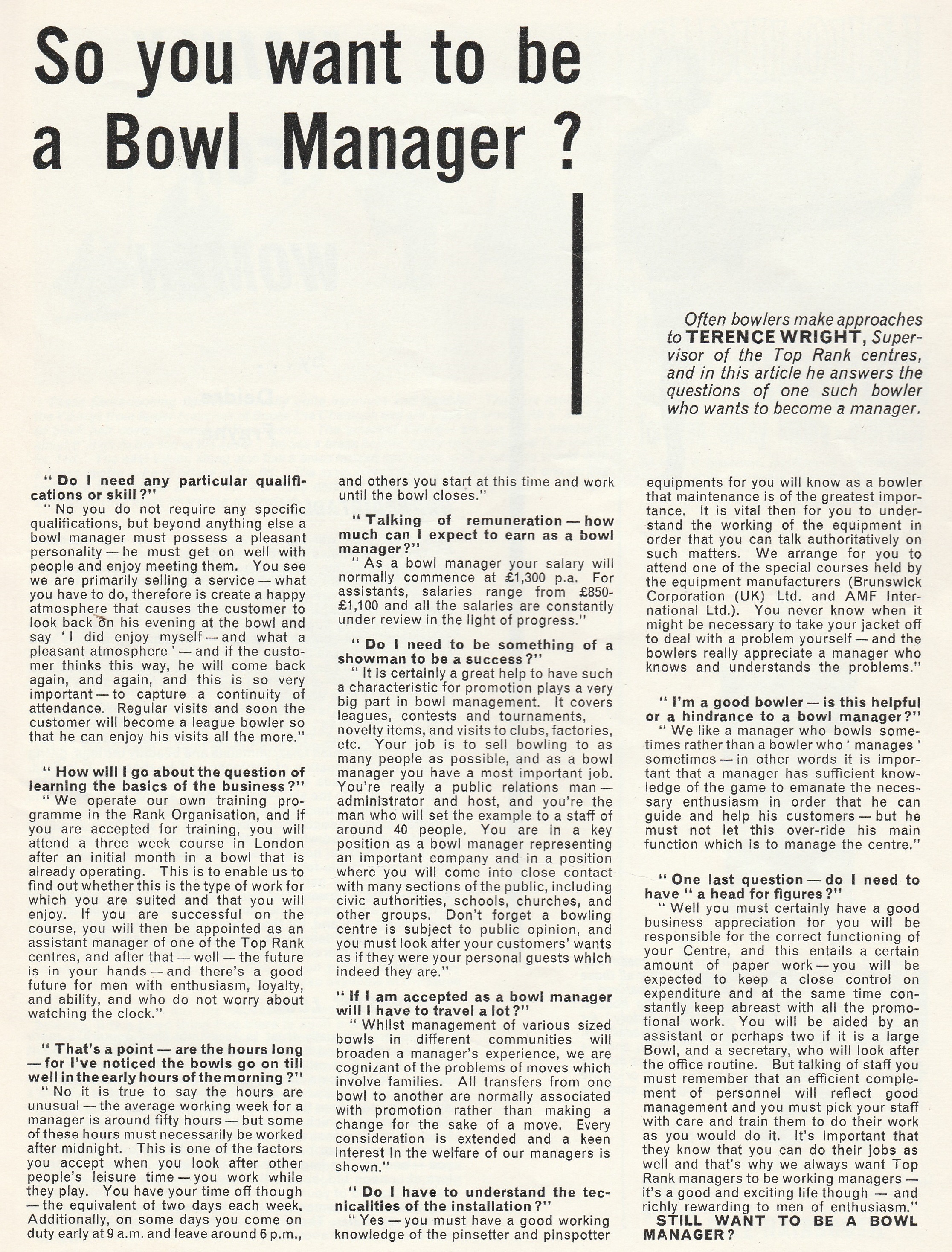 1968: Starting a Career in the Film Industry:
Whilst I was at Derby Bowl, my desire to get into the film industry re-emerged.  I left Rank in the autumn of 1968 to join "Classic Cinemas" as the manager of their Nottingham cinema.  Soon after taking over as Manager of the Classic Nottingham, I was promoted to become their first Cinema Clubs Controller in late 1968.  Then, in earlier 1969, I applied for the position of Regional Manager with the Star Group of Companies in Leeds, but I did not get the job; as the Director, Bernard Rains, rightly pointed at the interview, I had no experience of Bingo whatsoever.  Star were then the biggest Bingo Club operators in the country with about 150 sites nationally, and, obviously, Mr. Rains was quite right!  He then asked me what I was most interested in.  I told him of my passion for films.  After further discussion, he offered me the position of "Executive without Portfolio".  This would involve an initial period of learning and training in three of the most important departments of the company – film booking, publicity, and purchasing.  Within weeks, I became the Film Booking Executive and stayed in that department for over four years.
Post Script – John Teasdale:
I was always grateful to John Teasdale for seeing potential in me which consequently inspired and led to my management career in Tenpin Bowling.  Recently, I decided to try and locate John in order to thank him for his confidence in me all those years ago.  I thus Google'd John's name and the term, "tenpin bowling"; happily, one result was found, but this gave the sad news that John Teasdale had passed away in Poole General Hospital on Wednesday October 15th, 2014, aged 79.