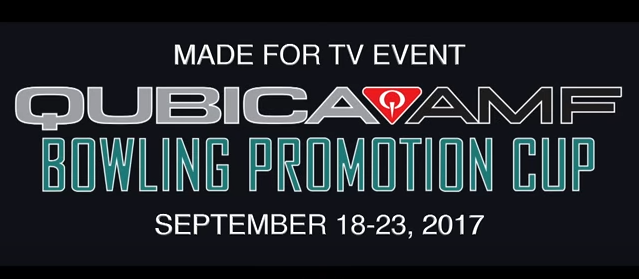 France's Wendy Bartaire and Belgium's Bram Van Meerbergen emerged the TV Masters champions at the 2017 QubicaAMF Bowling Promotion Cup.

Bartaire defeated England's Samantha Hannan 218-203 in the Championship match as Van Meerbergen beat Ireland's Barry Foley 255-184.
Earlier in the event Team Sirius won the ladies team event defeating Team Vega 3-1 and in the mens event Team Mercury defeated Team Orion 3-1.
The singles qualifying was won by England's Samantha Hannan with Ireland's Barry Foley destroying the mens division. Onto the doubles and Barry Foley (Ire) and Jeroen Van Geel (Ned) took the title as England's Samantha Hannan and Belgium's Cindy Valckx claimed the ladies title. Full results of all the awards can be found below.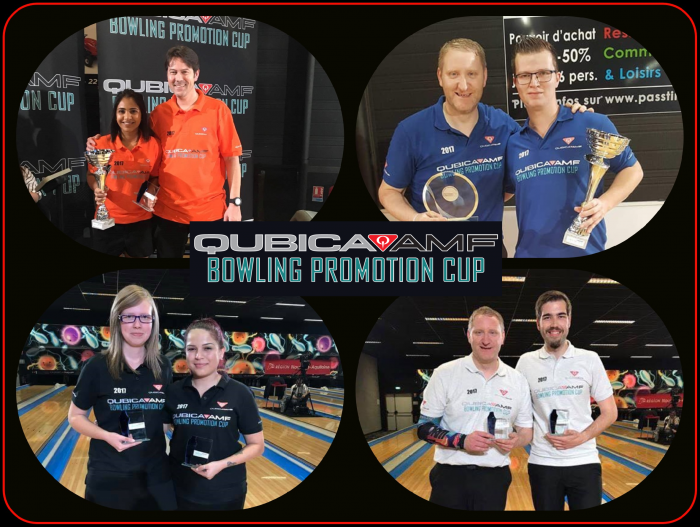 TV Results
TELEVISIONS SCORES 2017 QubicaAMF BPC TOUR
TEAM CHALLENGE ANCENIS
Women's Series
Team Sirius VS Team Vega (3-1) 179-147 (Sirius) 167-181 (Vega) 220-170 (Sirius) 211-202 (Sirius)
Men's Series
Team Mercury VS Team Orion (3-1) 192-223 (Orion) 248-156 (Mercury) 204-141 (Mercury) 242-164 (Mercury)
SINGLES DINAN
Women's Series Richard (243) Yusaf (208) Bartaire (208) Hannan (168) TOP2 Advance
Championship match: Yusaf 225 def Richard 175
Men's Series Foley (233) Van Meerbergen (233) Van Geel (218) Stevenson (202) TOP2 Advance
Championship match: Van Meerbergen 225 def Foley 172
DOUBLES FONTAINE LE COMTE
Women's Series Hannan-Valckx 236 def Dhanis-Wiekeraad 173
Men's Series Van Geel-Foley 216 def Van Meerbergen-Contreras 189
MASTERS FONTAINE LE COMTE
Women's Series Hannan (278) Bartaire (227) Yusaf (195) Valckx (190) TOP2 Advance
Championship match: Bartaire (218) def Hannan (203)
Men's Series Foley (244) Van Meerbergen (221) Stevenson (200) Van Geel (192) TOP2 Advance
Championship match: Van Meerbergen 255 def Foley 184
TEAM France VS THE WORLD
Team France VS The World (2-1) 194-227 (World) 202-185 (France) 223-197 (France)
Singles
| | | | | | | | | | | |
| --- | --- | --- | --- | --- | --- | --- | --- | --- | --- | --- |
| Q Singles | Q | 2017 QBPC Bowlers Mens | 1 | 2 | 3 | 4 | 5 | 6 | Singles | AVG |
| TV | 1 | Barry FOLEY (IRL) * | 278 | 238 | 214 | 227 | 267 | 236 | 1460 | 243 |
| TV | 2 | Bram VAN MEERBERGEN (BEL) * | 238 | 235 | 224 | 299 | 185 | 191 | 1372 | 228 |
| TV | 3 | Peter STEVENSON (ENG) | 241 | 226 | 209 | 268 | 214 | 203 | 1361 | 226 |
| TV | 4 | Jeroen VAN GEEL (NED) * | 300 | 210 | 206 | 235 | 227 | 167 | 1345 | 224 |
| 5 | 5 | Steven GILL (SCO) * | 214 | 201 | 204 | 268 | 168 | 235 | 1290 | 215 |
| 6 | 6 | Jerome DURUPT (FRA) | 195 | 220 | 183 | 218 | 252 | 190 | 1258 | 209 |
| 7 | 7 | Gustaf BJORNSSON (ICE) * | 240 | 213 | 207 | 221 | 200 | 169 | 1250 | 208 |
| 8 | 8 | Mike BARTAIRE (FRA) | 226 | 202 | 202 | 175 | 213 | 194 | 1212 | 202 |
| 9 | 9 | Guillaume MAROIS (FRA) * | 158 | 163 | 234 | 203 | 217 | 192 | 1167 | 194 |
| 10 | 10 | Toby CONTRERAS (USA) * | 198 | 179 | 192 | 189 | 211 | 178 | 1147 | 191 |
| | | | | | | | | | | |
| Q Singles | Q | 2017 QBPC Bowlers Womens | 1 | 2 | 3 | 4 | 5 | 6 | Singles | AVG |
| TV | 1 | Samantha HANNAN (ENG) | 237 | 260 | 215 | 259 | 214 | 213 | 1398 | 233 |
| TV | 2 | Tania YUSAF (SCO) | 224 | 231 | 268 | 203 | 215 | 200 | 1341 | 223 |
| TV | 3 | Amandine RICHARD (FRA) | 182 | 234 | 265 | 188 | 217 | 232 | 1318 | 219 |
| TV | 4 | Wendy BARTAIRE (FRA) | 205 | 226 | 179 | 236 | 217 | 201 | 1264 | 210 |
| 5 | 5 | Bianca WIEKERAAD (NED) * | 217 | 223 | 193 | 169 | 226 | 234 | 1262 | 210 |
| 6 | 6 | Cindy VALCKX (BEL) | 175 | 216 | 217 | 260 | 221 | 165 | 1254 | 209 |
| 7 | 7 | Amanda LARKIN (IRL) * | 204 | 189 | 228 | 215 | 207 | 187 | 1230 | 205 |
| 8 | 8 | Cheska TOMAS (NED) * | 204 | 188 | 183 | 168 | 257 | 180 | 1180 | 196 |
| 9 | 9 | Melissa VALLONS (BEL) | 240 | 158 | 238 | 238 | 178 | 126 | 1178 | 196 |
| 10 | 10 | Nathalie DHANIS (BEL) | 188 | 188 | 192 | 191 | 200 | 194 | 1153 | 192 |
Doubles
| | | | | | | | | | | |
| --- | --- | --- | --- | --- | --- | --- | --- | --- | --- | --- |
| Q Doubles |   | 2017 QBPC Bowlers Mens | 1 | 2 | 3 | 4 | 5 | 6 | Doubles | AVG |
| TEAM 1 | 1 | Barry FOLEY (IRL) * | 223 | 258 | 213 | 216 | 210 | 242 | 1362 | 227 |
| | 2 | Jeroen VAN GEEL (NED) * | 216 | 279 | 200 | 258 | 217 | 185 | 1355 | 225 |
| TEAM 2 | 3 | Steven GILL (SCO) * | 199 | 266 | 265 | 255 | 211 | 146 | 1342 | 223 |
| | 4 | Peter STEVENSON (ENG) | 226 | 202 | 203 | 248 | 194 | 203 | 1276 | 212 |
| TEAM 3 | 5 | Toby CONTRERAS (USA) * | 217 | 185 | 194 | 204 | 245 | 223 | 1268 | 211 |
| | 6 | Bram VAN MEERBERGEN (BEL) * | 214 | 194 | 221 | 168 | 215 | 242 | 1254 | 209 |
| TEAM 4 | 7 | Christian LEBESSON (FRA) | 255 | 204 | 183 | 257 | 173 | 172 | 1244 | 207 |
| | 8 | Mike BARTAIRE (FRA) | 193 | 195 | 197 | 185 | 189 | 245 | 1204 | 200 |
| TEAM 5 | 9 | Gustaf BJORNSSON (ICE) * | 227 | 223 | 151 | 160 | 168 | 231 | 1160 | 193 |
| | 10 | Guillaume MAROIS (FRA) * | 207 | 190 | 181 | 204 | 186 | 170 | 1138 | 189 |
| | | | | | | | | | | |
| Q Doubles |   | 2017 QBPC Bowlers Womens | 1 | 2 | 3 | 4 | 5 | 6 | Doubles | AVG |
| TEAM 1 | 1 | Samantha HANNAN (ENG) | 234 | 190 | 209 | 236 | 232 | 247 | 1348 | 224 |
| | 2 | Cindy VALCKX (BEL) | 238 | 225 | 279 | 236 | 168 | 181 | 1327 | 221 |
| TEAM 2 | 3 | Amanda LARKIN (IRL) * | 235 | 196 | 194 | 224 | 227 | 230 | 1306 | 217 |
| | 4 | Wendy BARTAIRE (FRA) | 266 | 267 | 215 | 147 | 170 | 234 | 1299 | 216 |
| TEAM 3 | 5 | Cheska TOMAS (NED) * | 214 | 205 | 242 | 194 | 189 | 193 | 1237 | 206 |
| | 6 | Tania YUSAF (SCO) | 214 | 170 | 202 | 223 | 214 | 213 | 1236 | 206 |
| TEAM 4 | 7 | Melissa VALLONS (BEL) | 180 | 170 | 218 | 236 | 195 | 199 | 1198 | 199 |
| | 8 | Amandine RICHARD (FRA) | 183 | 203 | 246 | 216 | 172 | 162 | 1182 | 197 |
| TEAM 5 | 9 | Bianca WIEKERAAD (NED) * | 205 | 196 | 197 | 169 | 204 | 208 | 1179 | 196 |
| | 10 | Nathalie DHANIS (BEL) | 149 | 204 | 152 | 195 | 162 | 168 | 1030 | 171 |
All Events
| | | | | | | | |
| --- | --- | --- | --- | --- | --- | --- | --- |
| ALL EVENTS |   | 2017 QBPC Bowlers Mens | Singles | Doubles | Masters | TOTAL | AVG |
| TV Masters | 1 | Barry FOLEY (IRL) * | 1460 | 1362 | 1374 | 4196 | 233 |
| TV Masters | 2 | Jeroen VAN GEEL (NED) * | 1345 | 1355 | 1441 | 4141 | 230 |
| TV Masters | 3 | Bram VAN MEERBERGEN (BEL) * | 1372 | 1254 | 1298 | 3924 | 218 |
| TV Masters | 4 | Peter STEVENSON (ENG) | 1361 | 1276 | 1284 | 3921 | 217 |
| | 5 | Steven GILL (SCO) * | 1290 | 1342 | 1263 | 3895 | 216 |
| | 6 | Mike BARTAIRE (FRA) | 1212 | 1204 | 1475 | 3891 | 216 |
| | 7 | Toby CONTRERAS (USA) * | 1147 | 1268 | 1402 | 3817 | 212 |
| | 8 | Gustaf BJORNSSON (ICE) * | 1250 | 1160 | 1364 | 3774 | 209 |
| | 9 | Guillaume MAROIS (FRA) * | 1167 | 1138 | 1145 | 3450 | 191 |
| | 10 | Jerome DURUPT (FRA) | 1258 | 0 | 0 | 1258 | 209 |
| | 11 | Christian LEBESSON (FRA) | 0 | 1244 | 0 | 1244 | 207 |
| | 12 | Bruno BIDONE (MCO) | 0 | 0 | 0 | 0 | 0 |
| | | | | | | | |
| ALL EVENTS |   | 2017 QBPC Bowlers Womens  | Singles | Doubles | Masters | TOTAL | AVG |
| TV Masters | 1 | Samantha HANNAN (ENG) | 1398 | 1348 | 1231 | 3977 | 220 |
| TV Masters | 2 | Cindy VALCKX (BEL) | 1254 | 1327 | 1395 | 3976 | 220 |
| TV Masters | 3 | Tania YUSAF (SCO) | 1341 | 1236 | 1334 | 3911 | 217 |
| TV Masters | 4 | Wendy BARTAIRE (FRA) | 1264 | 1299 | 1274 | 3837 | 213 |
| | 5 | Amanda LARKIN (IRL) * | 1230 | 1306 | 1254 | 3790 | 210 |
| | 6 | Bianca WIEKERAAD (NED) * | 1262 | 1179 | 1234 | 3675 | 204 |
| | 7 | Cheska TOMAS (NED) * | 1180 | 1237 | 1245 | 3662 | 203 |
| | 8 | Melissa VALLONS (BEL) | 1178 | 1198 | 1268 | 3644 | 202 |
| | 9 | Amandine RICHARD (FRA) | 1318 | 1182 | 1142 | 3642 | 202 |
| | 10 | Nathalie DHANIS (BEL) | 1153 | 1030 | 1088 | 3271 | 181 |
Masters
| | | | | | | | | | | |
| --- | --- | --- | --- | --- | --- | --- | --- | --- | --- | --- |
| Q Masters |   | 2017 QBPC Bowlers Mens | 1 | 2 | 3 | 4 | 5 | 6 | Q Masters | AVG |
| 1 | 1 | Mike BARTAIRE (FRA) | 267 | 240 | 267 | 206 | 267 | 228 | 1475 | 245 |
| 2 | 2 | Jeroen VAN GEEL (NED) * | 236 | 278 | 256 | 244 | 244 | 183 | 1441 | 240 |
| 3 | 3 | Toby CONTRERAS (USA) * | 237 | 257 | 210 | 205 | 249 | 244 | 1402 | 233 |
| 4 | 4 | Barry FOLEY (IRL) * | 233 | 258 | 234 | 223 | 194 | 232 | 1374 | 229 |
| 5 | 5 | Gustaf BJORNSSON (ICE) * | 245 | 218 | 278 | 191 | 175 | 257 | 1364 | 227 |
| 6 | 6 | Bram VAN MEERBERGEN (BEL) * | 231 | 267 | 224 | 203 | 204 | 169 | 1298 | 216 |
| 7 | 7 | Peter STEVENSON (ENG) | 190 | 238 | 214 | 185 | 233 | 224 | 1284 | 214 |
| 8 | 8 | Steven GILL (SCO) * | 222 | 199 | 197 | 238 | 203 | 204 | 1263 | 210 |
| 9 | 9 | Guillaume MAROIS (FRA) * | 194 | 234 | 173 | 188 | 155 | 201 | 1145 | 190 |
| 10 | 10 | Bruno BIDONE * | WD | WD | WD | WD | WD | WD | 0 | 0 |
| | | | | | | | | | | |
| Q Masters |   | 2017 QBPC Bowlers Womens | 1 | 2 | 3 | 4 | 5 | 6 | Q Masters | AVG |
| 1 | 1 | Cindy VALCKX (BEL) | 212 | 300 | 233 | 248 | 211 | 191 | 1395 | 232 |
| 2 | 2 | Tania YUSAF (SCO) | 226 | 200 | 235 | 226 | 222 | 225 | 1334 | 222 |
| 3 | 3 | Wendy BARTAIRE (FRA) | 211 | 215 | 216 | 218 | 223 | 191 | 1274 | 212 |
| 4 | 4 | Melissa VALLONS (BEL) | 231 | 289 | 182 | 153 | 175 | 238 | 1268 | 211 |
| 5 | 5 | Amanda LARKIN (IRL) * | 202 | 184 | 246 | 196 | 216 | 210 | 1254 | 209 |
| 6 | 6 | Cheska TOMAS (NED) * | 235 | 163 | 225 | 199 | 195 | 228 | 1245 | 207 |
| 7 | 7 | Bianca WIEKERAAD (NED) * | 206 | 193 | 224 | 213 | 204 | 194 | 1234 | 205 |
| 8 | 8 | Samantha HANNAN (ENG) | 197 | 226 | 204 | 214 | 194 | 196 | 1231 | 205 |
| 9 | 9 | Amandine RICHARD (FRA) | 180 | 169 | 171 | 163 | 209 | 250 | 1142 | 190 |
| 10 | 10 | Nathalie DHANIS (BEL) | 209 | 213 | 193 | 172 | 130 | 171 | 1088 | 181 |