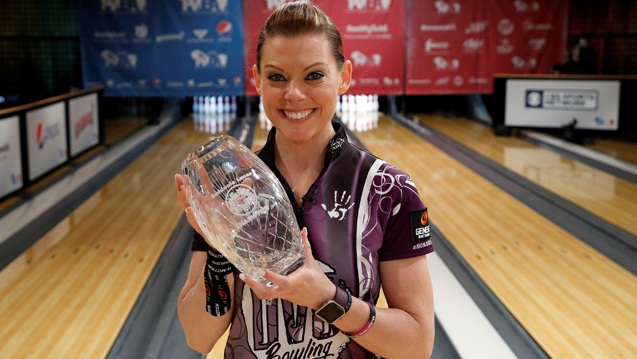 O'KEEFE CLAIMS PWBA ST. PETERSBURG CLEARWATER OPEN TITLE 
PLANO, Texas – Coming off a three-title season and then coaching her collegiate team to two national titles, Shannon O'Keefe of O'Fallon, Illinois, seemingly could do no wrong.
But bowling seems to have a way of challenging even the best players, and it took a little longer for O'Keefe to make her first television appearance of the 2017 Professional Women's Bowling Association Tour season.
The top seed for the PWBA St. Petersburg-Clearwater Open, O'Keefe captured her fifth career PWBA title with a 202-200 victory over Colombia's Clara Guerrero. The stepladder finals were televised Tuesday on CBS Sports Network.
When the final match reached the 10th frame, O'Keefe simply had to watch as Guerrero stepped up with an opportunity to take the title with two strikes and a nine-count. But Guerrero left the 4-6-7-10 combination and did not convert the spare.
That left O'Keefe needing a spare and nine pins to take the match, and she took advantage of the opening to win the event and, in the process, turn around a troubling season.
"It's been a challenging year," O'Keefe said. "I missed the very first cut by seven pins, was frustrated by that, then dug my heels in and just had to grind every week. Then, in the middle of the season, I missed back-to-back cuts and was really upset. I don't think I have been that upset over bowling, ever."
Her thoughts went from questioning what she was doing to possibly taking a week off and going home. Instead, her husband, Bryan, worked with her each round of the PWBA Orlando Open, including practice sessions, giving her one goal on which to focus.
"He said to exaggerate my pushaway, then work on keeping my elbow a little tighter at the bottom, then the next round was keep my left arm really stable," said O'Keefe, who coaches the McKendree women's bowling team during the school year. "By the end of the tournament, it's the best I have felt throwing the ball in a year and a half. And that just snowballed into the rest of the season."
Guerrero, who has battled injuries since late last year, also was making her first TV appearance of the season and was attempting to climb the stepladder as the No. 4 seed.
In the opening match, Guerrero struck on four of her first six shots to get past Danielle McEwan of Stony Point, New York, 215-198.
Also making her first TV appearance was Giselle Poss of Montgomery, Illinois, a 2016-2017 National Tenpin Coaches Association first-team All-American at Vanderbilt competing in just her fourth PWBA event.
Poss held a slim lead heading into the seventh frame, but back-to-back open frames – missing a 7-pin and failing to convert the more difficult 2-4-8-10 combination – cut short her bid to advance as Guerrero took a 235-214 victory to reach the title match.
The qualifying and match-play rounds of the PWBA St. Petersburg-Clearwater Open took place July 6-8 at Seminole Lanes in Seminole, Florida. It was the second consecutive year Seminole Lanes hosted the tournament. The stepladder finals were one of three shows taped at Plano Super Bowl, in conjunction with the U.S. Women's Open, for later broadcast on CBS Sports Network.
The finals of the PWBA Orlando Open aired Aug. 15, and the Nationwide PWBA Rochester Open finals will be broadcast on CBS Sports Network on Aug. 29 at 8 p.m. EDT.
Go to PWBA.com for more information about the PWBA Tour.
PWBA ORLANDO OPEN
Final standings
1, Shannon O'Keefe, O'Fallon, Ill., 202 (one game), $10,000
2, Clara Guerrero, Colombia, 650 (three games), $5,000
3, Giselle Poss, Montgomery, Ill., 214 (one game), $3,500
4, Danielle McEwan, Stony Point, N.Y., 198 (one game), $3,000
Stepladder results
Match One – Guerrero def. McEwan, 215-198
Semifinal – Guerrero def. Poss, 235-214
Championship – O'Keefe def. Guerrero, 202-200
About the PWBA
The Professional Women's Bowling Association (PWBA) originally was formed in 1960. The PWBA Tour has events throughout the country, offering high-level competition and top prize money for women bowlers. The PWBA is supported by the Bowling Proprietors' Association of America (BPAA) and the United States Bowling Congress (USBC).