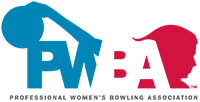 PWBA RETURNS TO SUN VALLEY LANES FOR PEPSI PWBA LINCOLN OPEN
ARLINGTON, Texas – It's a rare feat to lead an event from beginning to end, but that's exactly what Shannon O'Keefe of O'Fallon, Illinois, accomplished last season at the 2016 Professional Women's Bowling Association Pepsi Lincoln Open.
O'Keefe led after two rounds of qualifying, cashers' round and match play, earning the No. 1 seed for television, where she defeated Clara Guerrero of Colombia, 252-203, for her second victory of 2016.
Ultimately, what ended up being O'Keefe's second professional singles title, almost never came to be as the 13-time Team USA member experienced some pain after Friday morning's practice session and nearly withdrew from the tournament.
"Funny story, I bowled the practice session Friday morning before qualifying and my IT band, left thigh hurt so bad," O'Keefe said. "I actually texted Bryan (O'Keefe, her husband) to tell him I thought I was going to have to withdraw from the tournament. Then I spoke with Maria Jose Rodriguez and she helped me tape my leg with Genesis tape, and the pain was instantly gone. From that point on, I was just happy to be able to compete. Then to start and complete the event the way I did was like a dream."
O'Keefe won three titles in 2016, including the Nationwide PWBA Sonoma County Open and the PBA/PWBA Striking Against Breast Cancer Mixed Doubles event with Bill O'Neill. She often used previous TV experiences and miscues as her focus in 2016, which helped her achieve career success.
As a two-time national champion coach for the McKendree women's team, O'Keefe uses her own personal and athletic experiences, positive or negative, as teaching tools for her student-athletes.
"The No. 1 thing is keeping everything into perspective and not being a hypocrite," said O'Keefe, who led McKendree to their first NCAA Women's Bowling title and Intercollegiate Team Championship in April. "What I mean by that is, all college season long, I preach and teach my student-athletes how to handle moments of defeat and disappointment. How can I ever expect them to live up to my teachings and expectations, if I can't do the same?
"I want to set an example for my kids. I want them to know you can still be a successful athlete and compete at the highest level you want, if you're willing to put the time and effort into it. It can be a hard balance sometimes, with my job and time management, but it's worth it. If every single struggle I've had throughout my career, I can turn into a learning experience for my kids so they don't face the same struggles, I would go through them 100 times over."
While her wire-to-wire victory was rare, Sun Valley Lanes seems to be the venue to run the table. Amanda Greene of Romney, W.Va., also went wire-to-wire on the way to the title in 2015 and Greene is scheduled to compete this week.
All 2016 Pepsi PWBA Lincoln Open TV finalists are in this week's field, including O'Keefe, Guerrero, reigning two-time PWBA Player of the Year Liz Johnson and April Ellis of Jackson, Tennessee.
Locally, 12 players with ties to the Nebraska bowling program are scheduled to compete including two-time National Tenpin Coaches Association First Team All-American and current Husker Julia Bond, 2015 PWBA Topeka Open champion Liz Kuhlkin, 2017 Team USA Trials champion Erin McCarthy and two-time major champion Shannon Pluhowsky.
CBS Sports Network will televise the stepladder finals of 13 of the 14 PWBA Tour events which began May 23 with the USBC Queens, the first major event of the season, from the Raising Cane's River Center in Baton Rouge, Louisiana.
The stepladder finals of the Pepsi PWBA Lincoln Open will be taped for broadcast June 25 at The Ashwaubenon Bowling Alley in Green Bay, Wisconsin, site of the Go Bowling PWBA Players Championship. The Pepsi PWBA Lincoln Open will air Tuesday, July 11, at 8 p.m. Eastern on CBS Sports Network.
All qualifying and match play rounds of PWBA Tour events will be carried on Xtra Frame, the exclusive online bowling channel for the Professional Bowlers Association. Go to XtraFrame.TV for more information.
2017 PEPSI PWBA LINCOLN OPEN
(At Sun Valley Lanes, Lincoln, Nebraska)
(All times local)
Thursday, June 8
4:30 p.m. – 6 p.m.: Official Practice
7 p.m.: Pro-am
Friday, June 9 
9 a.m. – 10 a.m.: Official Practice
Noon:  Qualifying Round 1 (fresh oil, six games)
6 p.m.: Qualifying Round 2 (fresh oil, six games)
Saturday, June 10
8:30 a.m.: Cashers' Round (fresh oil, six games)
1 p.m.: Round-Robin Match Play (fresh oil, six games)
5 p.m.: Group Stepladder Finals (fresh oil)
About the PWBA
The Professional Women's Bowling Association (PWBA) originally was formed in 1960. The PWBA Tour has events throughout the country, offering high-level competition and top prize money for women bowlers. The PWBA is supported by the Bowling Proprietors' Association of America (BPAA) and the United States Bowling Congress (USBC)