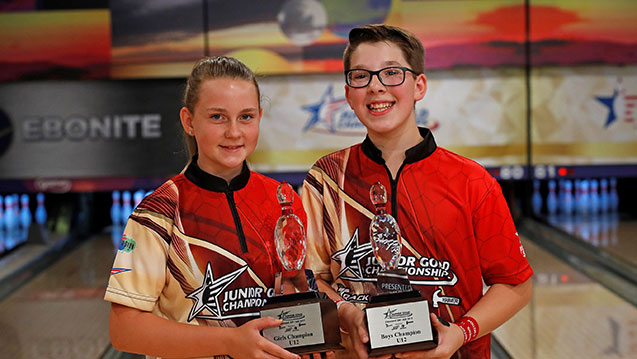 WICKLIFFE, Ohio – When Karina Capron of Fremont, Nebraska, and Brandon Bohn of Jackson, New Jersey, return to school in the fall, it might be hard for classmates to top their what-I-did-on-my-summer-vacation stories, as each won a national title at the 2017 Junior Gold Championships presented by the Brands of Ebonite International.
The two middle-schoolers spent part of their summer vacations in the Cleveland area, ending the stint with wins in the 12-and-under division during their television debuts on CBS Sports Network. The show, which aired Tuesday, was the first of five shows taped at Game of Wickliffe on July 22.
Karina, an 11-year-old right-hander, defeated Lauren Hunter of Smithton, Illinois, 328-309, to earn the girls title, while Brandon, a 12-year-old southpaw and the son of United States Bowling Congress and Professional Bowlers Association Hall of Famer Parker Bohn III, cruised to a 412-299 victory over Rylan Breese of Wilmington, North Carolina, on the boys side.
The opening game of the girls final featured just five strikes, but a late double helped Karina build a 30-pin lead (168-138) at the halfway point of the two-game total-pinfall match.
Lauren, 12, struck in the ninth frame and on the first shot of her 10th frame in the second game to force Karina to get at least six pins in her final frame to win. She struck on her first shot to secure the victory.
"It definitely was scary, and I was nervous, but I feel really happy and excited to win," said Karina, who made her second consecutive Junior Gold Championships appearance. "The experience was a good one and will be helpful for other tournaments. Even though I won, I also learned a lot this week about what I need to work on."
For Brandon, the boys top qualifier, the road to the title became a little longer when he lost his opening match in the match-play bracket. He then averaged more than 196 in four consecutive victories, including two wins over undefeated John Nunn of Jacksonville, Florida, to make the show.
Despite back-to-back open frames to close the opening game of the title match, Brandon owned a 20-pin lead (179-159), which was more than enough, as he added a seven-strike 233 game to complete the task.
Brandon was extra motivated entering the 2017 event because he knew it was his last opportunity to compete in the U12 division. However, he did not get off to the start he was hoping for.
"After two days, I was in a slump and in 23rd place, so I knew I needed to change something," said Brandon, who finished tied for third place in his 2016 Junior Gold Championships debut. "I went from a five-step approach to four, and I started bowling better, including a great final block of qualifying. When I lost my first match, I had to stay calm and focused. My mom (Leslie Bohn) gave me a pep talk, and that helped. This means a lot, especially since it was my last one in U12."
The U12 division of the 2017 Junior Gold Championships featured 243 boys and 124 girls, who each rolled 16 games across four bowling centers, before the top 35 boys and top 18 girls advanced to an additional four-game round.
From there, based on 20-game pinfall totals, the top eight boys and top eight girls advanced to double-elimination match play, which also featured two-game matches with total pinfall determining who advanced.
The Junior Gold Championships features the top youth bowlers in the country seeking national titles in three divisions – 12-and-under, 15-and-under and 20-and-under – and spots on Junior Team USA. The 2017 tournament was held in seven Cleveland-area bowling centers, featured a $320,000 scholarship fund, and more than 3,500 entries, both tournament records.
The finals of the U15 and U20 divisions also were taped at Game of Wickliffe on July 22 for delayed broadcast and will air on CBS Sports Network on Aug. 1 and Aug. 8, respectively, both at 8 p.m. Eastern.
The finals of the 2017 USA Bowling National Championships presented by Sixlets also were taped. The U12 finals will air Aug. 15 and the U15 finals will be shown Aug. 22, both at 7 p.m. Eastern.
All advancers rounds and match play leading up to the TV shows were broadcast live on BowlTV.
For more information on the Junior Gold Championships presented by the Brands of Ebonite International, visit BOWL.com/JuniorGold.
About International Bowling Campus
The International Bowling Campus (IBC) is the headquarters for the bowling industry and directly serves the more than 69 million bowlers in the United States. The IBC houses the resources of the United States Bowling Congress, the governing body and membership organization for the sport; the Bowling Proprietors' Association of America, representing the business interests of bowling centers; IBC Youth Development; Strike Ten Entertainment, the marketing arm for the industry; the International Bowling Museum and Hall of Fame; the International Bowling Pro Shop and Instructors Association; the International Bowling Media Association; the Bowling News Network; the Billiard and Bowling Institute of America; and the International Training and Research Center.
2017 Junior Gold Championships
At Game of Wickliffe, Cleveland
Final results
CHAMPIONSHIP MATCHES
(Two-game matches decided by total pinfall)
U12 Girls
Karina Capron, Fremont, Neb., def. Lauren Hunter, Smithton, Ill., 328-309.
U12 Boys
Brandon Bohn, Jackson, N.J., def. Rylan Breese, Wilmington, N.C., 412-299.