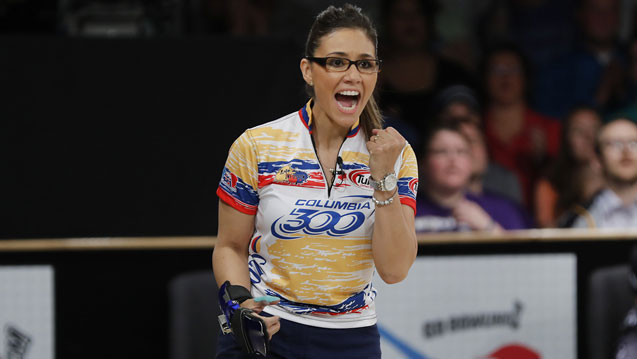 ARLINGTON, Texas – Colombia's Clara Guerrero returns to The Ashwaubenon Bowling Alley in Green Bay, Wisconsin, this week as the defending champion at the Go Bowling Professional Women's Bowling Association Players Championship.
Warm hospitality and memories from a variety of previous events already made The Ashwaubenon Bowling Alley a favorite venue, and it now is extra special because it's the place where she realized her dream of becoming a PWBA Tour champion.
The 35-year-old right-hander, who resides in Pflugerville, Texas, will put that title on the line this week against a field of nearly 70 PWBA members looking to claim the second major title of the 2017 PWBA season.
Qualifying at the 2017 Go Bowling PWBA Players Championship starts Thursday at noon Eastern, and the event's championship round will be broadcast live on CBS Sports Network on Sunday at noon EDT.
"I have been to this bowling center many times, and I know walking back in there this time will be very emotional for me, especially when I see the photo of myself with the trophy," Guerrero said. "Obviously, winning my first title, and doing it in a major, was a dream come true. It was a goal that was missing in my career, so it meant so much to win. Whether it's this week or another time in my career, it would be an amazing feeling to be a champion again."
All competitors at the 2017 PWBA Players Championship will bowl 18 games of qualifying over two days to determine the 18 bowlers who will advance to round-robin match play, which will get underway Friday evening and conclude Saturday afternoon.
After 36 games, total pinfall, including bonus pins from match play, will decide the four players who will compete for the $20,000 top prize in Sunday's live stepladder finals.
Last year, Guerrero qualified for the stepladder as the No. 3 seed and downed 2015 PWBA Rookie of the Year Stefanie Johnson of McKinney, Texas, and four-time PWBA Tour champion Shannon O'Keefe of O'Fallon, Illinois, before topping two-time reigning PWBA Player of the Year Liz Johnson of Deerfield, Illinois, in the title match, 199-175.
The win was particularly special for Guerrero because her husband, Josh Kubiak, was in attendance. He is a huge supporter but doesn't make it to many events because of his work schedule.
He was in attendance in Green Bay because Guerrero already had qualified for the championship round of the 2016 Pepsi PWBA Lincoln Open, which was scheduled to be taped for delayed broadcast in conjunction with the finals of the PWBA Players Championship.
"Having my husband there for my first title made it extremely special, along with being able to make it all the way up the stepladder," said Guerrero, who finished second to O'Keefe at the 2016 Pepsi PWBA Lincoln Open. "All of the matches came down to the 10th frame, and I made the shots I needed to, so it was a very exciting way to get my first win."
The momentum of the 2016 season almost came to a halt for Guerrero, who has been struggling with a nagging finger injury since March and didn't even know if she was going to be ready for the Tour's late-April start.
Ongoing pain and inflammation in her middle finger left her unable to practice for much of March and forced her to make on-the-fly and untested changes in her equipment, highlighted by a much shorter span, which has been challenging to get used to.
"Being injured has been as tough for me mentally as it has physically," Guerrero said. "I didn't get to practice in March and didn't even know if I'd be able to start the season. I did, but I wasn't as sharp as I wanted to be. I've always been a big practicer, but I haven't been able to. I need to rest between stops to make sure I am ready for the next week. It definitely has affected my confidence a little bit."
The injury hasn't seemed to affect Guerrero's performance, however, as she is in the top 10 in earnings and points on the PWBA Tour this season, is among the top 25 in average, has cashed in six of seven events and has made three match-play appearances.
Thankfully, due to the grip change, extra rest and being more cautious with her release, the injury hasn't become any worse through the first half of the 2017 PWBA Tour season.
"I have been doing OK and was even close to making a show, so I'm happy about how things have been going," said Guerrero, who has spent more than half her life as a member of the Colombian national team. "Considering I didn't know if I'd even be able to finish the first week, I think things have been going well overall. The injury hasn't gotten much better, but it also hasn't gotten worse, so that's good. Unfortunately, even if I feel there's something I need to work on, I can't practice or train too much. So, I have to rely on all of the experience I have gained throughout my career."
Three additional shows will be taped Sunday in Green Bay for delayed broadcast on CBS Sports Network.
The finals of the PWBA Wichita Open will be taped at 2:30 p.m. Eastern and air July 4, the championship round of the Pepsi PWBA Lincoln Open will be taped at 5:30 p.m. Eastern and air July 11 and the stepladder for the PWBA Greater Detroit Open will be taped at 8:30 p.m. Eastern and air July 18.
All rounds of competition leading up to the stepladder finals of the 2017 Go Bowling PWBA Players Championship will be broadcast on Xtra Frame, the exclusive online bowling channel for the Professional Bowlers Association. To subscribe to watch the action on Xtra Frame, visit XtraFrame.TV.
For more information on the Go Bowling PWBA Players Championship, visit PWBA.com.
About the PWBA
The Professional Women's Bowling Association (PWBA) originally was formed in 1960. The PWBA Tour has events throughout the country, offering high-level competition and top prize money for women bowlers. The PWBA is supported by the Bowling Proprietors' Association of America (BPAA) and the United States Bowling Congress (USBC)