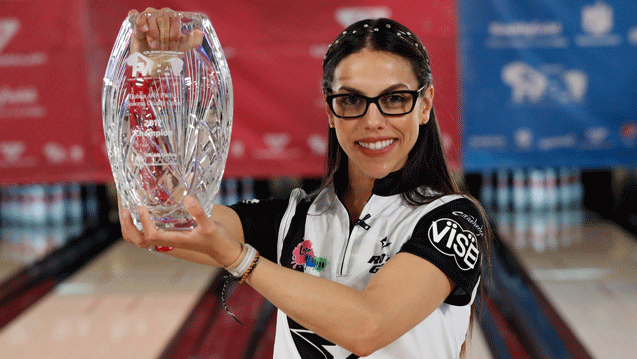 RESTREPO SET TO DEFEND HER FIRST CAREER TITLE AT PWBA GREATER DETROIT OPEN
ARLINGTON, Texas – Athletes in any sport will tell you there are certain venues where they feel comfortable and always perform well, while other places simply have their number.
The Super Bowl in Canton, Michigan probably wasn't a favorite place for Colombia native Rocio Restrepo until last year. The Louisville, Ohio, resident returns to the familiar venue June 15-17 to defend her first Professional Women's Bowling Association title, the PWBA Greater Detroit Open, which she won last season.
While this will be Restrepo's third visit to Super Bowl for a PWBA event, it will not be her third visit overall. The long-time Team Colombia member was a frequent competitor at various events held by The National Bowling Association (TNBA) at Super Bowl, but prior to 2016 success was hard to come by at every level.
In 2015, Restrepo finished tied for 35th at the Greater Detroit Open, her lowest finish on tour that season as she missed match play and struggled with her confidence at the venue. Restrepo was persistent and determined to figure out how to be successful, which helped her ultimately capture the women's title at the 2016 TNBA Central Regional Bill Rhodman Singles Classic at the Super Bowl.
The TNBA title came just one month prior to the start of the 2016 PWBA season and helped make the difference when Restrepo returned to Super Bowl for the PWBA event.
"I had bowled a few tournaments in that house before and I always left the bowl disappointed with my performance," Restrepo said. "I could never strike much. But last year, before the start of the PWBA season, I won a TNBA title. For once, I was able to strike a ton, so my bad memories in the house were replaced with a sense of accomplishment and realization that you never quit because there is always something better if you are persistent.
"If I had not been persistent and given myself one more chance, I would probably had never won in this house. Therefore, I think I would probably still be chasing my first PWBA title."
Restrepo's 2017 season is off to a good start. She captured her third career title at the QubicaAMF PWBA Sonoma County Open, finished third at the PWBA Storm Sacramento Open and tied for fifth last week at the Pepsi PWBA Lincoln Open.
While she's going to do everything possible to qualify for the TV finals this week, Restrepo always knows how to put every experience in the proper perspective.
"I am going to give it my all to at least put myself in the position to get there again," Restrepo said. "I think what will help me this week is knowing that I have overcome every obstacle with my physical and mental game in this house. This event especially is a reminder that God always has a plan for you. What you are willing to do with it is what makes it count. I chose to work harder and learned from my bad past experiences, and in exchange I was rewarded with the most amazing gift I could have ever asked for."
This week's field also will feature former PWBA standout and USBC Hall of Famer Cheryl Daniels. Daniels, who owns 10 career PWBA titles including the 1995 U.S. Women's Open, is a Michigan Women's Bowling Association and Detroit WBA hall of fame member.
The stepladder finals of the PWBA Greater Detroit Open will be taped for broadcast at The Ashwaubenon Bowling Alley in Green Bay, Wisconsin, site of the Go Bowling PWBA Players Championship. The Greater Detroit Open stepladder finals will air Tuesday, July 18, at 8 p.m. Eastern on CBS Sports Network.
All qualifying and match play rounds of PWBA Tour events are carried on Xtra Frame, the exclusive online bowling channel for the Professional Bowlers Association. Go to XtraFrame.TV for more information.
2017 PWBA GREATER DETROIT OPEN
(At Super Bowl, Canton, Michigan)
(All times local)
Thursday, June 15
4:30 p.m. – 6 p.m.: Official Practice
7 p.m.: Pro-am
Friday, June 16
9 a.m. – 10 a.m.: Official Practice
Noon:  Qualifying Round 1 (fresh oil, six games)
6 p.m.: Qualifying Round 2 (fresh oil, six games)
Saturday, June 17 
8:30 a.m.: Cashers' Round (fresh oil, six games)
1 p.m.: Round-Robin Match Play (fresh oil, six games)
5 p.m.: Group Stepladder Finals (fresh oil)
7 p.m.: Pro-am
About the PWBA
The Professional Women's Bowling Association (PWBA) originally was formed in 1960. The PWBA Tour has events throughout the country, offering high-level competition and top prize money for women bowlers. The PWBA is supported by the Bowling Proprietors' Association of America (BPAA) and the United States Bowling Congress (USBC).