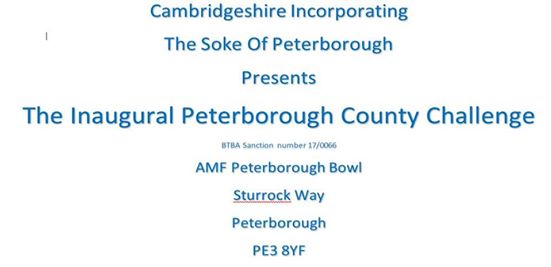 The Cambridgeshire trials were held over 3 dates this year, 2 Sundays and a Monday night over 6 games at AMF Peterborough Bowl. It was the first time in a few years that we had enough ladies turn out to be able to put together a team, and a steady turn out for the men with a couple of new faces this year in the form of 2 James' Butler and Conolly, along with a host of regulars.
The first weekend saw left hander Stuart Sarter take an early lead in the Mens with 1293 ( 215.50 ave ) with Mark Wells 2nd 1194 after a slow start and Martin Townshend 3rd with 1170. In the Ladies Kayla Knight took charge with 1183 ( 197.17 ave) which proved to be enough to top the ladies at the end of the trials.
Maggie Bates took to the lanes for her first attempt at trials and was able to make it through 6 games without any problems. Unfortunately Sue Wagstaff who was just getting a hold on the lanes with a 185 had an unfortunate fall and had to pull out due to injury after 4 games. On to the 2nd weekend and this saw more left handers come out flying in the mens, Rhys Bean lead from start to finish with 1422 ( 237.00 ave ) knocking Stuart down into 2nd place and Richard Balaam pushed his way into 3rd place with 1244 ( 207.33 ave ) .
The 2nd weekend also saw Danny Ayling have 289 in game 4 ringing a 7 pin in the 11th shot only a couple of months after having a 300 game in the Friday night League at Peterborough. In the Ladies Amy Sedgwick went into 2nd place with 1108 (184.67 ave ) and another first time trialist Denise Davidson also took to the lanes on Monday night with Lorna Chandler.
The trials saw good scores and we're hoping we can carry this form forwards into the central region qualifier in September.