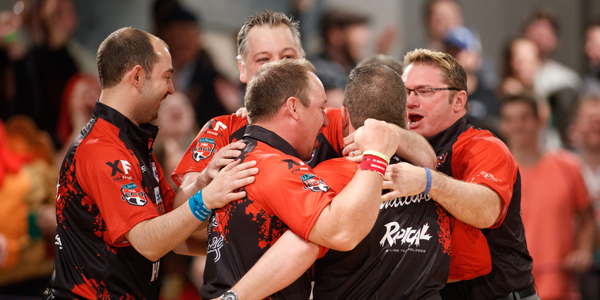 Philadelphia, Dallas Win Overtime Thrillers as L.L.Bean PBA League Gets Underway
Hitman upset No. 1 KingPins; Strikers nullify near-perfect effort by L.A. X
PORTLAND, Maine  –
The underdog Sysco Philadelphia Hitmen and the defending champion Shipyard Dallas Strikers got the fifth edition of the L.L.Bean PBA League Elias Cup competition off to a roaring start with sudden-death victories in front of a sold-out crowd at Bayside Bowl.
The first two best-of-two-game quarterfinal rounds matches aired Sunday on ESPN.
The Philadelphia Hitmen, after finishing last in the eight-game league a year earlier and qualifying eighth in the seeding competition two days earlier at Bayside Bowl, were on the brink of another disappointment in Portland when the top-seeded GEICO NYC WTT KingPins won the opening Baker format game, 248-238, thanks to a closing string of six strikes including three in the 10th frame by anchor bowler Marshall Kent.
The Hitmen forced the one-ball sudden-death roll-off by staging their own five-strike rally in the second game, winning a 227-223 battle when anchor bowler Tom Smallwood struck on his first shot in the 10th frame.
In the roll-off, Philadelphia's Dom Barrett matched KingPins' leader Pete Weber's strike. On the second try, New York City's John Szczerbinski left a 10 pin that a rebounding "messenger" pin failed to topple. Tom Smallwood ended the drama when his "messenger" connected, tipping over the 10 pin for a strike and the victory.
"It's been a rough couple of years for us," Philadelphia manager Jason Couch said. "We've been on the losing end despite bowling the two highest scores other than the people we bowled against. I told our guys when we got here, we haven't had the greatest luck but when they get on the approach, I wanted them to be committed and just go do it. That was my speech of the day.
"Tom (Smallwood) bowled phenomenal, but our whole team bowled well. Tom just looked comfortable on the lanes, so I moved him to anchor," Couch added. "I don't know who we bowl next and I don't care because my guys are really committed and I feel good about our chances."
Smallwood embraced the opportunity to throw the sudden-death shot.
"I had a great ball reaction," he said. "I could hit the pocket basically from everywhere. In the end, my messenger delivered, John's didn't."
Dallas jumped in front in the second quarterfinal match, tripping the Lee Auto Malls L.A. X team, 223-215, when L.A. X anchor Jason Belmonte left a 2 pin on his second shot in the 10th frame after striking on his first shot. L.A. X was almost perfect in the second game with Martin Larsen, Jakob Butturff, Osku Palermaa, Stuart Williams and Belmonte throwing 11 strikes, just missing 300 when the Australian two-hander left a 10 pin on his final shot.
In their sudden-death duel, the Strikers insisted reluctant player-manager Norm Duke throw their first shot, and the PBA Hall of Famer struck. Belmonte then stunned the Portland crowd when he left a 4 pin.
"That was exciting, nerve-wracking, what sports is all about," Duke said, "especially when you've got the team behind you. They know if you falter, they falter. (PBA players) don't get a lot of that and when we do, it's thrilling. We're used to being individuals.
"I'm sure golfers would understand, but Jack Nicklaus would tell you the Ryder Cup is a different feeling.
This (PBA League) is building," Duke continued. "Don't think for a minute it doesn't mean anything to these guys. If it didn't mean anything, you wouldn't see the level of fear or the level of confidence in two players standing right next to each other."
Duke said he didn't want to be the guy throwing the sudden-death shot, "but my team came to me and said it was either Rhino (Page, a left-hander) or me because we had the best chance of throwing a strike. They thought my ball was going through the pins better and they were right. They put it all on me. I was scared of it, to be honest, but we all know that's why we're here and every one of us would have thrown that shot."
Duke also said winning the Elias Cup in 2016 "was one of the highlights of my entire career. It wasn't because I was player-manager; it was because there wasn't a match where we weren't down 40 pins and had to come back, just like today. And then we bowled that 300 (en route to winning the Elias Cup). That's why it meant so much. Now we're in the top four, and I like our chances."
The final two quarterfinal round matches, airing next Sunday at 1 p.m. EDT, will send the MaineQuarterly.com Brooklyn Styles against the Live + Work in Maine Silver Lake Atom Splitters in the first match, and the Barbasol Motown Muscle against the hometown-favorite L.L.Bean Portland Lumberjacks in the fourth quarterfinal round contest.
The ESPN telecast will be simultaneously streamed on ESPN3 and the WatchESPN app.
L.L.BEAN PBA LEAGUE
Bayside Bowl, Portland, Maine (aired Sunday on ESPN) 
Quarterfinal Round Results (best-of-two-game Baker format)
Match One:
Sysco Philadelphia Hitmen
(
Ronnie Russell, Dave Wodka, Chris Loschetter, Dom Barrett, Tom Smallwood) def.
GEICO NYC WTT KingPins (
Danielle McEwan, Sam Cooley
,
John Szczerbinski,
Pete Weber, Marshall Kent
),  238-248, 227-223, 10-10, 10-9 in one-ball sudden-death roll-off.
Match Two:
Shipyard Dallas Strikers (Bill O'Neill, Norm Duke, B.J. Moore III, Rhino Page, Tommy Jones) def. Lee Auto Malls L.A. X (Martin Larsen, Jakob Butturff, Osku Palermaa, Stuart Williams, Jason Belmonte), 223-215, 217-299, 10-9 in one-ball sudden-death roll-off.
About the PBA
The Professional Bowlers Association (PBA) is an organization of more than 3,000 of the best bowlers from 27 countries who compete in PBA Tour, PBA International Tour, PBA Regional Tour, PBA Women's Regional and PBA50 Tour events. The PBA is in its 58th consecutive year of nationally-televised competition, reaching bowling fans around the world who follow PBA activities through the PBA Network which includes Xtra Frame, the PBA's exclusive online bowling channel, ESPN and CBS Sports Network, and the PBA on Facebook, Twitter and YouTube. PBA sponsors include Barbasol, Brunswick, Ebonite International, GEICO, Grand Casino Hotel and Resort, HotelPlanner.com, MOTIV, 900 Global, PBA Bowling Challenge Mobile Game, Storm Products and the United States Bowling Congress, among others. For more information, log on to
www.pba.com
.