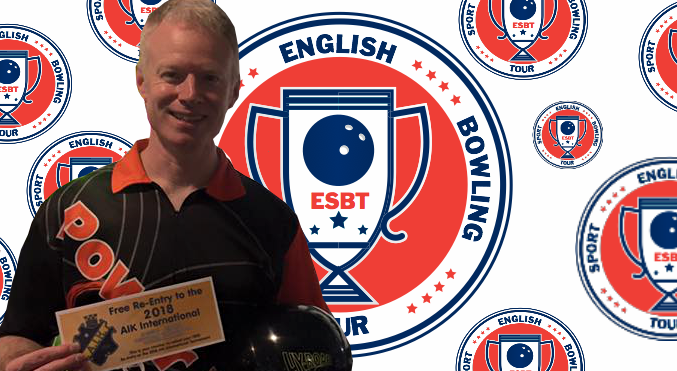 Following on from a very successful Tour Stop 1 at Stroud the ESBT Tour Stop 2 at Bowlplex Poole proved to be another popular event with 54 players seeing if they could get to grips with the chosen Sport Pattern. Hadley Morgan Won Tour Stop 1 so it was up to him to put his hand in our very expensive bag of , pool, balls to randomly draw the pattern… he pulled out ball 4 which was the Mexico City 43ft pattern!  Could Hadley repeat his win??
With 54 contenders we had a few new faces to Tour Stop 2 with the likes of ….. Storm Staffer and multiple EBT winner Richie Teece, EBT winner Autum Chamberlain, Senior multiple ISBT title winner Steve Jeeves and the deadly 007 himself Paul " Rodger " Moor…. Paul's got too many titles to mention in this report – but we all know he can knock a few pins over, occasionally!!!
Could any of these mentioned above prove to be winners on the day? Or could Mexico City catch them out?
After the first 2 squads the scores looked to be a lot more hard to come by then what we all expected with local Luke Sanders shooting 1764,  Adam Shrubb second on 1729 just ahead of Brunswick / DV8 Staff player ( car share buddy )  Adam Cairns on 1702 with Steve Jeeves on 1666.
Could these scores hold out for a top 10 cash…….??
As squad 3 started there seemed to be a few players looking very perplexed with ball reaction / non reaction and carry. Mexico City is a tricky pattern, you can play a few angles to get to the pocket but carry was keeping scores reasonable.
As the games went on there were a few in the mix – on score pace to catch Luke's score, Storms Richie Teece was up there, Power Palys Matt Chamberlain & Chris Oates were keeping close by, Hadley Morgan was not far away either.
Coming in to the last couple of games and the top few seemed to be pulling away from the rest… Storms Richie Teece was still there,  Chamberlain & Oates were chasing hard but there's 1 guy you just have to keep both eyes on, no matter of age or rev rate, he silver fox himself Steve Thornton!!!
Steve Thornton takes the win from  Storms Richie Teece by 46 pins on a sizeable 1838/8games, Richie shooting a not shy 1792 himself for 2nd with Matt Chamberlain in 3rd only 9 pins back from Richie on 1783.
Speaking to Steve after about his win ( yet another win ) he said " I really didn't expect that, that was a grind even though the scores might not show it"
Steve also said that he wasn't sure what ball to play so he drilled up a brand new box fresh Storm Hyroad the day before, he knew it had just the right amout of length to clear he fronts and to blend out the backend at the start but could easily left turn when needed, and carry the 10pin!!!
Richie Teece and Matt Chamberlain also used both Storm and Roto Grip balls all day to gain an advantage on the field, and it showed!
The sweeper was won by Pistol Pete Stevenson shooting a 515 for his 2 games, followed by Tour Top 1 winner Hadley Morgan on 502 then Steve Jeeves and Kev Pilley both on 501 and Glen Bailey taking the last cash spot with 490.
Steve not only won the Tour Stop but added a free Re-Entry to the AIK 2018 in Stockholm and some extremely valuable points to his ranking heading towards the Tour Masters where he and 15 others will be shooting out for that amazing winners trip of a life time to Las Vegas to bowl and visit the factory where all our favourite balls are made, it's with so many thanks to Storm Bowling and Bowltech we have this, there really is no better prize!!!
The last thing for Steve to do now before he could finally head home was to choose e lane pattern for Tour Stop 3 at Farnborough. On livestream Steve selected card 4 that was Kegels Boardwalk lane pattern!!
Thanks to all bowlers that came to Poole and supported Tour Stop 2!!
#stormbowling #Storm #stormnation #bowltech #AIK #esbt
Results