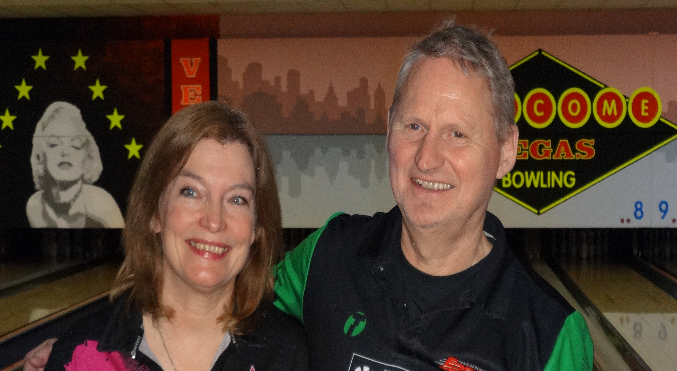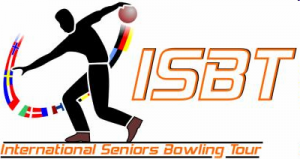 Arthurs Senior Open 2017
ISBT Tour 2017 Stop 1
Vegas Bowling, Osnabrück, Germany
9th to 12th March 2016
Champions: Liliane Vintens and Christer Danielsson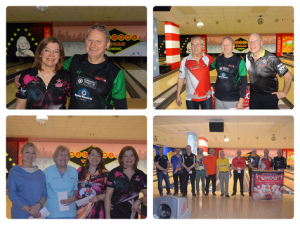 The first stop on the 2017 ISBT tour returned to Vegas Bowling in Osnabrück in Germany for the 12th running of Arthur's Senior Open, organised by Arthur Dähn. This year the tournament took place over the same weekend as the 2016 ISBT Masters tournament, and as a result the entry was a little higher than normal with a total of 91 men and 23 women. The format for the tournament was a single 6 games qualifying block, with unlimited re-entries allowed.
Age bonus started at age 51 (1 pin per game), then increased by one pin for every additional year of age with no limit. There were additional opportunities to qualify for the finals through Early Bird and Turbo rankings, and for the men a scratch ranking. As with all ISBT events, there was a separate division for ladies. The tournament was played on the Kegel Broadway pattern, which is from the Kegel Challenge library.
The tournament started on Thursday, with two squads bowled. The scores showed that the pattern was indeed challenging, however Paul Cosgrove (Netherlands) hit a fine 1427 with age bonus, well ahead of Jürgen Preuss (Germany) on 1284. Top lady over the day was Petra Viehweg (Germany) with 1139.
Friday saw the arrival on many of the overseas players, and Christer Danielsson (Sweden) immediately showed how to score on the pattern with blocks of 1358 and 1476. Hermann Wimmer (Germany) also had no problems with a block of 1397, just one pin behind Ron Oldfield (England). In the women's section, no-one was managing to break par, Bozena Pajak came closest with 1180, just ahead of a fine 1174 for Ruth Stander (England).
There were four more squads on Saturday, and high scores remained few and far between. Alan Jenkins (England) was highest over the day with 1342, just ahead of Giorgio Desimio (Belgium) and Alan Keddie (Scotland). There were only three blocks over par throughout qualifying in the women's section, two to Angie Brown (England) with 1211 and 1213, and one for Liliane Vintens (Belgium) with 1208.
The final qualification rankings saw Christer Danielsson at the top with 1476, ahead of Paul Cosgrove (1427), and Ron Oldfield (1398). Seventh qualifier, and the last to miss the first finals round was Alan Keddie (1334). The cut for the final 25th place was Auke Broekhuizen (Netherlands) with 1269, a very low cut by ISBT standards. These qualifiers would be joined by six Early Bird, eight Turbo and three Scratch qualifiers in the final stages.
In the women's qualification, Angie Brown led with 1213, just ahead of Liliane Vintens and Kimberley Oakley (England). Hillevi Huhta (Finland) was the last qualifier through the normal rankings with 1155, these six plus two Turbo and two Early Birds would start the finals on Sunday.
The men placed 8 to 25 and the other qualifiers had an early start on Sunday for the first finals round. Peter Todosijevic (Denmark) won this four game round with 933,
ahead of Lol Ellis (England) and Mike Halliwell (England). Only the top eleven would go forward to the next round, this place was taken by Jürgen Preuss with 842.
The second final round saw the top eleven from the previous round being joined by the top seven qualifiers for a further four games. Björn Bergvall (Sweden) came out on top with 957, ahead of Christer Danielsson and Lol Ellis. Only the top ten bowlers would make the final round, last man in was Mo Singleton with 823.
The final round for the men was a further four game block, with pinfall from the previous round being carried through. Christer Danielsson powered away from the field with a scratch average of 240 to easily take the win. Behind him, Hermann Wimmer took second place, with Björn Bergvall dropping from first to third place.
The ten qualifying ladies also bowled an initial four game block, with Liliane Vintens leading with 882, ahead of Bozena Pajak (Poland) and last year's winner Bianca Völkl-Brandt. The last qualifier for the final was Ruth Stander from England, who bowled really steadily to average 168, no mean feat at age 83. The top four then played a further four games, again with pinfall carrying through. Liliane Vintens continued to bowl steadily to take a deserved win, ahead of Bianca Völkl-Brandt and Ruth Stander.
The next stop is the Alsace Senior Open, held at Crystal Bowling Wittelsheim, France. The tournament runs from the 27th to 30th April. Full details are available at the ISBT web site, http://www.isbtbowlingtour.eu/
Results
Men
Final
Pos
Name
Age Bonus
B/F
Game 1
Game 2
Game 3
Game 4
Scratch
Total
Bonus
Total
Average
1
Christer Danielsson
SE
12
931
236
224
269
233
962
48
1941
240.5
2
Hermann Wimmer
DE
24
839
247
203
218
191
859
96
1794
214.8
3
Björn Bergvall
SE
11
957
192
200
180
210
782
44
1783
195.5
4
Giorgio Desimio
BE
17
892
175
212
211
210
808
68
1768
202.0
5
Mo Singleton
UK
23
823
177
214
246
188
825
92
1740
206.3
6
Lol Ellis
UK
17
917
200
180
180
183
743
68
1728
185.8
7
Ron Oldfield
UK
26
849
182
165
209
203
759
104
1712
189.8
8
Peter Knopp
DE
7
861
170
164
238
236
808
28
1697
202.0
9
Alan Keddie
UK
6
832
208
190
257
180
835
24
1691
208.8
10
Timo Mäkelä
FI
11
826
150
207
207
174
738
44
1608
184.5
Round 2
Pos
Name
Age Bonus
Game 1
Game 2
Game 3
Game 4
Scratch
Total
Bonus
Total
Average
1
Björn Bergvall
SE
11
218
246
222
227
913
44
957
228.3
2
Christer Danielsson
SE
12
196
237
215
235
883
48
931
220.8
3
Lol Ellis
UK
17
254
246
154
195
849
68
917
212.3
4
Giorgio Desimio
BE
17
228
190
203
203
824
68
892
206.0
5
Peter Knopp
DE
7
224
181
192
236
833
28
861
208.3
6
Ron Oldfield
UK
26
186
167
191
201
745
104
849
186.3
7
Hermann Wimmer
DE
24
154
190
168
231
743
96
839
185.8
8
Alan Keddie
UK
6
208
195
198
207
808
24
832
202.0
9
Timo Mäkelä
FI
11
196
215
171
200
782
44
826
195.5
10
Mo Singleton
UK
23
213
186
182
150
731
92
823
182.8
11
Jürgen Preuss
DE
21
173
175
210
179
737
84
821
184.3
12
Alan Jenkins
UK
26
197
150
202
156
705
104
809
176.3
13
Mike Halliwell
UK
10
220
187
195
163
765
40
805
191.3
14
Peter Todosijevic
DE
16
161
181
217
181
740
64
804
185.0
15
Pekka Tiironkoski
FI
25
162
166
185
180
693
100
793
173.3
16
Miroslaw Pajak
PL
8
169
184
183
211
747
32
779
186.8
17
Paul Cosgrove
NL
0
208
177
198
158
741
0
741
185.3
18
Ron Van Den Bogaard
NL
5
167
133
168
186
654
20
674
163.5
Round 1
Pos
Name
Age Bonus
Game 1
Game 2
Game 3
Game 4
Scratch
Total
Bonus
Total
Average
1
Peter Todosijevic
DE
16
213
226
192
238
869
64
933
217.3
2
Lol Ellis
UK
17
234
205
221
180
840
68
908
210.0
3
Mike Halliwell
UK
10
265
220
177
204
866
40
906
216.5
4
Timo Mäkelä
FI
11
205
237
201
217
860
44
904
215.0
5
Mo Singleton
UK
23
164
193
188
257
802
92
894
200.5
6
Björn Bergvall
SE
11
222
197
207
198
824
44
868
206.0
7
Pekka Tiironkoski
FI
25
156
206
211
189
762
100
862
190.5
8
Miroslaw Pajak
PL
8
182
187
227
231
827
32
859
206.8
9
Peter Knopp
DE
7
197
193
226
207
823
28
851
205.8
10
Ron Van Den Bogaard
NL
5
201
214
191
219
825
20
845
206.3
11
Jürgen Preuss
DE
21
195
193
169
201
758
84
842
189.5
12
Raimo Palokoski
FI
16
193
163
205
214
775
64
839
193.8
13
Volkmar Wiehe
DE
15
208
223
177
168
776
60
836
194.0
14
Roger Pieters
BE
18
204
195
153
207
759
72
831
189.8
15
Valentin Fatu
BE
5
201
189
215
201
806
20
826
201.5
16
Mick Ince
UK
17
208
149
202
194
753
68
821
188.3
17
Stefan Wulcan
SE
6
196
216
201
175
788
24
812
197.0
18
Klaus-Uwe Lischka
DE
8
197
211
234
133
775
32
807
193.8
19
Anders Hagberg
SE
4
228
203
173
186
790
16
806
197.5
20
Helmut Ulber
DE
18
179
191
194
170
734
72
806
183.5
21
Kalle Gaiser
DE
23
191
165
166
192
714
92
806
178.5
22
Steve Wright
UK
17
185
185
168
196
734
68
802
183.5
23
Steve Carnall
UK
11
182
166
222
181
751
44
795
187.8
24
Ingar Gabrielsen
NO
11
202
193
179
172
746
44
790
186.5
25
Ekkehard Oette
DE
22
176
145
167
213
701
88
789
175.3
26
Krzysztof Olesinski
PL
4
196
189
181
201
767
16
783
191.8
27
Maarten in 't Veld
NL
19
170
194
162
181
707
76
783
176.8
28
Harald Punessen
DE
4
183
196
197
184
760
16
776
190.0
29
Uwe Tscharke
DE
5
175
193
170
216
754
20
774
188.5
30
Bernhard Wyrwal
DE
7
188
195
166
193
742
28
770
185.5
31
Paul Le Louarn
JE
16
148
202
191
163
704
64
768
176.0
32
Jeff Taylor
UK
9
192
191
166
175
724
36
760
181.0
33
Jack Smith
UK
14
180
152
176
177
685
56
741
171.3
34
Steven Jeeves
UK
4
92
212
201
199
704
16
720
176.0
35
Auke Broekhuizen
NL
6
161
186
182
165
694
24
718
173.5
Qualifying
| | | | | | | |
| --- | --- | --- | --- | --- | --- | --- |
| Pos | Name | | Age Bonus | First Series | Second Series | Total |
| 1 | Christer Danielsson | SE | 12 | 1404 | 1476 | 234.0 |
| 2 | Paul Cosgrove | NL | 0 | 1427 | 1427 | 237.8 |
| 3 | Ron Oldfield | UK | 26 | 1242 | 1398 | 207.0 |
| 4 | Hermann Wimmer | DE | 24 | 1253 | 1397 | 208.8 |
| 5 | Alan Jenkins | UK | 26 | 1186 | 1342 | 197.7 |
| 6 | Giorgio Desimio | BE | 17 | 1237 | 1339 | 206.2 |
| 7 | Alan Keddie | UK | 6 | 1298 | 1334 | 216.3 |
| 8 | Uwe Tscharke | DE | 5 | 1303 | 1333 | 217.2 |
| 9 | Ingar Gabrielsen | NO | 11 | 1253 | 1319 | 208.8 |
| 10 | Mike Halliwell | UK | 10 | 1255 | 1315 | 209.2 |
| 11 | Björn Bergvall | SE | 11 | 1247 | 1313 | 207.8 |
| 12 | Krzysztof Olesinski | PL | 4 | 1288 | 1312 | 214.7 |
| 13 | Roger Pieters | BE | 18 | 1202 | 1310 | 200.3 |
| 14 | Timo Mäkelä | FI | 11 | 1238 | 1304 | 206.3 |
| 15 | Pekka Tiironkoski | FI | 25 | 1153 | 1303 | 192.2 |
| 16 | Jack Smith | UK | 14 | 1213 | 1297 | 202.2 |
| 17 | Miroslaw Pajak | PL | 8 | 1244 | 1292 | 207.3 |
| 18 | Lol Ellis | UK | 17 | 1189 | 1291 | 198.2 |
| 19 | Peter Knopp | DE | 7 | 1245 | 1287 | 207.5 |
| 20 | Helmut Ulber | DE | 18 | 1177 | 1285 | 196.2 |
| 21 | Jürgen Preuss | DE | 21 | 1158 | 1284 | 193.0 |
| 22 | Mo Singleton | UK | 23 | 1144 | 1282 | 190.7 |
| 23 | Steven Jeeves | UK | 4 | 1254 | 1278 | 209.0 |
| 24 | Maarten in 't Veld | NL | 19 | 1159 | 1273 | 193.2 |
| 25 | Auke Broekhuizen | NL | 6 | 1233 | 1269 | 205.5 |
| 26 | Anders Hagberg | SE | 4 | 1240 | 1264 | 206.7 |
| 27 | Klaus-Uwe Lischka | DE | 8 | 1206 | 1254 | 201.0 |
| 28 | Dan Ahlquist | SE | 17 | 1151 | 1253 | 191.8 |
| 29 | Stefan Wulcan | SE | 6 | 1216 | 1252 | 202.7 |
| 30 | Frank Lindsay | UK | 17 | 1149 | 1251 | 191.5 |
| 31 | Bernhard Wyrwal | DE | 7 | 1208 | 1250 | 201.3 |
| 32 | Gianni Marchiori | IT | 12 | 1177 | 1249 | 196.2 |
| 33 | Les Grant | UK | 23 | 1111 | 1249 | 185.2 |
| 34 | Ron Van Den Bogaard | NL | 5 | 1207 | 1237 | 201.2 |
| 35 | Steve Coates | UK | 6 | 1199 | 1235 | 199.8 |
| 36 | Doug Sinclair | UK | 22 | 1103 | 1235 | 183.8 |
| 37 | Jeff Taylor | UK | 9 | 1180 | 1234 | 196.7 |
| 38 | Berny Stöckl | DE | 13 | 1154 | 1232 | 192.3 |
| 39 | Ekkehard Oette | DE | 22 | 1100 | 1232 | 183.3 |
| 40 | Steve Carnall | UK | 11 | 1164 | 1230 | 194.0 |
| 41 | Pierre Prou | FR | 18 | 1121 | 1229 | 186.8 |
| 42 | Steve Wright | UK | 17 | 1125 | 1227 | 187.5 |
| 43 | Kalle Gaiser | DE | 23 | 1089 | 1227 | 181.5 |
| 44 | Harald Punessen | DE | 4 | 1202 | 1226 | 200.3 |
| 45 | Ian Buckland | UK | 12 | 1154 | 1226 | 192.3 |
| 46 | Raimo Palokoski | FI | 16 | 1115 | 1211 | 185.8 |
| 47 | Werner Knöbl | DE | 10 | 1150 | 1210 | 191.7 |
| 48 | Harry Sanders | NL | 10 | 1150 | 1210 | 191.7 |
| 49 | Werner Prietz | DE | 17 | 1105 | 1207 | 184.2 |
| 50 | Rene Gooyers | NL | 13 | 1126 | 1204 | 187.7 |
| 51 | Dominique De Nolf | BE | 11 | 1136 | 1202 | 189.3 |
| 52 | Bogdan Gula | PL | 8 | 1153 | 1201 | 192.2 |
| 53 | Ralf Gräwe | DE | 8 | 1151 | 1199 | 191.8 |
| 54 | Andre Geelen | BE | 21 | 1073 | 1199 | 178.8 |
| 55 | Valentin Fatu | BE | 5 | 1168 | 1198 | 194.7 |
| 56 | Arthur Dähn | DE | 16 | 1102 | 1198 | 183.7 |
| 57 | Carlo Greulich | DE | 9 | 1136 | 1190 | 189.3 |
| 58 | Andreas Janssen | DE | 1 | 1181 | 1187 | 196.8 |
| 59 | Miroslav Chylo | DE | 22 | 1054 | 1186 | 175.7 |
| 60 | Ian Oakley | UK | 13 | 1104 | 1182 | 184.0 |
| 61 | Robert Vallons | BE | 11 | 1111 | 1177 | 185.2 |
| 62 | Michel Ligier | FR | 12 | 1103 | 1175 | 183.8 |
| 63 | Poul Hansen | DK | 10 | 1114 | 1174 | 185.7 |
| 64 | Mick Ince | UK | 17 | 1072 | 1174 | 178.7 |
| 65 | Peter Gremmert | DE | 8 | 1125 | 1173 | 187.5 |
| 66 | Paul Le Louarn | JE | 16 | 1065 | 1161 | 177.5 |
| 67 | Paul Newton | UK | 20 | 1037 | 1157 | 172.8 |
| 68 | Janusz Hulecki | PL | 14 | 1068 | 1152 | 178.0 |
| 69 | Manfred Meier | DE | 15 | 1061 | 1151 | 176.8 |
| 70 | Gerth Reuter | DE | 9 | 1090 | 1144 | 181.7 |
| 71 | Bengt Ahlstrand | SE | 20 | 1022 | 1142 | 170.3 |
| 72 | Ralf Beenken | DE | 4 | 1117 | 1141 | 186.2 |
| 73 | Peter Todosijevic | DE | 16 | 1040 | 1136 | 173.3 |
| 74 | Dieter Rau | DE | 18 | 1022 | 1130 | 170.3 |
| 75 | Gerhard Machner | DE | 9 | 1067 | 1121 | 177.8 |
| 76 | Louis Hendriks | NL | 2 | 1102 | 1114 | 183.7 |
| 77 | Volkmar Wiehe | DE | 15 | 1022 | 1112 | 170.3 |
| 78 | Andy Clough | UK | 10 | 1049 | 1109 | 174.8 |
| 79 | Yves Delafonteyne | BE | 3 | 1086 | 1104 | 181.0 |
| 80 | Greg Jerome | UK | 11 | 1032 | 1098 | 172.0 |
| 81 | Gerd Ahrens | DE | 13 | 1008 | 1086 | 168.0 |
| 82 | Leen van Haaften | NL | 14 | 1001 | 1085 | 166.8 |
| 83 | Klaus Hinney | DE | 9 | 1028 | 1082 | 171.3 |
| 84 | Hans Werner Frerix | DE | 19 | 961 | 1075 | 160.2 |
| 85 | Jochen Diekhoff | DE | 18 | 961 | 1069 | 160.2 |
| 86 | Allen Poulson | DE | 4 | 1044 | 1068 | 174.0 |
| 87 | Dieter Schüttforth | DE | 12 | 985 | 1057 | 164.2 |
| 88 | Peter Lüdecke | DE | 8 | 1005 | 1053 | 167.5 |
| 89 | Thomas Schwermer | DE | 4 | 1021 | 1045 | 170.2 |
| 90 | Gerd Wienß | DE | 12 | 948 | 1020 | 158.0 |
| 91 | Walter Gehring | DE | 13 | 932 | 1010 | 155.3 |
Women
Final
Pos
Name
Age Bonus
B/F
Game 1
Game 2
Game 3
Game 4
Scratch
Total
Bonus
Total
Average
1
Liliane Vintens
DE
10
882
198
188
195
192
773
40
1695
193.3
2
Bianca Völkl-Brandt
DE
2
845
183
237
160
209
789
8
1642
197.3
3
Ruth Stander
UK
33
806
165
151
208
171
695
132
1633
173.8
4
Bozena Pajak
PL
5
853
192
155
144
196
687
20
1560
171.8
Round 1
Pos
Name
Age Bonus
Game 1
Game 2
Game 3
Game 4
Scratch
Total
Bonus
Total
Average
1
Liliane Vintens
BE
10
213
214
181
234
842
40
882
210.5
2
Bozena Pajak
PL
5
190
211
178
254
833
20
853
208.3
3
Bianca Völkl-Brandt
DE
2
212
236
166
223
837
8
845
209.3
4
Ruth Stander
UK
33
167
161
179
167
674
132
806
168.5
5
Kimberley Oakley
UK
4
159
187
246
196
788
16
804
197.0
6
Hillevi Huhta
FI
12
177
192
180
181
730
48
778
182.5
7
Angie Brown
UK
9
176
200
161
173
710
36
746
177.5
8
Gisela Insinger
DE
24
152
143
147
162
604
96
700
151.0
9
Petra Viehweg
DE
9
158
150
156
169
633
36
669
158.3
10
Marie Ahlstrand
SE
16
184
115
135
155
589
64
653
147.3
Qualifying
| | | | | | | |
| --- | --- | --- | --- | --- | --- | --- |
| Pos | Name | | Age Bonus | Scratch | Total | Average |
| 1 | Angie Brown | UK | 9 | 1159 | 1213 | 193 |
| 2 | Liliane Vintens | BE | 10 | 1148 | 1208 | 191 |
| 3 | Kimberley Oakley | UK | 4 | 1167 | 1191 | 195 |
| 4 | Bozena Pajak | PL | 5 | 1150 | 1180 | 192 |
| 5 | Ruth Stander | UK | 33 | 976 | 1174 | 163 |
| 6 | Hillevi Huhta | FI | 12 | 1083 | 1155 | 181 |
| 7 | Bianca Völkl-Brandt | DE | 2 | 1142 | 1154 | 190 |
| 8 | Petra Viehweg | DE | 9 | 1085 | 1139 | 181 |
| 9 | Farida Pascoal -Blom | NL | 22 | 994 | 1126 | 166 |
| 10 | Elke Gräwe | DE | 3 | 1077 | 1095 | 180 |
| 11 | Gisela Insinger | DE | 24 | 943 | 1087 | 157 |
| 12 | Inge Hazeleger | NL | 3 | 1062 | 1080 | 177 |
| 13 | Uschi Diekhoff | DE | 16 | 973 | 1069 | 162 |
| 14 | Claribel Muis | NL | 9 | 1014 | 1068 | 169 |
| 15 | Henny van der Jagt | NL | 22 | 935 | 1067 | 156 |
| 16 | Christine Prietz | DE | 11 | 964 | 1030 | 161 |
| 17 | Marie Ahlstrand | SE | 16 | 927 | 1023 | 155 |
| 18 | Franziska Knöbl | DE | 8 | 965 | 1013 | 161 |
| 19 | Sharon Le Louarn | JE | 6 | 947 | 983 | 158 |
| 20 | Marita Jansson | SE | 12 | 904 | 976 | 151 |
| 21 | Solveig Johansson | SE | 9 | 904 | 958 | 151 |
| 22 | Maggie Andersson | SE | 15 | 868 | 958 | 145 |
| 23 | Lisbet Hedberg | SE | 9 | 742 | 796 | 124 |