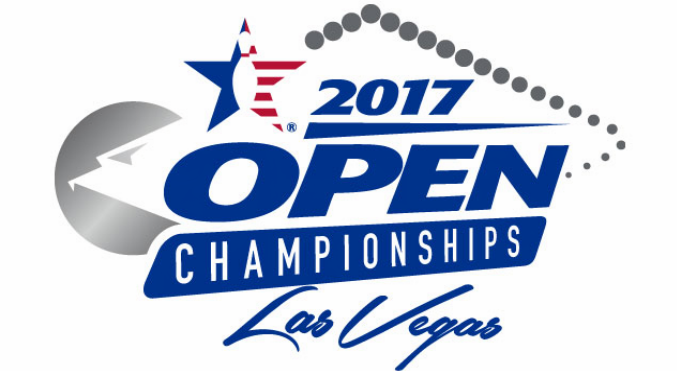 LAS VEGAS – With a perfect combination of tradition and innovation, a new era began at the United States Bowling Congress Open Championships on Saturday as the 2017 event got underway at the South Point Bowling Plaza.
The backdrop of the historic event is the $35 million Bowling Plaza, which is hosting the USBC Open Championships for the first time.
While the tournament is celebrating its 114th edition, it features three divisions for the first time in nearly 40 years. The initial wave of more than 50,000 bowlers in three average-based categories hit the lanes Saturday to kick off the 149-day event.
Among the participants on the opening squad was Joseph Zehms, who randomly was selected as this year's "Joe Bowler," a tradition that dates to 1951 and earned him the responsibility of throwing out the ceremonial first ball of the tournament.
"This was a great experience," said Zehms, a 26-year-old right-hander from nearby Henderson, Nevada, who knocked down seven pins to officially open the tournament. "I will love being recognized as Joe Bowler in the future events."
As Zehms sat on his throne presiding over the opening ceremonies, he and more than 300 competitors, family, friends and fans enjoyed encouraging words from local and bowling dignitaries, the comedic stylings of Kevin Burke and the sweet sounds of the Las Vegas chapter of Sweet Adelines International, a worldwide organization of women singers.
The festivities also included a ribbon-cutting with representatives from USBC, South Point, Las Vegas Convention and Visitors Authority and Las Vegas Events and the traditional Mass Ball Shot Ceremony, before the first of this year's more than 10,000 five-player teams began bowling for score.
Apparel EFX of Red Rock, Arizona, set the pace Saturday in the Regular Division (combined entering averages of 1,046 and above) with games of 888, 1,054 and 1,008 for a 2,950 total.
Derek Acuff led the way with a 659 series and was followed by Team USA member Bryanna Coté (615), Randy Coté (593), Bryan Van Sickle (568) and Theo Douthit (515).
In the new Standard Division (combined entering averages of 901-1,045), We Are Family of Orange, California, rolled games of 781, 849 and 876 for a 2,506 total. The group is in familiar territory, having topped the leaderboard in the Classified Division at the 2016 Open Championships in Reno, Nevada.
This year, Dennis Moore led the group with a 554 series and was joined by Timothy Perry (531), Paul Wilborn (528), David Moore (451) and Jon Stuemke (442).
The Classified Division (combined averages of 900 and below) lead in 2017 belongs to AZ Girls Just Wanna Have Fun of Phoenix with a 2,276 total on games of 828, 768 and 680. Ted Peters contributed a 519 series and was followed by Sheila Feeney (489), Gretchen Geerdes (448), Karen Butler (423) and Wendy Peters (397).
The 2017 Open Championships marks the third time the tournament is being held in Las Vegas, with previous visits coming in 1986 and 2009. Both of those events were held in custom-built facilities inside Cashman Center.
The South Point Bowling Plaza, which opened in late 2014, played host to the USBC Women's Championships in 2016 and now will be home to the 2017 Open Championships until July 16.
Competition resumes Sunday morning with the first doubles and singles squad of the year and will run daily from 9 a.m. until approximately 1 a.m.
This year, the South Point property also is home to the Bowlers Journal Championships presented by USBC, a side event that allows bowlers to enjoy additional competition while in the host city.
The Bowlers Journal Championships and team practice sessions are taking place at South Point's traditional bowling center, a short walk from the Bowling Plaza.
For more information on the Open Championships, visit BOWL.com/OpenChamp.
Visit us on Facebook at the official USBC Open Championships Facebook page.
United States Bowling Congress
The United States Bowling Congress serves as the national governing body of bowling as recognized by the United States Olympic Committee (USOC). USBC conducts championship events nationwide including the largest participation sporting events in the world – the USBC Open and Women's Championships – and professional events such as the USBC Masters and USBC Queens.
Founded in 1895, today USBC and its 2,500 state and local associations proudly serve more than a million members. USBC is headquartered in Arlington, Texas, working toward a future for the sport. The online home for USBC is BOWL.com.
2017 USBC OPEN CHAMPIONSHIPS
South Point Bowling Plaza, Las Vegas
(Top 5 division leaders with hometown and pinfall)
REGULAR DIVISION
Team
(Combined averages of 1,046 and above)
1, Apparel EFX (Theo Douthit, Derek Acuff, Bryan Van Sickle, Randy Coté, Bryanna Coté), Red Rock, Ariz., 2,950. 2, Terry Henrick's Chrysler, Archbold, Ohio, 2,935. 3, Ice in the Veins 1, Torrance, Calif., 2,754. 4, Apparel EFX 2, Red Rock, Ariz., 2,736. 5, Off Constantly, Savage, Mont., 2,546.
STANDARD DIVISION
Team
(Combined averages of 901-1,045)
1, We Are Family (David Moore, Paul Wilborn, Timothy Perry, Dennis Moore, Jon Stuemke), Orange, Calif., 2,506. 2, Classic Roades, Albert Lea, Minn., 2,458. 3, JD's Lawncare, Pella, Iowa, 2,398, 4, Excuses, Colonial Heights, Va., 2,367. 5, Logo This, Archbold, Ohio, 2,356.
CLASSIFIED DIVISION
Team
(Combined averages of 900 and below)
1, AZ Girls Just Wanna Have Fun (Karen Butler, Sheila Feeney, Wendy Peters, Gretchen Geerdes, Ted Peters), Phoenix, 2,276. 2, Roll On, Columbus, Ohio, 2,219. 3, 300 Las Vegas Style, Chandler, Ariz., 2,199.