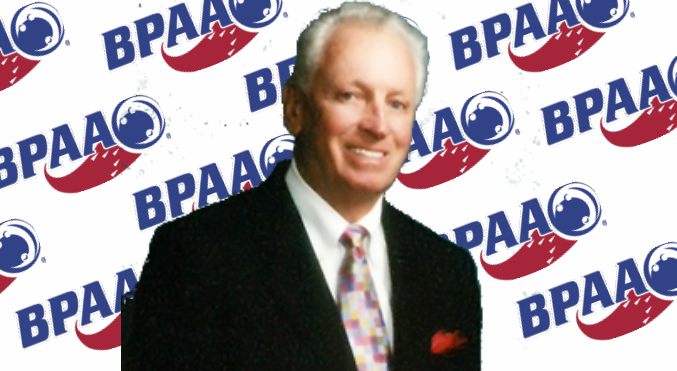 ARLINGTON, Texas – The Bowling Proprietors' Association of America (BPAA) is proud to announce the recipients of the 2017 Bowling Industry Service Awards, the most prestigious awards presented by the bowling industry:
J. Richard "Dick" Corley (Bowl New England, Colchester, Vermont) has been selected as the 2017 BPAA Hall of Fame Inductee and recipient of the Victor Lerner Memorial Medal. The Lerner Medal is the highest honor awarded by the BPAA and recognizes an individual for a lifetime of service to the bowling industry and represents the recipient's induction into BPAA's Hall of Fame located at the International Bowling Museum and Hall of Fame in Arlington, Texas.
Mr. Corley is cited for his nearly 50 years of successful bowling center management in the New England states, his many years of service to the Multi Unit Bowling Information Group (MUBIG) and Strike Ten Entertainment as well as his philosophy in sharing information with fellow proprietors to make the industry stronger.
Scott Devers (Mike Aulby's Arrowhead Bowl, Lafayette, Indiana) will be recognized with the President's Medal for his many contributions and years of service to the BPAA, specifically as chairman of the governance committee. The President's Medal is given to an individual (proprietor/manager) judged to have given exceptional support and/or made significant contributions to the association in the eyes of the current BPAA president.
Andy Bartholomy (Andy B's/Bartholomy Centers, Springfield, Missouri) will receive the coveted V.A. Wapensky Award, named after BPAA's long-time chief executive officer, "Chief" Wapensky. Mr. Bartholomy is being recognized for his leadership as longtime Smart Buy Committee Chairman and his enthusiasm for the sport of bowling. He has also been a member of the Multi Unit Bowling Information Group (MUBIG) serving as Vice President as well as actively participating in many FEC groups and conferences.
Jason Belmonte (Orange, NSW, Australia) is being recognized with the Dick Weber Bowling Ambassador Award, named after the legendary bowling icon, recognizing his many contributions to the game and sport of bowling, both on and off the lanes.
Roger Nyquist (Lake Shore Lanes, Albany, Oregon) will be recognized with the Ruben A. Dankoff Award for Public Policy and Legislative Service for his aggressive debates against employer mandates in the state of Oregon and Linn County. Awarded to an individual or organization who provides outstanding voluntary service on the federal, state or local government level in the development of legislation, public policy initiatives or other political efforts which benefit BPAA members or the industry as a whole, Nyquist has been an invaluable resource for proprietors and is currently serving on the BPAA Legislative Committee.
Dave Driscoll (Dave Driscoll & Associates, Mount Dora, Florida) will be recognized with the Special Projects award for his longtime efforts in promoting high school bowling and youth bowling in the state of Florida. He was instrumental in getting bowling a varsity sport in Florida, facilitates state bowling tournaments and helps other states with high school tournaments.
Kevin Hong (Normandy Park, Washington) will receive the 2017 Media Award. As a freelance writer, photo journalist and bowling enthusiast, he has visited 57 different locations in 11 states plus Canada to gather information for his Vintage Alleys project.  Hong's Facebook presence, website and work featured in many magazines, newspapers and websites earned him the Media Award.
The Greater Baton Rouge USBC Association will be recognized at the USBC Convention with the BPAA USBC Association Award, which is presented to a local USBC association who has demonstrated a high degree of cooperation with their local BPAA proprietor group. The relationship between BPAA and local USBC associations is critical since local associations represent the 'consumer' and BPAA member centers are the 'playing fields' for bowling. The BPAA appreciates how local USBC associations work with our member centers and acknowledges these relationships when they are exemplary.
Nancy Schenk, BPAA President and Awards Committee Chairman, stated, "Many excellent nominees were reviewed this year and these award recipients represent incredible leadership, unassuming service and honorable dedication, and we congratulate and thank them for their contributions to the bowling industry."
The Bowling Industry Service Awards will be presented at the Annual Awards Luncheon, Tuesday, June 20, 2017, during International Bowl Expo 2017 at the Gaylord Opryland Hotel in Nashville. The Lerner Memorial Medal presentation will take place during the general session on Wednesday morning.
About BPAA
Founded in 1932, the mission of Bowling Proprietors' Association of America (BPAA) is to enhance the profitability of its members. Headquartered in Arlington, Texas, at the International Bowling Campus, the BPAA offers it's over 3,400 member centers group purchasing programs, business and educational seminars, legislative representation and proactively promotes the association and bowling industry. For additional information please visit www.bpaa.com or call 1-800-343-1329.