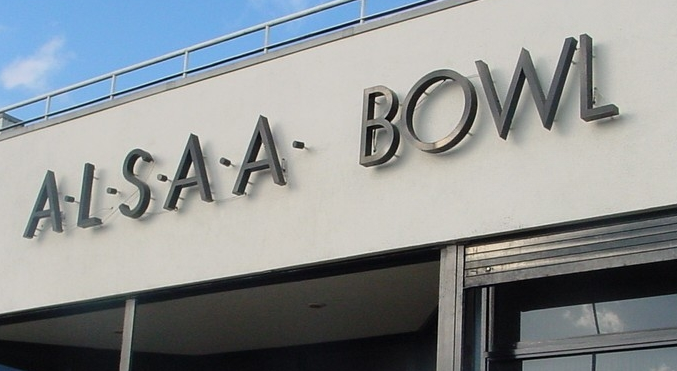 How many 300's have been bowled in you local centre?
Is there a record of every one?
We are happy to start a place where all house records can be placed for centre achievements. Thanks to Paddy Kilduff we have an ongoing record of 300 games at Alsaa in Ireland.
19th of January 2000 and Roy Åsheim from Norway rolls the first perfecto on lanes 1 and 2 in the Alsaa Millenium Open. Four days later Ron Oldfield rolls the 2nd 300 and first by an Englishman. Come May and Paul Delany hits two 300's on the same day in the Alsaa high average doubles in the first and third game of same set.
Barry Foley became the first Irishman to hit the maximum also in the Alsaa High average doubles in June and by the start of 2001 Del Delany added one to become the 6th player.
The first ladies 300 came six years later as England's Donna Adams rolled 300 on the 27th January 2006 in the 7th ALSAA Open. Donna became the 35th player with 300 in Alsaa.
Fast forward to today and a total of 229 have been bowled with the latest by Paul Stott Jnr who fired his 10th in the centre in the ALSAA Thursday High Roller Doubles.
Who has rolled the most? That honour goes to Irishman Mark O'Riordan who has bowled a massive 18. The first was in November 2002 and last in May 2013.
Full list of 300 games bowled at Alsaa, Dublin, Ireland
19/01/00 – Roy ÅSHEIM (NO) – ALSAA Millennium Open Tournament (Lanes 1/2)
23/01/00 – Ron OLDFIELD (GB) – ALSAA Millennium Open Tournament (5/6)
31/05/00 – Paul DELANY (GB) – ALSAA High Average Doubles League (1/2)
31/05/00 – Paul DELANY (GB) – ALSAA High Average Doubles League (1/2)
(in same series as above. 1st and 3rd games)
06/09/00 – Barry FOLEY (IE) – ALSAA High Average Doubles League (3/4)
13/09/00 – Del DELANY (IE) – ALSAA High Average Doubles League (9/10)
24/01/01 – Thomas WHELAN (IE) – ALSAA Open 2001Tournament (9/10)
26/01/01 – Wayne GREENALL (GB) – ALSAA Open 2001Tournament (5/6)
25/01/02 – Ulf ARNESEN (NO) – ALSAA Open 2002 Tournament (1/2)
06/06/02 – Brendan BRADY (IE) – ALSAA High Average Doubles League (3/4)
12/09/02 – Mick WALSH (IE) – ALTBC Winter Trios League (9/10)
29/09/02 – Wesley ROW (IE) – ALSAA Sunday Night Trios League (1/2)
07/11/02 – David KELLY (IE) – ALSAA High Average Doubles League (7/8)
28/11/02 – Mark O'RIORDAN (IE) – ALSAA Wednesday Trios League (5/6)
06/12/02 – Marc MOONEY (IE) – ALTBC Winter Trios League (9/10)
22/01/03 – Jahn Kare HAUGEN (NO) – ALSAA Open 2003 Tournament (7/8)
23/01/03 – Lasse INGEBRIGSTEN (NO) – ALSAA Open 2003 Tournament (5/6)
01/04/03 – Aaron MAYLAND (IE) – ALSAA Fives League (1/2)
11/04/03 – Mark O'RIORDAN (IE) – ALTBC Spring Trios League (7/8) (his 2nd)
03/05/03 – Mark DELANY (GB) – "Tim Mack" Doubles Tournament (9/10)
10/06/03 – John FEARN (IE) – ALTBC Spring Trios League (9/10)
21/11/03 – Mark O'RIORDAN (IE) – ALTBC Winter Trios League (7/8) (his 3rd)
10/02/04 – Fran BERMINGHAM (IE) – ALSAA Fives League (9/10)
19/02/04 – Paul STOTT, Jnr (IE) – ALSAA Thursday Doubles (1/2)
29/02/04 – Alan GIBBONS (IE) – Parkside/Egan Catering Touring League (3/4)
14/05/04 – Alan MCDONNELL (IE) – ALTBC Spring Trios League (9/10)
08/10/04 – Mark O'RIORDAN (IE) – ALTBC 20th Championships (5/6) (his 4th)
10/12/04 – Paul C KELLY (IE) – ALTBC Winter Trios League (3/4)
24/02/05 – Paul C KELLY (IE) – ALSAA Thursday Doubles (1/2) (his 2nd)
13/06/05 – Greg GARDNER (IE) – ALSAA Monday Doubles League (5/6)
12/09/05 – Ciarán MULLALLY (IE) – ALSAA Monday Doubles League (3/4)
25/01/06 – Ulf ARNESEN (NO) – 7th ALSAA Open 2006 (5/6) (his 2nd)
25/01/06 – Paul STOTT, Jnr (IE) – 7th ALSAA Open 2006 (5/6) (his 2nd)
26/01/06 – Marc MOONEY (IE) – 7th ALSAA Open 2006 (7/8) (his 2nd)
27/01/06 – Donna ADAMS (GB) – 7th ALSAA Open 2006 (7/8) (1st Ladies' 300)
27/01/06 – Ken BLAND (US) – 7th ALSAA Open 2006 (9/10)
27/01/06 – Ralph HUGHES (GB) – 7th ALSAA Open 2006 (1/2)
25/03/06 – Mark O'RIORDAN (IE) – ALTBC Masters 2006 (5/6) (his 5th)
30/03/06 – Del DELANY (IE) – ALSAA Thursday Doubles (9/10) (his 2nd)
18/05/06 – Mark DELANY (GB) – ALSAA Thursday Doubles (3/4) (his 2nd)
02/06/06 – Mark O'RIORDAN (IE) – ALTBC Spring Trios League (7/8) (his 6th)
13/06/06 – Wesley ROW (IE) – ALTBC Spring Trios League (9/10) (his 2nd)
12/07/06 – Mark O'RIORDAN (IE) – ALSAA Wednesday Summer Doubles (3/4) (his 7th)
06/10/06 – Del DELANY (IE) – ALTBC Winter Trios League (9/10) (his 3rd)
10/11/06 – Del DELANY (IE) – ALTBC Winter Trios League (5/6) (his 4th)
23/11/06 – Mark O'RIORDAN (IE) – ALSAA Thursday Doubles (5/6) (his 8th)
29/12/06 – Eoin MCLAUGHLIN (IE) – ALSAA Old Year Adult / Junior (1/2) (his 1st)
17/01/07 – Eoin MCLAUGHLIN (IE) –8th Ebonite ALSAA Open 2007 (9/10) (his 2nd)
21/01/07 – Paul STOTT, Jnr (IE) – 8th Ebonite ALSAA Open 2007 (5/6) (his 3rd)
26/01/07 – David KELLY (IE) – 8th Ebonite ALSAA Open 2007 (1/2) (his 2nd)
07/02/07 – Del DELANY (IE) – ALSAA Rose Bowl 2006 (3/4) (his 5th)
09/02/07 – Del DELANY (IE) – ALTBC Spring Trios League (1/2) (his 6th)
09/03/07 – Eoin MCLAUGHLIN (IE) – ALTBC Spring Trios League (5/6) (his 3rd)
25/05/07 – Cian CLOAKE (IE) – ALTBC Spring Trios League (9/10) (his 1st)
06/06/07 – Paddy DUNNE (IE) – ALSAA Wednesday Trios League (5/6) (his 1st)
08/06/07 – Ciaran MULLALLY (IE) – ALTBC Spring Trios League (9/10) (his 2nd)
17/08/07 – Cian CLOAKE (IE) – ALTBC Summer Doubles League (7/8) (his 2nd)
10/10/07 – Del DELANY (IE) – 23rd ALTBC Championships – MSS (5/6) (his 7th)
11/10/07 – Mark DELANY (GB) – 23rd ALTBC Championships – MDS (9/10) (his 3rd)
17/10/07 – Del DELANY (IE) – 23rd ALTBC Championships – Trios (3/4) (his 8th)
14/11/07 – Paddy DUNNE (IE) – ALSAA Wednesday Trios League (9/10) (his 2nd)
21/11/07 – Paul CHANDLER (IE) – ALSAA Monday Doubles League (7/8) (his 1st)
18/12/07 – Mick WALSH (IE) – ALTBC Winter Trios League (1/2) (his 2nd)
28/12/07 – Stephen JOYCE (IE) – ALSAA Old Year Adult / Junior (1/2) (his 1st)
09/01/08 – Alan MCDONNELL (IE) – ALSAA Wednesday Trios League (7/8) (his 2nd)
12/01/08 – Paul DELANY (GB) – 9th Hammer ALSAA Open 2008 (9/10) (his 3rd)
16/01/08 – Mark HINCHLIFFE (IE) – ALSAA Wednesday Trios (3/4) (his 1st)
17/01/08 – Paul C KELLY (IE) – ALSAA Thursday Doubles (1/2) (his 3rd)
24/01/08 – Stu WILLIAMS (GB) – 9th Hammer ALSAA Open 2008 (3/4) (his 1st)
24/01/08 – Paul CHANDLER (IE) – 9th Hammer ALSAA Open 2008 (7/8) (his 2nd)
31/01/08 – Cian CLOAKE (IE) – ALSAA Thursday Doubles League (3/4) (his 3rd)
06/02/08 – Del DELANY (IE) – ALSAA Wednesday Trios (7/8) (his 9th)
08/02/08 – Eoin MCLAUGHLIN (IE) – ALTBC Winter Trios League (9/10) (his 4th)
14/03/08 – Ross BRADY (IE) – ALTBC Spring Trios League (9/10) (his 1st)
27/03/08 – Mark O'RIORDAN (IE) – ALSAA Thursday Doubles League (1/2) (his 9th) nl
29/03/08 – Kieran GRICE (IE) – ITBA Junior Scratch Doubles (3/4) (his 1st)
09/04/08 – Mick WALSH (IE) – ALSAA Wednesday Trios (9/10) (his 3rd)
28/04/08 – Warren MCGRATH (IE) – ALSAA Monday Trios (7/8) (his 1st)
06/06/08 – Wesley ROW (IE) – ALTBC Spring Trios (3/4) (his 3rd)
25/09/08 – Mark O'RIORDAN (IE) – ALSAA Thursday Doubles League (5/6) (his 10th)
11/11/08 – Mark O'RIORDAN (IE) – ALSAA Wednesday Trios League (7/8) (his 11th)
21/11/08 – Greg GARDNER (IE) – ALTBC Winter Trios League (3/4) (his 2nd)
28/11/08 – Greg GARDNER (IE) – ALTBC Winter Trios League (1/2) (his 3rd)
19/12/08 – Del DELANY (IE) – ALTBC Winter Trios League (5/6) (his 10th)
08/01/09 – Barry FOLEY (IE) – ALSAA Monday Trios League (5/6) (his 2nd)
19/01/09 – Barry FOLEY (IE) – ALSAA Monday Trios League (7/8) (his 3rd)
21/01/09 – Paul STOTT (IE) – 10th Columbia ALSAA Open 2009 (1/2) (his 4th)
22/01/09 – Dom BARRETT (GB) -10th Columbia ALSAA Open 2009 (5/6) (his 1st)
04/02/09 – Barry FOLEY (IE) – ALSAA Wednesday Doubles League (5/6) (his 4th)
18/02/09 – Aidan BYRNE (IE) – ALSAA Wednesday Trios League (1/2) (his 1st)
13/03/09 – Alan MCDONNELL (IE) – ALTBC Spring Trios League (5/6) (his 3rd)
14/03/09 – Daniel KESTELL (IE) – ALSAA Junior League (5/6) (his 1st)
24/04/09 – Del DELANY (IE) – ALTBC Spring Trios League (1/2) (his 11th)
08/06/09 – Stephen JOYCE (IE) – ALSAA Wednesday Trios League (9/10) (his 2nd)
13/09/09 – Terry KELLY (IE) – ALSAA Sunday Trios League (3/4) (his 1st)
30/09/09 – Mark O'RIORDAN (IE) – ALSAA Wednesday Trios League (7/8) (his 12th)
15/10/09 – Keith O'REILLY (IE) – ALSAA Thursday Doubles League (9/10) (his 1st)
17/10/09 – Simon ENGLISH (IE) – ALSAA Kegel Experience (1/2) (his 1st)
02/11/09 – Barry FOLEY (IE) – ALSAA Monday Trios League (3/4) (his 5th)
08/11/09 – Ciarán MULLALLY (IE) – ALSAA Sunday Trios League (1/2) (his 3rd)
09/11/09 – Matthew KESTELL (IE) – ALSAA Monday Trios League (5/6) (his 1st)
19/12/09 – Matthew HANN (GB) – ALSAA Kegel Christmas Experience (3/4) (his 1st)
09/01/10 – Barry FOLEY (IE) – 11th Hammer ALSAA Open 2010 (9/10) (his 6th)
20/01/10 – Simon ENGLISH (IE) – 11th Hammer ALSAA Open 2010 (9/10) (his 2nd)
21/01/10 – Matthew KESTELL (IE) – 11th Hammer ALSAA Open 2010 (9/10) (his 2nd)
28/01/10 – Barry FOLEY (IE) – ALSAA Thursday Doubles League (7/8) (his 7th)
20/03/10 – Ryan PRESS (GB) – ALSAA Kegel/WTBA League (5/6) (his 1st)
16/04/10 – Mark O'RIORDAN (IE) – ALTBC Spring Trios League (3/4) (his 13th)
28/05/10 – Mark DELANY (GB) – ALTBC Spring Trios League (3/4) (his 4th)
29/07/10 – Stephen JOYCE (IE) – Team Ireland Re-entry Singles (5/6) (his 3rd)
06/08/10 – Stephen JOYCE (IE) – ALTBC Summer Doubles League (7/8) (his 4th)
25/08/10 – Chris SLOAN (IE) – ALSAA Wednesday Summer Doubles (3/4) (his 1st)
03/09/10 – Donald O'CONNOR (ZA) – ALTBC Winter Trios League (5/6) (his 1st)
10/09/10 – Stephen JOYCE (IE) – ALTBC Winter Trios League (7/8) (his 5th)
17/09/10 – Mark O'RIORDAN (IE) – ALTBC Winter Trios League (1/2) (his 14th)
24/09/10 – Conor MCDONNELL (IE) – ALTBC Winter Trios League (5/6) (his 1st)
01/10/10 – Paddy KILDUFF (IE) – ALTBC Winter Trios League (3/4) (his 1st)
15/10/10 – Paddy DUNNE (IE) – ALTBC Winter Trios League (5/6) (his 3rd)
26/11/10 – Paul CHANDLER (IE) – ALTBC Winter Trios League (9/10) (his 3rd)
16/12/10 – Darragh MCLOUGHLIN (IE) – ALSAA Thursday Trios League (5/6) (his 1st)
06/01/11 – Greg GARDNER (IE) – ALSAA Thursday Doubles League (5/6) (his 4th)
09/01/11 – Del DELANY (IE) – Hammer ALSAA Open Doubles 2011 (3/4) (his 12th)
20/01/11 – Chris SLOAN (IE) – Hammer ALSAA Open Doubles 2011 (7/8) (his 2nd)
04/02/11 – Mark O'RIORDAN (IE) – ALTBC Spring Trios League (5/6) (his 15th)
24/02/11 – Chris SLOAN (IE) – ALSAA Thursday Doubles League (3/4) (his 3rd)
16/05/11 – Brendan BRADY (IE) – ALSAA Monday Doubles (7/8) (his 2nd)
09/06/11 – Darragh MCLOUGHLIN (IE) – ALSAA Thursday Dbls League (7/8) (his 2nd)
15/06/11 – Mark O'RIORDAN (IE) – ALSAA Spring Trios League (9/10) (his 16th)
24/06/11 – Brendan BRADY (IE) – ALTBC Summer Dbls League (9/10) (his 3rd)
27/06/11 – Mark HINCHLIFFE (IE) – ALSAA Thursday Dbls League (3/4) (his 2nd)
20/08/11 – Matthew KESTELL (IE) – ALSAA Junior Round Robin (5/6) (his 3rd)
23/08/11 – Matthew HANN (GB) – ALSAA Drop-In Singles (5/6) (his 2nd)
20/10/11 – Del DELANY (IE) – ALSAA Thursday Dbls League (7/8) (his 13th)
28/10/11 – Tom REID (IE) – ALTBC Winter Trios League (5/6) (his 1st)
10/11/11 – Greg GARDNER (IE) – ALSAA Thursday Dbls League (3/4) (his 5th)
11/12/11 – Graham TURNER (IE) – Rock's Singles Tour (5/6) (his 1st)
05/01/12 – Michael SPRATT (IE) – ALSAA Thursday Trios League (5/6) (his 1st)
27/01/12 – Eoin MCLAUGHLIN (IE) – ALTBC Spring Trios League (3/4) (his 5th)
03/02/12 – Matthew KESTELL (IE) – ALTBC Spring Trios League (5/6) (his 4th)
15/03/12 – Karl DRYER (IE) – ALSAA Thursday Doubles League (3/4) (his 1st)
16/03/12 – Paddy DUNNE (IE) – ALTBC Spring Trios League (7/8) (his 4th)
16/03/12 – Pat TOBIN (IE) – ALTBC Spring Trios League (7/8) (his 1st)
23/03/12 – Paul CHANDLER (IE) – ALTBC Spring Trios League (5/6) (his 4th)
04/05/12 – Keith MONAHAN (IE) – ALTBC Spring Trios League (3/4) (his 1st)
17/05/12 – Karl DRYER (IE) – ALSAA Thursday Doubles League (5/6) (his 2nd)
28/05/12 – Karl DRYER (IE) – ALSAA Monday Doubles League (7/8) (his 3rd)
31/05/12 – Eugen RYBANSKY (SK) – ALTBC Spring Trios League (9/10) (his 1st)
01/06/12 – Matthew KESTELL (IE) – ALTBC Spring Trios League (7/8) (his 5th)
12/06/12 – Marc MOONEY (IE) – ALSAA Thursday Doubles League (9/10) (his 3rd)
30/07/12 – Paul STOTT (IE) – ALSAA Drop-in Singles (7/8) (his 5th)
12/12/12 – Karl DRYER (IE) – ALTBC Knock-out Cup (1/2) (his 4th)
28/12/12 – Karl DRYER (IE) – ALSAA "Old Year" Adult Junior Doubles (9/10) (his 5th)
22/01/13 – Karl DRYER (IE) – ALSAA Monday Doubles League (9/10) (his 6th)
31/01/13 – Alan BRIDE (IE) – ALSAA Thursday Singles League (1/2) (his 1st)
01/02/13 – Normunds DACIS (LV) – ALTBC Winter Trios League (9/10) (his 1st)
01/03/13 – Mark O'RIORDAN (IE) – ALTBC Spring Trios League (7/8) (his 17th)
01/05/13 – Ciarán MULLALLY (IE) – ALSAA Wednesday Trios League (1/2) (his 4th)
03/05/13 – Mark O'RIORDAN (IE) – ALTBC Spring Trios League (3/4) (his 18th)
21/06/13 – Eoin MCLAUGHLIN (IE) – ALTBC Spring Trios League (7/8) (his 6th)
01/07/13 – Sarah STOTT (IE) – ALSAA Monday Doubles (5/6) (her 1st ) (2nd Ladies 300)
01/11/13 – Paddy KILDUFF (IE) – ALTBC Winter Trios League (3/4) (his 2nd)
01/11/13 – Ciarán MULLALLY (IE) – ALTBC Winter Trios League (5/6) (his 5th)
06/11/13 – Eoin MCLAUGHLIN (IE) – ALTBC Winter Trios League (1/2) (his 7th)
27/11/13 – Paddy DUNNE (IE) – ALSAA Wednesday Trios League (3/4) (his 5th)
04/12/13 – Del DELANY (IE) – ALSAA Wednesday Trios League (9/10) (his 14th)
13/12/13 – Greg GARDNER (IE) – ALTBC Winter Trios League (5/6) (his 6th)
13/12/13 – Ciarán MULLALLY (IE) – ALTBC Winter Trios League (5/6) (his 6th)
20/12/13 – Paul CHANDLER (IE) – ALTBC Winter Trios League (3/4) (his 5th)
10/01/14 – Alan MCDONNELL (IE) – ALTBC Winter Trios League (5/6) (his 4th)
15/01/14 – Greg GARDNER (IE) – ALSAA Rose Bowl 2013 (5/6) (his 7th)
19/02/14 – Alan MCDONNELL (IE) – ALSAA Wednesday Trios League (9/10) (his 5th)
21/02/14 – Mark O'RIORDAN (IE) – ALTBC Spring Trios League (1/2) (his 19th)
09/03/14 – Ciarán MULLALLY (IE) – ALSAA Sunday Doubles League (9/10) (his 7th)
12/03/14 – Alan MCDONNELL (IE) – ALSAA Wednesday Trios League (7/8) (his 6th)
10/04/14 – Ed SPRATT (IE) – ALSAA Thursday Trios League (9/10) (his 1st)
09/05/14 – Ciarán MULLALLY (IE) – ALTBC Spring Trios League (9/10) (his 8th)
30/05/14 – Paddy DUNNE (IE) – ALTBC Spring Trios League (3/4) (his 6th)
06/06/14 – Eoin MCLAUGHLIN (IE) – ALTBC Spring Trios League (5/6) (his 8th)
12/08/14 – Colm CLOAKE (IE) – ALSAA Drop-in Singles (3/4) (his 1st)
05/09/14 – Alan MCDONNELL (IE) – ALTBC Winter Trios League (1/2) (his 7th)
14/09/14 – Eoghain LEBIODA (IE) – ITBA Junior Singles (3/4) (his 1st)
02/10/14 – Paddy DUNNE (IE) – ALSAA Thursday Trios League (1/2) (his 7th)
05/11/14 – Alan MCDONNELL (IE) – ALSAA Wednesday Trios League (9/10) (his 8th)
09/11/14 – Brian DAGGER (IE) – ITBA Seniors Tour (1/2) (his 1st)
14/11/14 – Paul CHANDLER (IE) – ALTBC Winter Trios League (5/6) (his 6th)
01/12/14 – Paul STOTT (IE) – ALSAA Monday Trios League (3/4) (his 6th)
01/12/14 – Kieran SHORTT (IE) – ALSAA Monday Doubles League (7/8) (his 1st)
11/01/15 – Eoin MCLAUGHLIN (IE) – ALSAA Open (9/10) (his 9th)
15/01/15 – Paul STOTT Jnr (IE) – ALSAA Open (9/10) (his 7th)
16/01/15 – Chris SLOAN (IE) – ALSAA Open (9/10) (his 4th)
16/01/15 – Chris SLOAN (IE) – ALSAA Open (1/2) (his 5th) (back to back with above game)
08/02/15 – Brian DALY (IE) – ALSAA Sunday Night Doubles league (7/8) (his 1st)
03/03/15 – Colm CLOAKE (IE) – ALTBC Spring Trios (7/8) (his 2nd)
13/03/15 – Aidan BYRNE (IE) – ALTBC Spring Trios (9/10) (his 2nd)
25/03/15 – Chris SLOAN (IE) – ALSAA Monday Doubles (7/8) (his 6th)
27/03/15 – Niall MCSWINEY (IE) – ALTBC Spring Trios (9/10) (his 1st)
08/04/15 – Alan MCDONNELL (IE) – ALSAA Wednesday Trios League (7/8) (his 9th)
10/04/15 – Alan MCDONNELL (IE) – ALTBC Spring Trios League (7/8) (his 10th)
10/04/15 – Pat TOBIN (IE) – ALTBC Spring Trios League (3/4) (his 2nd)
15/04/15 – Stephen DILLON (IE) – ALSAA Wednesday Trios League (5/6) (his 1st)
22/04/15 – Martin RYAN (IE) – ALSAA Wednesday Trios League (3/4) (his 1st)
08/05/15 – Colm CLOAKE (IE) – ALTBC Spring Trios League (7/8) (his 3rd)
03/06/15 – Frank MONKS (IE) – ALSAA Wednesday Trios League (1/2) (his 1st)
04/06/15 – Ciarán MULLALLY (IE) – ALSAA Thursday Trios League (7/8) (his 9th)
19/06/15 – Stephen DILLON (IE) – ALTBC Spring Trios League (7/8) (his 2nd)
30/06/15 – Chris SLOAN (IE) – ALSAA June Drop-in Singles (7/8) (his 7th)
03/07/15 – Mark HINCHLIFFE (IE) – ALTBC Summer Doubles League (9/10) (his 3rd)
12/07/15 – Paul STOTT Jnr (IE) – ALSAA Drop-in Singles (3/4) (his 8th)
14/07/15 – Fergal MCLOUGHLIN (IE) – ALTBC Summer Doubles League (9/10) (his 1st)
23/10/15 – Pat NALLY (IE) – ALTBC Winter Trios League (5/6) (his 1st)
04/11/15 – John FEARN (IE) – ALSAA Wednesday Winter Trios League (3/4) (his 2nd)
06/12/15 – Karl DRYER (IE) – ALSAA Sunday Doubles League (1/2) (his 7th)
13/02/16 – Paul STOTT Jnr (IE) – ITBA National Championships (9/10) (his 9th)
15/04/16 – Alan MCDONNELL (IE) – ALTBC Spring Trios League (5/6) (his 11th)
18/04/16 – Dave NOONAN (IE) – ALSAA Monday Doubles League (7/8) (his 1st)
04/05/16 – Amanda LARKIN (IE) – ALSAA Wednesday Trios League (5/6) (3rd Ladies' 300)
20/05/16 – Colm CLOAKE (IE) – ALTBC Spring Trios League (1/2) (his 4th)
03/06/16 – Aidan BYRNE (IE) – ALTBC Spring Trios (3/4) (his 3rd)
12/08/16 – Kevin BENNETT (IE) – ALSAA August Drop-in Singles (3/4) (his 1st)
09/09/16 – Paul CHANDLER (IE) – ALTBC Winter Trios League (1/2) (his 7th)
12/10/16 – Paul CHANDLER (IE) – ALTBC Winter Trios League (1/2) (his 8th)
07/11/16 – Dave NOONAN (IE) – ALSAA Monday Doubles (7/8) (his 2nd)
25/11/16 – Greg GARDNER (IE) – ALTBC Winter Trios League (9/10) (his 8th)
30/11/16 – Paddy DUNNE (IE) – ALSAA Wednesday Trios League (7/8) (his 8th)
01/12/16 – Eoin MCLAUGHLIN (IE) – ALSAA High Roller Doubles League (3/4) (his 10th)
01/12/16 – Eoin MCLAUGHLIN (IE) – ALSAA High Roller Doubles League (3/4) (his 11th)
15/12/16 – Colm CLOAKE (IE) – ALSAA High Roller Doubles League (1/2) (his 5th)
16/12/16 – Eoin MCLAUGHLIN (IE) – ALTBC Winter Trios League (1/2) (his 12th)
04/01/17 – Paul STOTT Jnr (IE) – ALSAA Thursday High Roller Doubles League (1/2) (his 10th)