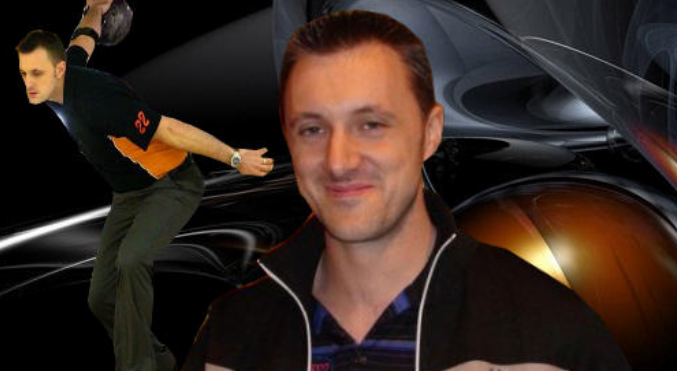 "As a bowler I've never set myself goals to achieve so I don't know what's next, I've always fancied qualifying for the World Cup that's probably the only thing I would like to do. In a professional capacity I'd like to continue to make quality parts that I wanted when I was on the tools. As a tea drinker I'd like to get it down to one sugar and experiment with other varieties, Ceylon or Darjeeling perhaps!!"
You could say Rob Thurlby is laid back, maybe too laid back sometimes. Here is a guy who can and has mixed it with the best in the World and won the Brunswick Euro Challenge yet he does not play too much abroad compared to other Brit players. When he turns up in an event you can feel something special might happen and it seems the same is true in his working life also. An Ex-bowling technician turned innovator and inventor, Rob has many strings to his bow. He is a straight talking Englishman in love with Tea and Country File on the BBC, You can imagine it made for a fun interview.
I Won't ask you where you started Rob as we know it was Ilkeston. Pretty much your home with Dad a technician or Mechanic as they were back in those days and mum working on reception or control, Brother Lee bowled so you were basically doomed from the start?
Yeah that's right I was doomed from the start, never stood a chance did I?! I've often wondered why my Mam and Dad couldn't have met on a golf course or in a snooker hall but never make mind, here we are….! I can't complain too much, it's not a bad lot.
You became a good bowler though quickly with a massive back swing like your brother, who helped you improve early on?
I copied what I saw around me growing up, I knew I wanted to hit the pins as hard as I could, the most exciting bowlers to watch did that and I wanted to be like that too. When I started to see PBA shows in the late 80's I saw Pete Weber and Amletto Monacelli and thought 'that's the style for me'. I didn't get much, if any, coaching when I was young really, I just played for hours on instruct-o-mat making the ball do different things.
Did you do all the usual jobs as you grew up, Starting with Shoes, Control, snackbar Tech, and when old enough bar and managers jobs?
I went the usual route, giving house shoes out, cleaning telescore sheets as a kid then got a proper job behind control at Ilkeston a couple of days a week. Then I moved to Nottingham to help out in the tournament office. In 1995 I was made redundant when the tournament office moved to Sheffield so I took a part time mechanics job at Ilkeston to see me through Christmas and I never got around to moving on! I didn't do too much in other roles in the centre after that, I knew what I wanted to do and what I cared about. I became Chief Mechanic in 2000 then moved onto being North Regional Techician in 2005 leaving in 2015.
Then you met Mario Joseph and something happened, tell us what and why Mario is as important as he is to many bowlers?
I knew of Mario from a young age, he'd often come in on a Saturday afternoon to practice, occasionally with Marcel Demery and I'd sit and watch. Mario was the headline on the house records board having bowled the only 300 game at Ilkeston. In 1994 (I think) he opened Rollrite at Nottingham and the shop quickly became a 'hub' for great players and at the same time Nottingham was at its peak with the British Open, the Coke 5s and the World Cup Qualifier all at their height.
Mario is a great coach because he has a passion for what he is teaching and takes a great pride in the players he looks after. His energy gets into you and the team and gives you a strength and belief that you can win and that he has got your back, that's important when you are young. Mario was also always trying new things and having ideas, when I used to go in on a Friday afternoon there would usually be some fruity layout on a ball or a gadget to play with! They were good days, I miss them…
You are not just a great singles player, your passion is team play, Where has it gone and how can we get it back Rob?
I do love team play, I've been in some pretty good teams for 20 years now and had lots of success. What I've enjoyed in the last few years has been the change from being one of the kids in the team to being one of the oldies! When I started out it was Mario and also Keith Hodge who were the legends in the team. You knew if it all kicked off you could hide behind them and they'd throw a double in the 10th and sort it out! Now I'm starting to find myself bowling with lads 10 or more years younger, and now I think of it, they are throwing a double in the 10th and sorting it out! Basically I've been lucky in amazing teams all my life!
As for getting it back, there is still some good team bowling, Chatters has done a pretty good job with the Bowlrite 6's, the travelling leagues are getting stronger so it's not all bleak, not to say there shouldn't be more and it shouldn't be better.
If there's a problem it's down to grass roots, finding good centres interested in a league programme has never been more difficult with a lot of bowlers facing a choice of driving an hour to find a good league, or just quitting. There's been a lot of focus on tournaments and what to do with formats and tours, and do we do scratch or handicap but who is looking at building and protecting leagues?
I think effort is directed in the wrong place. What's the average age of your league compared to 10 years ago, have you got loads of new blood on the horizon? I doubt it…. If you have, share your secrets! How can there be a future for team (or any other) events without leagues? Once they collapse as they have done in a lot of centres in the last 10 years it's extremely difficult to get it back.
We should be in a position where any centre manager who is interested in leagues knows who to contact locally for the things they need to make it happen. How about a local national association representative who gets a bounty for any new league they start, 15% of the weekly revenue maybe? The centre gets revenue, the bowlers get a league and the rep gets a few quid for his troubles. It's about time we stopped assuming our leagues and events will be sorted by volunteers and we should get something for nothing.
A lot of talk recently in interviews about UK bowling and getting membership levels back up, What is your take on things considering you spent a lot of your career working in the industry but playing the sport?
What struck me was that the governing body wasn't pursuing the leadership at TOBC about competitive bowling. There was an amount of curiosity at a high level about leagues and tournaments and I think had the right person with the right preparation and presentation knocked on the door some progress might have been made.
The current leadership at the BTBA are younger and more business like than perhaps in the past so that might have been an opportunity missed.
It was often a difficult position to be in when things like 'wear your own shoes' came in and your automatic instinct was to object, but then when you looked at the feedback from customers about not having to wear house shoes it made it difficult to object to.
It's also true that anyone can run a league with or without sanctioning in a sanctioned or un-sanctioned centre, so the BTBA needs to offer a service that management and league bowlers feel they need to be a part of, or can't do without. At the moment for the majority of leagues and centres you can be forgiven for asking what's the point…..?
Bowlers do love to moan though don't they, It seems all my life I have heard the same moans from bowlers about lane conditions, Centres and why to join the BTBA, You could write a list of excuses for bowlers, You are a pretty dry character Rob, What is your number one put down when you feel like it?
Haha! I try not to do too much moaning on the lanes, if it's really awful everyone is affected and we may as well just battle through it together! If it's gone wrong with the conditions on a given day it's never on purpose and insulting the lanesman won't make it better. I have heard some quality sarcasm on the subject though. I particularly enjoyed Chris Buck reflecting on a shot on some grim Guardian – see if you can do the voice…… "I threw the ball and it almost bounced up and hit me in the f***ing face!" No one did it like Chris, describing a bowler as "being about as smooth as the rough end of a rotating pineapple" was also a highlight. I can also remember Matt Giles at Nottingham describing how well he bowled last game but "the lane made all the wrong moves" I love that one, I borrowed that one last week at Stroud.
Now making bowling machine parts, I have asked a few times if you were ready to talk about this venture. You always said "I am not the person who will tell you about what I'm going to do, Only what I have done." You done anything yet?
I've done a few bits now, yeah! I'm working closely with Bowling Vision on a number of their AMF Pinspotter parts. Some items we've tidied up and improved either with a subtle change to design or material to add durability, some items have been redesigned to add features to improve performance or to make technicians lives easier.
Then there have been some new innovation parts to add new adjustments or capabilities. Some of the parts are accompanied by videos showing what they do, these are on the Bowling Vision channel on YouTube. I think videos are the best way to promote the parts and to explain their purpose.
I'm proud of what we have done so far, I always want to do more, it's important that we don't rush things for the sake of it – nothing goes out until it's right. I'll never sell a part I wouldn't use. I've got a project that is just about to go out, there are 3 field tests happening at the moment which are going well, this is part I'm proudest of so far…..but there's a long way to go yet.
A Leeds technician we both know (John Perman) told me a story how he would lay in bed going over the workings of a machine to pinpoint a fault that was bugging him. Are you that Tech too? Seriously though, What major changes to tech did you see in your pin monkey days?
Yes, of course! Usually an interesting electrical fault, broken wire or dodgy micro switch gave you something to think about, I rather enjoyed those in a perverse sort of way! I saw very little change really which is what got me to thinking why? There were things on Pinspotters which you looked at and thought 'why hasn't this evolved'? I know there's a better way to do 'this' or 'that' but there was little innovation and it seemed more and more parts were not as good as they were in years gone by. I'd often joke about how the bloke who designed this clearly would never have to work on them!
You are not actually the most famous or talented of the Thurlby Clan are you Rob? There are many but one in particular that is a bigger legend than you and that is your father John. When I was a tech and asked anyone who is the best Mechanic in the country? Your dad was always the first name mentioned. He is someone I need to interview one day but for now, How important was it in your working career to have a safety net like him to turn to and have you got him tied up in your workshop now working for you?
Yes, he certainly knew (knows) what he was doing. I didn't have to bother him too much on Pinspotters but on the lanes he's very meticulous. He's very traditional and likes the lanes to be correctly repaired, levelled and recoated (preferring wood lanes). It was definitely a comfort knowing I had his help anytime I needed it but at the same time a challenge to do it myself. It's very helpful having his opinion on things, or I'll call him with an idea to see if it has a point. I often show him what we are working on for his take on it, and he does come down to the factory in Leicester from time to time to see things running and I of course value his opinion greatly. If he thinks it's 'Sh**' he'll tell me!
 "What goes on behind there?" "Behind that door is the bowling machines", Not everyone takes that leap and an interest in how their pins are stood up and swept away. Can you explain to a non technician the geeky nature you develop while 'Round the back' and that need to look at the mechanics of movement?
All my life I've been interested in the Pinspotters and how they work. I loved to watch them running, pins being fed onto the Distributor, the re-spot cells running smoothly the pins being spotted nicely. It's more difficult now with guarding than it was in years gone by, you could get as close as you liked but not so much anymore.
I'd say to bowlers if you have the opportunity to see the Pinspotters running and get a tour of the back-end go for it. I loved giving people the tour of the back-end and waiting for them to say what everybody says "the machines aren't like I thought they'd be"! It's not a difficult department to run but it must be 'beautifully organised' and 'spick and span' to run well! With time you knew your machines well, even when they didn't sound right. When it's all good it's really satisfying.
And funny stories behind the lanes, there must be some printable gems in the Thurlby archives?
Yes, I've had a lot of laughs over the years, I've worked with some great people and had alot of fun. You need to get a few of the oldies together and the stories will flow out! The stories don't translate to writing very well, they are always better in a bar with friends and a few beers!
Back to the bowling and you have won things and been a solid reliable team player. You even beat the cream of Europe winning the Brunswick Euro Challenge, How would you rate your bowling career if it was a school report?
As a school report? "Rob is easily distracted and should have studied harder and focused more on his homework. His success has been the result of more luck than judgement and that he was won any events, let alone EBT events, is truly staggering. Rob remains largely ignorant of the technicalities of the game preferring to make ball choices based on colour and changes in reaction by applying more or less 'biscuits' or 'treatment'. C+" I'd say that's about right. PS – The Euro Challenge has become my 1966! I won a gold class event in Istanbul too, that was much harder to do!
Which events over the years have you enjoyed the most and I guess a two part question, Which is your favourite bowling centre?
Like we've said I enjoy team events – the Coke 5's, Euro 5's, Nationals in their prime were good to win. The Paris 5's was very special, the 4's in Switzerland, the Scott Banks and the recent 4's with the kids at Cristal Bowling was good too. I do enjoy singles too, especially the EBT stuff. It's a different feel and I like being able to shut off a bit and just bowl without distractions. I like the feeling of being there on your own knowing what you need to do and that you've got to do it alone. It feels good when you shoot the number you are chasing, get it inside the cut and go again. It's hard to explain but my mind is different, quieter.
Favourite centre is quite hard, Plaza where I won the Euro Challenge will always be special, Rose 'n' Bowl in San Marino is good especially the pub and there's a woman working there from just outside Ilkeston! Plus Bowling in Vienna is where I played my first EBT in 2009 and made the step ladder so that's special too.
In England some of my favourite bowling centres have gone – Strykers Bushbury & Portsmouth I liked. Merrion centre was great with a lot of memories but I don't know how well that's doing today with regard to competitive bowling. I think I'd say Stroud now as my favourite, the staff are always great, everything works, the surface is good and they have a dartboard!!
One thing I can be certain of when I see Rob Thurlby's name on a squad list, You will be sat in the centre somewhere quietly with a cup of Tea. You love the stuff. Add to that a love for the BBC Program Countryfile, Safe to say then despite the bowling travel you are a homely boy at heart?
I can't believe we are talking tea and Countryfile! Yes I do, milk, 1 1/2 sugars, don't squeeze the teabag. Yorkshire Tea is preferable but I'll tolerate Twinings too, also Earl Grey. Yes, I'm happiest at home pottering around. After years of travelling with work being away from home so many nights a week I'm very happy now to be in a routine and enjoying my own bed at night.
I do love the tournaments away though, especially in Europe. The Mrs has never been terribly interested in my bowling but I actually like that, I can go to the events without any distractions and do my own thing and she gets the house and remote control to herself for a few days! It also makes coming back home all the more better. It's also good to come home to Coutryfile and Antiques Roadshow on a Monday night!
Growing up in a time that has seen the country have it's first successful PBA stars, despite the drop in sanctioned bowlers and a massive European star in your good friend Paul Moor, Do you wish you had played more in Europe and the World?
Looking back, yes I do. The thing is I've never taken my chances of doing well seriously so didn't bother too much about it. I think the events I did well just suited me and didn't put it down to talent just every dog having his day.
What's still to achieve in bowling Rob, as a player and an Innovator/Tech/Tea Drinker?
As a bowler I've never set myself goals to achieve so I don't know what's next, I've always fancied qualifying for the World Cup that's probably the only thing I would like to do. In a professional capacity I'd like to continue to make quality parts that I wanted when I was on the tools. As a tea drinker I'd like to get it down to one sugar and experiment with other varieties, Ceylon or Darjeeling perhaps…..
Friends forever, good memories, great moments in your life, We all get that when we go deep into the bowling World, Who deserves a mention for thanks or for just being in your World?
Blimey, I owe a lot to other people! My old dear which many will have known from Ilkeston, I used to bowl league 4 nights a week and get very stroppy if I couldn't get new balls when I wanted them and bowl in tournaments so ta Mam! There wasn't much money knocking about in those days and I was probably spending most of it bowling.
Mario who gave me alot as a young player and built a great team around us, and attempted to make me into something like a bowler.
Pat Byrne who has been a huge support to me with sponsorship and also sponsored alot of the tournaments I've been involved with organising in the past. I now work with Pat and he continues to be a great support and has a big input into our parts, he's a very clever chap you know!
The person who has put up with me the longest and I owe the most to is Alex Hamilton. I was done with bowling in 2002 and Alex sorted me out and has been putting up with me ever since. Everything interesting I've achieved Alex has played a part in in one way or another so I owe him a lot. Thanks Jughead, viva Powerplay!
Being a straight up and down guy who tells it how it is, What can you say to a person to become a better bowler and indeed, why should people bowl?
The most important thing is that you enjoy it and make your bowling what you want it to be. If you want bowling to be your life's focus and beat the world you can do it, if you want bowling to be beer with mates once a week in league that's cool too. That's what's cool about bowling, do it your way. Everyone should bowl because everyone can bowl.
Finally Rob, Weber Cup this year, New players, new venue and more, How important is this event to UK bowling and why should bowlers get their tickets for the Trans-Atlantic tussle?
The Weber Cup is massive now, you only have to read the recent interviews on Talk Tenpin with the new American bowlers to see they are honoured to be playing it and they want to win. The European team looks great, it's a really dynamic line up of players, it's going to be unpredictable and very exciting so get your tickets, see the hottest bowlers in the world and show your support for your team and your sport.