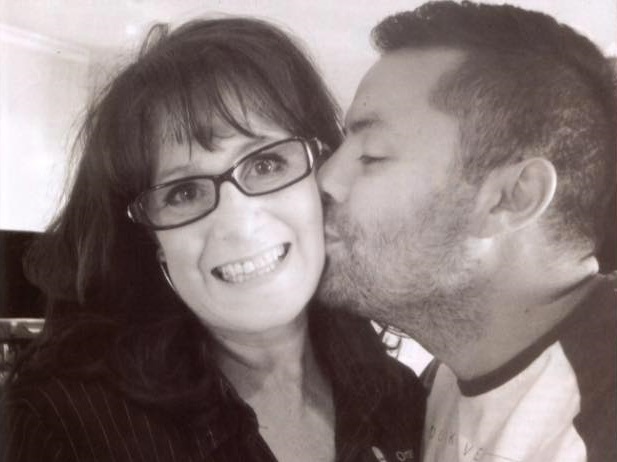 "I think people started saying things like "You can start bowling properly now" when he started beating them
People were intrigued but most people even from our own bowling centre told him he had to change to one handed bowling"
It is not often you see interviews with the people behind the people. Star bowlers naturally get attention but sometimes the real story is behind the scenes. A fact is, behind every great bowler there is a support network and that usually always starts with family. In a three part series, we wanted to speak with three parents across the vast zone that is talent and stardom. The series will see us speak to a World Star's parent, a parent of an up and coming star and a parent of a junior with dreams of becoming a great bowler. Despite a gulf in experience they are all connected in many ways.
We start with Marisa Belmonte in Australia and ask what it is like being mother of the World's best player?
I think Marisa, the first question I should ask is just how proud you are of the bowler and person Jason has become?
I think that I am the proudest mum in the world. I am proud of Jason for many reasons, he is a great son, a fantastic husband and truly wonderful father. He works hard and has strong morals and I love that he is strong minded. As for Jason as a world class athlete he amazes us with his passion, his determination to succeed and how much he had achieved in the sport of bowling at home, in Asia, in Europe and in the USA. He is a true sportsman on and if the lanes.Oh yes we are super proud to call Jason our son.
As a mother, when you see the downright hateful comments regarding the way your son bowls a bowling ball, how does that make you feel?
A mother never liked hearing nasty comments about her son. I sometimes wonder why people can be hateful. To me those people are showing traits of their persona that make me wonder what sort of person they really are. Truthfully I never pander to pettiness, nastiness or outright meanness. I believe if you have nothing good to say then don't say anything at all.
It is with massive credit to both father Aldo and yourself that Jason conducts himself in a very dignified way on and off the lanes, He always acts with respect yet does not mind poking fun at the situation. What things were you able to do to help Jason deal with the wider World as he grew up?
Thank you, as parents you just hope that you present good roll models for you children to follow. I always told my children that in life you have to live with the choices you make. Make good choices then you will benefit good things in life, bad choices then you with have to deal with the consequences and sometimes a bad choice will make for a bad life. Plus always make sure that you make your own choices, listen to good advise or opinions but the choice in the end has to be your own.
More than 30 years now since you opened a bowl in Orange, With little experience and a six month old, I know it is hard to describe 30 years in a question but can you recommend what running a family bowling centre can mean to others?
What it means to run a family bowling centre, mmmm big question to answer. I tell everyone that we truly love the industry even nearly 33 years later. Bowling brings many different people in through your doors, so firstly it means you truly must love people of all ages and that you must treat everyone the same. It means you must have a passion for the industry and be prepared to continually learn about the industry.
Running a family bowling centre for us means that you can bring up a family at the bowl. A bowl is a place where the community want to come and have a great time and share great sporting experiences. Running a bowl is never boring because as management we have to wear many different hats and have many different skills, plus be prepared to work hard but have fun doing it. I think it is safe to say that I love owning and operating a bowling centre.
And it is a family business too, everyone chips in, What jobs has Jason done around the bowl over the years and which one was not his favourite?
Jason truly grew up at the bowl and like all kids loved doing all the fun things. He would happily chat with anyone, bowl with anyone and play any amusement game whenever possible. He would happily show people how to bowl, how to score and would coach anyone. He helped oiling the lanes and worked behind the control counter.
I think he loved being at the bowl but I think he really didn't like working the counter. Jason much more preferred being on the lanes either bowling or talking bowling or helping others with their bowling.
How about your own bowling Marisa, How competitive are you when you bowl or has been running the business kept you too busy to shoe up?
Oh yes I do bowl, I have been bowling in the same league since it started 32 years ago. My league average ranges from 156 to 169. High game of 269. I bowl with a 12lb conventional grip Storm bowling ball. I enjoy bowling and used to be much more competitive in the beginning.
Jason always teases me about my bowling, saying 'mum how did you ever get the awarded of "Best Female Bowler of the Year" award by our local bowling association you really are not that good'. I tell him I must have been (back in the day) ha ha, I proudly hang the award plaque up in our office right next to his same awards for junior male and adult male plaques.
Having been to other family bowling centres, what strikes me if you can pardon the pun is the attention to detail you sometimes get and that feeling you are in someone's house as opposed to a business. Is walking though your bowling centre basically like part of your home?
I know what you mean, family run centres do have a very familiar feel about them. At the Orange Tenpin Bowl we get told by locals and travellers coming to our bowl that as soon as they walk through the doors they feel welcomed, it has great atmosphere of a warm friendly place. We like people to feel comfortable and enjoy their time at the bowl with a feeling of wanting to return. So in that way it is like our home, come and we welcome you with open arms.
Another thing noticed on visiting a bowl that a big star came from is the areas in a centre with a shrine of achievements, I visited Amleto Monacelli's family bowl in Venezuela and saw the love for their home boy, I'm guessing even when Jason is not around there is something that shows his progress in the bowl?
Yes we love our local boy Jason Belmonte " PBA BOWLER OF THE YEAR" 3 years in a row. Plus all the other amazing titles and achievements and we proudly show them with banners, posters and trophies. He is an inspiration to all bowlers young and old, we have people travel to our bowl from all over, state interstate and overseas travellers come to see Jason's home centre and bowl on his lanes.
Our bowlers the locals just treat him as just Belmo a house bowler, but when he isn't around they proudly say he is our bowler he comes from a country town in NSW Australia and is the best in the world.
Back to those early days and when Jason could not lift the ball with one hand, how early was it in his career when it became apparent the two handed style was being frowned on and mentions of you cannot do that started? Obviously this will have been in places away from Orange bowl?
I think people started saying things like " you can start bowling properly now" when he started beating them
People were intrigued but most people even from our own bowling centre told him he had to change to one handed bowling (because it was the correct way).
I think he was about 9 or 10 years old we went to a bowling camp held in Sydney, Jason was excited to go and all they did was try and change him to the one handed style. He hated it and was very upset because they were telling him that it was wrong and that he would never be a good bowler. I told him, stop thinking about what other people say, just bowl how you like and do it well. Who is to say what is right or wrong with a bowling style especially when you are good at the way you do it. So just bowl whatever way you want. And he did and we can all see how well that turned out.
His determination to excel in bowling despite all the negativity and the heckling about the 2 handed bowling just blows my mind. Because of Jason people all over the world have taken up 2 handed bowling, I think he has revolutionised the game because people now are not frighten to bowl their way, whatever way that is because he has paved the way for them showing them do it your way and do it well and you can become the best in the world.
I have joked with your son about his life story being made into a film one day, It is fair to say it is a great tale when you look at what he has achieved but I think there is a much more important back story of how he got to where he has. A fun question here, who would you have play you in a movie and would do you think would be great playing your family members?
Love this question, it's fun to play. I will start with just Aldo, Jason and myself. If you wanted more family members like Kimberly his wife and Rebecca his sister then let me know. Jason's dad Aldo to be played By John Travolta (Aldo's favourite actor)
Me Jason's mum Marisa to be played by Marisa Tomei (I think she would act me well plus where else would she be able to act the part of a Marisa Ha ha) Jason (Belmo) Leonardo DiCaprio (my favourite actor).
One thing I have noticed with parents of bowlers is some really do live every shot, they know their children inside and out. Do you find yourself back home in Australia, shouting at the TV or computer screen when Jason bowls?
Us Parents feel deeply when it comes to our children. The way I feel and act when Jason is competing is animated. I do ride every shot, I do shout out encouragement, have I been up at 3am in Australia watching from a screen and jumping around screaming with joy? (sure have). I love watching Jason compete it's exciting, love seeing that focus and that determination. I feel so much emotion both when he wins and when he doesn't, my heart just fills with pride in both these cases he is just such a great sportsman win or loose.
I just love watching him bowl. The only time I do not act this way is when he competes in our own centre because then I have to put on my proprietors hat and not be just mum and also when watching from the crowds live at the PBA qualifying events. The first few times us Aussies acted as we do, calling out, shouting encouragement, cheering till we are hoarse (how can you not when Jason is stringing strikes together) soon realised that the other bowlers did not take too kindly to our excited animated form of support. Ha ha (Although they do have one event at Portland that the crowds are animated and loud and it is exciting).
It's Mothers Day across the pond in the U.S. And being a breast cancer survivor, has it made this holiday just a bit more special for you and your family?
I am a very lucky mum and Nonna because my family truly make me feel special everyday. To feel loved and to have your family want and like to be around you is a true blessing. As a survivor of breast cancer I think Mother's Day sometimes means more to my family because I fort the fight and am around to share it with them. I thank the lord every day for that and do feel truly blessed. We too are celebrating Mother's Day Sunday 6th May and my wonderful family are planning a little gathering not sure what or where but I am told to expect to have a great time with them all eating yummy food, sharing lots of cuddles with my 5 beautiful grandchildren, amazing husband and sensational children and their equally sensational spouses. ?
Bowling even in Australia is not what you would call prime time viewing but things are changing now thanks to your son, I'm sure this is not the first time you have been interviewed also, Has the celebrity aspect of Jason changed things in any way?
Yes some things have changed because of Jason's success. He is a super star in the bowling World and people near and far recognise him and support him, he has fans from all over the world, it sometimes feels overwhelming and truly humbling to see this support and attention.
In our own town the media is fantastic in following his career reporting everything, we get so much TV news, radio and newspaper coverage it truly is great for our sport. We all have done interviews many times and feel comfortable in front of a camera with Jason being the most professional at being interviewed. Jason is a very recognised and respected sports person in our town. We have people wanting to now more asking us so many questions of him. Also if it wasn't for Jason's success nationally and internationally I do not think our sport would ever get media coverage in Australia.
A kid from Country NSW AUSTRALIA is the best bowler in the world, it doesn't get much better than that. Though for all this attention and fan support locally, nationally and internationally the thing that has stayed the same has been Jason's attitude he is a down to earth and grounded individual, one that shows respect and gratitude and one that truly loves what he does. Jason I feel has given back to the sport just as much as he had taken from it. He uses his success to help promote the sport of bowling anywhere and everywhere. Though what has stayed the same is how we act. We are a proud, down to earth family that loves what we do and where and how we live.
I think the one thing that should impress the World about Jason is the amount of travel he has put into this. I have a young daughter and family myself so I cannot imagine what it is like to leave for long periods to work abroad. I am guessing all this has been possible because Jason has such support back home?
I do not know how Jason managers the long distances that he travels, landing in another time zone and a different season. Then having to compete at such a high level as soon as he arrives, I find it truly impressive. I like to think that Jason has a little comfort knowing that there is so much family support back home. If and when Kimberly, Aria, Hugo and baby Sylvie need us for anything, we his parents, his sister and Kimberly's parents are around to help or just to enjoy good family time together.
Though I have to say Kimberly is a strong and very capable woman and her total support of Jason is wonderful. As the saying goes behind a great man is an even greater woman. Together they make for a strong united couple that enjoys the knowledge family support will always be there for them
As a parent who can now give advice to other parents on shaping their children to become a World beater, what is the best thing you can say to them no matter what their chosen path?
This is a hard question to answer, because I feel everyone is an individual and every family situation is different. One thing I will say is no mater where you come from or your situation if your child has a big dream then tell them dream big and work hard to make those dreams come true.
Tell them that nothing and no one will make it happen unless you back yourself and believe in yourself, set goals and work hard to achieve them. Learn from success and learn more from failures. Jason's motto is take baby sets, he started in Orange, then regional, then state, then national, then Asia, then Europe and his final big goal was to bowl on the PBA Tour in the USA.
Finally Marisa, A question we always ask, Why should people bowl?
Why should people bowl? For me there are many ways to answer this question. The main reason is because it is a sport of inclusion, bowling will make you feel included irrespective of where you come from, or how old you are, or your size or ability, or your income level or if you are male or female. Bowling is many things to many people, it's a sport that is challenging and it's fun. People can just do it just for the fun of it or you can take it to the highest level of competition in the world. Bowling is a sport or activity that you can do your whole life. I just love this sport of tenpin bowling for all those reasons.